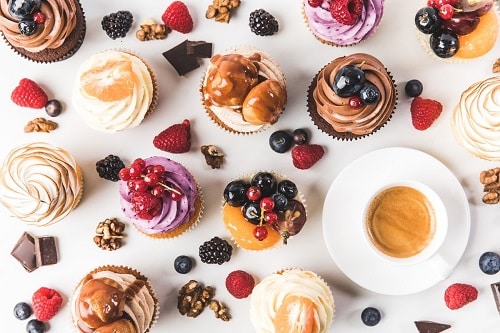 The COVID-19 pandemic had a severe impact on the dessert industry in 2020. Chocolate sweets, baking tools, and cartons of ice cream and frozen desserts were among the items purchased by consumers seeking comfort and enjoyment while they were alone at home.
In the following months, demand for many sweets is projected to decline, but it will remain strong relative to pre-pandemic levels. Here are some recent US dessert market figures, as well as some important industry trends that will influence product development.
Chocolate as a Comfort Food and Pandemic Snack
Given the high levels of stress and uncertainty experienced throughout the outbreak, it's hardly surprising that many individuals ate extra handfuls of chocolate as a treat.
As a result, according to industry research firm Packaged Facts' report Chocolate Candy: U.S. Market Trends and Opportunities, 2020 was a great year for the U.S. chocolate market, with sales increasing by 12%, bringing total sales to $27 billion.
Sales of chocolate candy will undoubtedly decline as the pandemic subsides, but many customers will continue to work from home, at least part-time, resulting in higher levels of snacking than before the outbreak.
Baking at home has regained appeal
Chocolate was not just a popular snack during the pandemic, but it was also a key ingredient in home-baking projects like brownies, chocolate chip cookies, and other popular desserts. Many people took up hobbies like baking to pass the time while detained at home, either for personal enjoyment or to keep their children engaged.
Sales of baking items had previously grown slowly from 2016 to 2019, but due to the pandemic's impact, the market expanded by double digits in 2020. According to a recent study by Packaged Facts, baking item sales would grow by 24% by 2020, hitting $26.5 billion.
Despite the fact that sales of home baking products are anticipated to plateau in the future, sales of baking goods will be higher in 2025 than they were in 2019, thanks to long-term changes in consumer behavior and the popularity of home baking.
The Demand for Ice Cream and Frozen Desserts Has Increased
Customers' collective anxiety—and their sugar cravings while isolated at home—profited another U.S. business: take-home ice cream and frozen desserts. People stocked up on calming sweets during the outbreak, resulting in a rise in demand for bulk dairy ice cream and frozen desserts at grocery stores and supermarkets.
The pandemic, on the other hand, limited unpackaged ice cream sales by reducing impulsive purchases and chances to have a cup or cone of ice cream while out and about. Retail outlets that rely on impulsive purchases, such as convenience stores, suffered during the outbreak, according to Euromonitor International data.
Healthy Living Trends Will Influence Product Development
Consumers want more of everything, and they also expect their delightful pleasures to be healthy. In the last five years, industry players have revamped various frozen cakes and pastry items with more nutritional, higher-quality ingredients to appeal to health-conscious clients. More natural and organic foods, such as baking mixes and canned frosting made without artificial flavors or preservatives, were available on the baking aisle.
This fad for "better-for-you" desserts isn't going away anytime soon. Desserts will feature more components associated with healthy living in the future, thanks to clean label, organic, free-from (gluten-free, dairy-free, sugar-free), and vegan or plant-based alternatives. As clients strive to manage their calorie intake, snackable desserts and mono-portion desserts will be a significant trend for cakes, pies, and cheesecakes.
Where can I learn more?
Are you interested in finding out more about the dessert industry? MarketResearch.com delivers in-depth, data-driven analysis on almost every aspect of the dessert market. We work with customers from all over the globe and across a wide variety of industries.
Recent dessert industry surveys from Packaged Facts, Euromonitor International, Mintel, GlobalData, and IBISWorld are available here. From industry experts, learn about market size, predictions, market share, trends, opportunities, problems, and leading firms.