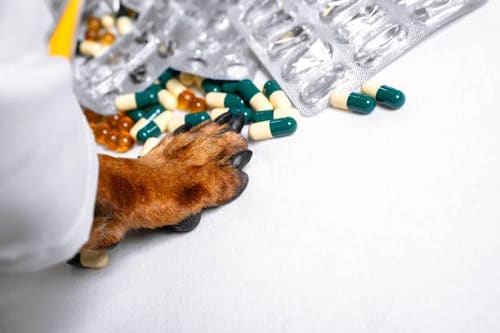 The global animal pharmaceutical sector has competitive growth potential, particularly in the late-COVID / post-COVID situation. A new study details some of the key strategies that organizations may use to take advantage of these market shifts.
From $32.7 billion in 2020 to $37.8 billion in 2021, the global animal medicine market is expected to rise at a compound annual growth rate (CAGR) of over 16 percent. Companies are rebuilding their operations and recovering from the COVID-19 impact, which had previously resulted in strict confinement measures such as social distance, remote working, and commercial activity shutdown, all of which caused operational challenges. The animal medicine business is expected to reach $48.5 billion in 2025, with a CAGR of 6%.
Right present, the market is congested, but there are lots of opportunities for new entrants and expansion. The top ten competitors in the global animal medicine market controlled roughly 57% of the market in 2020. Among the market's top companies are Zoetis, Inc., Boehringer Ingelheim GmbH, Merck & Co., Elanco Animal Health Inc., Bayer AG, and others.
The following are some of the most critical strategies for success in the global animal health sector.
Nanotechnology in Veterinary Medicines to Combat Antibiotic Resistance
Nanotechnology is used in animal medicine to improve diagnosis, treatment, animal growth promotion, and production. Nanoparticles are largely used as antibacterial agents to reduce the use of antibiotics and improve the identification of hazardous microorganisms. They're also used to improve the properties and performance of innovative drugs and vaccine candidates, as well as to reduce drug resistance in animals.
Veterinary care companies may explore investing in the development of nanoparticles as alternatives to existing medications to prevent drug resistance in animals.
Combination Production of Medicated Feed Additives
Medicated feed additives, in general, benefit animal health while also increasing growth and feed efficiency. Vitamins, amino acids, fatty acids, medications, minerals, growth hormones, and fungus are often advised as supplements to cattle's diets or treatments. Approximately 70% of companies in the medical feed additives market are developing new combination medicated feed additives, which combine two or more medicated feed additives to increase the effectiveness of the product.
Veterinary medicine manufacturers should focus on developing unique combination medicated feed additives to boost end-product efficiency.
Development of Chewable Tablets
Chewable medications are increasingly being used to treat ticks, worms, fleas, and other parasitic insects. These tablets are typically easy to swallow and are available in a variety of flavors, including meat. Because these tablets may be mixed together with the animals' regular diet, they are easier to administer. Several veterinary medicine companies are always seeking to manufacture effective and easy-to-give medications in order to compete in the increasingly crowded animal medication market.
Veterinary medicine companies should prioritize the development of novel chewable medications for the treatment and prevention of animal ailments.
Medications for feline hypertension that are simple to administer, such as oral medication solutions
Similarly, the massive increase in pet ownership is driving demand for simple-to-use veterinary drugs to address animal illnesses. Because of increased pet ownership and the rising tendency of seeing companion animals as family members, pet owners may provide better care for their dogs. This entails offering high-quality treatment for a wide range of ailments. To address the increased demand, veterinary medicine companies have started producing easy-to-give medications to treat a variety of illnesses in companion animals, including oral therapies for feline hypertension.
Veterinary drug manufacturers should look at developing easy-to-give pharmaceuticals, such as oral liquid solutions, to treat a variety of animal illnesses.
Strategic Collaborations and Partnerships to Drive Innovation
In order to compete in the highly competitive animal medicine sector, veterinary medicine market enterprises are expanding into new locations and generating unique commodities by sharing skills and knowledge with other businesses.
Companies in the animal pharmaceutical market might form strategic alliances and collaborations with other industry rivals to drive innovation and develop category leadership.