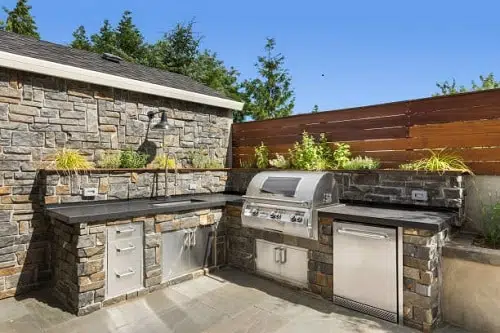 As summer approaches, trends in outdoor living areas pique the interest of anybody looking to restore or replace their homes outside spaces. Because of the events of the last year, most people have spent much more time at home, outdoor living has taken on a new level of importance for them. With many people's vacations expected to be cut short or canceled in 2021, more emphasis is being placed on having adequate space to enjoy the outdoors.
Fixr.com just released its annual Trends for Outdoor Living Spaces Report, which polled industry specialists to find out what the most popular outdoor living aspects are this year. The following are some of the most significant findings:
A Place to Gather with Friends and Family
Most of us have been confined to our homes for long periods of time in the previous year, unable to ask friends and family to visit. Being outdoors has become one of the safest places for people to be during the epidemic, so it's no surprise that, according to an overwhelming majority of experts, friends and family gatherings will be the most common use of outdoor spaces this year (80 percent ).
Relaxation is a common backyard use, and 60% of people believe it will be one of the main reasons they will go outside this year. According to 46 percent of experts polled, outdoor areas would be allocated to children's play, integrating leisure and family time. Surprisingly, cooking, working, and exercising were the least popular options.
Using Folding and Sliding Glass Doors to Create an Indoor/Outdoor Blend
In a year when we've been "stuck" at home, we've been more aware than ever of the sunlight and the connection we have between our house interior and outside spaces. When asked which feature would best blur the border between indoor and outdoor living, 74 percent of experts indicated folding or sliding doors and windows would be the most popular. A seamless transition from inside to outside your home makes a seamless changeover, retaining the home's cozy ambience.
This transition from indoor to outdoor living area may appeal to homeowners in more moderate climates. When the weather permits, you may move your relaxation time outside, and vice versa if the weather changes, without disrupting your activities.
Both Patios and Porches
A porch and patio are the most popular combination among homeowners, according to 48% of experts. Both architectural components allow residents to use the spaces for a variety of activities, such as outside dining, entertaining, and relaxing.
Porches provide curb appeal and offer a place to relax regardless of the weather since they are covered structures. Patios, on the other hand, are a lovely and affordable way to create a private space in the backyard. Patios are long-lasting and easy to maintain, and they may be customized in a variety of ways.
Outdoor Kitchens
According to industry analysts, outdoor kitchens have remained popular since last year. Because they come in a range of sizes and with a multitude of extra features, homeowners may tailor theirs to match their own needs. An outdoor kitchen adds another dimension to enjoying the outdoors, connecting in with the larger recognition that the events of the previous year have pushed people to reevaluate how they use their houses.
Outdoor Heaters and Fireplaces to Enjoy Year-Round
It's unsurprising that homeowners are beginning to work on home improvement projects while contemplating the implications of the epidemic. Many people are spending more time at home and relying on their homes to satisfy their increasing expectations as a result of remote working and canceled holidays. According to an overwhelming 85 percent of experts, people are more keen to invest in outdoor living spaces today than they were before the outbreak.
The suggested strategy for transforming outdoor spaces for year-round use is to make them usable throughout the colder months of the year. As a consequence, 54 percent of experts believe that outdoor heaters will be the most popular option, while 41 percent believe that outdoor fireplaces would be the most popular option. This year, the trend is predicted to continue, with 27% expecting that fire pits would stay popular.
Outdoor heaters have the benefit of being portable, enabling them to be stored when not in use, saving space. Fireplaces serve as a beautiful component as well as a practical one. Because they serve as a focus point for meetings and may be used at any time of year, fire pits are also considered design elements.
2021 Trends Impacted by the Pandemic
Given the uncertainty of many people's futures, experts anticipate that 48 percent of homes will be converted for year-round use, enabling individuals to make the most of their whole property rather than just the summer months. For reasons they didn't have before, a substantial number of people have grown to depend on their homes. As a consequence, homeowners' outdoor living habits have been changed, and they are acutely aware that the pandemic is far from over. The importance of having an outside space that can be used regardless of the weather is growing, and as a consequence, the value of a home is increasing.
Author bio: Adam Graham of Fixr.com is a Construction Industry Analyst who can help you make the best home improvement choices.
Related Research
Do you want to know more about the $33 billion industry for outdoor living products? Outdoor Living Products 2021 is a new industry study from The Freedonia Group, a prominent market research firm and a MarketResearch.com component. This report examines the scope, size, and growth of the US outdoor living product market, as well as key trends in applications and market segmentation.