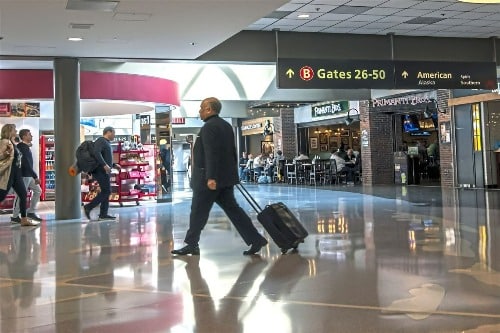 Airmall's Business Plan: On-the-Go Shopping
North American airlines, according to the International Air Transport Association (IATA), had the greatest performance among developed economies in February 2015. Up to 2 million travelers fly for business and pleasure every day.
Many of those people wait hours for planes to depart, while others wait hours for family, friends, and business partners to arrive. Airport employees and contractors are also potential customers.
A One-of-a-Kind Business Opportunity – Airmall Business Plan
The options for giving airmall browsers a purchasing experience are numerous. Leasing retail space, restaurants, and kiosks allows you to sell anything from apparel to food to books. Specialty shops cater to travelers, laborers, and visitors. A business plan for an airmall is similar to a retail or restaurant business plan, with the exception of a few key aspects to consider:
• Products and services – The items or services provided should be suitable for people who are always on the move. For example, many individuals only have hand luggage and are hesitant to carry substantial items in their hands owing to the need to haul luggage.
Customers who need to eat quickly, those who have to wait long periods of time, and those who are meeting local people for business or personal reasons all need a broad menu.
Specialty stores provide souvenirs, health and personal care products, gifts, memories, books, toys, audio-visual, cuisine, water and soft drinks, seasonal items, and much more.
• Customer demographics – Retailers and food establishments must do in-depth demographic analysis of their customers. Customers are transient and come from a range of locations, rather than a single retail location.
On the other hand, each airport caters to a certain market. If a large proportion of consumers fly from Atlanta to New York or are international travelers, the merchant may cater to their needs based on demographic data.
• Site – There are two possibilities to consider: the airport and a location inside the airport. Large airports may have many terminals, each catering to a distinct kind of passenger, such as international vs. regional or economical vs. corporate.
Some terminals are open 24 hours a day, while others close at night. These are the kind of challenges that have an impact on the airmall company in a number of ways, including the products supplied, hours of operation, and staff needs.
• Marketing plan – The most significant part of an airmall's marketing strategy is visual merchandising. Because of the captive customer base, marketing outside the airport is worthless unless the merchant has a chain of stores or restaurants beyond the airport.
• Operating and staffing plans – Due to holidays, athletic events, concerts, business meetings, and other factors, the number of passengers varies greatly. For the airmall company or companies to be successful throughout periods of low and high sales, an operational plan is essential.
There are a slew of other issues to think about. Product and service pricing, for example, is the responsibility of airport management. Furthermore, the entrepreneur might construct a single store or a mall at one or more airports that need retail and gastronomic services.
The approval of an airport is the product of careful commercial strategy.
An airmall business plan must be comprehensive, high-quality, and demonstrate a thorough grasp of the specific circumstances presented by an airport. The strength of a business plan has a significant factor in whether an airport approves or rejects a new venture. It's also required while looking for investors or securing bank finance.
Given the many nuances, it is important to seek the assistance of Skyrocketbpo experts during the development of an airmall business plan. Simply complete the online contact form to get started.