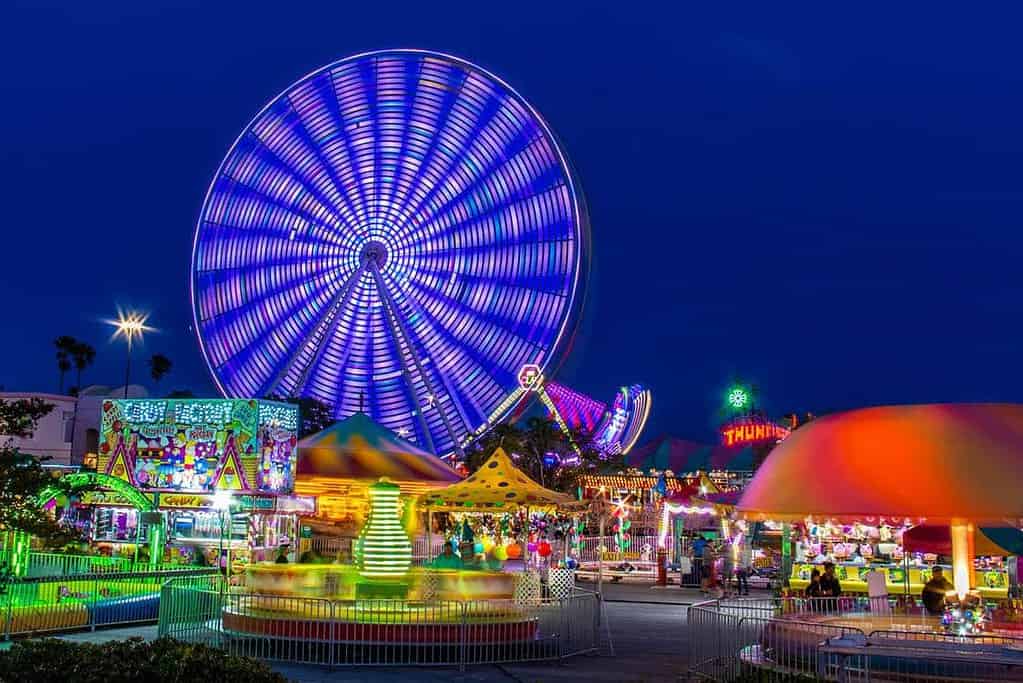 In order to write a Amusement Park Business Plan you need to start with executive summary. In order to write an executive summary for a Amusement Park Business Plan you need to mention- what your business is about and what you'll sell. Explain how you'll get people to buy it. The executive summary should be written at the end. Then you should write a Business Description mentioning goals, objectives, mission and vision. Some of the major sections or components of a Amusement Park Business Plan involves Fund Usage Plan, Marketing Plan, Industry Analysis, Organizational Overview, Operational Overview and Financials.
This article will provide you a step by step process to write your Business Plan. Get a free Amusement Park Business Plan at the end!
Executive Summary
Overview: Holiday Ventures, situated in Charlotte, will be a registered and regulated family entertainment park. For people of all ages, the business will offer amusement rides, slides, magic shows, themed events, games, picnic spots, and entertainment.
Adam Redford will be the owner of Holiday Ventures. Adam earned his MBA from Harvard University and went on to work as a senior management at prestigious institutions. Adam has decided to start his own company after seven years as an operating manager at Herschend Family Entertainment. Adam has always wanted to open his own company. He opted to establish a theme park because of his interest in the recreation and entertainment industry. He has a few suggestions about how to innovate amusement parks. It would be extremely impossible to achieve fame in such a crowded field without creativity.
Mission: On our theme park resort, Holiday Ventures is dedicated to offering all guests with unforgettable experiences that are enjoyable, entertaining, and instructive, while also encouraging lifelong learning and conservation activism. Our goal is to maintain a stable financial position and be a preferred employment while providing the greatest levels of safety, animal welfare, goods, and guest service to our community.
Vision: We want our organization to be associated with endless fun, unique features, appealing design, and great outcomes.
Industry Overview: Open-air recreational and entertainment zones centered on imaginary characters and themes are known as amusement parks. They are professionally operated fair and picnic garden extensions that cater to people of all ages. They provide mechanical rides, water parks, theme parks, arcades, and casinos, sports betting facilities, hotels, resorts, and refreshment zones, among other amusements. They may also provide immersive cinematic experiences that include high-definition (HD) music and light shows, as well as theatrical productions that appeal to both children and adults.
One of the primary drivers driving the market's favorable outlook is rapid urbanization, which is accompanied by strong growth in the travel and tourist industry. In addition, the availability of innovative rides, lodging facilities, and official products in amusement parks is helping to drive industry expansion. Park owners are increasing their reach by delivering a variety of exciting and engaging experiences through theme-based attractions such as cuisine, beverages, clothing, and other delicacies. Another element driving growth is the rising usage of technologically advanced solutions such as hydraulics, pneumatics, animatronics, and the Internet of Things (IoT). These solutions use augmented reality (AR) and virtual reality (VR) technologies to track and monitor all actions in the park, as well as provide interactive experiences for visitors. Other factors projected to drive the market include rising disposable incomes and consumer spending capacity on entertainment, as well as increased expenditures in themed amusement parks and the development of 4D rides and gigantic roller coasters and rides. The market has been hampered by the coronavirus pandemic (COVID-19), but it is projected to rebound in the near future. This is due to the social distance standards that have been created in many countries.
As of 2018, the mechanical rides sector accounted for the greatest percentage of the amusement park market. It's because the number of visitors and roller coaster fans for 4D rides, big rides, and demanding roller coasters has increased. The scope of mechanical rides in the amusement park industry is expanding due to the growing middle-class population and their household spending on outdoor activities, as well as the opening of new theme parks by foreign companies.
For many years, the 36-50 age range has been the key market for amusement parks. This is because they bring their children along to entertain them. As a result, the theme park operator is concentrating on higher-quality balanced family entertainment as well as challenging rides for young riders. They are also concentrating on wristbands to attract people's attention. Apart from that, the organization of entertainment events, ferry rides, and vintage theme-based activities, as well as great hospitality, are attracting more people in the 36-50 age bracket to theme parks.
North America has the largest share of the worldwide amusement park market, accounting for more than 40%, followed by APAC and Europe. It's because of the year-round offers made by the regional park staff in terms of a complete schedule of shows and festivals. From small, independent parks to giants like Disney resort attractions and Universal Studios, there is something for everyone. The majority of amusement parks in the United States and Canada are dedicated to providing thrill seekers with thrilling rides, Frisbee rides, Spider-Man motion-simulating attractions, and dizzying roller coasters. The top amusement parks for families in North America are Disney World, LEGOLAND Florida Resort, Hershey park, Canada's Wonderland, and Kings Dominion.
Consumers are spending more money on experiences rather than purchases to fill their free time these days. They are spending disposable cash on unique experiences with personalization as part of it, thereby fueling the experience economy. The social media platform is critical in guiding consumers and increasing demand for such events. In today's society, people of all ages, particularly corporate workers, are willing to gain experience at amusement parks in order to spend a healthy, family-friendly time. The amusement park market is growing due to changing lifestyles, cultural shifts, and a growing emphasis on living a balanced existence that includes a balance of work and recreation.
Financial Overview: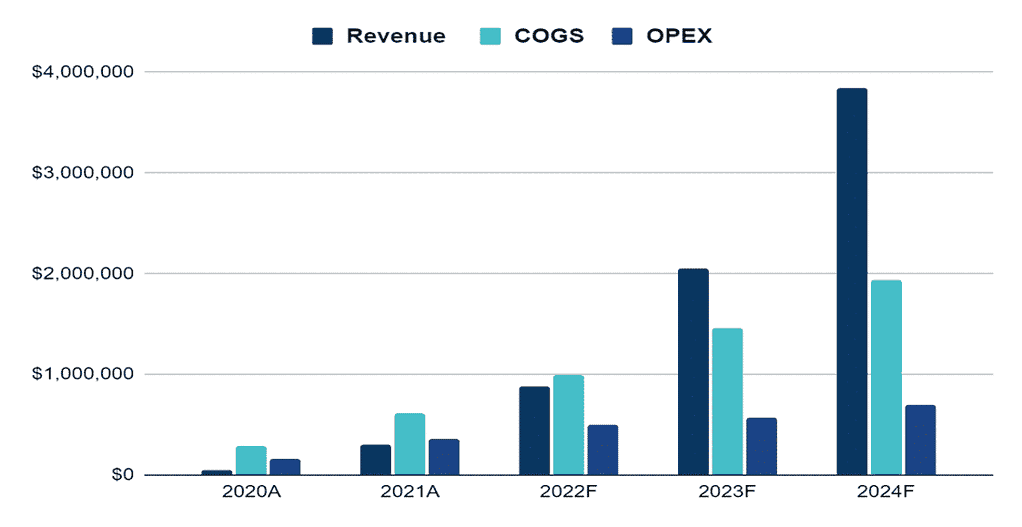 Financial Highlights:
| | | | | | |
| --- | --- | --- | --- | --- | --- |
| Liquidity | 2020A | 2021A | 2022F | 2023F | 2024F |
| Current ratio | 6 | 12 | 23 | 32 | 42 |
| Quick ratio | 6 | 11 | 22 | 31 | 40 |
| DSO | 8 | 8 | 8 | 8 | 8 |
| Solvency | | | | | |
| Interest coverage ratio | | | 8.2 | 11.1 | 14.2 |
| Debt to asset ratio | 0.01 | 0.01 | 0.2 | 0.18 | 0.16 |
| Profitability | | | | | |
| Gross profit margin | 51% | 51% | 53% | 53% | 53% |
| EBITDA margin | 12% | 14% | 21% | 22% | 22% |
| Return on asset | 5% | 6% | 13% | 14% | 14% |
| Return on equity | 5% | 6% | 16% | 17% | 17% |
Use of Funds: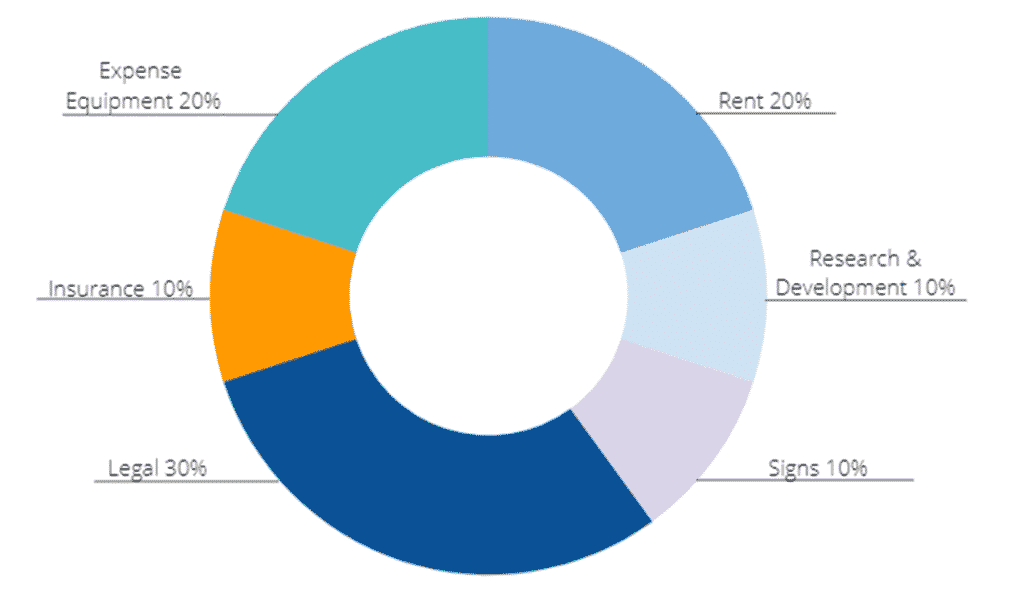 Industry Analysis
In 2017, the worldwide amusement park market was worth USD 45.2 billion. From 2018 to 2025, it is expected to grow at a CAGR of 5.8%. Amusement parks are increasing appeal among visitors of all ages for their innovative rides, lodging amenities, and products. As a result, the number of adults and children visiting amusement parks is increasing, thereby broadening the target audience.
The sale of items and food and beverages through inside-the-park retail outlets and restaurants is expected to be the primary source of supplementary revenue for amusement parks. Furthermore, rising urban populations, foreign travel, and rising middle-class disposable income are all propelling the market forward globally.
Park owners are working on offering wristbands to attract more people in order to boost their client base and strengthen their position in the market. For example, Six Flags Entertainment Corporation introduced THE FLASH Pass, a new wristband, in 2016. This wristband is an IoT-enabled device that keeps track of the queue and ensures time management. Such technological advancements have a positive influence and stimulate increased foot traffic, resulting in a stronger client base for the park.
Furthermore, the opportunity to deliver an exciting and engaging experience through attractions that can be offered despite inclement weather is encouraging owners to invest heavily in indoor attractions. For example, in August 2017, Efteling, a theme park in the Netherlands, spent USD 35.0 million to open Symbolica: Palace of Fantasy, an indoor attraction. The park took this step to broaden its theme-based offers while also retaining its place in the European amusement park market.
The popularity of amusement parks with themes based on fictional characters is increasing. These parks also offer opportunities for youngsters to meet costumed characters, particularly those from popular Disney and Marvel films. For example, the Wizarding World of Harry Potter attraction at Universal Studios Orlando is extremely popular with guests, as it features Hogwarts castle and other prominent landmarks from the Harry Potter books. Similarly, Universal Studios Florida is famed for its Diagon Alley theme park, which has thrilling rides in a variety of dimensions.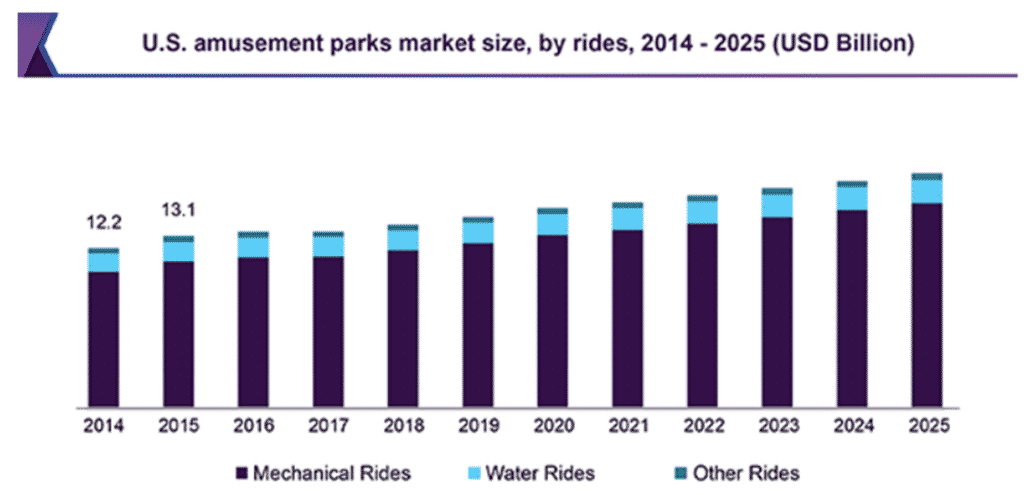 While working on the industry analysis section of the Amusement park business plan make sure that you add significant number of stats to support your claims and use proper referencing so that your lender can validate the data.
Ticket sales, food and beverage sales, product sales, hotel and resort sales, and other revenue sources are some of the important segments. In 2017, the tickets segment had the most market share. Because amusement parks generate the majority of their revenue from entrance tickets, the segment is expected to rise steadily during the projected period.
One of the key elements driving income creation through hotels and resorts is the increasing introduction of housing services such as hotels and resorts in park premises. During the projected period, the category is expected to grow at the fastest rate of 7.0 percent. Furthermore, the food and beverage industry is predicted to grow at a considerable CAGR over the same time, since visitors spend a significant amount of money on food and refreshments while waiting for rides to start.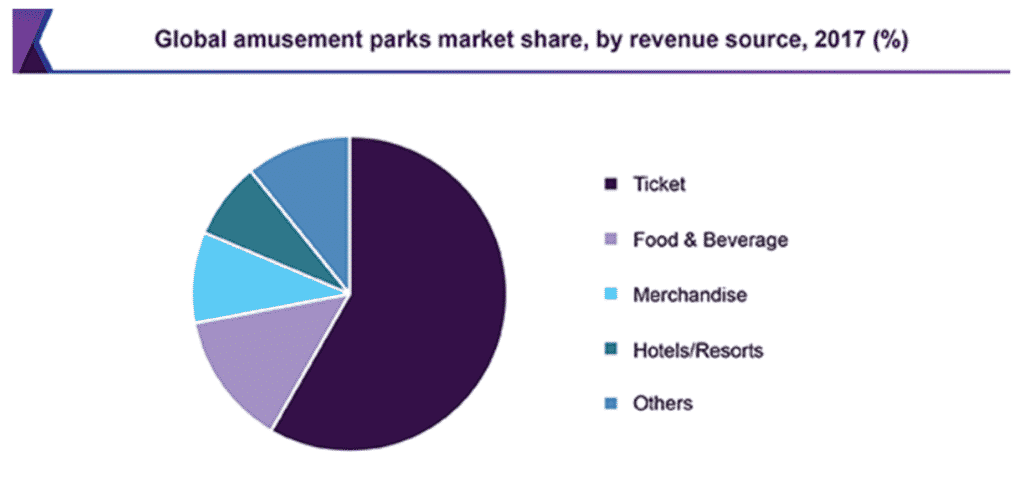 In 2017, the Asia Pacific market accounted for more than 35.0 percent of worldwide revenue. Shanghai Disneyland, Chimelong Ocean Kingdom, Tokyo Disneyland, Universal Studios Singapore, Hong Kong Disneyland, and Universal Studios Japan are among the major players.
During the projection period, the European market is expected to grow at a CAGR of 2.9 percent. In early 2019, the region will see the establishment of new parks. For example, Park of Poland, which is expected to open in 2019, will include a EUR 150 million water park called Suntago Water World. Suntago Water World is expected to have 30 water slides, wave pools, pools, a spa complex, mineral pools, and a thermal healing bath. The water park is also expected to generate 600 new work opportunities.
Due to the existence of large worldwide players such as Cedar Fair Entertainment Company, Walt Disney Company, Comcast Corporation, and Chimelong Group Co., the industry is characterized by fierce rivalry. Market expansion is predicted to be fueled by increasing technical advancements to maintain competition, as well as the establishment of various types of lodging facilities.
For example, Ardent Leisure Group's Dream world theme park debuted its New-Look Tiger Land Park in September 2016. The new theme park extension was built to attract more visitors and provide job possibilities for the local economy.
Marketing Plan
A key part of the marketing plan in a Amusement park business plan is the marketing budget. The growth in the number of customers is proportional to the budget and dependent on the CAC.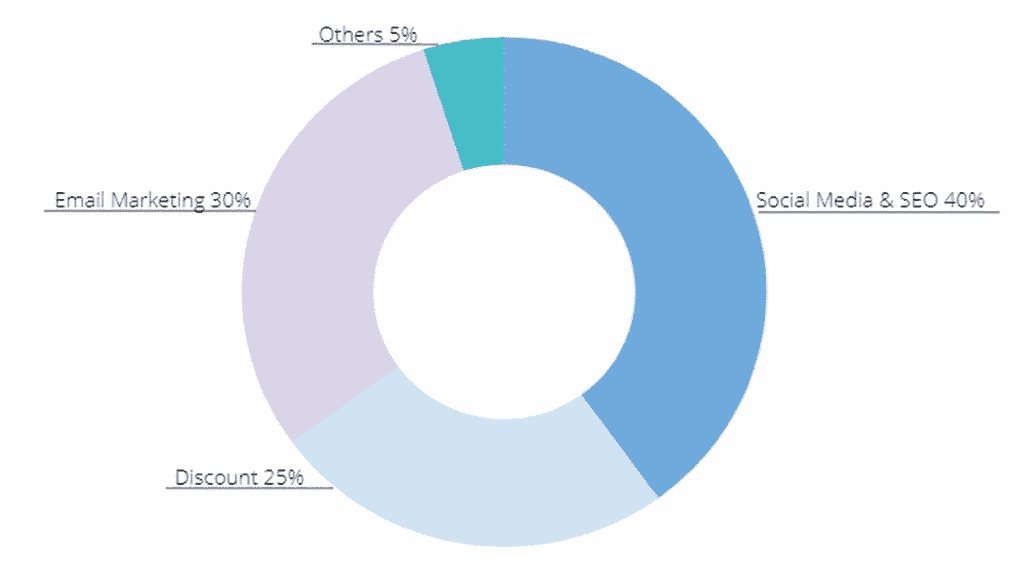 Social Media & SEO: We will promote ourselves through Google Local Ads, social media, and local publications.
Email Marketing: We will keep track of our loyal consumers through online transactions so we can provide them with exclusive offers.
Discounts: For the first two months after the opening, we will provide a 60% discount on our amusement rides and fun outdoor games.
Others: We will give our consumers $40 for every $150 transaction. The amount you have been given is only good for one month.
Organizational Plan:
Financial Plan
Earnings:
Income Statement:
| | | | | | |
| --- | --- | --- | --- | --- | --- |
| | 2020A | 2021A | 2022F | 2023F | 2024F |
| ANNUAL REVENUE | | | | | |
| Item 1 | 9,217 | 59,117 | 175,410 | 415,277 | 781,357 |
| Item 2 | 34,701 | 222,558 | 660,368 | 1,563,394 | 2,941,580 |
| Item 3 | 4,067 | 19,561 | 46,432 | 78,519 | 114,905 |
| Total annual revenue | 47,985 | 301,236 | 882,211 | 2,057,189 | 3,837,842 |
| % increase | | 528% | 193% | 133% | 87% |
| COST of REVENUE | | | | | |
| Item 1 | 360 | 2,259 | 6,617 | 15,429 | 28,784 |
| Item 2 | 480 | 3,012 | 8,822 | 20,572 | 38,378 |
| Item 3 | 52,000 | 65,000 | 78,000 | 91,000 | 104,000 |
| Item 4 | 720 | 3,615 | 8,822 | 16,458 | 23,027 |
| Item 5 | 140,000 | 336,000 | 560,000 | 840,000 | 1,120,000 |
| Item 6 | 60,000 | 144,000 | 240,000 | 360,000 | 480,000 |
| Item 7 | 32,000 | 61,333 | 85,533 | 112,153 | 141,435 |
| Total Cost of Revenue | 285,560 | 615,220 | 987,794 | 1,455,612 | 1,935,625 |
| as % of revenue | 595% | 204% | 112% | 71% | 50% |
| Gross Profit | -237,575 | -313,984 | -105,583 | 601,578 | 1,902,218 |
| SELLING & ADMIN EXPENSES | | | | | |
| Item 1 | 28,000 | 96,800 | 154,880 | 175,692 | 193,261 |
| Item 2 | 75,000 | 105,000 | 120,000 | 120,000 | 120,000 |
| Item 3 | 36,000 | 96,000 | 108,000 | 120,000 | 120,000 |
| Item 4 | 8,000 | 12,000 | 12,000 | 12,000 | 12,000 |
| Item 5 | 3,839 | 18,074 | 44,111 | 61,716 | 115,135 |
| Item 6 | 3,359 | 12,049 | 26,466 | 41,144 | 76,757 |
| Item 7 | 5,600 | 10,000 | 12,904 | 15,034 | 17,376 |
| Item 8 | 6,667 | 14,000 | 22,067 | 30,940 | 40,701 |
| Total selling & admin expenses | 166,464 | 363,924 | 500,428 | 576,525 | 695,230 |
| as % of revenue | 347% | 121% | 57% | 28% | 18% |
| Net profit | -404,039 | -677,907 | -606,011 | 25,052 | 1,206,987 |
| Accumulated net profit | -404,039 | -1,081,947 | -1,687,957 | -1,662,905 | -455,918 |