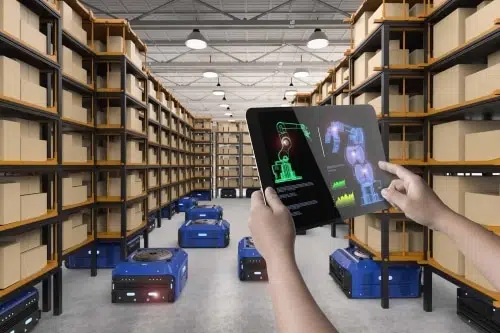 Description of Business
The warehouse and storage sector spends billions of dollars every year on storing and delivering products. Warehouses are attempting to become more and more efficient as the sector grows, by improving the efficiency and cost-effectiveness of their processes. Automated Warehouse Solutions' business plan is to take advantage of this market by using robots as a new warehouse distribution system to make it even more efficient and value excellent quality. The gross output of the warehousing and storage business was 48.6 billion dollars in 2006, according to the Bureau of Economic Analysis (BEA), accounting for approximately.92 percent of total GDP (GDP). Over the next 20 years, the company's business plan is to take.003 percent of the market.
Automated Warehouse Solutions' goal is to provide warehouses with bespoke and predesigned robotic equipment for electronic storage and retrieval of things through a computer system. Organizations will be able to better manage their things in storage by using digital tools and computers to alter warehouse distribution, which is especially critical for perishable commodities in storage. Every year, millions of dollars are lost due to unaccounted for or perishable commodities at warehouses. A robotics solution will enable warehousing companies to minimize not just the number of missing or perished products, but also the warehouse's workforce requirements and labor intensity.
To run properly, a typical warehouse necessitates between 10 and 30 full-time employees. The typical warehouse worker earns roughly $15 an hour, according to the US Labor Department. According to Automated Warehouse Solutions, the number of people needed to run a warehouse effectively and efficiently will be reduced by 25%. A robotic warehouse installation could save anywhere from $10,000 to $1.2 million in labor expenditures, with even more savings possible thanks to liability insurance, worker benefits, and other additional labor costs. Automated Warehouse Solutions does not want to destroy jobs entirely, but rather to create new and more professional robots jobs.
Automated Warehouse Solutions will establish a consultancy and technology provider to assist warehouse administration in making sound business choices, in addition to the installation and development of robotic warehouse systems. The service's technical component will maintain the robotic applications deployed, while the consulting component will provide warehouse owners and management with efficiency ideas and automation guidance. The company's service business will create employment while also providing a steady flow of post-sale revenue. Automated Warehouse Solutions also intends to supply substitute components, preservation parts, as well as commissioning and certification paperwork. The offerings division is expected to be a massive cash generator.
Marketing
Many manufacturers of big palletizing warehouse robots exist today, but they are no longer in the alleged Automated Warehouse Solutions industry, and hence are not contemporary rivals. The company's business model is to develop a tiny, low-cost robotic that can retrieve small things. Furthermore, the organization thinks that if an automated storage retrieval robotic can be created for $1500 to $2000 in materials, it would open up an altogether new business segment in automated warehouse retrieval systems. These systems should thus easily pay for themselves, making them highly appealing for warehouse or even manufacturing unit applications.
Strategies
The team thinks that by starting as a small firm that provides tailored alternatives for individual customers, the company will be able to start with minimal overhead, focus on customer care, and build strong connections with its clients, which will lead to more business opportunities.
Expertise in both management and technology
Another advantage of starting out as a small business owner is that you won't require a large staff. The group's core comprises four electrical engineers with a wide range of experiences and backgrounds. The team is certain that it will be able to effectively manage the product's technological research and development, as well as client technical support. The group also feels that it can control the company's money during its first stages of operation, but that if the company grows and it becomes economically feasible, it would prefer to hire an additional employee to manage the funds.
Request for Financial Assistance and Cash Flow
The team has already started the research and development phase of the company. The design team has purchased an electronic development board and is now installing an operating system. This will serve as the robot's skill, allowing it to control the palms' movement and their region on the track. It will also interact with the host computer to gather information about the desired object and its position, as well as keep an eye out for any obstacles in its way. The team is now looking at the mechanical components of the robotic arm, such as electrical motors, arm material varieties, and the type of hand gripper. These decisions will be made mostly on the basis of a comparison of the delicate balance between item size, warehousing needs, and the robot's most recent production cost.
The cutting-edge funding will be used to complete a working prototype, as well as ongoing research and evaluation of prospective applications. After the prototype is done, further spending will be required for additional add-on components to cater to specific applications.
Statement of Vision and Mission
An entrepreneur's perspective
As a business, the team's vision is to develop a dependable and cost-effective method of storing and retrieving objects. As the firm's foundations, the organization will aim to include creative design, proper business ethics, and Christian beliefs. The firm believes that by working hard and dedicating itself to the product and its clients, it would be able to maintain a significant portion of the small warehouse industry.
Particular Business Market
While revenue and product promotion are critical, the agency thinks that product technical service and advice may also generate revenue. If the customer is satisfied with the system, they are more inclined to buy add-on features and expand it. Profit from recurring business and referrals is expected since the company is focused on providing outstanding client service and responding to the demands of its consumers.
What Sets Automated Warehousing Apart
Automated Warehouse Solutions is unique in that it is building a niche market for less costly item storage and retrieval robot for small warehouses, as previously said. Also, since the company is just getting started as a small firm, it will be able to tailor a solution to the clients' concerns while building strong connections.
SWOT Analysis
SWOT analysis is a fantastic tool for analyzing a growing company. Albert Humphrey, who managed a lookup initiative at Stanford University in the 1960s and 1970s using information from Fortune 500 corporations, pioneered this sort of analysis. The acronym SWOT stands for Strengths, Weaknesses, Opportunities, and Threats, and it refers to the company's strengths, weaknesses, opportunities, and threats. Below is a SWOT analysis chart.
Strengths
The agency's merits are that it provides a lower-cost product while still emphasizing a customer-centric approach that encourages recurring and referral business. Furthermore, the organization feels it has a superior product concept and is thus motivated and driven to build a successful business around it.
Weaknesses
The group's most serious flaw is that the majority of its staff are inexperienced Engineers fresh out of school. The core also lacks business and financial expertise.
This is one area where the company will need to develop and train on a regular basis. Furthermore, since it is a start-up firm, very little cash is available for the typical start-up costs.
Opportunities

Figure 1 : SWOT Matrix
The company feels it has a great opportunity to improve a well-designed product to improve warehouse efficiency and capture a new niche market while building a successful and aggressive business. Automated Warehouse Solutions also thinks that by using the company's and its employees' Christian beliefs and perspectives, they may continue to be Christian witnesses and sellers of renewal in their daily work and by giving back to the community.
Threats
The success rate of new businesses is dismally low. As a result, putting a lot of time and money into building a successful business from the ground up is a major risk for any start-up company. Before embarking on such a massive undertaking, numerous focused evaluations should be carefully examined. Pour management, poor market appraisal, or even a bad product may all contribute to the downfall of a startup firm. Furthermore, even if the company successfully assesses the market for their product and develops a fantastic device for their ostensibly small warehousing market, there is still a reasonable risk that a larger connected company with more money can develop a comparable product and overtake the company's market share.
Overview and Industry Profile
Background in Business
The target industry is the small to medium-sized warehousing business, as previously stated. Human labor has always been used to stock and retrieves warehouse commodities at these warehouses. To this day, these strategies have stayed almost unaltered. Computer systems and database structures for inventory monitoring and management have been implemented as a modern-day benefit to the business. With all of the available science to put in place automation to the stocking and retrieval device, this skill is ripe for efficiency improvements.
The Most Important Clientele
The smaller warehouse sectors, as well as small component distribution facilities, are the first target markets for our company. IKEA, AutoZone, Fastenal, and NAPA are a few good examples of pattern companies. Following a more thorough examination of the market, and expedited product to accommodate bigger warehouses may be necessary. However, in order to keep the product design simple, our team has decided to focus on developing a prototype in order to optimize the effectiveness of this underserved market.
Restrictions in the Law
Because there have been few efforts to automate the small warehouse sector, there are now relatively few regulatory constraints in the business that is focused on automation. Electrical and mechanical safety rules, which apply to all electronic and mechanical industrial applications, are the only known policies that the layout will need to satisfy.
Trends to Watch
At best, the data available for this industrial utility's developments are insufficient. The usefulness has yet to be shown, and no modern-day groups are following the goal of this drawing. Although there is a growing tendency toward large-scale warehouse automation, it is often implemented from the bottom up. This capacity necessitates that the whole warehouse is built around the new equipment. Automated Warehousing Solutions will buck the market trend by offering a bespoke implementation at a low cost.
Rate of Development
Because of the industry's consistency, if the product is favorably embraced by the industry, it might grow quickly. Because of their similar design, businesses like IKEA, NAPA, Auto Zone, and other parts stores would be simple to start up and need minimal training.
Furthermore, these sectors are very competitive with one another, and as a result, identical sales are likely to occur. For example, if NAPA decides to purchase a device and therefore reduces its costs and becomes more efficient, Auto Zone is likely to put the device in its stores as well.
Entrance Obstacles
The team believes that the most crucial and difficult part of the business strategy will be gaining a successful foothold in the market. It is critical that the product be thoroughly tested and functions as intended. If the product breaks often or fails to perform as expected, the company's development will be hampered owing to a tarnished image. Before being put into the market, the product will be thoroughly checked in a warehouse under regular conditions to better identify structural flaws.
The Industry's Key Success Factors
The product should be simple to use, maintain, and rely on. Any downtime cancels out the product's advantages and lowers the system's overall effectiveness. We'd want to keep the GUI's (graphic user interface) usability difficulty at a high level so that warehouse workers can utilize it with no training. Preventative maintenance should only be done once a quarter, reducing system downtime. Due to the fact that each customer will have unique warehouse layouts and needs, specific client implementation flexibility is critical to the business's success. One of the product's main selling points is that it can be done in existing facilities. Finally, the product should be adaptable and capable of incorporating new features. The device must be able to handle a variety of things of various sizes, hence it must be adaptable. Overall, for the system to be a lucrative product, it must be simple to use, flexible in design, and match the needs of each individual customer.
Prognosis
This product is a component of future warehouse automation systems that reduces the need for human intervention. The warehouse and storage business is already on its way to automation, and it has had a lot of success doing so. By using automation, we will be able to modernize and streamline a whole new market in this sector. The time for this product seems to be exactly right, given its proven performance in the big warehousing business, the gap in small warehouse autonomy, and the ongoing development of computer systems and electronics.
Growth Processes
Startup
The product will be introduced by first reaching an agreement with three or four real-world functions for device testing and debugging inside the target market. These clients will almost certainly be local businesses, allowing for strong customer ties and quick and easy resolution of system issues. These first functions will be provided at no cost in order for the device to be thoroughly tested in a real-world setting. When the product is ready for public distribution, the advertising, and marketing department will promote these uses as examples for potential buyers. Due to the customizability of the product and the variety of the applications, each device unit will be manufactured on an as-needed basis.
Growth
After obtaining more experience in the sector, the employer might choose to develop unique fundamental system strains and begin mass manufacturing of these base structures in order to meet rising demand. The employer will look into the possibility of developing markets in far-flung locations including Europe, China, and Japan. The firm will look at developing new items and expanding its advertising and marketing reach to include unique warehouse automation solutions. Upgrades or replacements of old systems with newer, more environmentally friendly items would almost certainly be the focus of consulting.
Maturity
By becoming developers of new products that keep a high standard of excellence while providing a reduced cost pricing, the company hopes to become a leader in the small warehouse automation industry by the time it reaches maturity. To avoid jeopardizing the company's economic performance, the organization will only consider product diversification after comprehensive market analysis.
Product and Service Offerings of the Company
Benefits to Customers
Personnel will be more productive since they won't have to be a runner for parts collection and stocking, which will benefit the customer. Fees will be saved since the robot will be much less costly than human labor and will provide a lower risk of liability. Warehouse operations will be feasible 24 hours a day, seven days a week, with no downtime, and will only need a small team of personnel to run efficiently. The device will be adaptable, allowing the user to repurpose the equipment to meet the changing demands of the warehouse. In a nutshell, the product driver is increased effectiveness and return on investment (cost reductions).
Guarantees and Warranties
There will be warranties and guarantees for Automated Warehouse Solutions, but it is no longer feasible to establish what these warranties and guarantees will be till the product is properly developed. The company also intends to get the motors and other components provided by the manufacturer warranted. Programming will be a guaranteed item for a certain period of time via Automated Warehouse Solutions. This warranty is expected to last two years after installation to address any problems in the unit.
Uniqueness
The system is not the first automated warehouse stocking and storage system, but it is the first of its kind for small to medium-sized warehouses. Kiva Inc. is now the largest competitor, however, this company only offers a solution that is meant to be implemented from the ground up.
This device is unusual in that it can be installed in existing warehouses with just minor modifications to the existing layout and hardware.
Protection by a patent or a trademark
At this point in time, Automated Warehouse Solution does not intend to seek any patents. The hardware and software programming will be protected, and the organization believes that this level of legal protection will be sufficient for the time being to safeguard the agency from "design poachers." The team no longer believes it is worthwhile to spend time and money on a patent that will be used seldom and will need customization for each warehouse deployment. Automated Warehouse Solutions creates a plan in order to get a trademark when the product diagram is successfully completed.
In-House vs. Outsourcing
The production plan for Automated Warehouse Solutions is to outsource the majority of the product's features. All motors, servos, integrated circuits, and other components will be purchased via suppliers and manufacturers on a contract basis. Programming, basic machining, and product assembly will all be available in-house. A large amount of outsourcing is due to the need to lower the initial expenditure necessary to get a firm up and running. Second, Automated Warehouse Solutions can concentrate on its own products and new product development rather than being sidetracked by the manufacturing of less expensive and proven components.
Future Service Offerings Product
Automated Warehouse Solutions intends to continue developing new solutions while also providing warehouse and storage operational consulting services. The company wants to increase the choices that can easily be given to an existing system while also improving the structure's capabilities and efficiency. Furthermore, Automated Warehouse Solutions is set up to expand into other sectors of the storage and warehouse business if the opportunity comes. Finally, as the enterprise's positive aspects ride and rapport in the warehouse and storage market, Automated Warehouse Solutions wants to expand a large portion of their company into consulting products.
The consultancy side of the business is expected to create a significant portion of the company's sales and provide a fantastic return on investment since it does not need a large amount of capital because it is entirely dependent on human brain resources.
Marketing Techniques
This company's an advertising and marketing strategy requires meticulous preparation and execution from the start of product development. It is critical to properly align advertising goals with the company's business objectives so that the marketing department does not have complete control over product development. Rather, the company should first develop a solid and practical business goal, which will then drive the advertising goal.
Building on the business aim of building a low-cost, simple-to-install warehouse automation solution, a clear advertising and marketing purpose emerges. Because the business is driven by a market need, the advertising aim will simply be to promote that need and make warehouse foremen and manufacturing site managers aware of the time-saving and cost-effective opportunity they are being provided.
Market You're After
The target market for this product, as previously stated, will be small-scale warehouses and manufacturers. It's likely that performing some novelty advertising in safety-sensitive locations or warehouses with dangerous chemical compounds will pay off. It should be noted that, since the majority of the target warehouses are tiny, this product will help them make the most of their limited area. More product aisles may be added to the warehouse by using this method, as shown in the figures below.
The focus of the initial prototype will be on low-weight requirements. The robot will be able to pick up an item weighing less than five kilograms that have to be transferred. The first group to be targeted will be small factories in the vicinity. Because the agency's emphasis will be on customer service, technical support, and product modification, and because technical personnel will be limited at first, it will be vital to be near to the client base. As the business expands, so will the target population, which will expand into new geographic regions. All marketing and promotion, however, will be oriented towards the same professional position throughout. The demography will deteriorate as follows if warehouse and manufacturing facility foremen and managers are targeted.
Men from the middle and upper-middle classes will make up the majority of the market. Race, as well as age and educational level, will not be a determining factor. Though many managers have more schooling than factory employees, many have also become managers as a result of factory experience, therefore the age and training level demography is too hazy to be precise. However, since ride is such an important part of what makes foreigners excellent, it will be critical to market how ride will demonstrate the product's efficiency. Experienced people like things that look to have been tried and true. As a result, it must be shown that, although they may be OK with the current state of affairs, the system will be such an important part of their employment in five years that they would be unable to execute their job effectively without it.
Purchase Motivation
This promotion of time-tested certification may provide some incentive to purchase, but few manufacturing foremen will be willing to go out on a limb to check whether this product is a viable answer on their own. This is a fair fear since a robotic solution might easily come out as too futuristic and an overly complicated approach to do a basic activity. As a result, it may be necessary to complete the specialty for hazardous situations first. This niche may be utilized to demonstrate that the product is a viable staffing option for any warehouse with small-scale items, and these samples and testimonials can be used as examples. The details of the advertising approaches that will be used will be discussed later, but the effectiveness of the preliminary market opinion will have a significant impact on advertising strategies as the company expands.
Size and Trends of the Market
The size of the company's market will increase in proportion to the technical and customer service staff's competencies. Because one of the device's primary selling points is customizing particular solutions and providing consistent customer care, it's essential to ensure that these concepts aren't overlooked by expanding outside the range of the support personnel. Technical and sales staff will be sent to ensure that clients are constantly pleased, to provide expansion and customization packages, and to solicit feedback on the product's overall performance for their specific requirements. As client needs become more specified, this will assist structure the industry as it evolves, concentrating on extra-specific warehousing sectors. The employer's objective and principle are to focus not just on the sale of the system, but also on establishing a long-term relationship with the customer that benefits both sides.
New warehouses being built these days have a strong trend of including built-in automation from the ground up. However, for the vast majority of businesses today, this is not an option. Closing the plant, losing money due to downtime, and making substantial modifications to the facility are not cost-efficient ways to compromise the efficiency and reliability of automation.
However, there are few companies in the market that can retrofit an automation solution into an existing warehouse environment. As previously stated, many warehouses waste valuable work time and money on routine retrieval activities. It is expected that a trend for turnkey automation would take off and expand swiftly as aisle widths are shrunk and product retrieval times are sped up.
This is due to a few factors. To begin with, businesses must keep their production equipment up to date in order to remain competitive and attract new clients. They routinely provide tours of their facilities to prospective clients to demonstrate their capabilities. If a customer visits two similar facilities, one of which has an automated warehouse system, the potential customer should be able to perceive the efficiency benefits of the more modern warehouse without difficulty. If the rate and time limitations are the same for both alternatives, the practical consumer will nearly always choose the more current and efficient one. The contemporary warehouse is the best option in this scenario. This solution will be demonstrated to be more dependable, cost-effective, and safe, in addition to being more contemporary. When all of these benefits are offered at the same price, it will be difficult for the customer to refuse the offer. This sort of warehouse solution will then spread by word of mouth, and the trend for turnkey automation will quickly emerge as a simple and less expensive solution to the dilemma of being current and competitive.
Sales Efforts by Individuals
One of the most crucial aspects of this company is the sales personnel. On the grounds that boom is so intertwined with patron assistance, the sales force will control the location(s) of the support personnel. The route of product development will also be decided by the sales department. After the first few simple pre-production devices have been utilized, the sales staff will get feedback on what product add-ons or replacements the customer is interested in purchasing.
As a result, the income body of employees will have to be a group of persons who are inextricably linked to the business. They must possess a thorough understanding of the product, the company's history, and the agency's long-term objectives. They'll need a strong desire to be a key part of the organization, as well as the necessary education.
The sales team will need to establish the customer connection before passing it on to the customer service team and moving on to the next planned selling area. Inter-departmental contact must be kept closed in order to do this.
Before being authorized to make their own sales calls, the sales force will be required to complete at least three months of training under the supervision of either an employer executive or an experienced salesperson. Coaching time shall be compensated at 30% of the rate paid to the experienced earner. This is a significant financial commitment for the organization, reinforcing the challenging technique of determining income team members.
Once a member is hired as a full-time, impartial salesperson, they will be paid a percentage of their sales. While the customer connection is crucial, salespeople should be encouraged to maintain a steady flow of sales and leave the long-term relationship to the customer service team. A 10% commission is expected on a sale. This is a large enough percentage to attract motivated and talented income people to the company, which will help it develop.
The sales personnel will decide how much time they spend with each consumer throughout the sale. However, following a brief training period, the sales team aims to gain an average of four new purchaser sales every month. There is no longer a minimum order amount for these transactions, but it is sufficient to keep the salespeople motivated and looking for new customers. This may be accomplished in any manner they find most efficient. Renting booths at different shows or advertising in relevant magazines are other possible revenue streams, but the majority of sales responsibilities will be set by the sales team. Despite the fact that our company is built on individuals and the connections we have, it is critical that we keep our staff comfortable and engaged. To be competitive, the sales crew must always be cheerful and professional.
Publicity and Promotion
As previously stated, the revenue approach would mostly rely on word of mouth and face-to-face interactions with salespeople. However, in order to encourage state-wide and eventually national growth, larger-scale promotion and marketing will be required, which our income personnel, in my view, will not be able to do. To achieve so, the employer will take a variety of paths.
The first option for selling is to purchase booths at regional alternate exhibits. Warehouse managers and salespeople from companies that employ warehouses will be on hand to market their own products as well as see what their competitors are doing. This will provide us the opportunity to sell to a group of people who are typically unapproachable. We may sell our goods to a variety of salespeople, who will then advise their clients about what is currently available on the market.
The second method we plan to create a business is by acquiring advertising space in publications or journals that the parties concerned will read. Our classified advertising will include a picture of the basic unit, as well as other items being offered, the base pricing, and a short description of the firm, and will target producers that specialize in catering to small commercial enterprise and manufacturing consumers. After the manufactured items have been sold, current consumers may provide testimonials and efficiency information. For comparable information, the advertising will also provide a link to the company's website and a phone number for a salesperson. Upon receiving a customer query, the customer service representative will inquire as to how they were brought to the company, which will aid in providing feedback on the advertisements' success rate.
Price
The basic price of the gadget to produce lifelike profits for an entry-stage unit will be about $3000, as detailed in the economic portion of this business plan. This will be the starting point for the revenue team and the advertising staff. They will be encouraged to propose add-ons or upgrades to the basic unit as the company expands and new preferences are added. This will aid in increasing the agency's sales and profits, as well as keeping current consumers coming back for the most recent system add-on function or enhancement.
Due to the cheap cost of low-volume manufacturing, the profit margin will be minimal initially. By boosting section quantities, streamlining the process, phasing out unneeded components or electrical components, and packing items together to save space and resources, the cost of manufacturing will reduce with time.
Distribution Methodology
While the company is still in its early stages of growth, distribution will seem to be completely different than it would after it has expanded to a few locations and states. Initially, the distribution will be carried out only by the government team. This requires visiting each customer's warehouse, supervising and guiding installation, and speaking with the system's operators in detail. They will provide hands-on, intense training to provide a thorough understanding of the system, and they will test it often to ensure that everything is working properly.
We will outsource the setup procedure as the agency grows. There will be a single manufacturing hub. There will be no stock, and each item will be produced to order once it is ordered. The whole order is arranged in-house and then transported as a single item to a local distributor or installation. After that, the installation company will deliver it to the customer's warehouse. While it is being installed, a company customer care professional will be onsite, monitoring the installation and guiding the customer through the process of adjusting to their new system. They will provide the same comprehensive safety and practical training to all events that will be participating, as well as keep constant touch on a weekly basis to ensure that everything is running well.
These local installers will be chosen solely on the basis of their geographic area. This device may be installed by any construction team with an electrician, as long as a customer service person is on hand to address any issues that may arise.
Analysis of Competitors
The assessment of the intended market competition is a challenging yet sophisticated procedure. It's critical to understand the mechanical automation industry's many levels and objectives, as well as the services they provide. It's also vital to think about whether these are turnkey choices or whether they need facility-level integration that should be done when the specific production facility is being created. Finally, one of the company's most important assets is its commitment to its customers.
Competition that currently exists
The majority of today's warehouse automation companies focus on large-scale items. They want to build an all automated warehouse with format palletizing robots that can handle very large loads. However, these systems may cost tens of millions of dollars to set up and operate, take up a lot of space, and need a significant period of manufacturing downtime to deploy. It is feasible, however, that these large organizations will be successful in rapidly reducing the size of their existing offering in order to enhance a similar product in a shorter amount of time. The matrix in Table 1 depicts the current competition solely in the context of the small-scale market.
The current opposition's power comes from their experience and current customer base. If the customers of rivals can be contacted and informed about Automated Warehouse Solutions is delivered, the agency believes it may capture part of this precious market share by stressing buyer care and precise solutions tailored to their requirements.
The flaws of the current competitors are what really make this product so appealing. There are no clear firms that provide a low-cost, turnkey automation solution. Many cutting-edge businesses need ground-up integration, which necessitates a significant time and financial investment that most businesses are unable to accomplish. Humans will be more eager to try our product if we can persuade them that we can be operational in a few days for a modest price.
Competition in the Future
As previously stated, the majority of future competition will come from companies that currently operate in the warehouse automation field, such as FATA or Westfalia. These businesses will be able to allocate their engineers to design a new product and utilize their existing implementation methodologies to concentrate on developing a low-cost solution. This will provide the necessary competition for Automated Warehouse Solutions, forcing the industry to respond even faster to the requirements of clients.
Engineers working for warehouse companies themselves might be potential rivals. If the device provided is simple and inexpensive enough, agencies may be able to save time and money by building their own device. This will enable complete customization, assignment-specific programming, and full-time patron and robotic assistance on-site. To avoid this being a problem, we must make it obvious that the diagram time is as quick as possible. The cost of design time must become a sunk cost for the company, such that if a potential warehouse client decides to design it themselves, they will have to pay for design time as well as lose that engineer's time for other responsibilities. They are no longer wasting money on graph time because of this tool. This is a solid method of reducing the risk of consumers creating the product themselves.
Managerial Structure of the Company
The diagram below depicts the organization's principal hierarchical structure after it has reached full growth. The company's top four roles will be held by the company's four original contributors. They will specialize in the growth of their own sector as the company expands so that when these jobs are legally allocated names, each member will be fully prepared to take on that responsibility. A formal board of directors will not exist. If growth dictates that this be added, that will happen over time, but for the time being, it is believed that the organization will work well if things remain basic and modular, as illustrated above. Each unit will be able to operate independently of the others, yet information on how to develop and grow will be communicated often.
All of the yellow or green units are paid jobs that need at least 5 years of agency experience to attain. The starting wages will be
According to Figure 3: Company Managerial Hierarchy, the top four jobs are also defined.
Employee satisfaction and the success of the company are two things that go hand-in-hand. If the firm is struggling, there is no need for the executives to earn enormous sums of money.
The blue squares represent paying jobs that may be occupied by new employees or those with a lot of experience. The top four executives choose the individuals who will occupy these posts. All of these jobs will also have supervisory responsibilities over their proven subordinates.
Hourly or commissioned personnel are indicated by all gray and red rectangles. These rectangles unquestionably depict large groups of people, not simply individuals. These units may grow and shrink in accordance with the demands of the company. Although experience with these companies is preferred, fresh employees are welcome, given that the.
The same wage and benefit package will apply to all employees and corporate executives. As the company grows, this will be established depending on employee needs.
Budget Estimates
The team's financial goals for the first few years of operation are predicated on the understanding that these plans will be updated as market circumstances change and new data is collected. The project's financial estimate for the next five years, as well as accompanying assumptions and rapid break-even analysis, has been outlined.
Important Premises
The following assumptions underpin the suggested financial statements during the first few years of the company's existence:
The assumption that sales may commence three months after the commercial business officially begins operations is perhaps the most important assumption in all organizational planning. This assumes that the product resulting from the senior graph may be completed and evaluated during the first six months of operation.
The team also believes that in the first few years of operation, the market for this product will expand. Because the business company is considered to be expanding off of low-cost commercial with the help of paid staff, no advertising and marketing expenditures have been included in the financial calculations (through calls, emails, etc.).
Statements of income (year 1 by month, years 2 and 3 by quarter)
Statements of income
For the first, second, and 0.33 years of business, the company's financial statements have been shrouded beneath. Table 6 or Appendix A includes specific more different computations.
During the first and second years of operation, the team intends to generate a profit. After the first year, the group's most valuable asset will be its understanding of the industry it has joined and is building a niche for. Income Statements for Years 1-3 (Table 2)
Sheet of Accounts
The following balance sheets represent the company's first few years. See Table 6 or Appendix A for more specific calculations.
A negative owner's equity after the first year is a remarkable feature of the company's balance sheet. When a loss is reported in the first year's income statement, this may be foreseen. The company delivers excellent fairness for its stockholders year after year.
Statement of cash flows
Table 6 shows a thorough breakdown of cash flow figures for the first few years of business. Appendix A provides a detailed cash flow statement.
Analyzed for break-even
The firm was subjected to a quick break-even examination (see Table 7). The study was conducted on the assumption that at the end of Year 1, the firm has amassed all of its fixed costs.
Proposal for a loan or a capital investment
Because the company is a start-up, it has very little equity and must rely on loan funding to get started. Fortunately, the interest paid on loan capital may be deducted as a hobby. However, the organization would prefer fair loans, which have lower total interest rates (equity reduces the hazard of lenders).
As the company grows in equity (by moving into its own facility, stocking up on merchandise, and purchasing equipment), the loans it depends on will become more reliant on equity.
desired amount
The team would want to submit a preliminary request to the financial institution for $150,000 in funding to cover the costs of a car, many computers, lab equipment, and other company start-up costs. The business firm would then want an extra $50,000 in operation fees after six months.
The goal of the money and how they'll be used
Appendix A: Detailed Cash Flow Analysis contains the fine print on how the money will be spent. Vehicle expenditures, computers, lab equipment, and other start-up costs will be the most critical demands addressed by these monies.
For the first nine months of operation, the company would want to acquire one vehicle. Following this, the company will re-evaluate the necessity for more automobile purchases. Salesmen and engineers will go to warehouses around the kingdom and nation to serve customers throughout the life of the company.
Computers and lab equipment will be required for technical product research and development, which is one of the corporation's top goals in its initial few months of operation. Initially, this equipment will be utilized in the business owners' homes, but when the company's status improves, it will be relocated to a dedicated location.
The funds provided by the loan will also be utilized to pay the wages of the engineers employed by the company in the first year. For today's work market requirements, these incomes are quite low.
Schedule for "cash out" repayment (exit strategy)
The principal of the loan will be repaid at the start of the company's second year of operation. The repayments will be $10,000 per month for the first six months, then $20,000 per month after that. The length of the $20,000 repayments will be determined by the loan's interest rate.
During the first few years of the company, the interest on the mortgage will be paid.
Timeline for putting the concept into action and establishing the company
Figure 4 depicts the loan repayment schedule as well as key milestones in the company's early years.
Related link