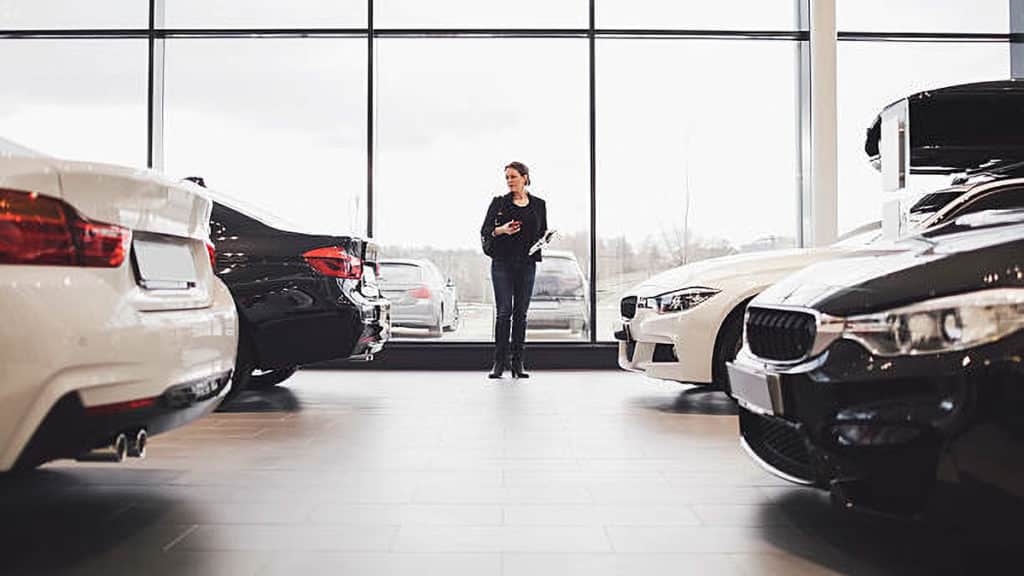 In order to write a Automotive Dealer Business Plan you need to start with executive summary. In order to write an executive summary for a Automotive Dealer Business Plan you need to mention- what your business is about and what you'll sell. Explain how you'll get people to buy it. The executive summary should be written at the end. Then you should write a Business Description mentioning goals, objectives, mission and vision. Some of the major sections or components of a Automotive Dealer Business Plan involves Fund Usage Plan, Marketing Plan, Industry Analysis, Organizational Overview, Operational Overview and Financials.
This article will provide you a step by step process to write your Business Plan. Get a free Automotive Dealer Business Plan at the end!
Selling cars, trucks, and other vehicles, whether brand new or pre-owned, is an exciting and difficult venture. In order to succeed as an automotive dealer, you must have in-depth knowledge of the automotive industry, available financing options, and customer service practices.
Overview: Environmental Engines Toyota Honda GM is a automotive dealership located in Ann Arbor, Michigan. It was formed as a customer-focused and ecologically conscious dealership, stressing consumer education to set itself apart from less environmentally conscious competitors. It believes that future automobiles should save even more energy and emit even less pollution. Environmental Engines Toyota Honda GM, led by mechanical engineer and environmental specialist Jack Anderson, public relations consultant Jim Handy, and environmental and corporate attorney Frank Lee Good, will rise to the top of the vehicle sales business. We invite everyone to participate in the development of this fascinating new technology with us.
The four-door Toyota Prius, America's most popular alternative vehicle, will be on display at Environmental Engines Toyota Honda GM. It runs on gasoline, much like a typical automobile, but it also includes an electric motor beneath the hood that supplements and sometimes fully replaces the gas engine. When the Prius comes to a halt, the gas engine automatically shuts off. When you press the accelerator, the electric motor kicks in. Unlike every other car on the road, the Prius gets greater mileage in stop-and-go city driving than it does when cruising at high speeds. The car's most impressive characteristic emerges during stop-and-go driving: the Prius is dead quiet anytime it shifts to electric power.
Mission: Environmental Engines Toyota Honda GM's mission is to provide environmentally friendly automobile options to early adopters and the younger generation in the Ann Arbor community, as well as to convert traditional new car buyers into conscientious consumers who are aware of both external and internal costs associated with automobile transportation. We'll appeal to brave early adopters who see themselves as "energy pioneers," as well as the younger generation and environmentalists. Everything will fall into place if we stick to these ideas.
Our will to improve will be unwavering. We will never be satisfied with ourselves because we believe there is always potential for development.
Vision: To be the most innovative leader in automotive business intelligence solutions in the world.
Industry Overview: The automobile dealer industry sells the vast majority of today's vehicles, light trucks, and vans. Consumer preferences, the popularity of the manufacturer's vehicle models, and the level of rivalry with other dealers all influence sales of these automobiles. Most dealers market other automobile-related services to potential purchasers in addition to selling the car. Extending warranties, undercoating, insurance, and financing are just a few of the options available. After vehicle salespeople have finalized a purchase, aftermarket sales divisions sell these services and other items. The revenue earned by the sale of these packages considerably increases the revenue generated by each vehicle sold. Because car sales fluctuate so much, auto dealers provide hefty incentives, rebates, and financing options during slow periods in order to maintain high sales volumes and eliminate inventory.
Another successful service given in this industry is automobile repair. Dealership service departments provide repair services as well as sell accessories and replacement parts. Although the majority of service departments focus solely on repairs, some dealerships also include body shops that specialize in collision repair, refinishing, and painting. Customers' satisfaction and willingness to purchase future automobiles from the dealer are heavily influenced by the performance of the service department.
There are two types of dealers in the automobile industry. New car dealers, sometimes known as franchised dealers, specialize in selling new automobiles, SUVs, and passenger and freight vans. These franchised dealerships sell and lease vehicles made by a certain firm, which may contain multiple brands. The other component of the industry is used automobile dealers, who are also known as independent dealers. These dealerships provide a wide range of automobiles that have been previously owned, rented, or leased. Technology advancements have boosted the durability and longevity of modern cars, resulting in an increase amount of high-quality second-hand cars for sale. Although used vehicle dealers do not sell new cars by definition, most new car dealers do sell some used cars.
New vehicle sales make for more than half of total sales revenue for franchised new car and new truck dealers, according to the National Automobile Dealers Association. These sales also produce additional cash for new car dealerships' other areas, which are more profitable. Dealers can count on fresh repair and service clients as well as future trade-ins of existing vehicles by putting new vehicles on the road.

Independent used vehicle dealerships typically have fewer employees than franchised rivals. Most are independent businesses, although national corporations are gradually opening big superstores across the country. Warranty and other service-related work is frequently contracted out to other dealers or satellite service facilities by these large used vehicle and truck dealerships.
Financial Overview: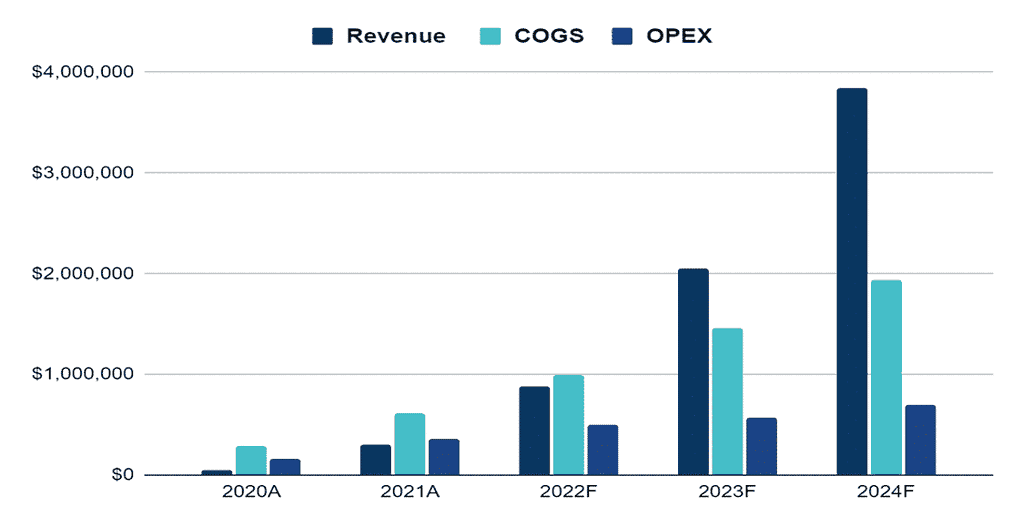 Financial Highlights:
| | | | | | |
| --- | --- | --- | --- | --- | --- |
| Liquidity | 2020A | 2021A | 2022F | 2023F | 2024F |
| Current ratio | 6 | 12 | 23 | 32 | 42 |
| Quick ratio | 6 | 11 | 22 | 31 | 40 |
| DSO | 8 | 8 | 8 | 8 | 8 |
| Solvency | | | | | |
| Interest coverage ratio | | | 8.2 | 11.1 | 14.2 |
| Debt to asset ratio | 0.01 | 0.01 | 0.2 | 0.18 | 0.16 |
| Profitability | | | | | |
| Gross profit margin | 51% | 51% | 53% | 53% | 53% |
| EBITDA margin | 12% | 14% | 21% | 22% | 22% |
| Return on asset | 5% | 6% | 13% | 14% | 14% |
| Return on equity | 5% | 6% | 16% | 17% | 17% |
Use of Funds: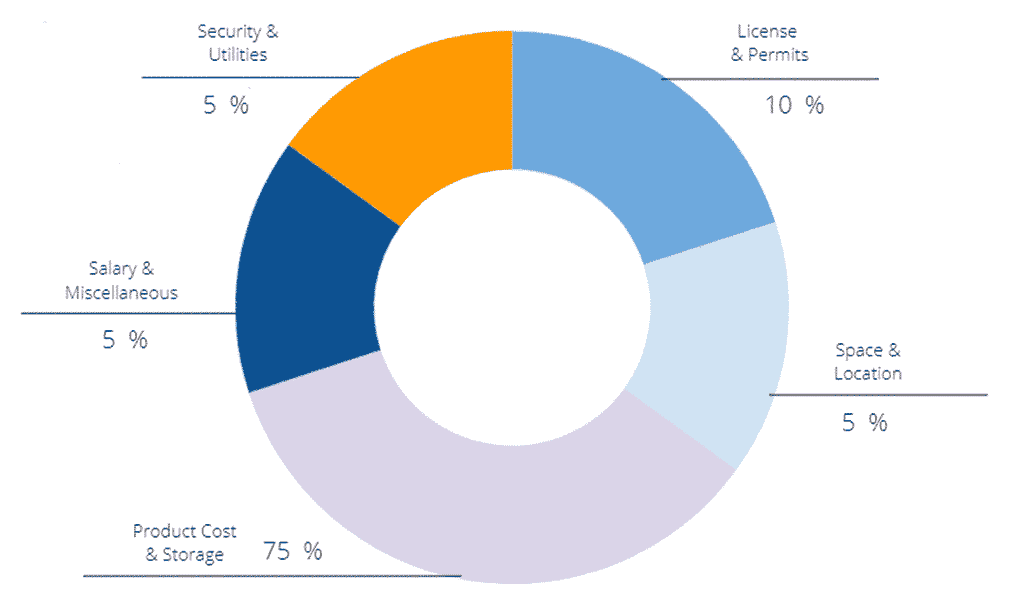 Industry Analysis: On a global scale, the automobile sector is one of the most important. Because of its huge revenues and rising client demands, it is critical to the global economy's growth. Because the automobile industry contributes to the country's economic development, it is often regarded as a major economic sector. Multiple organizations specializing in car production, as well as those involved in the marketing and sale of automobile products such as automobiles, buses, vans, trucks, motorbikes, mopeds, and motorized bicycles, make up the automobile industry. The global automobile business made up of numerous large car manufacturers' groups that collaborate with global suppliers.

The primary purpose of this article is to present a complete study of the automobile industry, including a clear description of the sector's current state and future possibilities. The application of strategy techniques and theories, such as Porter's five forces, PESTEL analysis, and other methodologies, should be given careful consideration.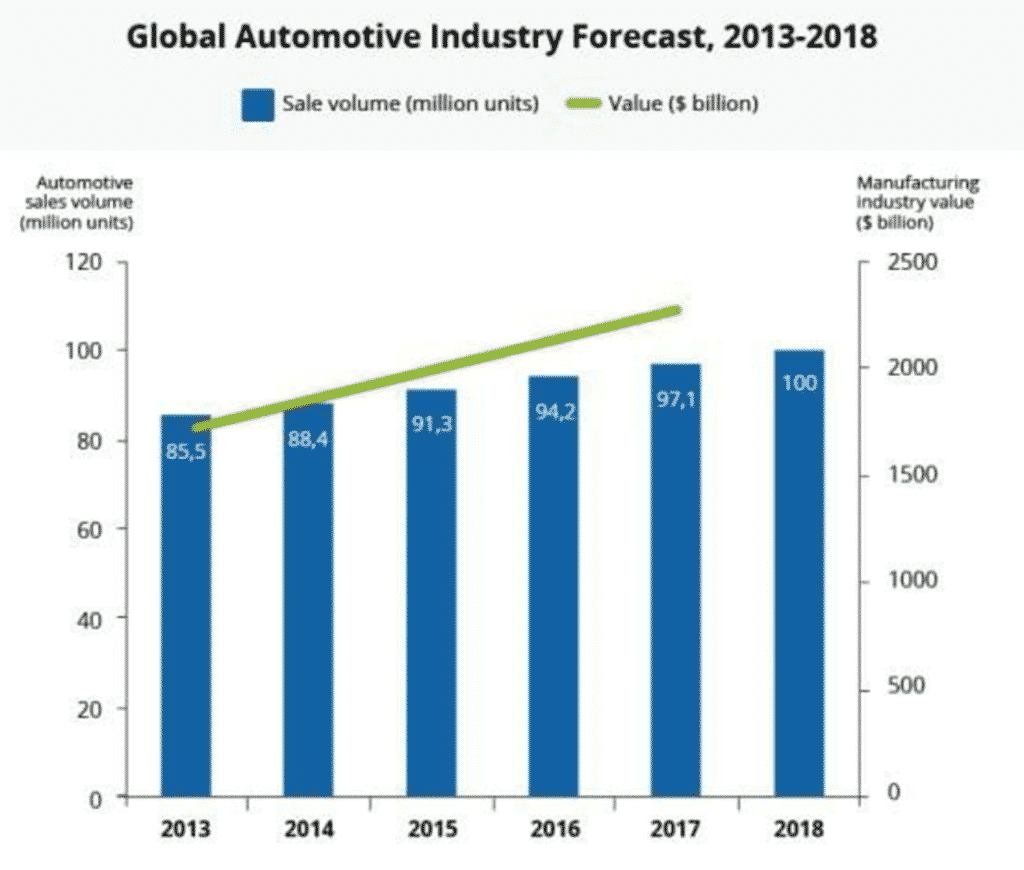 Before the corona virus crisis threw the world into chaos, the automotive sector had been on an upward track throughout 2018 and had just entered a period of stagnation in 2019. Between March and May 2020, global vehicle sales fell by almost 15% worldwide. China was the first market to recover from the crisis, with car sales remaining at pre-pandemic levels for months after the outbreak. Electric vehicles, autonomous driving, and mobility services are expected to continue to fuel the market, resulting in an overall rebound in the coming quarters.
Marketing Plan: Marketing via websites, emails, and social media referred to as digital marketing. Other than where it appears, digital marketing varies from traditional marketing in other ways. The practice is more engaging, with a greater emphasis on the customer.
A vehicle dealership cannot target a buyer based on their age or other factors in a television commercial. The potential customer is unable to interact with the television commercial. In addition, the dealer is frequently unaware of the effectiveness of the commercial in attracting potential buyers to the dealership.
Demographics and various types of potential buyers can be targeted using digital marketing. Dealers can readily assess how effectively their marketing campaign performed and how many individuals are interested in learning more.
Customers browse for vehicles in drastically different ways now than they did 10 or 15 years ago, thus automotive digital marketing is critical. Before visiting a showroom, most clients spend hours online shopping for their future vehicle.

All of this necessitates a strong online presence and engagement with potential customers. They must be able to target marketing to specific categories of buyers and provide them with the information they require. All of this must take place before the buyer visits a dealership or even makes a phone call.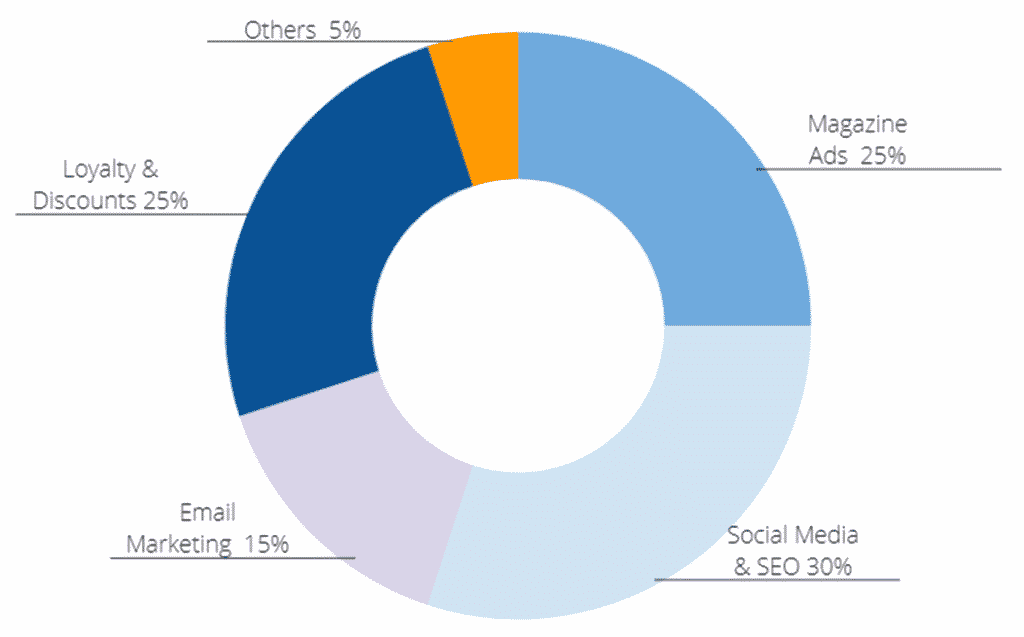 Organizational Plan: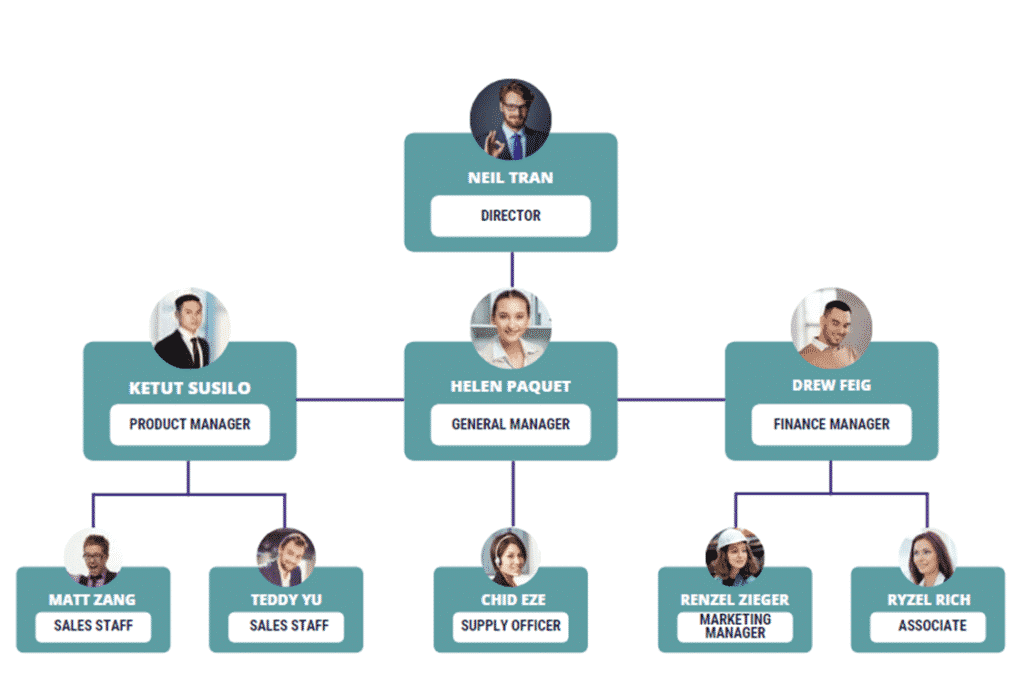 Financial Plan:
Earnings: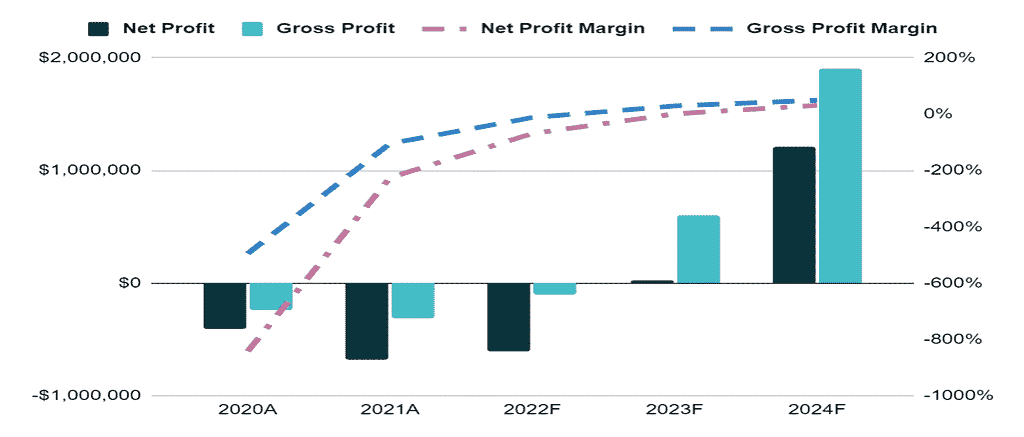 Income Statement:
| | | | | | |
| --- | --- | --- | --- | --- | --- |
| | 2020A | 2021A | 2022F | 2023F | 2024F |
| ANNUAL REVENUE | | | | | |
| Item 1 | 9,217 | 59,117 | 175,410 | 415,277 | 781,357 |
| Item 2 | 34,701 | 222,558 | 660,368 | 1,563,394 | 2,941,580 |
| Item 3 | 4,067 | 19,561 | 46,432 | 78,519 | 114,905 |
| Total annual revenue | 47,985 | 301,236 | 882,211 | 2,057,189 | 3,837,842 |
| % increase | | 528% | 193% | 133% | 87% |
| COST of REVENUE | | | | | |
| Item 1 | 360 | 2,259 | 6,617 | 15,429 | 28,784 |
| Item 2 | 480 | 3,012 | 8,822 | 20,572 | 38,378 |
| Item 3 | 52,000 | 65,000 | 78,000 | 91,000 | 104,000 |
| Item 4 | 720 | 3,615 | 8,822 | 16,458 | 23,027 |
| Item 5 | 140,000 | 336,000 | 560,000 | 840,000 | 1,120,000 |
| Item 6 | 60,000 | 144,000 | 240,000 | 360,000 | 480,000 |
| Item 7 | 32,000 | 61,333 | 85,533 | 112,153 | 141,435 |
| Total Cost of Revenue | 285,560 | 615,220 | 987,794 | 1,455,612 | 1,935,625 |
| as % of revenue | 595% | 204% | 112% | 71% | 50% |
| Gross Profit | -237,575 | -313,984 | -105,583 | 601,578 | 1,902,218 |
| SELLING & ADMIN EXPENSES | | | | | |
| Item 1 | 28,000 | 96,800 | 154,880 | 175,692 | 193,261 |
| Item 2 | 75,000 | 105,000 | 120,000 | 120,000 | 120,000 |
| Item 3 | 36,000 | 96,000 | 108,000 | 120,000 | 120,000 |
| Item 4 | 8,000 | 12,000 | 12,000 | 12,000 | 12,000 |
| Item 5 | 3,839 | 18,074 | 44,111 | 61,716 | 115,135 |
| Item 6 | 3,359 | 12,049 | 26,466 | 41,144 | 76,757 |
| Item 7 | 5,600 | 10,000 | 12,904 | 15,034 | 17,376 |
| Item 8 | 6,667 | 14,000 | 22,067 | 30,940 | 40,701 |
| Total selling & admin expenses | 166,464 | 363,924 | 500,428 | 576,525 | 695,230 |
| as % of revenue | 347% | 121% | 57% | 28% | 18% |
| Net profit | -404,039 | -677,907 | -606,011 | 25,052 | 1,206,987 |
| Accumulated net profit | -404,039 | -1,081,947 | -1,687,957 | -1,662,905 | -455,918 |