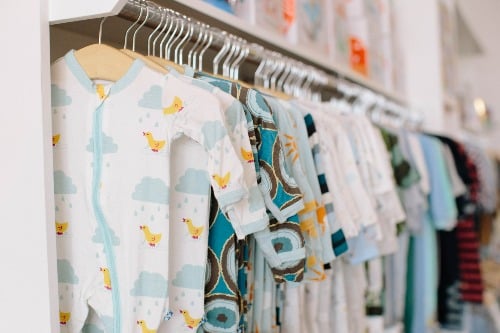 Do you want to start a company selling baby clothes?
Do you want to start a company selling baby clothes? It is definitely a thriving sector, given that over 4 million children are born in the United States each year. Second, babies' clothing requirements are substantially higher than those of adults, resulting in an excellent rate of return on your investment in this firm.
The most significant advantage of starting this business is that newborn clothes is one of people's most basic necessities, and unlike many other businesses, it is not subject to seasonal swings. You'll need to prepare a thorough business plan before you start a baby cloth business since it will act as the basis for your company's future operations and decisions. It will help you figure out what you'll sell, who your target customers will be, and how you'll spend your money on the essential equipment and merchandise.
If you're not sure how to write a good business plan, have a look at this one for a baby clothes company named 'The Baby Stop.'
The Company
The Baby Stop will be headquartered in Queens, New York City's second most populous borough, and will sell organic and eco-friendly baby clothes. With 8.5 million citizens, New York City is the most populous city in the United States. We will be in a fantastic location for a baby clothing business.
Carl Dan, who has worked in the garment industry for the last 15 years, will be the company's owner and administrator. The company's primary emphasis will be on large-scale baby apparel production, which will include both traditional and high-end baby boutique items.
Management
The Baby Stop will begin with two units: a baby clothing production facility and a retail store where the goods will be sold. The retail store will not only be a point of sale, but it will also be in charge of clothes distribution to other shops. The retail location will be 45 minutes from the production site in the industrial zone, near the city's primary business district.
Dan will be in charge of overseeing and managing the whole production and retail activities. Kraig Dan, who has held several managerial positions at retail behemoths such as Wal-Mart, will work alongside his son as the store manager and will also advise him throughout the process.
Owner of a business
Carl Dan, the company's creator, graduated from Auburn University in Alabama with a bachelor's degree in textile engineering and Harvard University with a master's degree in business administration. Following his education, he spent more than 15 years working for several textile companies in various roles. For the preceding seven years, he had been the production manager of Dolce & Gabbana's newborn clothing department in the United States. Dan's technical and management talents are well-known among the top executives in the clothing sector.
Why is the company being established?
Dan has worked in the clothing sector for over a decade, in positions ranging from start-ups to multinational organizations. He had experienced the textile industry's environmental impact throughout his career, notably the poisonous wastes produced throughout the production process. For years, he had been researching on his own, attempting to find out the best ways to create in an ecologically friendly manner. He sought his own place so that he could put his creative ideas into action, something he couldn't accomplish while working for another company, even in senior roles. That's why Dan had spent the last five years developing this one-of-a-kind enterprise. He also picked this organization because to the very strong market demand, which will be discussed more below.
How will the company get started?
The Baby Store will begin as a modest clothing firm with a manufacturing factory and a baby boutique as its primary operations. Dan has methodically planned every aspect of his business and obtained the help of experts from other sectors to help him create an accurate map. Financial experts have forecasted the following costs for expenditures, assets, a firm plan investment group, and starting loans.
Customers' services
The Baby Stop will produce the following types of baby clothing for our customers.
Leggings and pull-on pants
Outfits made up of just one component
Pajamas and sleepwear
Jackets and sweaters
Trousers and shirts
Blankets that may be used as a blanket
We will have various baby items in our store in addition to the baby dresses. Despite the fact that these things will not be made by us, their presence will assist us in selling more of our own. Baby flannel shirts and snowsuits are among the items offered.
Shoes, socks, booties, and headgear for babies
Bags, cradles, walkers, and baby feeding
Analysis of the infant clothing industry's marketing
Dan engaged the services of marketing pros to help him construct a great baby boutique business plan since proper marketing analysis is the most important component of an effective business plan. Marketing pros and analysts advised him in deciding on the best site for his baby boutique after researching local market trends in New York City.
The success or failure of a startup is completely reliant on its marketing strategy, which can only be developed via thorough market research. To do an accurate marketing analysis, you must first assess your company's current market trends, then determine your target audience and potential customers, establish business objectives, then price your products or services based on the previous three steps.
Market Developments
One of the few industries that has seen a considerable increase in revenue over time is the clothing industry. With $359 billion in sales in 2015, the US clothing market is the largest in the world. In 2015, over 90,000 individuals worked in the garment manufacturing industry in the United States. The most intriguing aspect of this industry is how dynamic it is. This industry is always changing, seeking to adapt to the latest consumer trends as well as new technology that will make their shopping experience more convenient and enjoyable.
The garment market is divided into sectors depending on client age groups, with newborn clothing being the most popular. The increased need for infant gear is due to the fact that, unlike adults, babies require a significant number of garments since their clothes are often soiled and must be changed. Furthermore, the world's population is always growing, necessitating an ever-increasing need for newborn clothing. The birth rate in New York City, for example, was 13.6 percent in 2015. These numbers show that if properly advertised, a baby clothing store may be quite profitable.
Segmentation of the Market
In order to build a great boutique business strategy, it was important to evaluate market segmentation of potential customers of our baby things. We can only build a lucrative and effective marketing campaign after we have a deep grasp of our target clientele. Our experts have identified the following target group as prospective future purchasers of our baby clothing:
Customers
The company plans to serve both residential and business regions of New York City. Our customers will include residents near our retail area as well as those from other parts of the city. The first group will buy our products directly from us, while the second will buy them through a range of stores across the city.
The Company's Objective
The company's mission is to design and offer one-of-a-kind, high-end baby clothing to our target market. Dan's ambition is to make the firm the best baby clothes producer in the world in the first five years.
Customers on their own
The residents of New York City's residential zone, notably those in the Queens borough, will be one of our major customers of our products. These people will buy our products straight from our store, which is located in the main commercial district of the area. These customers are quite wealthy, and as a consequence, they will provide a big portion of our money; as a result, they have a considerable influence over our objectives and policies. We'll offer a range of sales packages to tempt these customers.
Stores that sell a variety of items
The Baby Stop will also sell its products at New York City's department stores and mega malls. There are hundreds of shopping malls and department stores in New York City, and the majority of them sell baby clothing from various brands. After individual customers, these department stores will be our second-largest customer, displaying our products alongside those of our competitors.
Orphanages
We'll also target Queens' orphans, which number in the thousands. Each year, thousands of babies are placed in these orphanages, and they are in constant need of clothes and other necessities. To stimulate a huge sale, we will provide discounts on various bundles and will also organize transportation to deliver clothing to them.
A complete market analysis of our potential clients may be seen in the table below:
Business Objective
We intend to be the leading infant cloth manufacturing company in New York City within five years of our inception. Our primary business objectives for the next three years are to achieve a net profit margin of $25k per month by the end of the first year and to pay startup expenditures with produced profits by the end of the third year.
Pricing of Products
On average, our things will be 10-15% less costly than those of our competitors. Our pricing approach is to provide the most tempting rate of return while recruiting as many customers as feasible.
Strategy
Dan performed a lot of research before coming up with a solid sales strategy for the company. He knew how to start a baby clothes firm since he had previously worked in the industry, but he sought expert help in order to make this venture a success.
Our specialists designed the following sales strategy:
Analysis of Competitors:
Because clothing and apparel is one of the biggest industries in the United States, and almost all major clothing companies are based here, we face intense competition.
However, we will not show up unprepared. Dan has gone to great lengths to disrupt the garment industry from the bottom up, using ecologically friendly manufacturing technologies that produce zero emissions. Dan's idea has received a lot of support from individuals all around the world, not only in the United States. Our second important competitive advantage will be that our products will be 100% organic, high-quality, and less priced than our competitors'.
Strategy for Selling
Our marketing and sales staff have come up with the following fantastic ideas to promote and sell ourselves.
• We'll execute a large-scale social media campaign for our ad.
• Our customers will be able to buy our products online via our Facebook page. Customers may also use the internet to make payments.
• We will arrange seminars to emphasize the importance of environmentally responsible production techniques in order to encourage people to support the noble cause of pollution reduction by purchasing our products.
• To stimulate sales, we'll first provide discounts and freebies on our goods, which are sold in a variety of stores.
Forecasted Sales
As a consequence of our innovative idea and high-quality products, our sales pattern is expected to increase over time. Based on our market segmentation technique, our analysts predicted the following yearly sales, which are shown in the column charts.
Personnel strategy
In most situations, a startup faces a slew of problems in its early stages. The problem isn't how to start a clothing store or any other business; it's how to put together the best team for your company. For his company, Dan has designed the following personnel strategy.
Employees of the company
Dan will take on the role of Chief Operating Officer for the organization. Initially, the company will hire the following people:
1 General Manager to manage the operations of the manufacturing unit.
Two administrators/accountants will be in charge of keeping financial records.
Two engineers are in charge of the operation and maintenance of the production unit.
4 Sales and Marketing Executives are in charge of supplying merchandise to merchants and developing new business prospects.
The production facility and retail outlet will be handled by 30 field employees.
4 drivers for product delivery
1 person to work at the front desk as a receptionist
To provide the best possible service, all employees will be properly vetted and trained for a month before starting work.
Plan your finances
Dan requested the expertise of experts to include the financial aspect of the clothing business strategy. The financial plan shows how the firm will expand over the next three years.
Important Premises
To forecast the company's financial prospects, the following assumptions are employed. These assumptions are conservative, and there's a risk they'll stray, but only to the point where the company's core financial strategy is jeopardized.