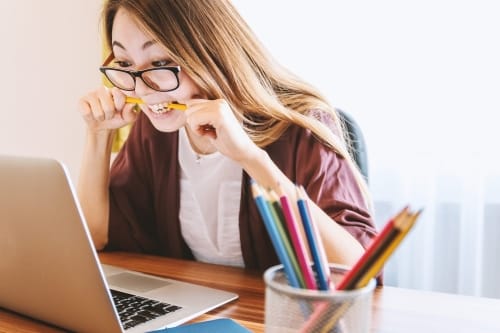 Working from the beach isn't one of the better lifestyle business ideas.
The ideal lifestyle business ideas, on the other hand, are those that may help you achieve both financial and time independence. The option to pick what you wish to accomplish is what distinguishes a "lifestyle" company. There are few lifestyle companies that have a better chance of flourishing than a strong eCommerce brand.
So the first step is to choose from a variety of eCommerce company concepts.
Let's have a look at them.
Start Your Own Fitness Clothing Line
Fitness apparel has been popular for many decades. It'll be much greater now than Gen Y and Gen Z have taken over as the primary client base. Using wellness marketing tactics, you may sell anything from shirts to shorts in this area, much like Gymshark.
While apparel is one of the most challenging industries to get into, exercise wear has the advantage of being "tribal." You may create very specialized brands for powerlifters or marathon runners. This greatly improves your chances of succeeding.
Create Your Own Honey Brand
This might be a viable lifestyle business for you if you are a foodie who enjoys honey. More precisely, I'm referring to "artisanal" honey, which may cost far more than store-bought honey.
The beautiful thing about creating a honey brand is that you can do it from the comfort of your own home. If you don't want to, you can still make it on a small scale if you want to. If you can locate the correct partners, this makes it a flexible business to establish.
Start Your Own Popcorn Company
Have you ever dreamed you could create your own modern-day Orville Redenbacher? It is now feasible to do so without having to overcome the enormous barrier to the entrance that he had to overcome. So, if you're looking to launch the next keto-friendly popcorn, now's your chance.
Popcorn often has high-profit margins, especially when offered at a premium price. It's also a segment where, in comparison to other food and beverage categories, there isn't much innovation. As a result, anybody who can locate the whitespace has an opportunity.
Start Your Own Frozen Food Company
There are a plethora of incredibly successful frozen food companies. Consider DiGiorno or Boca. In the frozen pizza, burger patty, or any other frozen food category, you may do the same thing. When it comes to logistics, it's a difficult area to master, but once you do, it's fantastic.
Using eCommerce as a launchpad to bring your frozen food brand into retail outlets as soon as possible is the greatest way to succeed with a frozen food company. NightFood is an example of a brand that is succeeding in this area. You win when you can use both to support each other. Vegan frozen food firms that use vegan marketing methods are in the same boat.
Create a Lip Gloss Company
Lip gloss is a little component of the cosmetics industry, but the lip industry is enormous. This is exemplified by Kylie Cosmetics. Lip gloss, like Kylie Cosmetics, may also serve as an introduction to a larger, more diversified cosmetic line.
When it comes to the many sorts of beauty products, lip gloss is usually one of the most straightforward. This implies that starting a lip gloss company is often less expensive than starting a cosmetics company.
Create a Dog Treat Company
Dog treats are one of the finest businesses to enter since the dog industry is resistant to a lot of the demand swings that most other categories face. To put things in perspective, dog treats range from basic milk snacks to "dental" goodies for strong teeth.
Dog treats are also more cost-effective per unit than dog food. Because dog treats are lighter than dog food, they may be offered for a higher price. As a result, it's a great eCommerce offering that will benefit from paid advertising.
Make Your Own Bath Bombs
The "greatest" lifestyle business concept doesn't have to be one that allows you to live a nomadic existence. It may also imply the ability to be your own boss in the first place. And the bath bomb category is one of the finest places to start.
Bath bombs are one of the most cost-effective home-based lifestyle business ideas. You can also regulate your "minimums" and cost per unit in a far more flexible manner than you could with a factory since you can build them at home.
Start Your Own Pottery Business
It's time to start selling your pottery online if you like producing it. Plates, mugs, and other items may be found in this category. Why am I so certain that selling ceramics online will be a success? Because the home category is an online cash cow.
You may start with a little budget, as you do with most homemade things. However, unlike other categories where there are rules to follow, pottery is as simple as it gets. Furthermore, handcrafted pottery commands a greater premium than store-bought pottery.
Create a Toy Company
Toys are the way to go if you want to go into a lifestyle company with a very high ceiling. Everything from teddy bears to blocks and more may be found in this category. Take a look at what Lego is doing with content and commerce for the greatest example of a toy brand.
Toy brands, unlike other lifestyle business concepts, have scalable IP, particularly as they become successful. Having said that, you still have the option of being really specialized and high-end. If you ever want to go from a lifestyle business to an empire builder, you have a number of options.
Create Your Own Hat Company
When it comes to clothing, hats are hardly mentioned. Hats, on the other hand, are one of the top lifestyle business ideas for fashionistas for this same reason. It's a broad category that encompasses anything from low-cost baseball caps to $10,000 Panama hats and beyond.
Brent Black is an excellent example of a high-end hat company. They offer Panama hats with a retail value of more than $25,000 dollars. But this isn't just about Panama hats. There are a plethora of hat styles from which to create a premium brand.
Related link