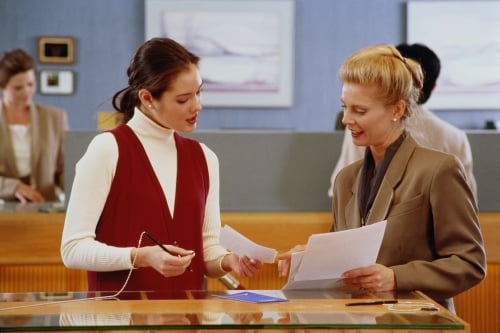 The Top 7 Small Business Banks
1. Wells Fargo is the best bank in terms of branch accessibility.
Wells Fargo has 4,900 branch locations in 37 states, making it an excellent choice for businesses seeking for a brick-and-mortar bank with national reach.
Business Checking Accounts at Wells Fargo
Initiate Business Checking, Navigate Business Checking, and Optimize Business Checking are the three primary business checking account choices offered by Wells Fargo.
The Wells Fargo Initiate Business Checking account comes with the following features:
Every month, there are 100 transactions.
Monthly fee-free cash deposits of $5,000
Online and mobile banking are also available.
With a $500 minimum daily amount or $1,000 average daily balance, the $10 monthly service charge is eliminated.
Additional monthly cash deposits and transactions are available in the Navigate and Optimize accounts. Stop payments, inbound transfers, and other incidental fees are eliminated with these Wells Fargo business checking accounts.
Wells Fargo Business Savings Accounts Offer Additional Services
Payroll services, employee benefits, human resources, and tax programs are all available.
To help you operate your company more effectively, we provide a range of merchant services and innovative payment technology.
Business credit cards from Wells Fargo
Coverage for your small company to safeguard your assets, workers, and operation.
Small business loans, business lines of credit, and commercial real estate finance are all available via Wells Fargo.
Chase is the best credit card for small businesses.
Chase has some of the best business checking account choices on the market, but its business credit card program is where the bank truly excels.
Some of the most significant cash back and rewards points credit cards for small companies include the bank's Ink suite of cards, as well as a variety of co-branded cards.
Business Checking Accounts at Chase
Business Complete Banking, Performance Business Checking, and Platinum Business Checking are the three Chase business checking accounts.
Small companies should use the Chase Business Complete Banking account.
The Chase Business Complete Banking account has the following features:
There is a modest monthly service charge that may be waived in a variety of ways.
Every month, you may make an unlimited number of electronic deposits and up to 20 fee-free non-electronic deposits.
Each month, you may make up to $5,000 in fee-free cash deposits.
You'll have access to online and mobile banking, as well as Quick Deposit, which allows you to scan and deposit checks without having to visit a branch.
You and your workers can get free business debit cards.
Chase offers a variety of business credit cards, including some of the finest on the market.
Streamline your business's checkout process with merchant services.
Chase has 4,700 locations and 16,000 ATMs throughout the country.
There are three Chase business savings accounts to choose from.
SBA loans and business lines of credit are among the many kinds of business loans available.
Capital One: Best for Monthly Transactions and High Volume Deposits
It's difficult to find a business checking account with unlimited transactions and a large number of free cash deposits, particularly from a traditional bank. So, if you run a company with a lot of monthly transactions and cash deposits, banking with Capital One is a good idea.
Business Checking Accounts at Capital One
Spark Business Basic Checking and Spark Business Unlimited Checking are two Capital One business checking alternatives.
With a Spark Business Basic Checking account, you can anticipate the following:
Each month, you may make an unlimited number of transactions.
No additional charge if you deposit up to $5,000 in cash each month.
If you keep a minimum 30- or 90-day average monthly balance of $2,000, the $15 monthly service charge is waived.
Online bill pay, online and mobile banking, and a free business debit card
Capital One Business Advantage Savings Account, which pays 0.20 percent annual percentage yield for the first 12 months
Around 330 branch locations and 70,000 fee-free ATMs are available.
There are six different types of business credit cards.
Accepting credit card payments via merchant services
Escrow Express is an online solution for managing and directing escrow money.
SBA loans, real estate term loans, equipment and vehicle loans, installment loans, and working capital lines of credit are all examples of business loans.
NBKC: Best for Online Checking and Savings Accounts with Low Fees
NBKC is a digital-first bank that provides corporate checking and savings accounts, as well as cash management tools such as desktop deposit and Autobooks.
You can open an account online (it takes around five minutes, according to the bank's website) and maintain it using the bank's website or mobile app.
Business Checking at NBKC
The NBKC business checking account is an online-based account that does not charge a monthly fee, overdraft fees, or transaction fees. The following items are included in NBKC's business checking account:
There is no minimum balance requirement.
Free access to over 32,000 MoneyPass ATMs across the United States with the NBKC Business Debit Mastercard.
Refunds of $12 per month for ATM fees charged by other banks
Transactions are free indefinitely.
Returns, overdrafts, NSFs, halt payments, and inbound domestic wires are all free.
Checks can be deposited for free in person or via the app.
Cashier's checks and free eStatements
Customer service is available via phone, email, or in person.
Banking through the internet and mobile apps
Sending a local wire ($5) and sending or receiving an international wire ($45) are the sole costs associated with an NBKC checking account. Furthermore, for a modest monthly charge, NBKC allows you to add ACH credits and debits, as well as desktop deposit, to your account.
Services Not Included Business money market accounts with an annual percentage yield of 0.05 percent and business certificates of deposit with an annual percentage yield of up to 0.30 percent are available from NBKC.
All accounts need multi-factor authentication.
Options for treasury solutions include fraud prevention, bill payment services, and cash management.
Options for business loans
Axos Bank is the best bank for high-yield accounts.
Axos Bank is a digital bank that provides loans, checking accounts, savings accounts, and other services to small businesses. But it's the bank's interest-bearing business checking account that's the major attraction.
Business Checking Accounts at Axos
Basic Business Checking, an entry-level account with a high starting deposit requirement ($1,000), and Business Interest Checking, which has a lower opening deposit requirement ($100) and enables you to earn up to 0.81 percent annual percentage yield on your amount.
The Business Interest Checking account also has the following features:
Monthly charge of $10 (waived with a $5,000 average daily balance)
The minimal first investment is $100.
Online bill payment is completely free.
Online and mobile banking are both free.
Each month, you may make up to 50 free transactions.
Each month, you may make up to 60 remote deposits.
Reimbursement of ATM fees in the United States is unlimited.
Statements about images that are free
Axos Bank Provides Additional Services
You may take advantage of Axos Bank's extra features and services when you establish a business checking or savings account, including:
There are a variety of online savings account choices as well as certificates of deposit that pay up to 0.20 percent interest. APY
Account agents that are dedicated to your account
Online account access and bill pay are available 24 hours a day, 7 days a week.
Accounts that are guaranteed by the Federal Deposit Insurance Corporation (FDIC)
Application and account creation over the internet
Industry-specific solutions (e.g. non-profits and public sector)
Lines of credit, equipment financing, term loans, and factoring are all examples of commercial lending.
BlueVine is the best option for free digital business checking.
Note from the editor: New business checking account applications have been stopped at BlueVine. Small company owners may join the queue on the BlueVine website and be informed when applications reopen.
Although BlueVine is best known for their small company loans, they also provide a competitive online business checking account with banking services supplied by The Bancorp Bank, which is FDIC-insured.
BlueVine Business Checking has no fees, is entirely digital, and allows you to earn interest.
Business Checking via BlueVine
There are no monthly fees, unlimited fee-free transactions, no minimum starting deposit, and no minimum balance requirement with the BlueVine Business Checking account. Other important characteristics include:
The opportunity to earn 1% interest on accounts up to $100,000
There are no inbound wire fees, NSF fees, or ACH payment costs.
MoneyPass ATMs provide a free debit card with free ATM access.
Mobile check deposit, one-time and recurring payments, and money transfers are all available at Green Dot outlets (over 90,000).
Two free checkbooks are available 24 hours a day, 7 days a week via online and mobile banking.
The only costs you'll have to pay are for cash deposits ($4.95) and outbound wire transfers ($15).
Additional BlueVine Services BlueVine offers business lines of credit and invoice factoring, allowing entrepreneurs to apply for finance fast and simply online.
Digital Federal Credit Union is the best credit union in the country.
Credit unions, in part because they're nonprofit organizations owned and managed by their members, tend to provide better rates and more personalized service than large banks.
For small company owners, Digital Federal Credit Union (DCU) is one of the finest credit unions. It's simple to join, and it comes with a free, interest-bearing business checking account, as well as a variety of business savings options and a business lending program.
If you meet the following criteria, you may join Digital Federal:
Become a member of a participating community group (memberships start at $10) or become a member of one.
Employed by a participating employer or retired from one
Select communities in Massachusetts are where you can live, work, worship, or go to school.
If you live in Massachusetts or New Hampshire, you may be a member of a condominium association.
Business Checking at Digital Federal Credit Union
There is no minimum starting deposit for Digital Federal's free business checking account, and it pays interest (up to 0.20 percent APY) as long as your balance is at least $0.01. You may join and create an account on the website.
The following are some of the key characteristics of Digital Federal business checking:
There are over 80,000 free ATMs via the Allpoint, SUM, and CO-OP networks, as well as free ATMs at every DCU ATM.
Out-of-network ATM usage is free, and ATM providers are reimbursed for their costs (depending on membership level)
Online banking, bill pay, and mobile check deposit are just a few of the services available.
Every day, you may make up to 20 free deposits.
Per account, you can have up to four DCU Visa debit cards.
First Tech Credit Union offers other services.
Accounts for business savings, such as business money market and certificates of deposit
Employees have two IRA choices.
Two credit cards for businesses with APRs as low as 9.99 percent
Loans for commercial vehicles and business equipment
How to Select the Most Appropriate Bank for Your Small Business
Choosing the right bank for your small company usually boils down to five factors:
Fees: Do you want a free business checking account or are you willing to pay a monthly charge to get access to specific value-added services (such extra cost-free monthly transactions)?
Do you like to bank in person or do you mind having a bank account that is only accessible online?
Transaction volume: On a monthly basis, how much money will be flowing in and out of your bank account?
Future objectives: Is it possible that your small business will require funding in the future?
Extra services include: Conduct you like to do all of your banking with one institution, or are you content to use various institutions for different products?
When answering these questions, keep in mind your company's present position as well as its long-term objectives.
You'll be able to sift through the tiny print and discover the appropriate small business bank for your firm if you remain practical and open about your banking requirements.
Final Thoughts
The good news is that small company owners have a wide range of banking choices. On the other side, having so many options may make it more difficult to narrow down your options and choose what is ideal for your business.
Fortunately, you don't have to make this decision permanently, and you don't have to conduct all of your banking with the same institution. Plus, if you're dissatisfied with your present bank's rates or customer service, you can always switch your business bank account and attempt to discover a better match for your requirements.