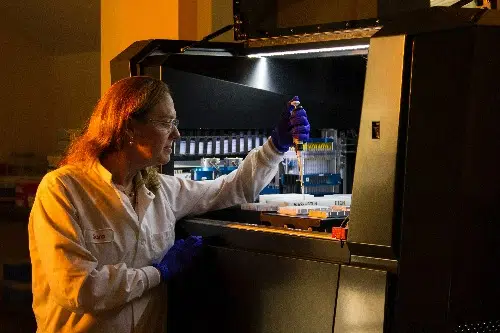 Biotechnology has impacted the lives of millions, if not billions, of people throughout the globe. The high demand for biotech products and services has resulted in an increase in the number of persons who want to work in this industry. If you decide to go this route, you'll need to hire an expert to write a biotech business plan for you.
For many years, Skyrocketbpo has aided entrepreneurs like you who have a vision and want to operate a profitable business. One of the hallmarks of our biotech startup business plan service bundles is professionalism. Over the years, we've worked hard to build a system of criteria and methods that enable us to give only the best biotech startup business plans to our clients. Our team goes to regular training sessions to stay up to date on the most recent business plan writing techniques. Unlike other business writing firms, we do not use or have any corporate templates. Instead, we make high-quality biotechnology company concepts using our substantial business experience and natural talent.
Expanding an Existing Business
If you already have a company and want to focus on biotechnology to grow it to new heights, you can do so by using a business plan as a road map to success. The plan will help you determine how much time and money you should commit to the new enterprise, as well as how to design a successful strategy for achieving your short- and long-term goals and objectives. Our team of experienced business analysts, researchers, and writers will work together to develop a high-quality business plan that will help the firm grow.
Loan Application Support
It is not guaranteed that submitting loan application paperwork to a financial institution or a private lender will result in your loan being granted. You must show the bank or investor that you have the essential expertise to ensure the biotech company's success and profitability. Finally, the bank will expect you to service the loan, and the investors will be looking for a return on their investment in the shape of a business plan after a specific period of time.
When you contact us, we'll completely evaluate your business idea and build a plan that you can provide to the financing institution as proof that you're committed to and capable of growing and sustaining a profitable biotech company. A biotech company's business plan will include all of the important aspects and explain to investors why your idea is feasible.
The Steps to Starting a New Business in Order
One of the most challenging issues faced by companies when beginning a new company is defining the specific activities that must be taken to avoid mistakes and regrets down the line. If you leave your plan to a legally recognized and reputable business writer, you will be able to identify the necessary steps to take during the first stages and even after the company is completely operational. For example, we'll use our expertise, experience, and talents to determine what resources you'll need at each stage of the process. We'll also go the extra mile and talk about some of the situations you'll face along the way, as well as how you should handle them.
Propose Professional Displacement Management Techniques
Displacement is a crucial and helpful business concept that you must understand and properly manage at different stages of your company's growth. Our business experts can help you understand the positive and negative consequences that this idea may have on your organization. They will also provide you a list of precise recommendations to help you cope with displacement professionally. All of this information will be included into the company plan in a chronological sequence. Please contact us right away for additional information on this feasible business opportunity. We'll also include some biotechnology business plan examples to help you better understand the subject and how it can affect your firm.
Most biotechnology firms have a significant hurdle in generating sufficient funds to pay all of their operating costs. We can assist you in overcoming this barrier by not just giving finance choices but also providing guidance on how to get started. Our financial experts will also aid you in successfully managing the cash you get from investors and financial institutions in the form of loans.
Here are some ideas for getting your new biotech firm started with funding. We just put them to the test and used them to get cash for our clients
Get to Know Your Prospective Investors
Despite the fact that this is one of the most significant variables, a surprising number of people interested in biotechnology overlook it. Assessing the investor's company and the partner, in this case, you, are two ways for determining your target audience. The ideal investment firm should have at least managed to create a fund in the past four years. If not, there's a significant possibility they're merely interested in meeting you to stay current and respected in the industry. Our specialists will recommend a number of respectable and trustworthy investing firms to you. We can help you create a good business plan that will increase your chances of acquiring funding.
Know your Strengths and Weaknesses.
When it comes to hiring professionals, there are a few things to keep in mind.
Starting a biotech company on your own is impossible. You'll need a team of experts to help you make informed decisions that will propel and drive your business in the right direction. Accountants, for example, can help you plan your budget and file your tax returns correctly at the end of the fiscal year. The company will need a team of legally qualified and well-known attorneys to manage any legal issues. If you have a team of devoted, highly talented, and well-educated business plan biotech writers and consultants on your side, you'll be able to identify the professionals you should hire.
The plan will also provide you step-by-step advice on how to approach the recruitment process in order to attract the best job candidates. If you want professional assistance with conducting interviews, our experts may be able to assist you and perform the interviews for you at a modest fee.
Recruiting Business Partners
It's a good idea to look for business partners that can help you establish and grow your company if you want to scale it up more rapidly and simply. The ideal partners will share your company's goals and objectives and will work tirelessly to ensure that those goals are met. If you employ a biotech startup business plan roadmap, you'll be able to discuss all of the company concepts with the partners before signing the agreement. To prevent any issues down the line, our team could come in and collect all of the partners' perspectives and ideas, then use them to develop a comprehensive and implementable plan for the company.
Creating New Business Alliances and Deals
Once your firm is up and running, several companies may contact you with offers to join you as business partners. It's vital to build such alliances with care and effort in order to ensure that any decisions taken in boardroom meetings are well-informed and unlikely to lead to catastrophe for your firm.
We are happy to have a task force of experts who have previously aided with alliance business meetings supervision. They will use their significant expertise and knowledge of the procedure to help you in making educated decisions. In order to foster outstanding coexistence and a happy working environment, we will also give you with a comprehensive plan on how to create objectives for new partnerships and provide the best channels for interacting with alliances.
Know your Strengths and Weaknesses.
The most successful organizations today are owned and managed by business experts who are well-versed in their strengths and weaknesses. You must have a clear mental picture of oneself and understand who and what you are. Trying to do everything is ineffective in this industry and will almost surely result in resource waste. Concentrate on one item at a time and don't stray from it. We don't attempt to cram business plan biotechnology templates into a standard biotech company script in the hopes of attracting investors, unlike other business writing companies.
Our expert business plan writers can help you determine your strengths and limitations. They'll work hard and clever to develop a script based on an in-depth understanding of the target audience as well as your abilities.
Your business valuation expectations should be based on the current state of the economy.
The global economy fell just a few years ago, forcing almost all biotech firm valuations to drop. Fortunately, the current busy IPO market is encouraging investors all across the globe to invest in future biotech enterprises. The current market clearing price should be used to value your company. It's important to keep in mind, however, that current market trends are quite volatile. They may change at any time, so having contingency plans in place is vital to ensuring that your firm survives when the economic tide turns. We'll help you figure out a fair price that will safeguard your company's long-term sustainability. Our specialists will do so by examining the current economy as well as the various factors that have a direct impact on the success of enterprises in this sector.
It's important to think about how you'll promote your company to venture capital firms.
Cold calling used to be an effective approach for a startup company to get funding. Another strategy that is no longer practical is hiring an investment advisory firm to help you raise your first round of financing in order to go to the top level venture firms. Make use of your creativity and excitement to come up with a unique and engaging way to pitch your business idea to the trade partners or investment groups you want. It's understandable if you were perplexed at first after adopting this new approach to presenting your company to venture capital firms. That should not dissuade you, though. By teaching you tried-and-true tactics for contacting venture capital firms, we'll put you miles ahead of the competition.
Consider your company's long-term capital requirements as well as its liquidity options.
As you can see from the biotech startup business plan example we provided, our teams go to great lengths to build a long-term business strategy for our clients. We also make certain that the plan considers the liquidity paths. One of the strategies we use to ensure that the strategy is as close to reality or the situation on the ground as possible is to create realistic descriptive scenarios of a liquidity event that might upset your firm, such as an IPO. Our business specialists will perform a liquidity and financing analysis and use the results to design a good plan that will secure the financial stability of your firm.
The emphasis is on science and research studies. Data
Most biotech business strategies fall short of expectations because they concentrate on demonstrating why particular illnesses like heart failure and Alzheimer's disease are "big" diseases that must be addressed. This information is almost certainly accessible from the venture firms with whom you want to collaborate. To avoid having your concept rejected, you should focus more on financial options. The investor must trust that the company will have a positive impact on patients. We'll help you accomplish this by properly defining your company plan. We'll also collect, analyse, and present the data that backs up your business idea in a clear and comprehensible way.
Pay Attention to Legal Advice
Skimping on legal help when it comes to laying the foundation for your company might make it more difficult to achieve your entrepreneurial ambitions. In the early phases, a new biotech company's fundraising momentum might be jeopardized by weak business fundamentals, cap tables, unusual structures, and poorly worded license agreements. You may be certain that any legal difficulties will be resolved if you choose us. Over the years, we've built strong working relationships with biotechnology experts, whom we consult while developing company plans.
Furthermore, before delivering the alternatives and proposed license structure to the venture businesses, our legal team of experts will completely review them to ensure that they meet all of the requirements. This will go a long way toward assuring your company's success while also reducing unnecessary hurdles.
Understanding Risk Management and Mitigation Mechanisms to a Technology
Like any other business activity, you will need to take calculated risks from time to time. Knowing how to handle risks will aid your company's long-term survival. Our risk management experts will work with you to design your approach. We'll also devise a "de-risking" plan to encourage investors to join your company and contribute before the next risk-reduction phase starts. In a nutshell, we'll produce a business plan that will portray your company to venture capital firms in a considered light.
In a nutshell, here's what you can expect from us:
A group of highly experienced business counselors and business plan writers committed to assisting you in achieving your goals.
Participation that is unbiased, professional, and conscientious
Recommendations that are precise and useful
On time completion and submission of the business plan to investors is required.
We do rigorous research and market analysis before making any recommendations or beginning to construct the business strategy.
When starting a biotech firm, having a team of trusted, experienced, and knowledgeable business consultants on your side, such as Skyrocketbpo, is crucial. We don't outsource projects to other parties since we have the skills and resources to do them on time and correctly. For more information about our company and the services we provide, please do not hesitate to contact our trained support team by filling out the contact us form. To have a better understanding of our skills, feel free to request a sample biotechnology business plan.