Boutique Business Plan Template
✅ Sections in Business Plan Template: Executive Summary, Business Description, Fund Usage, Industry Analysis, Marketing Plan, Organizational Overview, Operational Overview and Financial Plan. Format: Google Doc and Microsoft Word.
✅ Sections in Financial Model: Firstly you get 3 year anuual projection in the financial model and monthly breakdown for Cost and Revenue Tabs. The tabs that you get in Google Sheet or Excel File included are Dashboard, Income Statement, Cash Flow Statement, Balance Sheet, Revenue Monthly Breakdown, Cost of Goods Sold or Cost of Service Breakdown, Operating Cost, Non- Current Asset Schedule (which is used to calculate depriciation) and Graphs & Charts which can be copied to the business plan.
✅ 100% Editable in both Mac and Windows
✅ Detailed 21 Statement Financial Model
✅ Write a Plan in just 2 days!
✅ Video Tutorial
✅ Hands-on Support

Save 200+ Hours with Pre- Built Template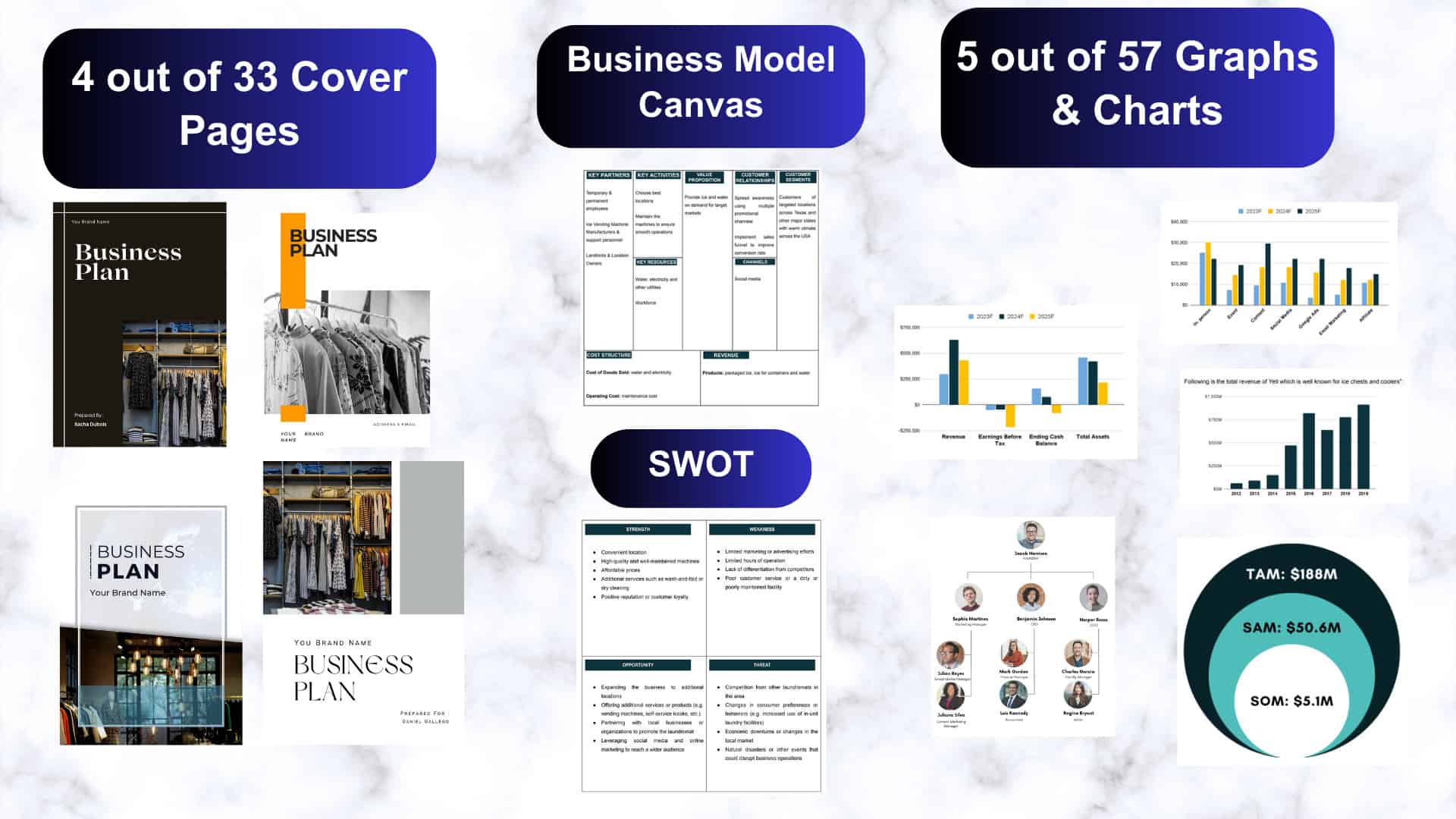 Viladate your Concept using the Financial Model
Plug & Chuck the Numbers and See the Magic!
Frequently Asked Questions
Yeah but will this template help me get a loan?
Maybe. This mostly depends on your business idea, previous experiences, ability to provide collateral and relevant factors. This is a template for present your plan in the best possible way. In addition, the financial model helps to validate your business concept or your expansion plan. It's kind of hard to provide more for just $49.
Is the payment secure?
Our payment is processed by Stripe so you can rest assured about your data privacy and security.
What is the refund or cancellation policy?
Due to the fact that templates are downloaded, we cannot give refunds.
Digital material is exempt from the 14-day return policy applicable to physical products. Because of this, our downloadable content are non-returnable. All sales are final. You can also check out the video in the product page to get an idea of contents of the template. This should help you get a clear idea on the features of the product. 
However, we do value the customer experience and are accessible to assist you with any problems you may have while using our goods. If you have particular queries regarding our product, please use the chat box on this page or send an email to [email protected].
Can I validate my the prospect of my MVP using this?
Yes. The financial model will help you plug in price, unit cost, payables and other assumptions which will allow you to project the revenue, profit and other KPIs.
How can I edit the template?
Simple. If you are using Google Doc and Sheets then just make a copy in your own Google Drive. In case you are using Microsoft Office then Download the files and start editing.
What about support?
You can email us at [email protected] and we will respond in 24 to 48 Hrs. We offer in-person or email based support depending on your needs.
Who developed this template?
Our templates are developed by CPAs, CFAs and Ex- consultants of BCG, Mckinsey, PwC and KMPG. Elma Steven is the Head of our Quality Control.
Every other reason for not buying....
❌ "But you can't replace hiring a business plan writer to do this"
✅ This template costs $$49 not $2,000. Also, you have more control over the writing process. The template is very specific so you will have relevant info in Industry Analysis, Financial Model and other sections. 
❌ "I feel like just browsing online and using the free templates available online.
✅ Sure, if you wish to spend 4 weeks instead of 2 days to write a plan then please go ahead. Our research team found that free resources are very generic and does not offer fill-up and use facility. Also, you won't get the specialized financial model from the free resources.
❌ But wouldn't everyone's content look the same?
✅ Nope. Our customers are smart and customize by adding their own images, logo, company description, etc. 
❌ "But can you garuntee that I will get a bank loan using this?
✅ No, I cannot garuntee anything for $49. The purpose of this template is to make it easier and less time consuming for you to write a business plan.
Compare with Our Competitors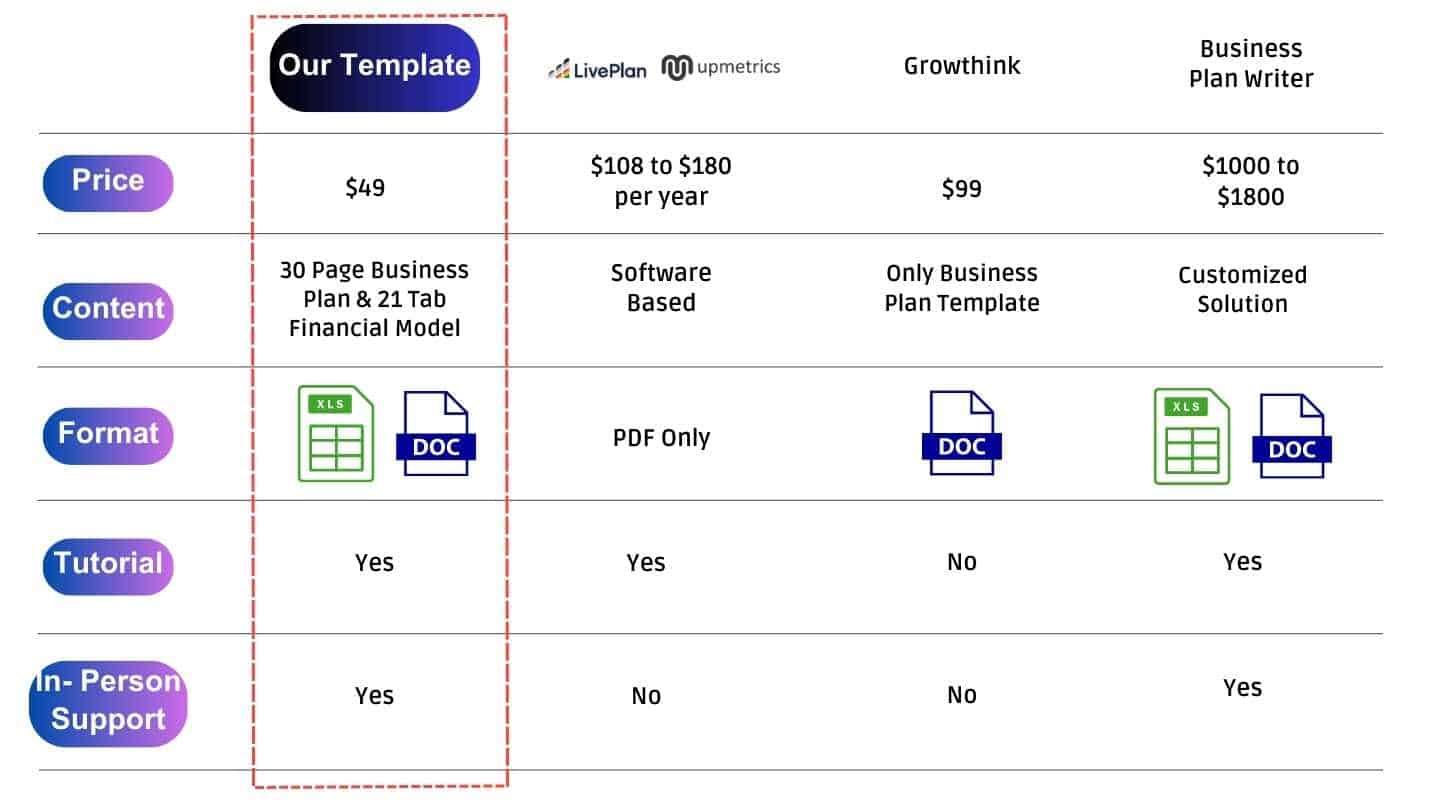 Check out how Roseanna used Our Template to write her new Business Plan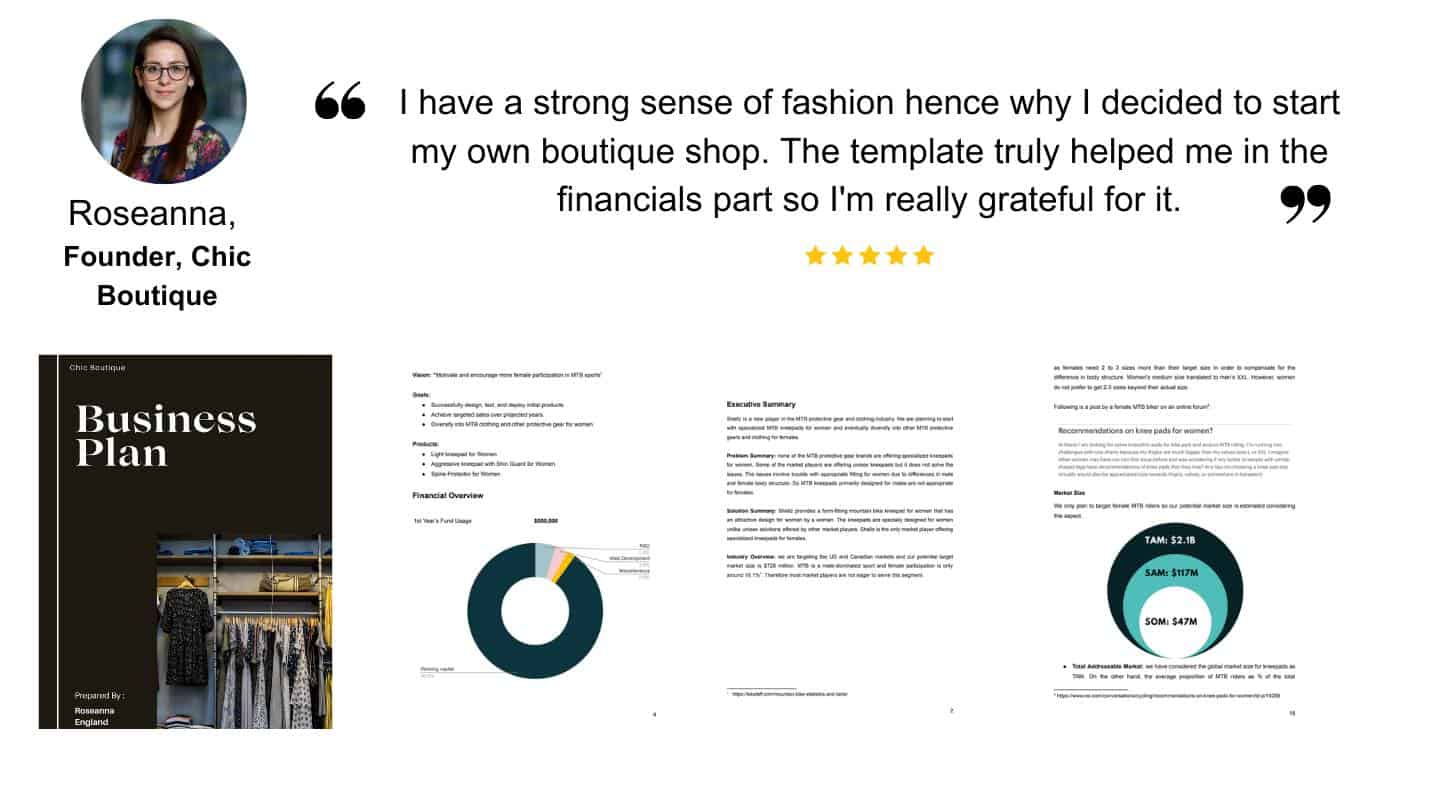 Thank you so much for this template! Really helped me plan everything from bottom to top! Would definitely recommend this site seeing that there are more business plan templates available.
★★★★★
Very in-depth information that helped me understand more on what kind of business that I am going to start. I tried it out of curiosity and the templated clearly explained to me what needs to be done. 
★★★★★
I'm all about the openness of everything I knew and I just love how simple the template is! Helps me understand what I will be going through especially going trhough uncharted territories for someone like me. 
★★★★★
I'm really slow when it comes to Financials so I'm thankful that I bought this template which was so worth it because I immediately finished my financials in such a quick manner. I highly recommend it! Never seen such a well-detailed business plan template. 
★★★★