Executive Summary
Overview: Mermaid Car Wash was founded in 1995. Since then, we've had other places, and now we're returning to where it all began. We got the concept while scuba diving in the Caribbean. When you come to Mermaid Car Wash, you can be confident that your vehicle will get the finest in car wash technology, including a Soft Cloth automatic and our new Touchless Automatic with all the bells and whistles. Our five self-service facilities provide you with nine options for pampering your vehicle or truck. Our vacuums are one-of-a-kind because of their dual hose design, which allows them to reach those hard-to-reach places. We only use top-of-the-line vehicle detergents, waxes, and car care solutions. We also offer a Dog Wash where you can clean up after your dog.
Mission: Our goal is to give the most excellent car wash service at the lowest price. Every client should leave feeling that the Wash they got was well worth the money they spent to keep their vehicle clean. We work hard to keep our facilities and equipment clean and properly maintained, resulting in a clean car and a happy client.
Vision: To continue to improve our services to become the preferred car wash in Pennsylvania and the surrounding states.
Industry Overview: The U.S. vehicle wash service market is predicted to grow from 2021 to 2028 at a CAGR of 4.8 percent, reaching USD 20.74 billion. More than 72 percent of drivers in the United States utilize professional car wash services regularly, with conveyor car wash being the most profitable service. These consumers are very driven to maintain their new automobiles clean and in good shape, which drives up demand for car wash services. On-demand vehicle wash services are also evolving as technology advances. More recent technology enables more automobiles to be cleaned in less time with better outcomes, moving the U.S. industry forward.
Financial Overview: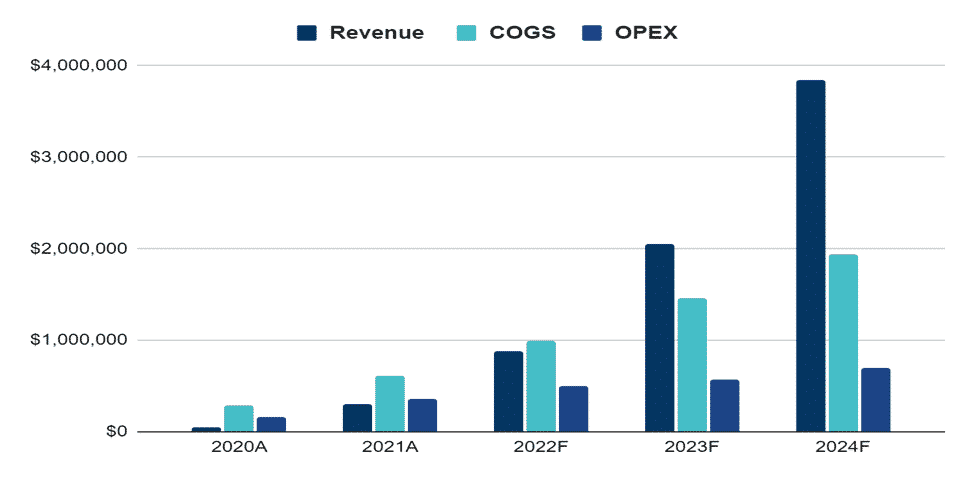 Financial Highlights:
| | | | | | |
| --- | --- | --- | --- | --- | --- |
| Liquidity | 2020A | 2021A | 2022F | 2023F | 2024F |
| Current ratio | 6 | 12 | 23 | 32 | 42 |
| Quick ratio | 6 | 11 | 22 | 31 | 40 |
| DSO | 8 | 8 | 8 | 8 | 8 |
| Solvency | | | | | |
| Interest coverage ratio | | | 8.2 | 11.1 | 14.2 |
| Debt to asset ratio | 0.01 | 0.01 | 0.2 | 0.18 | 0.16 |
| Profitability | | | | | |
| Gross profit margin | 51% | 51% | 53% | 53% | 53% |
| EBITDA margin | 12% | 14% | 21% | 22% | 22% |
| Return on asset | 5% | 6% | 13% | 14% | 14% |
| Return on equity | 5% | 6% | 16% | 17% | 17% |
FUND USAGE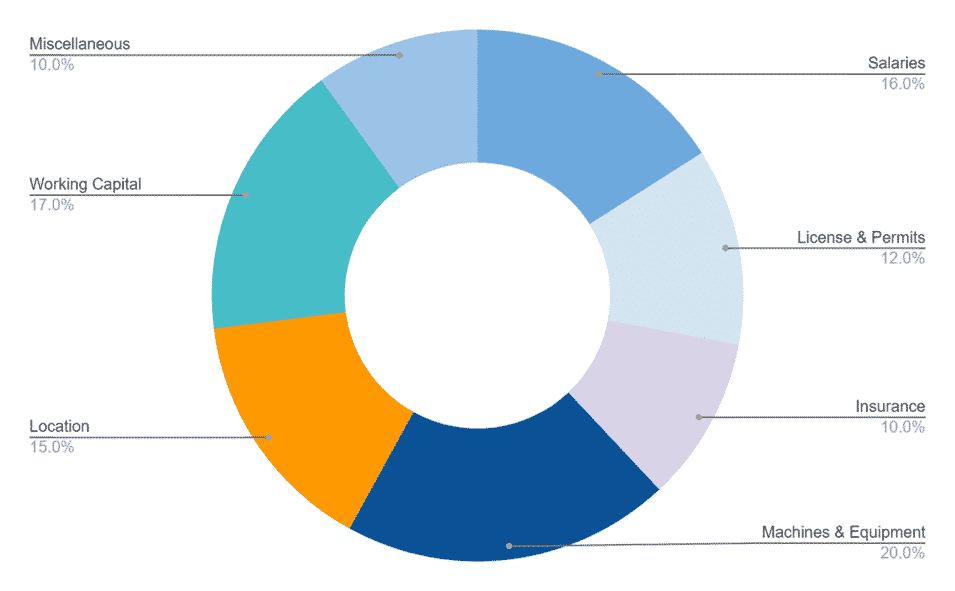 Industry Analysis
Technavio's recent market research analysis shows that the car and truck wash industry will expand by $ 5.82 billion between 2021 and 2025, with a CAGR of 2.92 percent. Technavio's studies give an in-depth assessment by synthesis and summation of data from different sources, emphasizing identifying prominent industry influencers.
The car and truck Wash business are fragmented, and this fragmentation will worsen over time. Increased adoption in underserved areas, the desire for water-efficient goods, and the expanding demand for drive-through car wash systems will provide significant development prospects. To take advantage of present prospects, market suppliers must improve their presence in fast-growing sectors while retaining their positions in slow-growing areas.
The market for vehicle wash services in the United States was worth USD 14.21 billion in 2020, and it may increase at a CAGR of 4.8 percent from 2021 to 2028. Because of their enhanced convenience and a more comprehensive range of budget and premium alternatives, vehicle wash services have seen a surge in popularity over the last decade. The growing number of environmental restrictions limiting private vehicle cleaning is expected to boost the client base for professional car washes, generating demand for the services. Consumers' increased attention to car maintenance and expanding purchasing power drive the market. Due to busy schedules and time restrictions, consumers are increasingly turning to professional car washes rather than washing their automobiles at home.
More than 72 percent of drivers in the United States utilize professional car wash services regularly, with conveyor car wash being the most profitable service. If service providers can convince customers to wash their vehicles more regularly at these service stations, the on-demand car wash platform might be a solid start in this business. Because of the high cost and time spent at car wash facilities, many people wash their automobiles at home. As a result, on-demand car wash applications may be an excellent way to cut down on time spent at vehicle wash facilities.
Fewer individuals washing vehicles at home, a better U.S. economy, and the advent of express exterior and loyalty club-powered car wash models have all increased car count at car wash stations. According to the Professional Carwashing Industry Report, the entire yearly vehicle count in 2017 was 45,000, while the average was above 278,000. According to the International Carwash Association (ICA), the number of drivers who regularly wash their cars at a professional car wash has climbed from about 48 percent in 1994 to over 77% in 2019. Around 66 percent of Americans wash their cars between 1-2 times each month, resulting in an average of 13 washes per year.
Car washing firms provide speed and convenience, and as a consequence, the number of Americans who wash their vehicles at home has decreased dramatically. "Do-It-Yourself" is quickly giving way to "Do-It-For-Me." According to research by Professional Car Washing, roughly 35% of respondents stated car wash stations were less than a mile apart, and 24% said they planned to start their own car wash business within the following year. The primary growth factors for the U.S. market are the growing habit of car washing at service facilities and rising spending on cleaning vehicle interiors. However, the global epidemic of COVID-19 has had a substantial effect on car wash companies' businesses. According to a study done by Womply, a U.S.-based vehicle wash and detailing firm, weekly income at the local auto wash and detail companies was down by 48 percent in April 2020 as opposed to the same time in 2019. Furthermore, income for the week of March 16, 2020, was down 53% from the prior year. This aspect has decreased the purchase of vehicle wash services from car wash facility operators and owners in the United States.
Roll-over/in-bay led the market in terms of value in 2020, accounting for 41.8 percent of the market. This is due to auto dealerships' increased involvement in the car wash service business, which has driven the construction of automated wash facilities on their properties. Auto dealerships install automatic vehicle washes to improve the Customer Satisfaction Index (CSI) results, with in-bay washes being the most popular customer option. This encourages the country's expansion of in-bay/roll-over automated vehicle wash services. Furthermore, automated in-bay car washes are the most common form of a car wash in the United States, with approximately 60,000 locations nationwide in 2018. It is a rapid, simple, and affordable method to clean a vehicle and provides several wash choices, such as clear bay windows that enable passers-by to see the washing process. According to JBS Industries' blog, an estimated 20,000 automobiles are cleaned yearly at in-bay automated car washes, with an average sale of $6.34 per car.
Marketing Plan: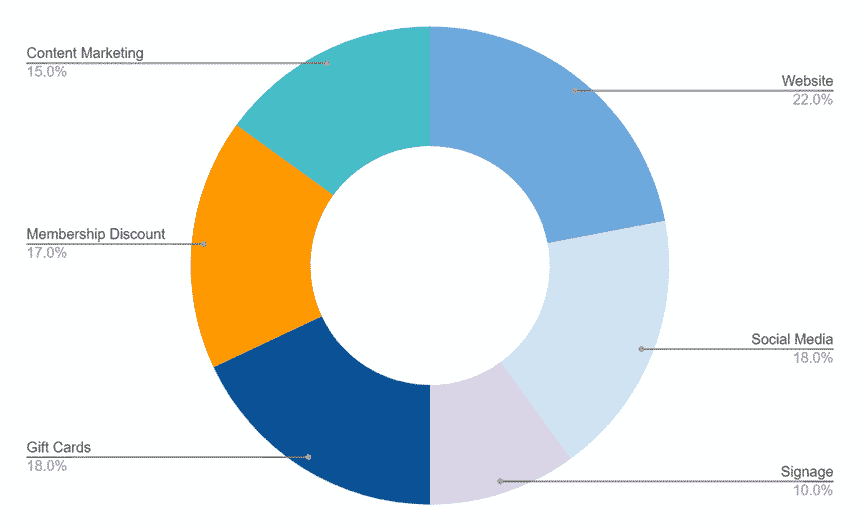 Website: Mermaid Car Wash's website is complete. With our updated. Menus and prices, potential clients will be at ease to learn more about our services.
Social Media: Mermaid Car Wash Facebook and Instagram page is one of our ways to engage our local community quickly. We can do it by actively answering questions and inquiries from customers and potential clients.
Signage: Mermaid Car Wash has an easy to understand signage that is the best way to let our customers and potential clients know that we are up and running.
Giftcards: Mermaid Car Wash's Gift cards & Wash books make great gifts for friends and family. They are easy to buy and even easy to use.
Membership Discount: For registering on a low monthly membership fee, Mermaid Car Wash's Unlimited Wash Club Members can wash their cars as often as they like.
Content Marketing: Uploading videos on how Mermaid Car Wash works can ensure clients that their car is in good hands.
Organogram: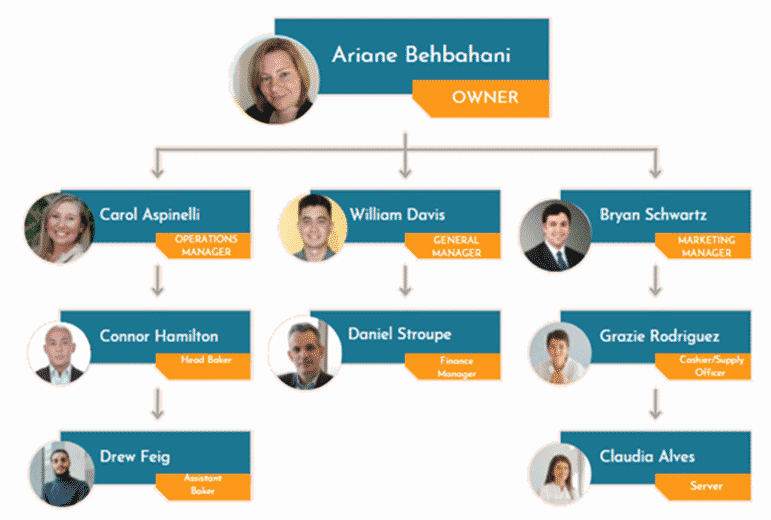 Financial Plan:
Earnings: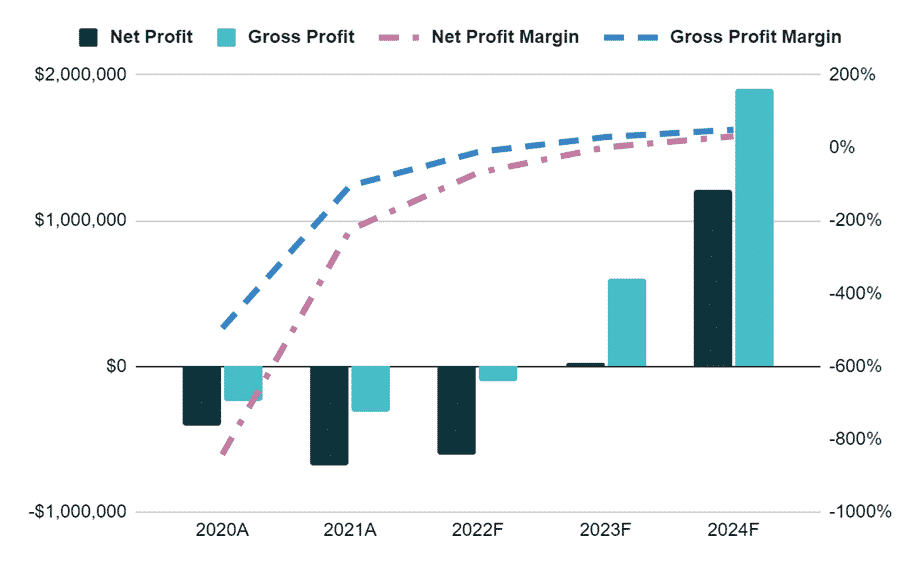 Break-Even Analysis: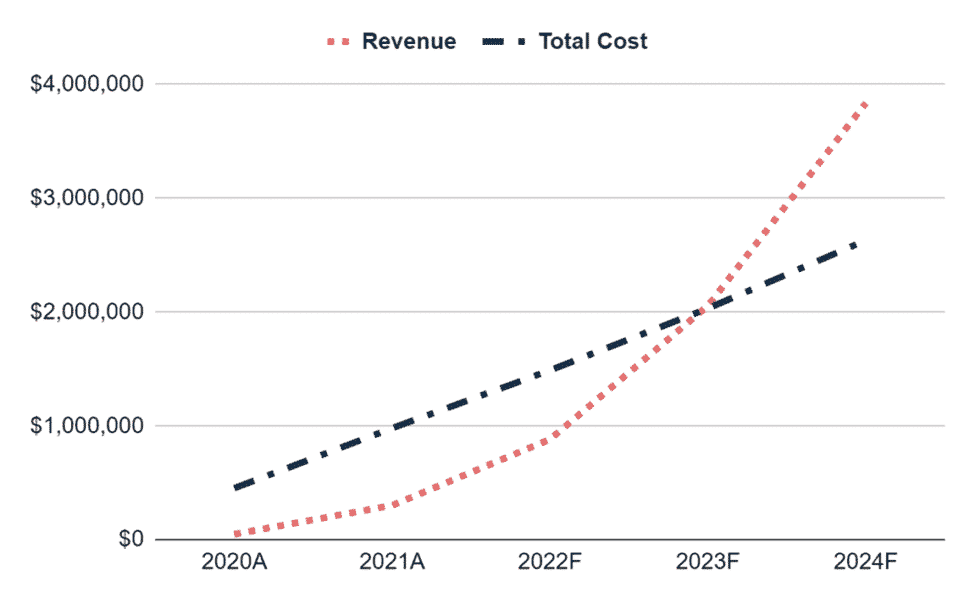 Income Statement:
| | | | | | |
| --- | --- | --- | --- | --- | --- |
| | 2020A | 2021A | 2022F | 2023F | 2024F |
| ANNUAL REVENUE | | | | | |
| Item 1 | 9,217 | 59,117 | 175,410 | 415,277 | 781,357 |
| Item 2 | 34,701 | 222,558 | 660,368 | 1,563,394 | 2,941,580 |
| Item 3 | 4,067 | 19,561 | 46,432 | 78,519 | 114,905 |
| Total annual revenue | 47,985 | 301,236 | 882,211 | 2,057,189 | 3,837,842 |
| % increase | | 528% | 193% | 133% | 87% |
| COST of REVENUE | | | | | |
| Item 1 | 360 | 2,259 | 6,617 | 15,429 | 28,784 |
| Item 2 | 480 | 3,012 | 8,822 | 20,572 | 38,378 |
| Item 3 | 52,000 | 65,000 | 78,000 | 91,000 | 104,000 |
| Item 4 | 720 | 3,615 | 8,822 | 16,458 | 23,027 |
| Item 5 | 140,000 | 336,000 | 560,000 | 840,000 | 1,120,000 |
| Item 6 | 60,000 | 144,000 | 240,000 | 360,000 | 480,000 |
| Item 7 | 32,000 | 61,333 | 85,533 | 112,153 | 141,435 |
| Total Cost of Revenue | 285,560 | 615,220 | 987,794 | 1,455,612 | 1,935,625 |
| as % of revenue | 595% | 204% | 112% | 71% | 50% |
| Gross Profit | -237,575 | -313,984 | -105,583 | 601,578 | 1,902,218 |
| SELLING & ADMIN EXPENSES | | | | | |
| Item 1 | 28,000 | 96,800 | 154,880 | 175,692 | 193,261 |
| Item 2 | 75,000 | 105,000 | 120,000 | 120,000 | 120,000 |
| Item 3 | 36,000 | 96,000 | 108,000 | 120,000 | 120,000 |
| Item 4 | 8,000 | 12,000 | 12,000 | 12,000 | 12,000 |
| Item 5 | 3,839 | 18,074 | 44,111 | 61,716 | 115,135 |
| Item 6 | 3,359 | 12,049 | 26,466 | 41,144 | 76,757 |
| Item 7 | 5,600 | 10,000 | 12,904 | 15,034 | 17,376 |
| Item 8 | 6,667 | 14,000 | 22,067 | 30,940 | 40,701 |
| Total selling & admin expenses | 166,464 | 363,924 | 500,428 | 576,525 | 695,230 |
| as % of revenue | 347% | 121% | 57% | 28% | 18% |
| Net profit | -404,039 | -677,907 | -606,011 | 25,052 | 1,206,987 |
| Accumulated net profit | -404,039 | -1,081,947 | -1,687,957 | -1,662,905 | -455,918 |
Cash Flow Statement:
| | | | | | |
| --- | --- | --- | --- | --- | --- |
| | 2020A | 2021A | 2022F | 2023F | 2024F |
| CASH FLOW from OPERATING ACTIVITIES | | | | | |
| Net profit before tax | -$404,039 | -$677,907 | -$606,011 | $25,052 | $1,206,987 |
| Depreciation | $44,267 | $85,333 | $120,504 | $158,127 | $199,512 |
| Payables | | | | | |
| Item 1 | $4,333 | $5,417 | $6,500 | $7,583 | $8,667 |
| Item 2 | $11,667 | $28,000 | $46,667 | $70,000 | $93,333 |
| Item 3 | $6,250 | $8,750 | $10,000 | $10,000 | $10,000 |
| Item 4 | $3,000 | $8,000 | $9,000 | $10,000 | $10,000 |
| Item 5 | $667 | $1,000 | $1,000 | $1,000 | $1,000 |
| Total payables | $25,917 | $51,167 | $73,167 | $98,583 | $123,000 |
| change in payables | $25,917 | $25,250 | $22,000 | $25,417 | $24,417 |
| Receivables | | | | | |
| Item 1 | $320 | $1,506 | $3,676 | $5,143 | $9,595 |
| Item 2 | $360 | $1,807 | $4,411 | $8,229 | $11,514 |
| Total receivables | $680 | $3,314 | $8,087 | $13,372 | $21,108 |
| change in receivables | -$680 | -$2,634 | -$4,773 | -$5,285 | -$7,736 |
| Net cash flow from operating activities | -$334,536 | -$569,958 | -$468,280 | $203,311 | $1,423,180 |
| | | | | | |
| CASH FLOW from INVESTING ACTIVITIES | | | | | |
| Item 1 | $16,000 | $13,200 | $14,520 | $15,972 | $17,569 |
| Item 2 | $20,000 | $22,000 | $24,200 | $26,620 | $29,282 |
| Item 3 | $28,000 | $22,000 | $14,520 | $10,648 | $11,713 |
| Item 4 | $96,000 | $88,000 | $72,600 | $79,860 | $87,846 |
| Item 5 | $20,000 | $22,000 | $24,200 | $26,620 | $29,282 |
| Net cash flow/ (outflow) from investing activities | -$180,000 | -$167,200 | -$150,040 | -$159,720 | -$175,692 |
| | | | | | |
| CASH FLOW from FINANCING ACTIVITIES | | | | | |
| Equity | $400,000 | $440,000 | $484,000 | $532,400 | $585,640 |
| Net cash flow from financing activities | $400,000 | $440,000 | $484,000 | $532,400 | $585,640 |
| Net (decrease)/ increase in cash/ cash equivalents | -$114,536 | -$297,158 | -$134,320 | $575,991 | $1,833,128 |
| Cash and cash equivalents at the beginning of the year | – | -$114,536 | -$411,693 | -$546,014 | $29,978 |
| Cash & cash equivalents at the end of the year | -$114,536 | -$411,693 | -$546,014 | $29,978 | $1,863,105 |
Balance Sheet:
| | | | | | |
| --- | --- | --- | --- | --- | --- |
| | 2020A | 2021A | 2022F | 2023F | 2024F |
| NON-CURRENT ASSETS | | | | | |
| Item 1 | $16,000 | $29,200 | $43,720 | $59,692 | $77,261 |
| Item 2 | $20,000 | $42,000 | $66,200 | $92,820 | $122,102 |
| Item 3 | $28,000 | $50,000 | $64,520 | $75,168 | $86,881 |
| Item 4 | $96,000 | $184,000 | $256,600 | $336,460 | $424,306 |
| Item 5 | $20,000 | $42,000 | $66,200 | $92,820 | $122,102 |
| Total | $180,000 | $347,200 | $497,240 | $656,960 | $832,652 |
| Accumulated depreciation | $44,267 | $129,600 | $250,104 | $408,231 | $607,743 |
| Net non-current assets | $135,733 | $217,600 | $247,136 | $248,729 | $224,909 |
| | | | | | |
| CURRENT ASSETS | | | | | |
| Cash | -$114,536 | -$411,693 | -$546,014 | $29,978 | $1,863,105 |
| Accounts receivables | $680 | $3,314 | $8,087 | $13,372 | $21,108 |
| Total current assets | -$113,856 | -$408,380 | -$537,927 | $43,349 | $1,884,214 |
| Total Assets | $21,878 | -$190,780 | -$290,791 | $292,078 | $2,109,122 |
| | | | | | |
| LIABILITIES | | | | | |
| Account payables | $25,917 | $51,167 | $73,167 | $98,583 | $123,000 |
| Total liabilities | $25,917 | $51,167 | $73,167 | $98,583 | $123,000 |
| | | | | | |
| EQUITIES | | | | | |
| Owner's equity | $400,000 | $840,000 | $1,324,000 | $1,856,400 | $2,442,040 |
| Accumulated net profit | -$404,039 | -$1,081,947 | -$1,687,957 | -$1,662,905 | -$455,918 |
| Total equities | -$4,039 | -$241,947 | -$363,957 | $193,495 | $1,986,122 |
| Total liabilities & equities | $21,878 | -$190,780 | -$290,791 | $292,078 | $2,109,122 |