Last updated on June 26th, 2023
If you are planning to write the CBD Extraction business plan on your own, then this sample CBD Extraction business plan can be great for guidance. However, if you are looking for a professional business plan writer for a business loan, SBA loan or to find out the possibility of success for your new business then let's talk!
Executive Summary
Overview: Don Barros CDB Oil Extraction Company, Inc. is a licensed cannabidiol (CBD) oil extraction and packaging company in Missoula, Montana, that be situated between an industrial region and a rural community. We were able to acquire a long-term lease for a facility in a strategic location that includes the option of a long-term renewal on favorable terms and conditions.
Don Barros CDB Oil Extraction Company, Inc. is a family-owned and operated firm run by Don Barros and his immediate family. This Missoula native graduated from the same high school. Don Barros worked at Proctor & Gamble as a Brand Manager and at Bain & Company before founding Don Barros CDB Oil Extraction Company, Inc. He has 13 years of experience and a Bachelor of Science in Biochemistry from the University of California, Davis, as well as an MBA from the University Of Chicago Booth School Of Business.
We will operate a typical cannabidiol (CBD) oil extraction and packaging business whose product will be sold not only in Missoula, Montana, but also throughout the United States and other parts of the world.
Mission: Our mission is to establish an excellent Cannabidiol (CBD) oil extraction and packaging company that, in its own right, can compete favorably with industry leaders on a global scale.
Vision: We aspire to create a cannabidiol (CBD) oil extraction company with brands that be recognized not only in the United States but also in Canada.
Industry Overview: The global cannabis extract market was worth USD 7.3 billion in 2019 and is expected to grow at a CAGR of 16.6% over the next five years. The rising use of medicinal marijuana for the treatment of chronic ailments like arthritis, Alzheimer's, and cancer, as well as mental disorders including depression, anxiety, and epilepsy, are driving this market. Another factor expected to drive market expansion is the increasing legalization of medical cannabis in many nations, allowing patients easy access. The total business has been increasing as the usage of marijuana for medical and recreational purposes has increased. Legalization of marijuana in various nations has resulted in an increase in legal product purchases, reducing black market sales. Government-imposed taxes are also expected to provide countries with revenue-generating opportunities.
Financial Overview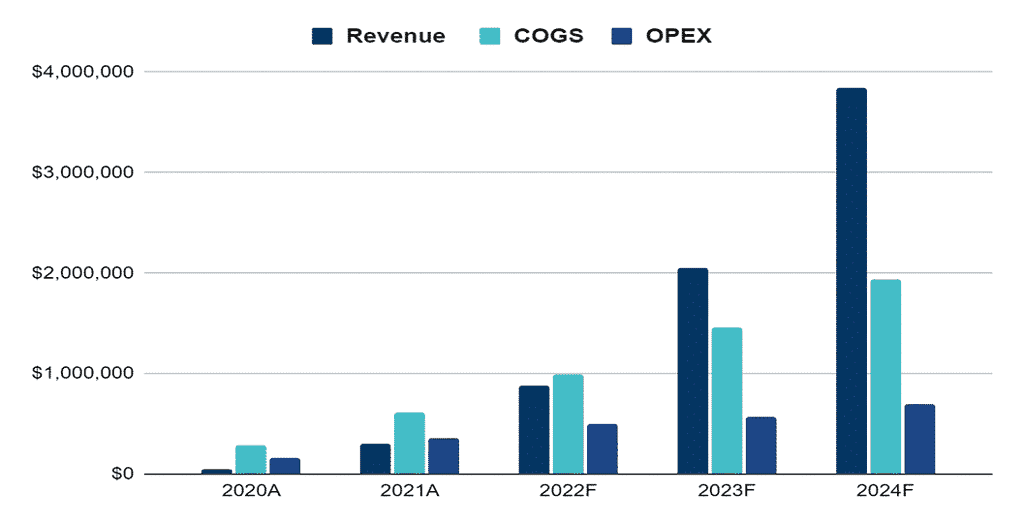 Financials is one of the most important sections of a CBD Extraction business plan. You can get an idea of your projected revenue, required investment amount, is the business sustainable without additional funding, etc.
Financial Highlights
| | | | | | |
| --- | --- | --- | --- | --- | --- |
| Liquidity | 2020A | 2021A | 2022F | 2023F | 2024F |
| Current ratio | 6 | 12 | 23 | 32 | 42 |
| Quick ratio | 6 | 11 | 22 | 31 | 40 |
| DSO | 8 | 8 | 8 | 8 | 8 |
| Solvency | | | | | |
| Interest coverage ratio | | | 8.2 | 11.1 | 14.2 |
| Debt to asset ratio | 0.01 | 0.01 | 0.2 | 0.18 | 0.16 |
| Profitability | | | | | |
| Gross profit margin | 51% | 51% | 53% | 53% | 53% |
| EBITDA margin | 12% | 14% | 21% | 22% | 22% |
| Return on asset | 5% | 6% | 13% | 14% | 14% |
| Return on equity | 5% | 6% | 16% | 17% | 17% |
Use of Funds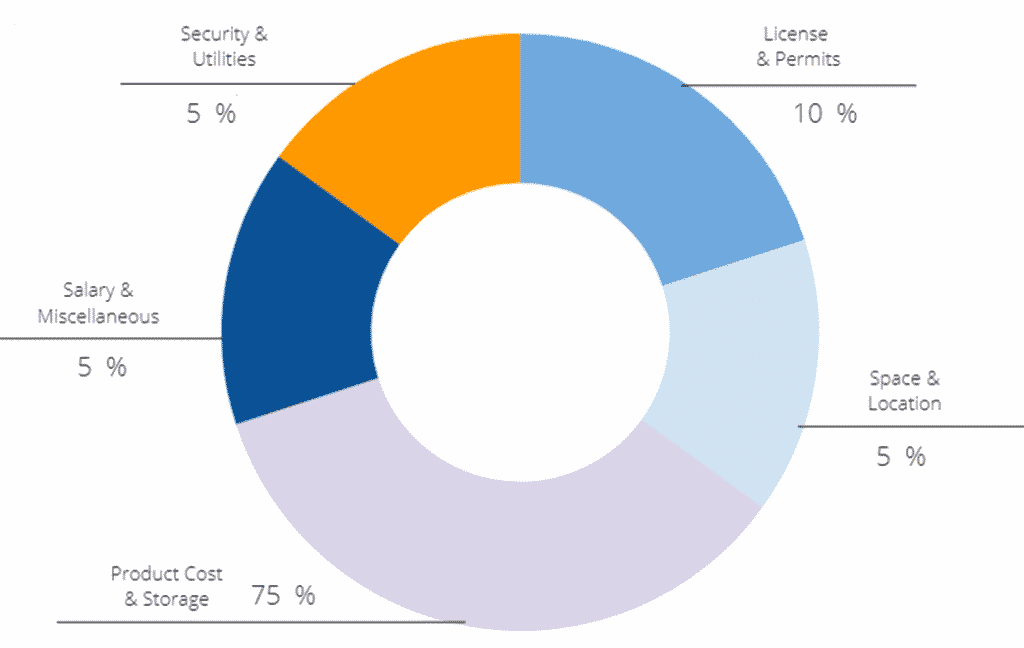 Industry Analysis
The industry analysis section of the CBD Extraction business plan will help you get better insights into competitors, market growth, and overall industry prospects. You can order a custom market research report for your CBD Extraction business.
Cannabis oil and tinctures are commonly used to treat a variety of ailments, including anxiety, nausea, and cancer. Due to the non-psychoactive qualities of Cannabidiol (CBD) oils compared to other products such as buds and resins, laws pertaining to extracts are fairly forgiving in terms of legality. Because of their simplicity of use as vapor or gummies, as well as the progressively fading societal stigma associated with smoking cannabis buds, these products are expected to gain traction and demand in the future years. During the projected period, the rising prevalence of cancer is also expected to fuel the market for cannabis extract. According to the World Health Organization (WHO), cancer was the second largest cause of death worldwide in 2015, accounting for around 8.8 million fatalities. The medical marijuana industry is expected to be driven in the near future by an increasing demand for therapies associated to pain management as a result of the expanding illness burden of chronic pain. Furthermore, due to age restrictions and the precise calculation of doses, children have been administered cannabis oils rather than buds.
CBD (cannabidiol) obtained by extracting CBD from the cannabis plant and diluting it with a carrier oil such as coconut or hemp seed oil. It is the second most common active component in marijuana (marijuana). CBD derived directly from the hemp plant, which is a cousin of the marijuana plant, and is an important component of medical marijuana.
While CBD is one of hundreds of components in marijuana, it does not generate a "high" on its own. According to a World Health Organization research, "in humans, CBD demonstrates no effects indicative of any misuse or dependence potential."
The fact that cannabidiol (CBD) oil derived from cannabis plants does not imply that it has the same power to induce euphoria or a "high" as marijuana or THC. You will not get high if you use CBD-infused oil, tincture, consumable, or other product, but it may help you feel calmer or less nervous.
Cannabidiol (CBD) oil is widely available in most parts of the United States, despite the fact that its legal status is unclear. CBD is lawful in all 50 states with varied degrees of restrictions, and while the federal government still considers CBD to be in the same class as marijuana, it is rarely enforced.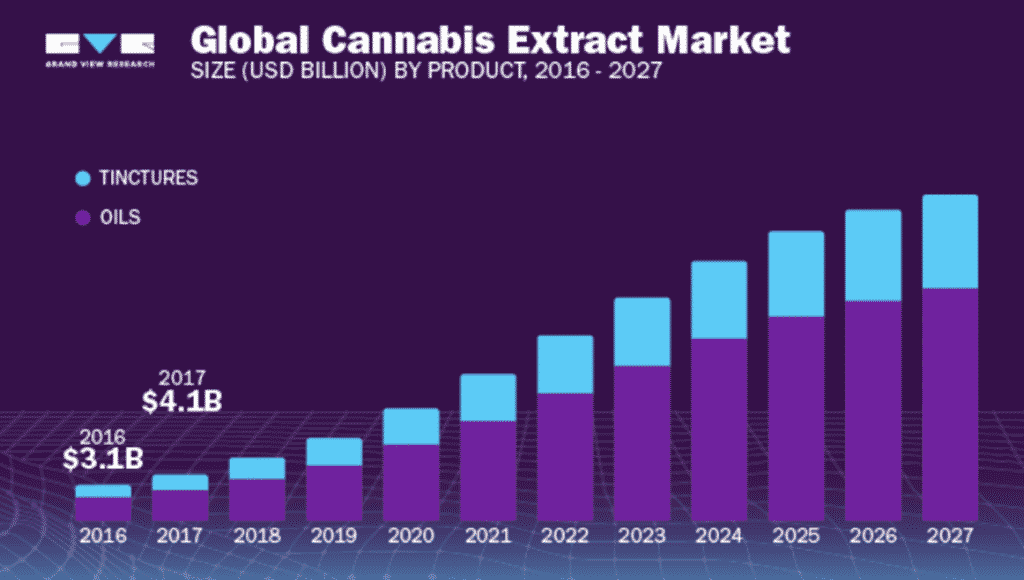 While working on the industry analysis section of the CBD Extraction business plan make sure that you add significant number of stats to support your claims and use proper referencing so that your lender can validate the data.
Marketing Plan
A key part of the marketing plan in a CBD Extraction business plan is the marketing budget. The growth in the number of customers is proportional to the budget and dependent on the CAC.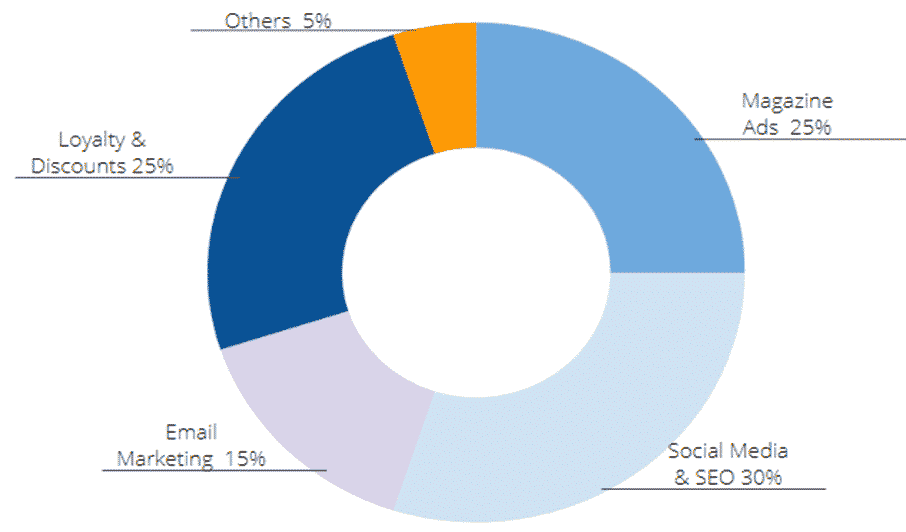 Social Media & SEO: Following the trend of surfing the Internet every second of customers, Online advertisement has become a blatant tool used by every business. Laser Dreams will be promoted on Facebook, Instagram, and other social media platform.
Magazine: A magazine with company's logo will be distributed, and the pages contain thorough information about Don Barros CDB Oil Extraction Company.
Email Marketing: We uses email tool that we utilize to send commercial messages and generate sales. We will send cart abandonment emails or as sophisticated as running multiple email nurturing campaigns to cultivate long-term connections and increase long-term sales.
Loyalty & Discounts: To demonstrate our gratitude for your support to our success, Barros CDB Oil Extraction Company offers loyalty and discount programs to our clients.
Organizational Plan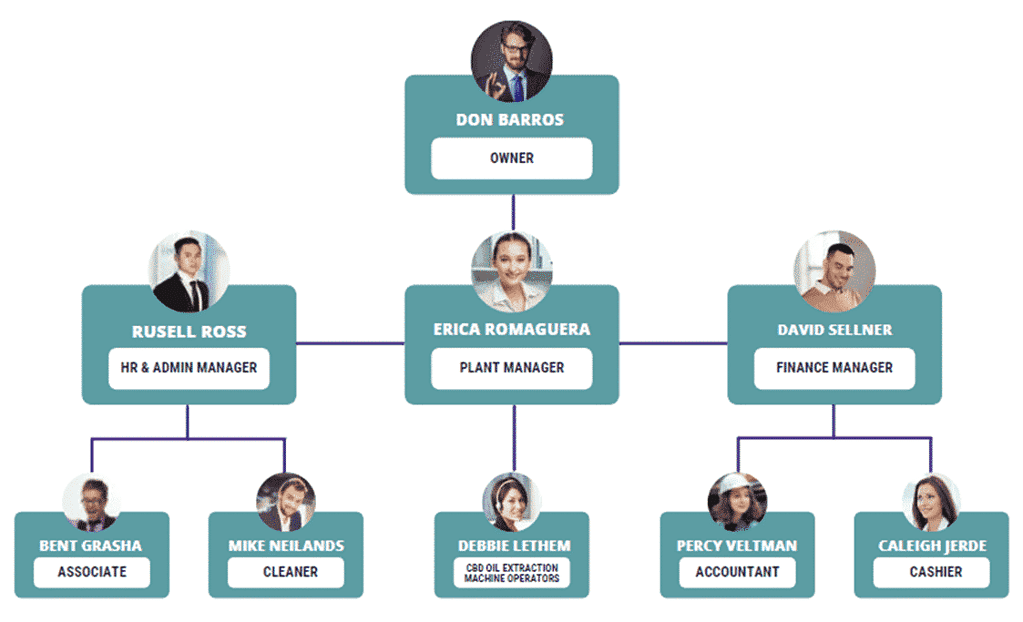 Financial Plan
This section of the CBD Extraction business plan helps your lender figure out whether you will be able to pay off the loan, whether the business is sustainable, what are the growth prospects, etc.
Earnings: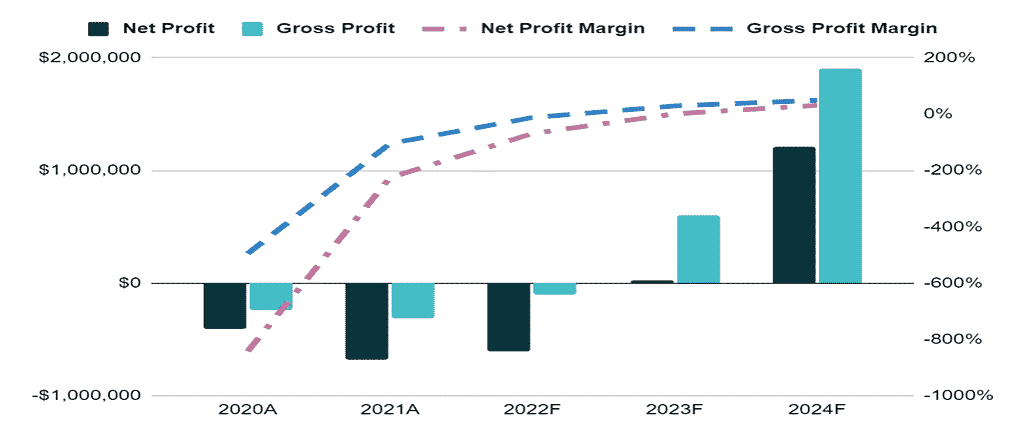 Income Statement:
| | | | | | |
| --- | --- | --- | --- | --- | --- |
| | 2020A | 2021A | 2022F | 2023F | 2024F |
| ANNUAL REVENUE | | | | | |
| Item 1 | 9,217 | 59,117 | 175,410 | 415,277 | 781,357 |
| Item 2 | 34,701 | 222,558 | 660,368 | 1,563,394 | 2,941,580 |
| Item 3 | 4,067 | 19,561 | 46,432 | 78,519 | 114,905 |
| Total annual revenue | 47,985 | 301,236 | 882,211 | 2,057,189 | 3,837,842 |
| % increase | | 528% | 193% | 133% | 87% |
| COST of REVENUE | | | | | |
| Item 1 | 360 | 2,259 | 6,617 | 15,429 | 28,784 |
| Item 2 | 480 | 3,012 | 8,822 | 20,572 | 38,378 |
| Item 3 | 52,000 | 65,000 | 78,000 | 91,000 | 104,000 |
| Item 4 | 720 | 3,615 | 8,822 | 16,458 | 23,027 |
| Item 5 | 140,000 | 336,000 | 560,000 | 840,000 | 1,120,000 |
| Item 6 | 60,000 | 144,000 | 240,000 | 360,000 | 480,000 |
| Item 7 | 32,000 | 61,333 | 85,533 | 112,153 | 141,435 |
| Total Cost of Revenue | 285,560 | 615,220 | 987,794 | 1,455,612 | 1,935,625 |
| as % of revenue | 595% | 204% | 112% | 71% | 50% |
| Gross Profit | -237,575 | -313,984 | -105,583 | 601,578 | 1,902,218 |
| SELLING & ADMIN EXPENSES | | | | | |
| Item 1 | 28,000 | 96,800 | 154,880 | 175,692 | 193,261 |
| Item 2 | 75,000 | 105,000 | 120,000 | 120,000 | 120,000 |
| Item 3 | 36,000 | 96,000 | 108,000 | 120,000 | 120,000 |
| Item 4 | 8,000 | 12,000 | 12,000 | 12,000 | 12,000 |
| Item 5 | 3,839 | 18,074 | 44,111 | 61,716 | 115,135 |
| Item 6 | 3,359 | 12,049 | 26,466 | 41,144 | 76,757 |
| Item 7 | 5,600 | 10,000 | 12,904 | 15,034 | 17,376 |
| Item 8 | 6,667 | 14,000 | 22,067 | 30,940 | 40,701 |
| Total selling & admin expenses | 166,464 | 363,924 | 500,428 | 576,525 | 695,230 |
| as % of revenue | 347% | 121% | 57% | 28% | 18% |
| Net profit | -404,039 | -677,907 | -606,011 | 25,052 | 1,206,987 |
| Accumulated net profit | -404,039 | -1,081,947 | -1,687,957 | -1,662,905 | -455,918 |