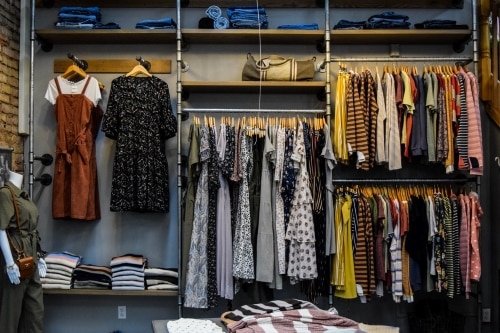 The Millennial Apparel Store is a new retail concept that will cater to the millennial generation by selling one-of-a-kind clothes. The entrepreneurs, Sena Ocansey and Fauzia Amadu will handle this casual urban wear traditional fashion business as a partnership. It's a brand-new apparel business that caters to a wide range of customers, including students. It will be held in the courtyard of Central University's food court. The residential location and social activities of our target market have been conveniently situated by the Millennial Clothing Store. This, we believe, is critical to our initial success and long-term growth.
While our first goal is to open a single boutique, we intend to grow by franchising our retail location and/or establishing a well-known brand name. As a consequence, we anticipate capturing a major portion of the online retail market. Our objective is to provide the school with one-of-a-kind clothing that they won't find anyplace else in the state.
The firm will be backed with a business loan of $35,444 and $18,299 in cash from the founders. $53,743 is the starting price. Sales are estimated to reach $187,500 in the first year. A positive cash flow will be created by the end of the first year.
OBJECTIVES
Millennia's key goals are to: •
Open a distinctive apparel retail company on campus
Create employment
Provide high-quality goods and excellent customer service at a competitive price
MISSION
Millennial Clothing Business is a boutique that focuses on one-of-a-kind clothing and accessories. We encourage our customers to experiment with diverse clothing styles. After acquiring urban wear gear, our mission is to learn about our customers' needs and expectations.
Millennial Clothing Store will balance its accounts while offering its customers a high-quality product. To make our garments accessible on campus, we will create a shop, fashion displays, and events. We'll make money and make a profit. We will offer a rewarding work environment and competitive pay for our employees, as well as outstanding value to our customers and a fair return to our shareholders.
Success Factors
Millennia's keys to success include implementing an effective cash flow plan, achieving efficiency, operating our retail store professionally, and maintaining a serious business discipline in all we do.
SUMMARY OF THE COMPANY
The company's name will be "Millennial Clothing Store." This aims to link the shop to Central University, which will provide the bulk of the store's inventory.
The Millennial Clothing Store's major goal is to attract customers and keep them coming back.
Millennial was intended to let customers change their image without having to buy a whole new wardrobe. Those wishing to build a new wardrobe by purchasing garments and accessories to match their present collection will be catered to.
Customers will look to the firm from which they purchase things for continuous help and personal recommendations. Because they are a recurrent business, establishing a strong client base will be straightforward.
Customers will save money by not having to purchase a whole outfit but rather individual components. They'll also love shopping at places like Millennial, which are well-stocked and service-oriented.
Aside from regular shopping, Millennials will cater to a wide range of clientele and situations. One example is people buying presents for their pals. Millennia's clothing shop will have wearable gifts available.
The firm is a new initiative aimed at providing millennial women with fashionable wardrobe options to purchase and wear. As the company's founders and Millennials, we noticed that Ghana's current millennial-wear business is falling short. Most adolescent clothing shops, in fact, still stock clothes that our grandmothers would have worn. As our local population matures and more freshmen arrive at school, we see the need for a company that caters to the enthusiastic, fashion-forward Millennial generation.
The hours of operation are 12 p.m. to 7 p.m. Monday through Friday, 10 a.m. to 8 p.m. Saturday, and 12 p.m. to 6 p.m. Sunday. Specific hours will be allotted for SRC week activities and other social events.
The retail store will take up around 2/3 of the available forecourt area at this time. The monies left over will be utilized for stock and administrative expenses. All goods will be purchased with the company's purpose and customer focus in mind, which includes outfitting women of all sizes, including plus sizes.
Ownership of the Business
Fauzia Amadu and Sena Ocansey collaborated on Millennial Boutique. Sena spent two years in the retail industry, one of which she spent as the manager of a bag and jewelry shop.
Fauzia has experience in the fashion industry. She has worked with designers, distributors, and retailers for the last four years.
Sena Ocansey will oversee all administrative and managerial duties, with Fauzia Amadu acting as a silent partner.
Start-up Summary
Because clothing and accessories are the main sources of revenue, the company will start with three months' worth of stock. The bulk of the company's assets will be held in inventory.
Locations and Facilities of the Company
Millennial Clothing Store does not have a physical location at this time. However, we have discovered a fantastic spot on campus: the food court. This location is crucial to the school's location. The store is around 2500 square feet. There are two dressing rooms as well as separate men's and women's restrooms. Parking is available in front of the company as well as in the rear for overflow.
When it comes to installing products wall mounts, multi-level garment displays, and an innovative floor plan, this structure is big enough to accommodate future growth. Furthermore, we will be able to manage our whole organization from a single location. Shipments and inventory management, as well as administrative activities like financing, buying, and marketing, are all part of this.
PRODUCTS
We will purchase a variety of sizes, colors, and styles from sales agents and manufacturers to satisfy the demands of our target market.
The Millennial Apparel Store will offer a combination of well-known brand names as well as apparel lines from a select group of fashion designers. We'll focus on generational fashion trends as well as our clients' purchasing behaviors. In addition, we will tailor our products to meet the needs of our millennial clientele. Our expertise will be limited to patterns, colors, and fits that flatter the female millennial figure. We will offer accessories such as belts, scarves, and hats in addition to work apparel, casual wear, jeans, and formal dress.
Our goal is to put in place a better customer service system. Our primary aim will be to make sure that our customers are happy with the fit and design of their purchases, and we will provide items that are tailored to women of all shapes and sizes.
ASSORTMENT OF MERCHANDISE
The retail store will provide a wide variety of clothes and may be considered a one-stop-shop. Hundreds of clothes are carefully divided into categories in the vast store, making it easy for customers to shop. Millennia's more than 32-piece wardrobe selection includes denim, twill, and linen bottoms, linen and silk shirts, silk/cashmere sweater vests, T-shirts, and hats.
Millennial has opted to sell a line of clothing that is "more simple" but has "a chameleon kind of feel" and can "fit into any type of setting—not too bright or loud," similar to Mark Zaps. Sales of this kind of urban fashion are likely to range from $15 million to $18 million, depending on the size of the shop, according to Mark Zap. The new growth advancements in the urban wear business have made purchasing garments much more uncomplicated and simple. This clothing is also available at fashion events and festivals. Beautiful trousers and pants will be delicately hung on a Gondola to the side of the changing area, among shelves piled high with folded western wear from well-known brands.
Comparison of Competitors
Millennial Clothing Store has a number of advantages that will assist us in establishing our brand identity, adding value to our items, and cultivating a loyal customer base while standing out from the competitors.
Millennial Apparel Store stands apart from all other local boutiques and big department stores in the area because of our objective to deliver fashionable, high-quality clothing to women.
We'll do all we can to keep petite and plus-size clothing in stock. Ordering them will be straightforward, affordable, and fast if they are in stock.
More than just a clothes shop, the Millennial Clothing Store will be a destination for millennials. Our customers will benefit from our salespeople's expertise and experience.
Our location is ideal for our target audience.
We shall retain a comprehensive record on each client, including addresses, purchases, size, and brand, for customer follow-up and in-house promotional reasons.
Sourcing
We'll go shopping for items in the following order:
We'll arrange our weekly and monthly reorders with manufacturers that have a regional agent, as well as look at new things. Product catalogs and line sheets will be utilized for all other brands, which will be handled directly by the manufacturer.
In order to minimize our product costs, we will also aim to develop our connections with sales agents and suppliers. We believe that by establishing marketing strategies and creating strategic relationships, we will be able to gain a competitive advantage over our direct and indirect competitors.
Products in the Future
When we accomplish and exceed our sales and profitability objectives, Millennial Boutique will launch our own unique in-house clothing collection, which will include millennial shirts for women and millennial shirts for men. Brands that our customers have regularly requested will be added to our portfolio. An e-commerce website will be established to strengthen our distribution channels and expand our customer base to a national level.
SUMMARY OF MARKET ANALYSIS
Millennial Boutique is a fashion shop that sells directly to consumers. Female millennials are unmistakably our target market. However, we are aware that some young men are likely to be interested in our auxiliary things (shoes, belts, shirts, etc.). We also expect that some of our products will appeal to older generations. It's vital that we don't market something that's solely accessible to a younger audience.
Having said that, there are now roughly 5,000 millennials on campus. Those born between 1981 and 1999 are considered members of the millennial generation. Around half of the population is made up of women.
Those born between 1990 and 1999 are technologically savvy and dependent, but those born in 1981 want personal connection and authenticity in their lives. These are the women who will be the focus of our marketing and merchandise. These ladies are between the ages of twenty and thirty. They value advanced communication and internet access, as well as convenience, service, and product quality. As children get older and begin to work, price becomes a factor in their decision-making.
The main target market for Millennial Boutique will be students on campus.
Because we are in the heart of their home area, we feel they will make up the bulk of our clientele.
Secondary target clientele includes students outside of college, Prampram, and the Dawenhya area, and we aim to get patronage since they are very loyal to fashion-forward clothing.
The ultimate target customer for Millennials has been selected as "Other." As the store's popularity rises, we expect to see a mix of curious visitors, local college students, and seasonal consumers during week-long programs.
Our customer base is likewise highly concentrated on campus due to the density of the student population.
Market Segmentation Strategy
The objective of Millennial Boutique is to help the local Ghanaian populace find preppy attire that fits their larger frames. We'll also cater to students with a thinner, shorter frame on and off-campus. Both of these markets are underrepresented in Ghana's major retail outlets.
Market Requirements
A number of critical needs in the fashion retail clothing sector are either unfulfilled or totally unmet. The Millennial Clothing Store seeks to meet these needs.
• Customer retention and attention to the customer's specific preferences will be prioritized. Significant staff turnover at huge mass retailers has resulted in a loss of customer care and attention to detail.
Market Developments
The retail fashion business is a powerful organization, with ever-changing trends and ever-present client demand. Customers are increasingly seeking alternatives to supercenters and megastores, which dominated the past two decades. They want to provide their clients with a better purchasing experience. Clothing is something that will never go out of style. Ghana's fashion industry has been thriving for a long time.
ANALYSIS OF STRENGTHS AND WEAKNESSES
Strengths
Previous experience and knowledge in the fashion industry
Customer service that is second to none and a one-of-a-kind shopping experience
The location on campus is ideal.
The consumer base is huge and growing.
Weakness
There is an unproven market on campus.
While the market is large, (millennial) opportunities are limited.
If customers have a good shopping experience, they will return.
On the Internet, a Growing Millennial Clothing Store
Make a line of apparel for Millennials.
Threats
Marketing targeting millennial women's costs and effectiveness
New retail locations that may or may not open in the near future
SUMMARY OF STRATEGY AND IMPLEMENTATION
PHILOSOPHY
Our company's main business strategy is to provide great and knowledgeable customer service together with high-quality, stylish items. As a consequence, we will provide a pleasant shopping experience for our customers. Millennial Boutique's mission is to give a varied choice of attractive, figure-flattering clothing to women in their twenties and thirties. Our objective is to establish our company as a trailblazer in this youth-driven market and to establish a boutique brand name that will become associated with the fashion industry's transition.
DEVELOPMENT OF PRODUCTS
With the support of a number of clothing wholesalers, garment manufacturers, and two freelance fashion designers, we're now putting together our assortment. We're also collaborating with city economic development officials to get the essential permits and licenses. Whenever financing becomes available, we will continue with the façade renovation.
Internet Marketing Plan
The internet has become a staple of American life and retail business, thus Millennial Boutique will have a working website. We've purchased the domain name Millennial Boutique.com and will begin work on the site as soon as funds allow. We also want to hire a seasoned web designer who will work for a cheap wage in return for profit-sharing in the future. We want to promote our brand, our products, and enable customers to buy items online first and foremost. As the site grows, we'll add features like fashion advice, designer interviews, newsletters, and internet-only bargains. We want to ultimately establish and maintain an online social community where ladies can discuss current events, network, and share fashion secrets.
Millennial Boutique's mission is to provide apparel to the Ghanaian community's underserved market. The main western clothing stores have created a market gap by not providing a broader variety of sizes.
We want to acquire an 80% market share by focusing on our specific positioning, neighborhood location, the brand that we provide, and unique promotions.
ADVANTAGE IN COMPETITION
The millennial shopper card, which gives customers a 15% discount after ten transactions; •
Our placement in the school will help us to reach a larger number of our target customers.
Plus sizes will be available for ladies, as well as large and tall sizes for men.
Marketing Techniques
We anticipated our plan for attracting clients to Millennial Boutique from the beginning. We'll also hire a local public relations firm to help us establish and execute a strategic marketing strategy, as well as focus our media efforts in the most cost-effective way possible. Our marketing approach, logo, and slogans will all feature the millennial generation as rebels and trendsetters.
Our goal is to keep our marketing expenses to less than 5% of our yearly gross sales. All of the necessary connections have already been established. As long as the events are relevant to our target demographic, these strategies will help us a profit from local event exposure. Millennial Boutique's first marketing efforts will stay local as we develop a presence in our community. Traditional advertising, signage, a direct mail marketing effort, and networking will all play a part, as will local print and broadcast media coverage. A significant portion of our advertising budget will be spent on print and broadcast media.
Of course, before the new boutique opens, we'll create excitement and expectation. There will also be a raffle for a GHC300 shopping spree and a fashion consultation. Entries will be accepted starting on the day of the grand opening and will continue throughout the week. Names and contact information will be used for follow-up marketing efforts. Following the grand opening, there will be a lot of advertising and semi-annual direct mail marketing. We will also use low-cost exposure strategies, such as posting sale flyers on neighbourhood bulletin boards and online, and we will continue to take advantage of marketing opportunities as our firm develops and our client base increases.
Strategy for Selling
Through innovative marketing, Millennial Clothing Store hopes to improve sales. These focused efforts will be aimed at new and returning customers, as well as visitors on a one-time visit. We'll also create a referral program that rewards clients who recommend new customers with discount certificates. Consumers who have signed up for our in-store mailing list will get a direct mail campaign after our grand launch. The direct mailers will be 500 full-color postcard mailers. Each one will have a 10% discount code. We will provide promotional discounts and seasonal clearance specials throughout the year.
The Millennial Clothing store will take cash as well as major credit and debit cards. Cash layaway agreements can be accepted as well. Returns and exchanges must be done within 30 days of the purchase date, along with receipts.
Strategy for Pricing
Profits will be generated through the selling of our goods. We'll utilize recommended retail price for popular brands as well as the industry standard for major stoning expenses to keep our pricing approach flexible. We'll also use a value-based pricing strategy, in which we estimate the worth of things to our customers based on aspects like accessibility, quality, customer service, and appealing trends for our target demographic. End-of-season sales, holiday and overstock sales, multi-buy discounts, and promotional coupons will be presented at regular intervals.
Promotional Plan
Millennial Boutique has designed an aggressive and inventive marketing plan. This will help us to focus our efforts on our target market while keeping our advertising costs reasonable.
• On campus and in off-campus hostels, 500 4×5 color flyers/postcards will be distributed.
• A direct mail campaign with exclusive in-house offers and promos that will target and concentrate on the top 50% of clients.
Distribution Methodology
Our retail shop will be the foundation for growing our clientele. In addition, we'll send a direct mail campaign to our top 50% of customers, emphasizing any in-house offers and promotions.
MARKETING STRATEGY
We will utilize the retail ICE POS software for every sale transaction. With each purchase, the application will record and store the customer's name, address, and purchases in its database. This information will be used with our direct mailing campaign to target our top 50% of customers.
We will provide a 14-day return/exchange policy to develop confidence with our customers and maintain retention and loyalty.
SUMMARY OF MANAGEMENT
Structure of the Organization
Because we are a small firm, we will have a small crew. Both co-owners will take on leadership roles inside the company and will be in charge of daily operations, marketing activities, product procurement, inventory management, and any other administrative tasks. The co-owners will be assisted by a small sales team in collecting sales, servicing clients, and managing stock levels on the floor.
Leadership
Sena Ocansey and Fauzia Amadu co-own and operate the Leadership Millennial Clothing Store. On the other hand, daily duties will be different. Sena Ocansey will be in charge of the day-to-day operations, which will include personnel supervision, inventory management, and accounting.
Fauzia Amadu will be in charge of selecting items for the shop as well as staying up to date on industry trends.
Members of the team
Millennial Boutique will hire three part-time salesmen. These positions have yet to be filled. We think, however, that the labor pool is broad enough that finding appropriate people will not be difficult. A weekly wage with the commission will be paid to our sales agents.
PLAN FINANCIAL
Our cash flow statement will match our income statement since our firm will get fast payments from customers.
The growth of Millennial Boutique will be mild, and the company's cash flow will always be positive. Because we are a retail store, we will not be selling on credit. All major credit cards, as well as cash and cheques, will be accepted. No more than 5% of total sales should be spent on marketing and advertising. We'll continue to reinvest any residual profits in the company's growth and development.
Related link