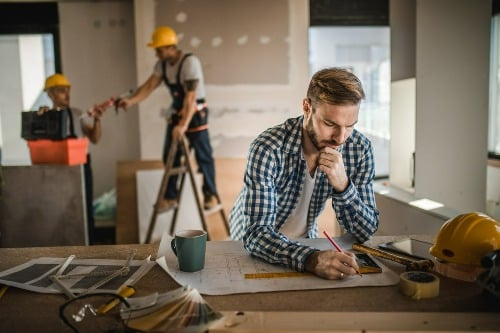 Start your own construction firm with a remodeling business plan.
Whether it's to boost the value of one's property or to improve one's lifestyle, remodeling is the way to go. Remodeling is a kind of business that may be started with simple home services. It may also be utilized to finish large-scale renovations for businesses and enterprises.
Regardless of how large or little your firm is, you'll need to develop a renovation business plan. Before you establish a remodeling company, you need draft a comprehensive business plan that covers the following topics:
Taking into account the most recent developments
Obtaining the necessary information
Keeping yourself out of trouble
Improve your financial management, and so forth.
To help you create a business plan that includes all of the key components, we've supplied an example business plan for a firm named 'Model-It Solutions.'
The Company
Model-It Solutions, a new renovation firm in Buffalo, New York, will be registered, licensed, and insured. Expert builders, architects, and engineers will collaborate with the firm to enhance the look and feel of residential and commercial structures.
Simply put, we build what you desire!
Remodeling business management
As a business owner, you can't rest after launching a remodeling company. You must be proactive in order to arrange and assess various corporate operations. Effective management is necessary in the case of a remodeling firm in order to complete projects on time. To guarantee that consumers get work that matches their expectations, you must effectively manage communication, cash, and resources across several channels.
Customers of the remodeling company
It's critical to determine who your target market will be. You must first determine who your target market is before looking at how to establish a remodeling company.
Model-It Solutions' target customers will include homeowners, construction companies, contractors, and government agencies. We'll take effective steps to turn them into potential customers.
Business Objective
One of our primary objectives is to maintain a 20% customer retention rate throughout the length of our service years.
Maintaining a CSAT score of 85 percent or above
Our financial objectives for paying our expenditures and investments with profits created are summarized in this table.
Owner of a business
Anna Huston will be the CEO of Model-It Solutions. Anna has a Master of Business Administration degree. She started working for Skanska after graduating from Stanford University.
She did, however, decide to start her own remodeling firm after 5 years in the service.
Why is a renovation company being established?
Anna has always been a woman with a lot of original thoughts. She opted to return to her hometown after working for a multinational organization and utilize her abilities to assist others. She predicted that the remodeling sector will continue to develop in the coming years as people look for new ways to improve their houses.
How will the renovation company get started?
Make a business strategy as the first step.
In order to build a remodeling business plan, Anna started by looking at several business plan samples for renovation firms. Anna's business strategy encompassed everything from market share research to financial budgeting.
This remodeling business plan sample may be used to examine Model-It Solutions' requirements, financial sheets, staffing strategy, and other elements.
Step 2: Make a name for yourself.
The next stage is to register your firm when you've finished your remodelling business plan. You'll need to get the required permits and licenses. Furthermore, now is the time to construct your company's real office.
Step 3: Identify and hire the required staff.
The third step is to conduct interviews and examinations in order to hire the most competent employees.
Step 4: Get ready to promote and publicize your company.
The next stage is to sell your services and competitive advantages in order to reach your target clientele. This stage also involves the strategy for attracting and retaining clients.
Step 5: Establish a web presence
Nowadays, people use Google to choose the finest service provider for every service they want. As a consequence, having a strong social media and digital presence is more vital than ever.
Anna decided to hire an IT professional to create a website for Model-It Solutions. The website will allow users to make online bookings. Additionally, the website will monitor repeat customers so Anna can evaluate her business's progress on a regular basis.
Services
Before figuring out how to start your own renovation company, you need figure out what services you want to provide. Even before you make your debut, settling on your services may assist you in identifying ways to make your consumers' life simpler.
In our remodeling business plan template, we've included Model-It Solutions' services to give you an idea of the kind of services you may provide as a remodeling firm.
Full House Remodeling: Our primary service will be to completely renovate your home. We will endeavor to renovate a historic building to fulfill modern expectations, such as increasing living space or upgrading the interior and exterior aesthetics, in this project.
Based on the needs of the clients, we will remodel the kitchen, laundry, bath, terrace, and other parts of the house. We can provide siding, flooring, new windows and doors, cabinets, and whatever else our customers want.
Handyman Remodeling is making small changes to a home, such as installing a modern lighting system, carpeting, painting the walls and cabinets, hanging wallpaper, and doing minor repairs.
Renovation of Historic and Major Architectural Structures: Our third service will be to restore historic and significant architectural structures without compromising their historic values.
Individual Structural Re-design: We may add or remove bathrooms, rooms, kitchens, and laundry rooms, as well as create a staircase and install new roofs.
Remodeling Business Marketing Analysis
Because it helps the owner to keep on top of customer demands, marketing analysis is an important part of a remodeling contractor's business plan. Through effective marketing analysis, you may find renovation domains with high demand. Furthermore, before you start a remodeling firm, this component offers you with a thorough image of your clientele.
Market Developments
According to IBISWorld, remodeling companies have increased at a 1.7 percent annual rate over the previous five years. In the United States, there are over 455 thousand renovation businesses. According to the same source, the market is predicted to be worth $97 billion.
The market data are optimistic, and the rate of growth shows that there is still room for more companies to join the project. If you want to ensure that you get customers right away, you should research market trends in various locations. This can help you choose a place with less competition and a high number of clients looking for remodeling services.
Segmentation of the Market
You must first understand who your customers are before learning how to create a remodeling business strategy. By separating the huge population into distinct groups, you can figure out what they desire. As a consequence, you'll be able to create strategies that fulfill their needs.
Model-It Solutions has identified the following companies as potential customers:
Real Estate Owners: Our primary customers will be those who own any kind of building. They could require our help in one of two scenarios:
They strive to enhance their own interior/exterior design.
They wish to remodel the home in order to increase its value so that it may be sold for a higher price.
Contractors and Construction Firms: The second section of our target market will be contractors and construction firms. If they obtain a project or are building a structure from the ground up, they will require our help.
Government Agencies: Our third category comprises government agencies that will need us to remodel historically, artistically, or culturally important structures while keeping their integrity and historic aspects.
Business Objective
Anna set financial and other goals for herself before starting a remodeling company. She realized that by doing so, she would be able to direct her resources and abilities in the most effective way possible.
The following are the goals of Model-It Solutions:
Make a monthly net profit of $24,000 at the end of the first year.
Throughout the duration of our service years, we want to maintain a 20% customer retention rate.
Maintaining a CSAT score of 85 percent or above
We will be able to cut our operating expenditures by 5% at the end of the three years by improving our processes and systems.
Pricing of Products
Our services will be more affordable than those of our competitors. We do this because we want to attract as many customers as possible while we are still in the early phases of our company.
Marketing Techniques
Your restoration business plan is inadequate if it does not contain tactics to catch the attention of your target audience. In this renovation marketing plan, we've incorporated Model-It Solutions' exclusive sales strategy plan.
Analysis of Competitors
Anna realized that Buffalo is already home to a slew of remodeling firms. As a consequence, she made the decision to develop unique features in order to outperform her company's competition.
The following are some of Model-It Solutions' competitive advantages:
Customer service is very important to us. We are constantly happy to make revisions to remodeling plans in response to our clients' requests.
Our personnel are highly skilled and collaborate nicely.
Online booking and payment alternatives are available to our clients.
Returning customers will get a variety of discounts.
Because our fees are lower than those of our competitors, you may utilize our services for little or big projects.
Strategy for Selling
To introduce ourselves to our target clientele, we will place ads in local newspapers, Google Local Ads, and social media.
Maintain a cheaper price structure than our competitors.
Create a strong online presence by using SEO tactics.
Returning customers should get a 25% discount on their second visit.
Personnel Strategy
When writing a remodeling firm strategy, you should explain your employees, their work responsibilities, and their needs. Throughout the recruitment process, it will enable you to assess prospects based on a set of criteria.
Employees of the company
Anna will be the only owner of the firm. She will, however, hire the following individuals:
1 architect for complicated project design/remodeling 1 co-manager
2 contractors will be hired to carry out the renovations.
As workers, 5 Field Workers will be hired.
To keep track of funds, you'll need one accountant.
1 technician is responsible for maintaining the equipment's functionality.
One IT professional to manage the company's website, online records, and social media profiles.
A single driver will offer transportation.
Plan your finances
In the last portion of your business plan, examine your predicted cash flows. Before you begin developing your remodeling business plan, you should have a decent idea of how much money you'll spend on each aspect of your firm. You should also have a plan in place to meet your company's goals via boosting profits.
You may use this business plan sample to evaluate Model-It Solutions' financial forecasts, break-even analysis, business ratios, gross margins, and other financial calculations.
Keep in mind, however, that the projections in this financial plan are based on the assumption that there will be no major recession in the following five years.