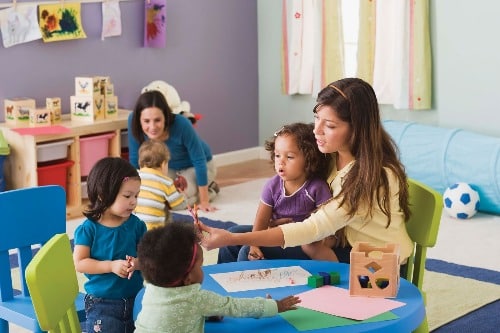 We live in a world where everyone seems to be in a hurry to get things done before the end of the day. Parents and guardians have no option but to seek daycare centers to care for their children while they go about their daily activities. A rise in the number of facilities being created has come from an increase in the demand for professional daycare services.
Writing a Professional Business Plan for a Day Care Center
It is a lucrative business, according to research, and may help you attain financial stability and independence. You must hire a skilled business writer who knows how to create a daycare center business plan template so that you can lay out all of the necessary groundwork and avoid any unnecessary stumbling blocks.
For more than three years, we've been providing professional childcare center business plan writing services to clients all around the globe. The outstanding reputation we've earned through time demonstrates that we follow through on our promises. Our writers not only have extensive expertise writing business plans for childcare centers from the ground up, but they also have a thorough understanding of the economics and business difficulties that face daycares.
Here are five reasons why you should call us for assistance in developing a daycare business strategy.
We have a solid academic basis as well as a wealth of real-world experience.
We'll undertake feasibility studies to ensure that each recommendation is appropriate for your business.
We'll connect you with industry experts who can provide advice on how to improve the growth of your business.
We have excellent time management skills and will complete the plan within the agreed-upon timeline.
A professional daycare business plan's main components are briefly summarized here.
Overview of the Situation
This is a high-level overview of the company's goals and objectives, as well as why starting this kind of business is a smart decision, as the name indicates. Our experts will do thorough research and feasibility studies to aid you in developing long-term, quantitative, specific, and achievable targets that will drive your business in the right direction.
An in-depth look at the day-care industry
This section of the childcare center business plan template comprises all of the industry-specific information and aspects. Using our proven business plan writing and research skills, we will aid you in generating a report that examines the industry in depth while being simple to grasp. We'll also use our specialized analytical skills to forecast normal childcare earnings and trends, which you should be aware of right now.
A Closer Examine of the Market
If you want to succeed in any business, you must first do a market analysis and develop strategies for infiltrating and effectively competing with current childcare facilities. Our seasoned business professionals will analyze the current market and work with you to build ideas that will give you a competitive edge. They'll help you position your business for success in the face of increasing competition in the sector.
Pricing and Promotional Strategies
You'll need a marketing plan to help spread the word about your services among your target audience. You'll need to develop a plan for reaching out to local customers if you wish to target a certain geographic region. Our marketing experts interact with our writers and other members of the team to create the most effective marketing strategy imaginable. We'll provide you with detailed guidelines on how to approach potential clients.
Structure of the Law
You must obey certain rules and regulations, just as you would in any other company, to prevent problems. We'll help you learn more about the legal framework that governs childcare. The differences between a single proprietorship, a corporation, and a partnership will be discussed. More importantly, we will help you in acquiring legal certification by displaying all of the paperwork that must be completed and submitted to the right authorities before providing childcare services.
Why should you choose us?
SkyrocketBpo Capital has been in operation for a long time and is delighted to have aided hundreds, if not thousands, of companies across a wide range of sectors. You will get childcare business plans from us that will assist you in the setup and effective running of your company. We also have the skills and expertise necessary to design a childcare center business plan that can help you get venture capital investment.
To learn more about our childcare center business plan writing packages, which include template files for your convenience, please contact our customer service department. We're looking forward to seeing your daycare center business take off and grow to its full potential.
Seven Doubts to Dispel Before Starting a Daycare
According to research on childcare, the business is expected to produce substantial money in the next years. So, if you're considering getting into this company, please do so. However, before opting to create a day-care center, you will have several misgivings.
It will also aid you in developing a focused and disciplined approach to beginning your firm. After you've confirmed that you're on the right track, you'll be ready to construct a thorough childcare business plan.
1. Do I need a business license to operate a daycare? Is a license required in my town, state, city, or country?
To start a day-care facility, a license is necessary almost everywhere on the planet. It has strict restrictions that must be observed by the owner, unlike many other types of businesses.
You should conduct some research to see whether the place where you wish to start your daycare requires a permit.
Estimate the time and cost of getting the necessary licenses, permits, and other legal documents. Keep in mind that these expenses must be weighed against the expected earnings.
Learn all you can about the zoning restrictions in the area where you want to build your day-care center. It is often ignored. If you've made all of your preparations and spent a big amount of money, just to find out in the middle of it all that the exact site prohibits the creation of such a facility, this might cause serious complications. A wide range of residential and commercial structures are subject to zoning laws. So, rather than regretting afterward, do your study ahead of time.
2. Is going with a day care franchise a wise idea?
Whether you choose to pursue a daycare franchise business model is totally up to you. Here are some suggestions to help you decide:
In the United States alone, there are almost 4000 childcare franchises. As a consequence, several franchises may be found across the world. You may choose your preferred franchise depending on your area before you start your company.
A franchise might cost anything from $60,000 to $4,000,000.
If you have a business partner, you may sit down and discuss whether or not franchising is a good idea (with the aid of other business examples and templates). Is it going to help you achieve your personal as well as financial objectives? Is it anything that your center would be interested in? After answering these questions, you may continue if you feel secure.
3. Is it necessary to create a budget model? What should such a model consist of?
There is, of course, a stipulation! This budget model illustrates all of the expenditures connected with starting a daycare business. Budget samples and templates for comparable facilities may provide you with some inspiration. The model must have the following components:
The rent for the facility is $1,500.
Salaries of workers, cleaners, and other personnel
Bills for utilities, electricity, water, and so on.
Admin fees
Obtaining a license costs money.
By eliminating a range of extra startup costs, you may save money.
4. What position should I take in my company?
Your selections will influence your position in the childcare center. It is totally up to you to decide which responsibilities and tasks you will undertake. Identifying your area of expertise as soon as possible is beneficial. After that, while making your selection, keep your strengths in mind. Many business owners feel forced to act and examine each and all issues that arise. In this circumstance, you should analyze every aspect of your company, including how everyone works and what progress has been accomplished. When you're just starting, though, you should focus on one activity or obligation at a time. You need to know what your assets are. You might start your firm as a new entrepreneur if you are a warm and compassionate person who appreciates dealing with youngsters.
If you are a competent teacher with all of the necessary degrees, you may choose to teach students. You may also monitor the different levels of your facility.
You may manage the center's finances if you're good with numbers.
It's always a good idea to designate your role in the organization from the start. This will aid you in determining where assistance and support will be required. You will be able to better manage your business as a consequence.
Tip: There are a plethora of free online resources available, including template files. They were designed and built with the requirements of companies looking to construct similar facilities in mind.
5. Should I do any kind of homework? Is it possible for me to travel to other childcare facilities and chat with the staff there?
The best research you can do for your day center is to go visit other similar institutions. Every new building is regarded as a classroom. Meeting with other facility owners may give you a more accurate image of the business. By asking specific questions, you may have a deeper understanding of the client's viewpoint and desires as a customer. It's simpler to address a customer's wants if you know and comprehend what they're looking for.
Before you start, there are a few things you should consider. The following are a few examples of such queries:
What is the facility's child-to-staff ratio?
Is the youngster in a secure environment?
How do they care for a sick child? What procedures and behaviors do they use?
During your visit, you may also ask for a sample or template of their childcare center business plan. Create a list of what you'd want to adopt and what you'd like to get rid of for your facilities as you make your inquiries.
6. Are there any money or grants available for childcare centers?
The funds and subsidies available to childcare centers that started with the intention of turning a profit are quite limited. The Child and Adult Food Care Program (CAFCP) is perhaps the only government organization that finances these profitable start-up ventures.
Non-profit childcare facilities may apply for a range of grants and subsidies. Tax deductions and tax exemptions are among the advantages of non-profit start-up institutions that care for children and the elderly.
Several government agencies, as well as private groups and municipalities, have shown an interest in providing money and grants.
They may get free advertising on the online platform for a limited period at the commencement of the center. Given the high cost of advertising, this represents a large profit. Furthermore, a 30-day free online campaign is adequate to publicize the resource.
There are many samples and templates of start-up childcare business plans available online, both for commercial and non-profit organizations, to assist them in obtaining the capital they need to create and run their service.
7. Which kid education curriculum should you choose: Montessori or traditional?
There are many different educational programs to choose from. Choose the finest curriculum for your startup center. The Montessori school is without a doubt the most respected and oldest of the institutions. Rather than sticking to the same old Montessori curriculum, parents may choose from a variety of current schooling alternatives. Before you begin, do research and evaluate a variety of templates to choose which program is best for you. Going to other centers directly may provide important information.
On the internet, there is a lot of knowledge available. Take part in online discussions with other educators and parents from similar schools. There's a considerable possibility you'll come upon the most popular educational software currently available. Examine childcare center business plan examples to choose which educational program is ideal for your child. Always remember that any educational program you pick should be adapted to the philosophy and aims of your new or existing school.
A daycare center business plan's relevance cannot be emphasized. As you start a new chapter in your life as an entrepreneur, you'll need all of the tools you need to make an impact on possible investors, clients, and partners. They will be able to aid you with your search. With their assistance, your dreams of owning a successful start-up firm might become a reality. As a consequence, you may use an awesome template to create a fantastic childcare strategy.
You may utilize samples and templates that are widely available online to develop your daycare business plan. You may also benefit from our outstanding childcare business consulting services. Our professionals will guide you through each step of the process of creating a childcare center business plan. Our highly skilled and experienced experts can help you understand and design your childcare center business plan so that you can wow investors and get their confidence.
The Importance of Choosing the Right Business Name
What should your new company's name be? This is a critical question. Those that overlook the significance of the name have a hard time attracting clients. When selecting the most unique and acceptable name, you must examine a lot of factors.
To begin, you must understand the term you're using– the name denotes your business. The kind of service you intend to provide to prospective customers. Most start-up facility entrepreneurs are now focused on several factors, and as a consequence, they end up incorrectly naming their facility. This happens often as a result of a misunderstanding of a few commonly used terms. To help you get started and minimize misunderstanding, here are some name examples:
Many individuals are unfamiliar with the notion of daycare. It might mean that you volunteer to look after a child, an elderly person, a disabled person, or an animal during the day. If you don't specify, you may attract clients who want to leave their dogs with you for the day, even though you only provide child care.
Childcare: This is a more specific phrase that refers to the care of children while their parents, for example, are at work. However, given how common this term is, you may want to add something unique to make your startup facility stand out. Furthermore, the age range of the youngsters is not specified.
Childcare at Home: You give a service of looking after little children in your own home, as the term indicates. Many parents enjoy the convenience of being able to leave their children in a familiar and secure setting.
If you're still confused, contact our knowledgeable childcare business consultation service. We have a great staff of childcare business experts that can assist you in coming up with a unique name. You may utilize a variety of templates made by our talented authors. By looking at templates, you may gain a sense of the framework. Because daycare center business plans for each kind of care facility are unique, we can help you with your home daycare business plan.
Choose a name that accurately reflects the prestigious service you want to provide.
The name should represent your caregiving philosophy. Consider a parent who sees the name "Lakewood Academy" and quickly recognizes that it is not a childcare center, but rather a learning center for children. The terms 'preschool' and 'academy' may be used by owners to signify that they intend to give academic training to the children to help them prepare for school. You must use the terms "daycare" or "childcare" if your new company focuses on caring for youngsters.
Choose names that are simple to spell.
The name of their facility is often misspelled on purpose by the owners. They do so to stand out and be different. Consider the term "KIDZ," which is used instead of "KIDS." It is preferable to avoid misspellings such as these. After all, you don't want to provide your children a terrible example by teaching them incorrect spellings. It will also save you a lot of time and effort since you will not have to repeat your institution's name to everyone. Apostrophes, too, have a vital role to perform. "Mary's Tiny Tots," not "Mary's Tiny Tots," is the correct spelling.
Use names that are simple and short.
Have you ever noticed how difficult it is to remember names that are long and complicated? You don't want your center's name to be forgotten by prospective clients. Keep things simple and to the point.
Choose names that include the words INC/LLC (in case applicable)
If your institution has a special legal structure, be sure to include it in the name. This will increase the number of customers that come to your business.
Checklist of things to 'NOT DO' when naming your new company
Choose names that aren't often used by both new and existing centers. The uniqueness and originality of your service facility's name are lost if it is the same as that of many other facilities. As a consequence, it's best to stay away from overused terms. "ABC Daycare" and "123 Pre-school" are two examples of often-used names.
Rather than selecting names with broad meanings, try to be more specific. It is easier to attract the correct clients to your institution if the name of your facility is precise. If your service is aimed at a certain age group, name your business accordingly. The terms "baby," "infant," and "toddler" are all used to describe babies under the age of one year. Mention the time or days when you offer to watch the kids once again (morning, afternoon, day, night, evening, Sunday, weekdays, weekends, etc.).
Give your center a name that isn't too lengthy or complicated. Most services try to stand out by using an excessive number of words. Finally, the name comes off as ostentatious and puzzling. Such gloomy names should be avoided at all costs, as you don't want to lose sight of what your care service is all about.
Ideas for Starting a Home Daycare Business
As a start-up business, a daycare center seems to be a gratifying and successful investment. Yes, it surely is! Is it, however, as simple as it looks if you start at home? Yes, it is, but only to a certain extent! The most difficult component of this kind of facility is the planning process, which gives the majority of new business owners nightmares. There are a few things to consider before starting the center. Making a list of all your ideas is a great way to get started. Making a list of everything you need to decide on, whether it's the location or the hours, can help you organize and channel all of your start-up ideas into a good home daycare business plan. Use good templates to get a feel of how to strategically organize your ideas.
Daycare Center
Whether you live in a large house with several rooms, a medium-sized house with a large hall, or a tiny house with numerous rooms, you'll need to maximize your space. Every kind of facility may be altered to make it suitable for operating a child-care center. A prevalent misconception is that opening a children's center requires a huge house.
Preschool, lunches, playtime, and sleep times may all be included in your daycare package. Recreation, cooking, living, and even family bedrooms may all be done in your backyard.
The quantity of space necessary to start a day-care center is governed by standards and legislation in different states and localities. The needed quantity of space is usually represented in square feet. If you don't understand the rule, you may be able to receive assistance from other similar services. The best choice is to contact the day-care licensing office since they will give you accurate and reliable information.
If you live in a rented apartment or flat, you must first get permission from your landlord.
Availability Dates
It is totally up to you when you wish to provide child care services. You need to be able to work when it is convenient for you. Furthermore, since you will need the rooms, you must carefully manage your schedules.
You may give your competition a run for their money if you can offer service almost 24 hours a day. By doing some field research, you can learn when your local services are available. After you've obtained all of the necessary information about the operating hours of surrounding institutions, you must-
Fix a time that accommodates the majority of parents' most typical requests.
Set your hours of operation that aren't the same as everyone else's; for example, you may open a few hours early or close a few hours late. Since parents now work a variety of shift hours, there are periods on Sundays, weekends, evenings, nights, and early mornings that are atypical yet in demand.
Enrollment by age group
Accepting children of all ages is a terrific and easy way to fill your childcare center. This is a tactic used by several new business owners. One disadvantage of having mixed-age children is that they need different forms of care. It is considerably simpler to manage and run the center properly when the children are of the same age group. So enlist your assistance and decide which age groups of youngsters you'd want to enroll.
Plan of Action
Before starting a business, you must have a solid strategy in place. Some of the benefits of having a daycare center business strategy are as follows:
It aids in the assimilation of various ideas into the business.
There might be a lot of processes involved in achieving the predetermined objective. A home daycare business plan may help you coordinate all of these operations.
When things go wrong, you may frequently rely on your childcare center business plan to get you back on track. Examining your childcare company plan will help you identify where things went wrong. You will be able to check yourself in a timely way as a result of this.
Your home daycare business plan's budget model may be utilized as a reference to assist you to manage your spending. You will not make irresponsible financial judgments.
Sessions of Laughter
It is a good idea to establish ideas for a variety of activities that children might like before starting a business. The following are some fun ways to keep the kids entertained and engaged:
Creating a narrative
Gaming sessions accompanied with music and singing or dancing
Having age-appropriate toys and puzzles
Other outside pastimes include swings, a sea-saw, and other outdoor hobbies.
Visit parks on a regular basis
I'm going for a walk now.
These five strategies, if applied to your home childcare company approach, might be quite advantageous. You may use samples and templates to help you construct your final paper. However, this isn't all. In addition, a daycare center business plan template must include several other components. By handling all of the efforts for you, our childcare business consulting expertise can save you time and money. You may contact us by phone or email and get all of the assistance you need. Our daycare business consulting team will be delighted to assist you in developing the most effective childcare center business strategy possible.