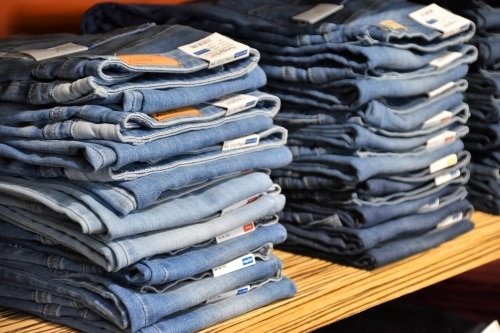 Are you interested in learning how to build a denim brand from the ground up?
The majority of other guides will urge you to start by coming up with a "catchy" company name and forming an LLC to protect your assets. I'm here to inform you that what you want to do is the polar opposite of what you should be doing. Instead, you should concentrate on the aspects of the company that are truly beneficial to it.
This includes expenditures associated with starting and promoting your denim brand.
This is mostly due to the fact that if there are no sales, nothing else matters.
So, with that being stated, let's get this party started.
What is the approximate cost of launching a denim line?
Having the financial means to launch your own denim brand is the first step in mastering the skill of starting one.
It will ultimately come down to two primary aspects when it comes to cost:
Minimum cost per unit of production
The cost per unit is the amount of money it costs to produce one unit of a product. As an example, if it costs $50 to produce a pair of denim pants, the cost per unit produced is $50. The specs will have a significant impact on the amount of money you pay for each unit. Denim is not inexpensive in and of itself, but when you add elements like spandex to the mix, the price per item goes up significantly.
Minimums are the smallest quantity of items that may be ordered. You will encounter fabric mills that will need you to buy a minimum of 1,000 yards of denim in order to do business with them, for example, if you are sourcing your own denim from scratch. Consequently, even if you locate a supply of denim that is less expensive but still accessible, if the minimums are large, it will cost you much more money to get started.
In addition, it is critical to consider the profit margin.
If you do enough research, you may be able to locate fabric mills and denim producers who have extremely low minimum order quantities. As a result, you'll be able to get started at a reasonable price. Your profit margins, on the other hand, will be razor-thin, necessitating the need for you to be more inventive in your organic marketing efforts.
After all of that, I'd want to launch a denim brand with a budget of $10,000-$25,000 to begin with.
It is feasible, to begin with, a smaller sum of money. It's also feasible that you'll want more funds to get started. Take this as a general guideline, since your specific requirements and partnership agreements will determine your real beginning expenses.
Denim Line Business Plan: Establish a presence in the market.
The production aspect of learning how to establish a denim line is the most straightforward. Having the ability to sell your goods while still generating a profit is the most difficult component. Because you don't have any sales data and your margins are smaller when you're just starting out, launching a denim line is considerably more difficult.
This is why I urge that you establish an organic "pre-launch" following before launching your product.
Pre-launch audiences are audiences that have been built organically via a small but devoted following prior to a product launch. This implies creating a denim fashion-related YouTube channel or TikTok account for the time being. If there are SEO keywords accessible, a blog might also be an effective medium for distributing information.
What is your objective?
To create regular material for at least six months prior to launching.
Instead of focusing on your product, the sorts of content you create should be geared toward your audience. Consider the following scenario: you've chosen to launch a TikTok about denim. One excellent option is to demonstrate several denim outfits that may be worn with denim. Due to the fact that you're displaying how fantastic it is to wear denim, this will attract your target audience and encourage them to purchase your items.
This is the foundation of your content strategy.
As your business grows, you will be able to include bits of material about your new denim line that will be launched soon. Allow others to see the amount of effort you're putting into the project before it is officially launched. As a result, when you launch, it is not a surprise. When you debut your innovative items, they will be eagerly awaiting your arrival.
However, keep it in limited supply.
Ninety percent of the material was instructive or entertaining in nature.
10% of your time should be spent on "behind-the-scenes" stuff.
The following is an example of how to launch a denim line on a shoestring marketing budget.
Denim Line Business Plan: Getting Things Started
Let's move your trip ahead by at least 6 months.
At this stage, you have a tiny, but the dedicated audience on your hands. They are already familiar with, like, and trust you. Additionally, they have access to some of your "behind-the-scenes" stuff. Nothing more than selling them high-quality goods will be enough to generate revenue for you.
The next stage is to compile a "hot list" of potential customers approximately a month or two before your debut.
In order to do so, you'll need to create a landing page where you guarantee potential subscribers that they'll get information about your next denim collection. As a last resort, you may consider offering a discount or some other kind of lead magnet at the bottom of the funnel to increase your conversion rate.
It is referred to as a hotlist since the subscribers on it will be your "hottest" subscribers.
In other words, a high-intent audience that is prepared to make a purchase.
If you advertise this landing page to your organic audience, they will be more likely to sign up and verify their intent in an email marketing channel rather than a social channel, which will increase your conversion rate.
Following that, you want to follow a "three-round" strategy to introduce your product.
This implies that you want to introduce your brand to this list and sell out your whole inventory before placing an order for the following shipment of items. You want to repeat this process three times so that you can establish how much demand there is for what you offer and receive feedback so that you can make adjustments to your product before launching the next round of sales.
It also naturally promotes scarcity, which is advantageous if you are a luxury denim brand with a high price point.
In the third round, you'd want to make your shop permanently available to the public.
Denim Line Business Plan: Expanding on a Global Scale
You should be aware of the steps necessary to launch a denim brand at this time.
Learning how to scale one, on the other hand, is a very other matter.
First and foremost, you want to continue doing what you've been doing. It is always possible to generate sales with larger profit margins if you can consistently develop an organic audience via constant content. It is important to regard your own audiences as the building blocks of your success.
The difficulty is that it is sluggish, therefore you will need advertisements to make it profitable.
Making ensuring you have a robust funnel in place that will enable you to succeed with advertisements is critical here. The good news is that denim is often a high-end product with a high price tag. As a result, you can get away with selling your hero product at the beginning of the process. In an ideal situation, you would not provide a discount. A tiny profit on the initial sale is desirable since else you will not be able to cover your advertising expenses.
Once you've established 1 organic channel and 1 paid channel that are profitable, you'll need to increase your email marketing efforts.
You must create an eCommerce email marketing funnel in order to convert new subscribers into paying customers and paying customers into returning customers. Ideally, you'd start with a strong 90-day post-purchase sequence so that you can optimize the effectiveness of your paid advertising campaigns. Next, create the remainder of the email funnel so that you may sell to everyone else who has signed up for your mailing list.
It is only after this that you should begin to think about additional things, such as Amazon FBA or opening a pop-up store.
Related link