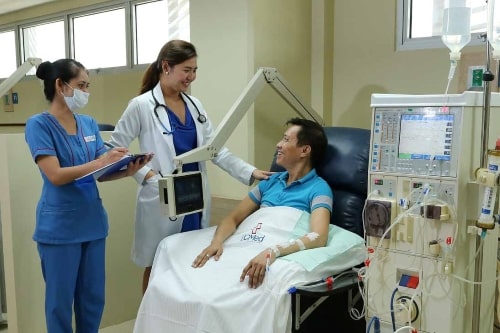 Executive Summary
Overview
At Fresenius Kidney Care, we're passionate about helping people with chronic kidney disease (CKD) and end-stage renal disease (ESRD) live fuller, more active, and vibrant lives. Fresenius Kidney Care, a division of Fresenius Medical Care North America (FMCNA), is a world leader in renal disease treatment and a pioneer in kidney disease research. Our dialysis care staff is dedicated to assisting patients in thriving on dialysis and living longer, healthier lives. Over 190,000 patients are served at over 2,400 sites throughout the country.
Mission:
"As the most trusted healthcare partner, we will give an unrivaled experience."
Vision:
"We aspire to inspire optimism and contribute to health and well-being by providing the best care to every patient via integrated clinical practice, education, and research."
Industry Overview:
until 2027, the in-center dialysis sector is expected to grow at a CAGR of roughly 6%. In-center patients have the opportunity to rest, read, and mingle with other patients and staff, which promotes treatment effectiveness and overall wellness. Furthermore, the rising popularity of in-center dialysis treatment is attributable to the availability of trained kidney care healthcare experts providing the finest care possible, which will propel the sector forward even further.
Financial Overview
This sample chart is derived from the financial model of this dialysis center business plan. Find out more about financials.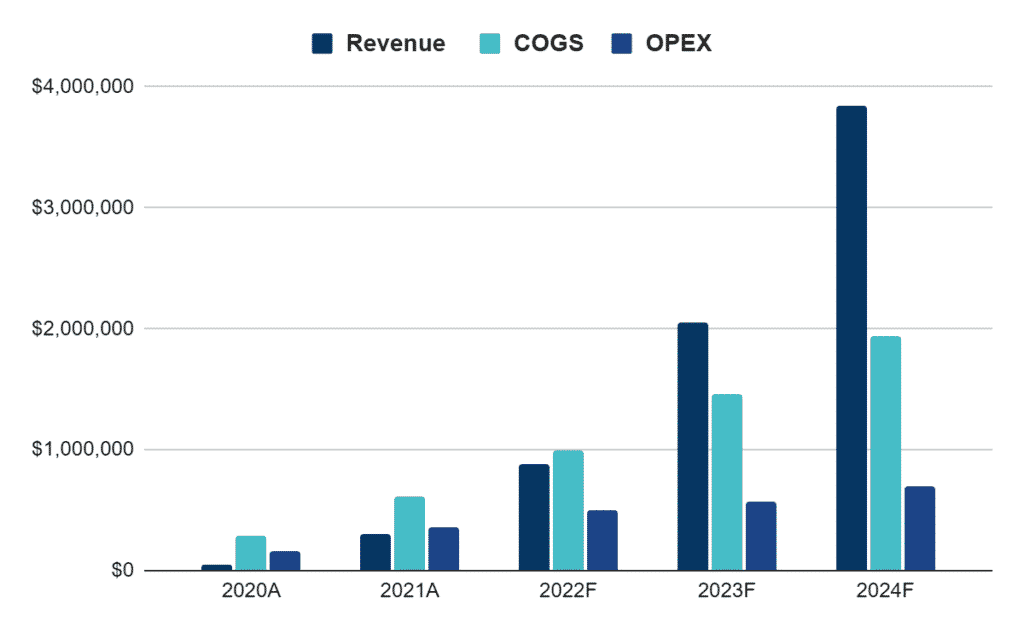 Financial Highlights:
| | | | | | |
| --- | --- | --- | --- | --- | --- |
| | 2020A | 2021A | 2022F | 2023F | 2024F |
| Ratio Analysis | | | | | |
| Liquidity | | | | | |
| Current ratio | 6 | 12 | 23 | 32 | 42 |
| Quick ratio | 6 | 11 | 22 | 31 | 40 |
| DSO | 8 | 8 | 8 | 8 | 8 |
| Solvency | | | | | |
| Interest coverage ratio | | | 8.2 | 11.1 | 14.2 |
| Debt to asset ratio | 0.01 | 0.01 | 0.20 | 0.18 | 0.16 |
| Profitability | | | | | |
| Gross profit margin | 51% | 51% | 53% | 53% | 53% |
| EBITDA margin | 12% | 14% | 21% | 22% | 22% |
| Return on asset | 5% | 6% | 13% | 14% | 14% |
| Return on equity | 5% | 6% | 16% | 17% | 17% |
Fund Usage: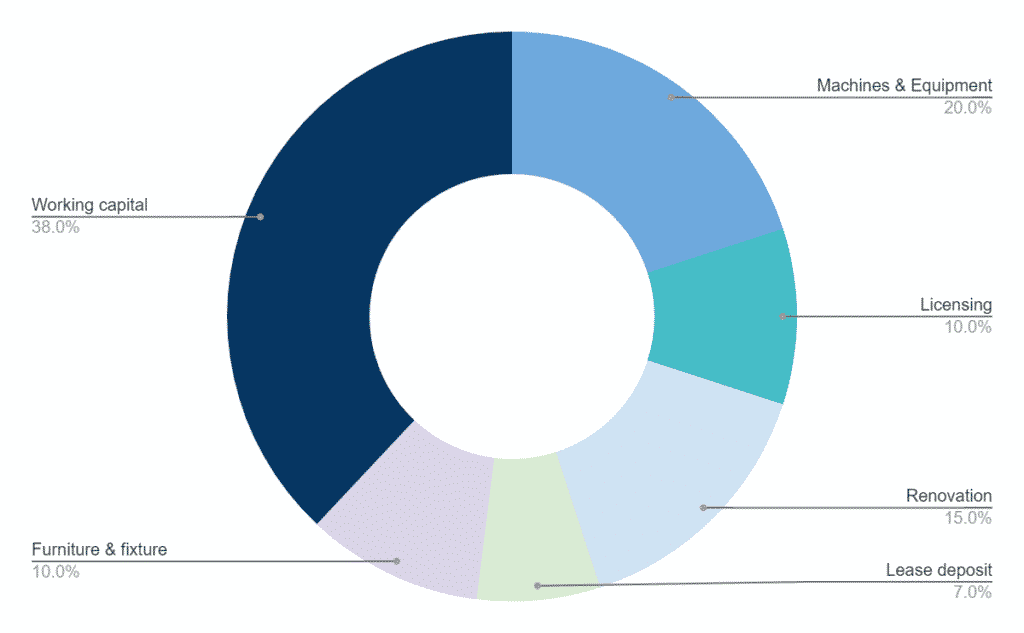 Organogram: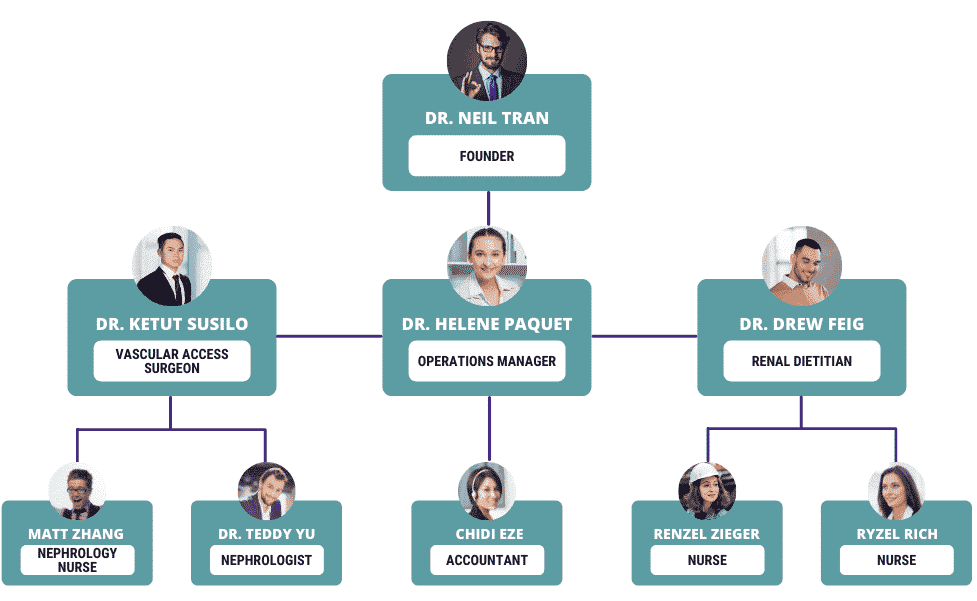 Industry Analysis:
A dialysis center business plan template might help you if you are planning to raise a relatively lower amount (below $100K) but a custom business plan is required if you are serious about getting funded. We need to conduct thorough research on your industry analysis to find the potential market size, your competitors' status, growth prospects, etc. Our business plan consultants can increase your chances of getting funded!
Overview
Type, product & service, end-user, and region are the four segments that make up the dialysis market. The two forms of dialysis that are available are hemodialysis and peritoneal dialysis. The three forms of hemodialysis are conventional hemodialysis, short daily hemodialysis, and night hemodialysis. Peritoneal dialysis is divided into two types: continuous ambulatory peritoneal dialysis (CAPD) and automated peritoneal dialysis (APD) (APD). On the basis of Product & Service, it is divided into equipment, consumables, pharmaceuticals, and services. Subcategories exist for dialysis machines, water treatment systems, and other kinds of equipment. Consumables include dialysis machines, catheters, and transfer sets. In-center dialysis and home dialysis are the two categories depending on the end-users. North America, Europe, Asia-Pacific, Latin America, and the Caribbean (LAMEA) are the four regions.
Type Segment Review
Hemodialysis is the most significant contributor to the dialysis market's growth due to the market's maturity, and it is the preferred way of therapy among healthcare professionals and patients with ESRD. There are two forms of hemodialysis: conventional and daily (short daily and nocturnal hemodialysis). Although hemodialysis is preferred by the majority of patients, peritoneal dialysis is expected to grow at the quickest rate throughout the projection period owing to the efficient removal of hazardous substances and a rise in dialysis patients' demand for homecare.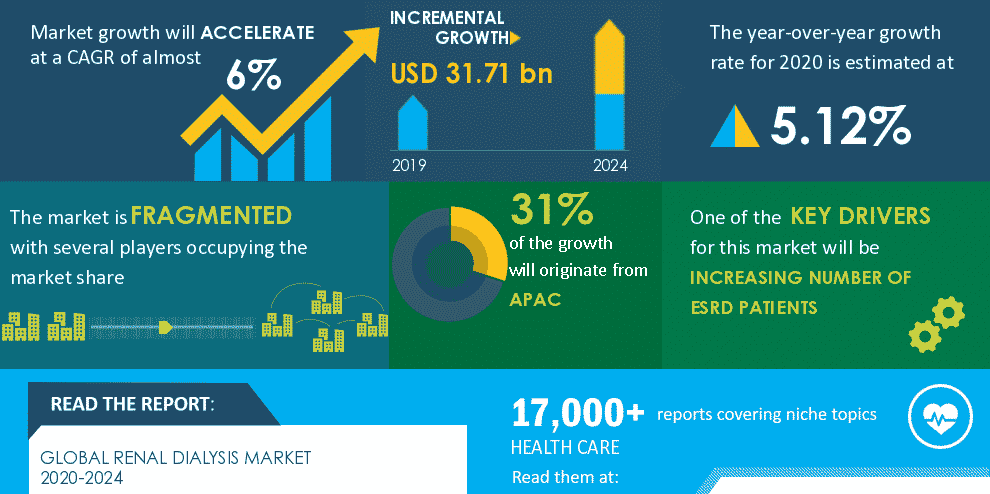 Marketing Plan:
Promotional Budget Allocation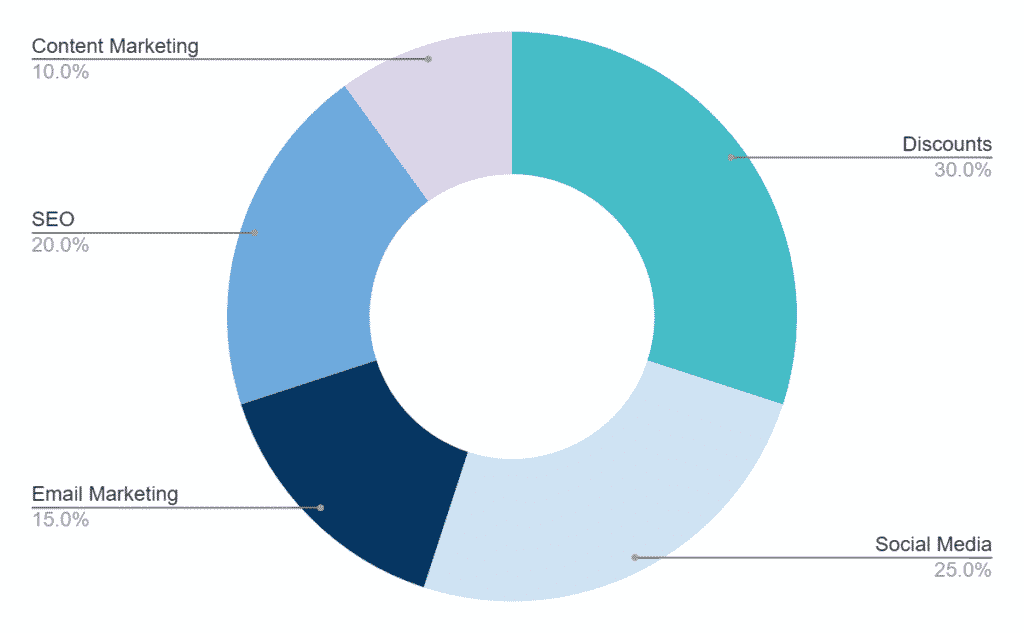 Discounts
People want to feel as if they're getting a good bargain, so it's no wonder that dialysis patients follow suit and look for savings when making purchases. The power of a huge discount resides in its ability to convince customers that they are receiving special treatment, an offer that isn't generally available. Discounts, on the other hand, won't get you very far in the dialysis clinic sector unless you can demonstrate clear value. Change the products you discount to encourage customers to keep an eye on your marketing platforms for better outcomes.
Social Media
According to research, 41% of people would choose a doctor based on their social media presence. Isn't it clear that a social media strategy is even more important to your company's objectives? Customers may engage with you outside of meetings using social media platforms such as Facebook, Twitter, and LinkedIn. Creating and publishing content on a regular basis keeps you top-of-mind with patients, so they know where to find you when you're needed.
Email Marketing
Email is a really useful tool. Encourage your IT department to maintain a subscriber email list and to send out informative emails regarding the patient's condition. It displays to your patients that you care about them even after they leave your facility. Maintaining communication with relevant, useful, and high-value material is essential for building a strong hospital brand.
SEO
Isn't it true that you already know where your potential consumer will look? The first page of a potential patient's search for the best healthcare practice should include your hospital's website. This is accomplished via search engine optimization (SEO). Make SEO keywords a top priority for your site's developer and editor. You don't have to recruit a full-time employee to hire an SEO specialist.
Content Marketing
Medical marketing for doctors requires a well-thought-out content marketing approach. Content marketing increases overall traffic to your website and this improves organic search, increases brand awareness, and positions you as a thought leader in your sector. A well-structured, well-performing blog can and should generate up to 50% of a website's organic traffic.
Financial Plan
This is amongst the most important parts of the dialysis center business plan so if you are applying for a bank loan then it is most likely that your loan officer will look at this right after the executive summary.
Earnings: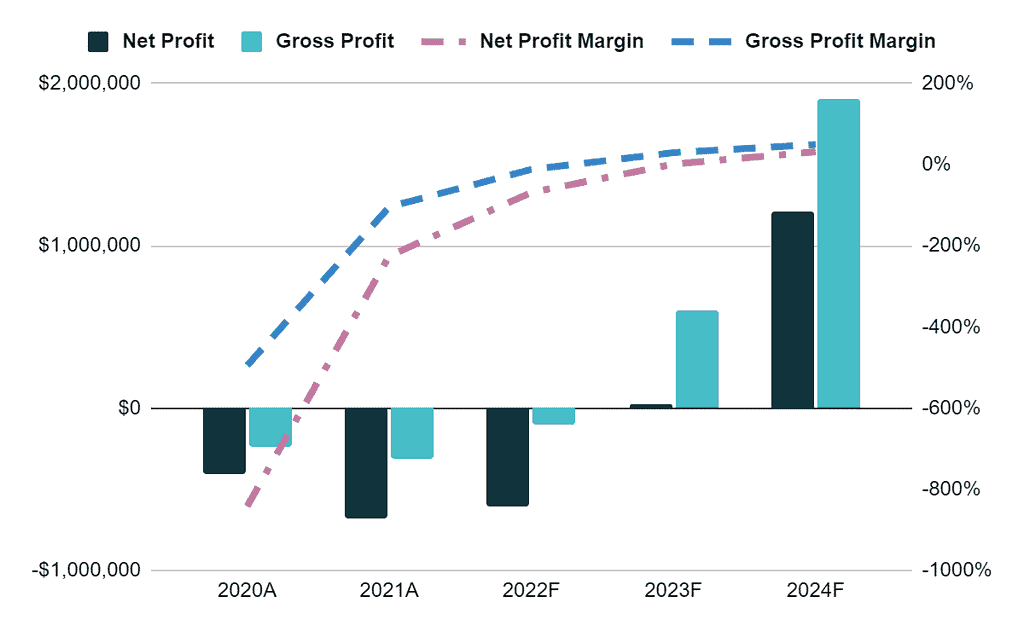 Break-Even Analysis: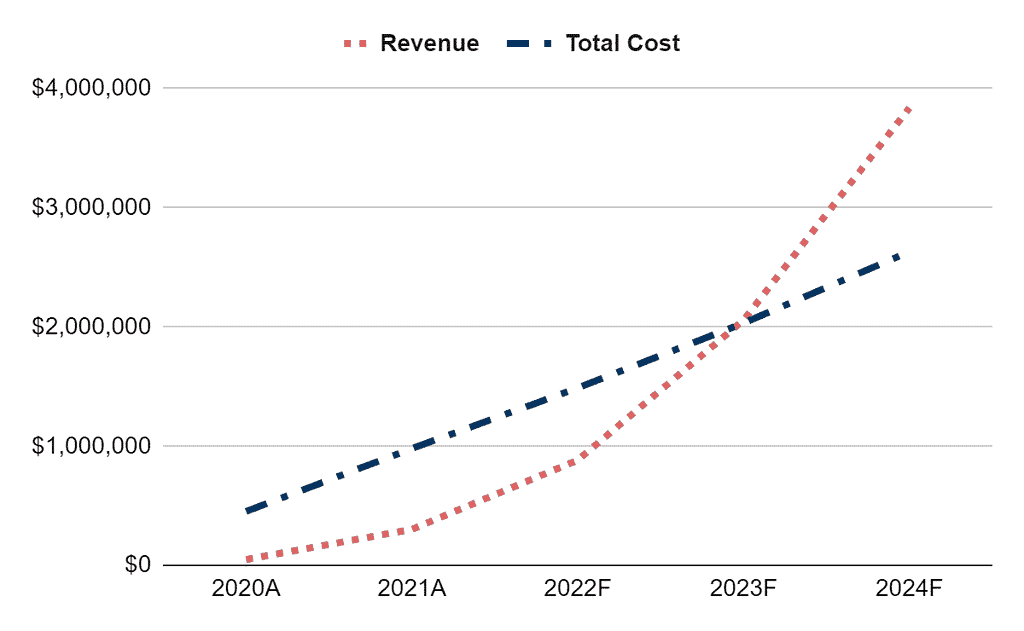 Income Statement:
| | | | | | |
| --- | --- | --- | --- | --- | --- |
| | 2020A | 2021A | 2022F | 2023F | 2024F |
| ANNUAL REVENUE | | | | | |
| Item 1 | 9,217 | 59,117 | 175,410 | 415,277 | 781,357 |
| Item 2 | 34,701 | 222,558 | 660,368 | 1,563,394 | 2,941,580 |
| Item 3 | 4,067 | 19,561 | 46,432 | 78,519 | 114,905 |
| Total annual revenue | 47,985 | 301,236 | 882,211 | 2,057,189 | 3,837,842 |
| % increase | | 528% | 193% | 133% | 87% |
| COST of REVENUE | | | | | |
| Item 1 | 360 | 2,259 | 6,617 | 15,429 | 28,784 |
| Item 2 | 480 | 3,012 | 8,822 | 20,572 | 38,378 |
| Item 3 | 52,000 | 65,000 | 78,000 | 91,000 | 104,000 |
| Item 4 | 720 | 3,615 | 8,822 | 16,458 | 23,027 |
| Item 5 | 140,000 | 336,000 | 560,000 | 840,000 | 1,120,000 |
| Item 6 | 60,000 | 144,000 | 240,000 | 360,000 | 480,000 |
| Item 7 | 32,000 | 61,333 | 85,533 | 112,153 | 141,435 |
| Total Cost of Revenue | 285,560 | 615,220 | 987,794 | 1,455,612 | 1,935,625 |
| as % of revenue | 595% | 204% | 112% | 71% | 50% |
| Gross Profit | -237,575 | -313,984 | -105,583 | 601,578 | 1,902,218 |
| SELLING & ADMIN EXPENSES | | | | | |
| Item 1 | 28,000 | 96,800 | 154,880 | 175,692 | 193,261 |
| Item 2 | 75,000 | 105,000 | 120,000 | 120,000 | 120,000 |
| Item 3 | 36,000 | 96,000 | 108,000 | 120,000 | 120,000 |
| Item 4 | 8,000 | 12,000 | 12,000 | 12,000 | 12,000 |
| Item 5 | 3,839 | 18,074 | 44,111 | 61,716 | 115,135 |
| Item 6 | 3,359 | 12,049 | 26,466 | 41,144 | 76,757 |
| Item 7 | 5,600 | 10,000 | 12,904 | 15,034 | 17,376 |
| Item 8 | 6,667 | 14,000 | 22,067 | 30,940 | 40,701 |
| Total selling & admin expenses | 166,464 | 363,924 | 500,428 | 576,525 | 695,230 |
| as % of revenue | 347% | 121% | 57% | 28% | 18% |
| Net profit | -404,039 | -677,907 | -606,011 | 25,052 | 1,206,987 |
| Accumulated net profit | -404,039 | -1,081,947 | -1,687,957 | -1,662,905 | -455,918 |
Cash Flow Statement:
| | | | | | |
| --- | --- | --- | --- | --- | --- |
| | 2020A | 2021A | 2022F | 2023F | 2024F |
| CASH FLOW from OPERATING ACTIVITIES | | | | | |
| Net profit before tax | -$404,039 | -$677,907 | -$606,011 | $25,052 | $1,206,987 |
| Depreciation | $44,267 | $85,333 | $120,504 | $158,127 | $199,512 |
| Payables | | | | | |
| Item 1 | $4,333 | $5,417 | $6,500 | $7,583 | $8,667 |
| Item 2 | $11,667 | $28,000 | $46,667 | $70,000 | $93,333 |
| Item 3 | $6,250 | $8,750 | $10,000 | $10,000 | $10,000 |
| Item 4 | $3,000 | $8,000 | $9,000 | $10,000 | $10,000 |
| Item 5 | $667 | $1,000 | $1,000 | $1,000 | $1,000 |
| Total payables | $25,917 | $51,167 | $73,167 | $98,583 | $123,000 |
| change in payables | $25,917 | $25,250 | $22,000 | $25,417 | $24,417 |
| Receivables | | | | | |
| Item 1 | $320 | $1,506 | $3,676 | $5,143 | $9,595 |
| Item 2 | $360 | $1,807 | $4,411 | $8,229 | $11,514 |
| Total receivables | $680 | $3,314 | $8,087 | $13,372 | $21,108 |
| change in receivables | -$680 | -$2,634 | -$4,773 | -$5,285 | -$7,736 |
| Net cash flow from operating activities | -$334,536 | -$569,958 | -$468,280 | $203,311 | $1,423,180 |
| | | | | | |
| CASH FLOW from INVESTING ACTIVITIES | | | | | |
| Item 1 | $16,000 | $13,200 | $14,520 | $15,972 | $17,569 |
| Item 2 | $20,000 | $22,000 | $24,200 | $26,620 | $29,282 |
| Item 3 | $28,000 | $22,000 | $14,520 | $10,648 | $11,713 |
| Item 4 | $96,000 | $88,000 | $72,600 | $79,860 | $87,846 |
| Item 5 | $20,000 | $22,000 | $24,200 | $26,620 | $29,282 |
| Net cash flow/ (outflow) from investing activities | -$180,000 | -$167,200 | -$150,040 | -$159,720 | -$175,692 |
| | | | | | |
| CASH FLOW from FINANCING ACTIVITIES | | | | | |
| Equity | $400,000 | $440,000 | $484,000 | $532,400 | $585,640 |
| Net cash flow from financing activities | $400,000 | $440,000 | $484,000 | $532,400 | $585,640 |
| Net (decrease)/ increase in cash/ cash equivalents | -$114,536 | -$297,158 | -$134,320 | $575,991 | $1,833,128 |
| Cash and cash equivalents at the beginning of the year | – | -$114,536 | -$411,693 | -$546,014 | $29,978 |
| Cash & cash equivalents at the end of the year | -$114,536 | -$411,693 | -$546,014 | $29,978 | $1,863,105 |
Balance Sheet:
| | | | | | |
| --- | --- | --- | --- | --- | --- |
| | 2020A | 2021A | 2022F | 2023F | 2024F |
| NON-CURRENT ASSETS | | | | | |
| Item 1 | $16,000 | $29,200 | $43,720 | $59,692 | $77,261 |
| Item 2 | $20,000 | $42,000 | $66,200 | $92,820 | $122,102 |
| Item 3 | $28,000 | $50,000 | $64,520 | $75,168 | $86,881 |
| Item 4 | $96,000 | $184,000 | $256,600 | $336,460 | $424,306 |
| Item 5 | $20,000 | $42,000 | $66,200 | $92,820 | $122,102 |
| Total | $180,000 | $347,200 | $497,240 | $656,960 | $832,652 |
| Accumulated depreciation | $44,267 | $129,600 | $250,104 | $408,231 | $607,743 |
| Net non-current assets | $135,733 | $217,600 | $247,136 | $248,729 | $224,909 |
| | | | | | |
| CURRENT ASSETS | | | | | |
| Cash | -$114,536 | -$411,693 | -$546,014 | $29,978 | $1,863,105 |
| Accounts receivables | $680 | $3,314 | $8,087 | $13,372 | $21,108 |
| Total current assets | -$113,856 | -$408,380 | -$537,927 | $43,349 | $1,884,214 |
| Total Assets | $21,878 | -$190,780 | -$290,791 | $292,078 | $2,109,122 |
| | | | | | |
| LIABILITIES | | | | | |
| Account payables | $25,917 | $51,167 | $73,167 | $98,583 | $123,000 |
| Total liabilities | $25,917 | $51,167 | $73,167 | $98,583 | $123,000 |
| | | | | | |
| EQUITIES | | | | | |
| Owner's equity | $400,000 | $840,000 | $1,324,000 | $1,856,400 | $2,442,040 |
| Accumulated net profit | -$404,039 | -$1,081,947 | -$1,687,957 | -$1,662,905 | -$455,918 |
| Total equities | -$4,039 | -$241,947 | -$363,957 | $193,495 | $1,986,122 |
| Total liabilities & equities | $21,878 | -$190,780 | -$290,791 | $292,078 | $2,109,122 |
Related Articles: