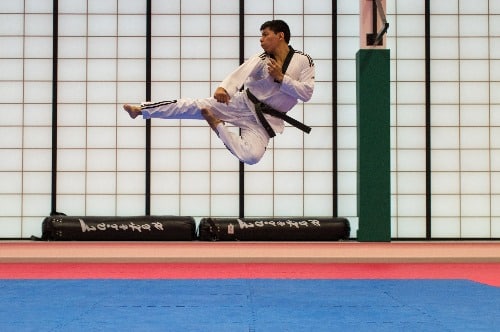 Do you want to start your own martial arts business? The first question is: What kind of martial arts will be taught? Is it mixed martial arts, karate, kung fu, taekwondo, jiu jitsu, Tai Chi, or taekwondo? (MMA). The second question is: who are you searching for as a clientele? Schools provide courses for both children and adults, as well as sessions with various goals. Some martial arts schools, for example, provide programs that instill confidence and discipline in children, while others teach self-defense techniques or serve as adult workouts. For individuals seeking to reach professional or competitive status, the instructor may organize private classes.
Offering martial arts classes demands a top-notch instructor as well as cutting-edge facilities. The instructor's training and skills are crucial because learners must be taught in a safe and effective manner to avoid accidents. In the Management Plan section of the martial arts school business plan, potential investors will look for the instructor's qualifications, which include where the person studied, the kind of martial arts mastered, ranking, professional organizations, competitions, and so on.
The following details are also included:
• How are program goals established, such as discipline, physical agility, mental attitude, personal goal setting, and so on, using what techniques and ideas? Is there an example curriculum available?
• What kind of activities, such as cardio and strength training, stretching courses, martial arts programs, and so on, are available?
• What is the expected class size, how many courses will be offered, and when will the facility be open? How many students do you need each month to break even?
• To meet the expected class sizes, how large should the studio be in terms of square footage? Will the space be rented, or will it be purchased or developed separately?
• Which techniques of marketing are most likely to reach out to potential students? Leaflet distribution, word-of-mouth, direct mailings, local advertising, presentations at schools or community centers, and internet marketing are all examples.
• Does the firm need to find investors to fund early expenditures such obtaining space commitments, purchasing equipment, remodeling space, advertising materials, insurance, professional association membership dues, and other general and legal business expenses?
The term "martial arts" refers to a wide range of fitness and competitive training disciplines. The programs, which were originally created for military training, now include fitness activities as well. While "martial arts" refers to a systemization of movements in which people from different countries or cities discuss and learn the same motions when practicing a particular style, the term "training" refers to a systemization of movements in which people from different countries or cities discuss and learn the same motions when practicing a particular style.
Every year, the market of exercises based on the ancient Asian way of combat continues to expand as entrepreneurs opt to construct schools in order to share their expertise as teachers and teach one or more exercises or fighting styles. To open a new martial arts school, you'll need a business plan that lays out a strategy for long-term success. It includes everything from the school's fighting style to the institution's funding for the first five years.
Choose from a variety of styles.
Martial arts come in a variety of forms, but they always qualify as fighting. Some techniques are more difficult and forceful than others. The entrepreneur must carefully consider which styles are most suited to the students he or she want to hire. For a number of reasons, students may choose to learn a certain style.
For the aim of physical activity
Mastering a skill may be seen as a kind of enjoyment.
In the event of self-defense,
seek a professional fighting career
Various schools around the country must choose who they will serve as their clients. Clients might include children, adults, women alone (self-defense courses), men and women, or professional opponents. There are other schools where elderly individuals may learn basic skills for enjoyment or self-defense. With the aging of the population, there are several opportunities for new schools to cater to Baby Boomers. Many schools provide classes for various age groups and/or teach a variety of genres.
The huge variety of designs presently available is one of the reasons the industry has so much room for growth. The school offers classes in Aikido, Karate, Judo, Tai Chi, Tae Kwon Do, kickboxing, and jujitsu, to name a few. Martial arts include wrestling and boxing. There are also hybrid styles that incorporate talents from other combat systems, such as the rigorous MMA.
Industry trends are leading to the development of highly advanced fighting tactics that integrate fitness and martial arts. Piloxing, for example, is a dance, Pilates, and boxing hybrid. Entrepreneurs are always coming up with new ways to cater to clientele searching for a fresh technique to get in shape.
The site of the martial arts school
Any business's location is critical to its long-term success, but it is more true for a martial arts training facility. The reason for this is simple: the majority of students will live within a five-mile radius of the school. One explanation for the small market area is that many students or customers only attend martial arts classes after work or school or on weekends. They are unwilling to go long distances for a one-hour instruction.
The ideal setting would be easily accessible, well-lit, and large enough to accommodate the necessary class size. The kind of students the organization wants to hire will also impact the location selection. If the instructor wants to teach elementary school pupils, the best location will be near primary schools and in a neighborhood where the average socioeconomic status of the residents indicates that parents can afford the lessons.
Other factors that determine a martial-arts school's location include:
A commercial space is offered.
This location has ample room for martial arts teaching.
Locations of competitors
There is opportunity for expansion as the customer expands.
Your firm will be significantly more likely to succeed sooner rather than later if you pick the right location.
The key influences of a martial-arts-based school
The martial arts school business plan is a document that may be used to secure funding for a new school or to expand an existing one, as well as to lay out a strategy for getting it up and running. It might also be used to future growth plans. Every entrepreneur takes the risk of starting a new company in order to ensure the school's long-term sustainability. Long-term success, on the other hand, is not something that happens by chance.
The following are some of the reasons for the document's creation:
Encourage someone to submit a loan application to a financial institution.
Encourage a private investor, such as an angel or equity investor, to invest in your company.
Determine the mission of the company.
Define your objectives and objectives.
Assist with decision-making throughout the startup process and after the company has launched.
Establish a criteria for assessing activities in order to determine whether or not they are on track.
A martial arts school may be highly effective if the plan is precise and covers all important operating areas. It must be well-thought-out, concise, logical, and precise. Investors will want to know when the martial arts firm will break even, as well as how the entrepreneur intends to get there as soon as possible. A strong strategy demonstrates the entrepreneur's ability to lead the company through its early phases and continue to grow after it is up and running.
What is the document's content?
From one perspective, a company strategy is nothing more than a collection of marketing tactics. This is due to the importance of being able to identify and contact the target market, as well as convince its members to become paying clients. Simply promoting the firm is inadequate. People must be willing to pay for the items and services offered by the martial-fitness organization. A multitude of variables influence the conversion rate, which are detailed in the martial arts business plan.
Is this a franchising business strategy or is the entrepreneur opening his or her own martial-arts school? What is the ultimate purpose of the school? Is it to provide high-quality martial-arts training in a comfortable studio setting? What sets this studio apart from its competitors? What are the startup's long-term objectives and growth plans? These are the types of queries that a one- or two-page company description can answer concisely.
Overview of the Martial Arts School — This section includes a plethora of information on the martial arts school. What is the legal form of the company – is it a sole proprietorship, a corporation, a partnership, or something else? Who will be the owner of the company? Where will the martial-arts school be located? This section presents a picture of the firm and lays the groundwork for the rest of the paper's content.
Management – The management structure of the new firm is covered in this section. Is the owner certified to teach any of the school's martial arts or combat styles? Is there any proof of ability, such as certification or training? Is the owner a black belt in some way, for example? What kind of training and experience does the manager have in operating a company like this and/or teaching students a specific martial art? Many martial-arts enterprises begin with only one person: the owner.
Products and Services – Regular group class fees might be your main source of revenue. Schools, on the other hand, sell fighting and fitness equipment, run summer camps, provide private lessons, provide specialized competition training, sell clothes, teach in other locations such as the YMCA or community center, and create additional revenue streams.
What information does the market research disclose about market segments, potential students, market demographics, and competition? Is there enough evidence in the market analysis to justify the start-up of a martial-arts company in the chosen location and at the desired price? What is the expected growth rate of the market, and what trends have been identified? The reader should have a clear grasp of the new company's surroundings after this section is completed.
Marketing Strategies – How will the business owner promote his or her products and services? What strategy will you employ to reach out to your target market? Will there be a website or will all marketing be done in person? Will advertising, trade shows, visits to local companies, special promotional incentives, and/or contests be used by the entrepreneur? What is the range of prices for various products and services?
Operating Plan – What are the projected operating hours for the school? When will the school's classes be held? Will the school be open full-time, or will the entrepreneur start small? If any, what kind of employees is necessary, such as a receptionist, trainers, and bookkeepers? What will their remuneration be?
Financial Plan – Knowing how to develop a financial plan is crucial in the martial arts school business plan. Anyone who is unsure about how to create financial statements should seek expert help, since having a solid plan in place is crucial. The remarks contain many proforma statements. The income statement estimates reflect predicted revenue and expenses over the following five years. The balance sheet shows the assets and liabilities. A cash flow statement for the next five years, as well as a set of ratios that act as development benchmarks, should be provided. There's also a set of sales or income forecasts.
Refer to the Plan on a Regular Basis
The most expensive part of a martial arts school business plan is usually renting or buying space in a commercial building. Staffing expenditures may be spent as well, however many businesses begin with only the owner and grow in terms of employees and facilities over time. More courses are offered as the number of students grows. You'll need to write a franchise business plan and pay additional legal expenses if you're beginning a martial arts franchise.
The business plan for a martial arts school is intended to attract investors, but it also acts as a guide for the owner. It's vital to review the approach on a frequent basis and know how to adjust it if necessary. The plan should be considered when important decisions are made, and it should reflect the reality of the firm.
If writing a martial arts business plan seems too difficult, hire a professional plan writer. An experienced consultant can create a high-quality plan and assist the entrepreneur in acquiring funding. There is just too much at stake to settle for anything less than a high-quality plan that leads to success for the organization.