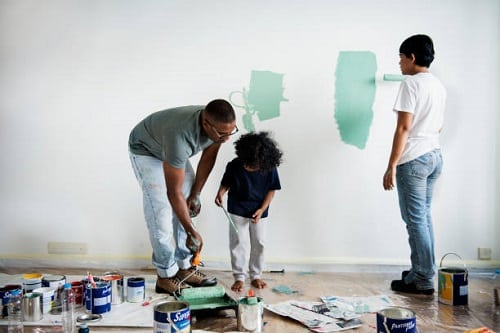 Americans spent more time at home during the COVID-19 outbreak, but they didn't just sit on the couch and watch Netflix. Many homeowners started renovating their homes, resulting in unprecedented home improvement spending.
According to a countrywide survey performed by The Freedonia Group in December 2020, 39% of consumers stated the pandemic's impacts had prompted them to undertake home improvement initiatives. Some folks constructed home gyms or offices, constructed decks or pools, started gardening, or just repainted their living rooms.
The Freedonia Group has identified seven key regions where pandemic-related home remodeling work has led in a significant surge in sales.
Outdoor Lighting
With restaurants shutting and limited options for entertainment, several homeowners spruced up their decks and patios to make their homes more welcoming.
"Many residences installed more extensive and higher-end lighting systems — especially area lighting and floodlights," according to Freedonia, to make places more appropriate for cooking and entertaining.
As a result, even while the business sector in 2020 struggled, the home market for outdoor lighting fixtures increased at a rapid pace.
Lawn & Garden Equipment
Another strong spot was residential power lawn and garden equipment, which increased by more than 5% in 2020.
Due to the pandemic, remote workers had more time to maintain their own lawns and gardens, while consumers used their unused travel expenses to develop outdoor gathering spots where they could gather with family and friends in a safer way.
Lawn & Garden Consumables
Lawn mowers and other yard equipment, as well as more seeds, live plants, and mulch for their gardens, were purchased by customers.
"DIY home gardening and landscaping tasks were among consumers' favorite quarantine activities," according to Freedonia.
Even after the outbreak, the $9 billion lawn and garden consumables sector in the United States is expected to benefit from this trend, as people continue to garden as a fun, personal pastime.
Residential Paint
Another popular restoration job during the pandemic was house paint repainting, which boosted the residential market for architectural paint.
Sherwin-Williams reported record revenues for the fourth quarter of 2020. In an investment presentation, the company mentioned "unprecedented demand from consumers nesting."
Power Tools
The power tool market, which is predicted to expand 2.9 percent per year to $9.4 billion by 2024, has benefited from the rise in DIY home remodeling activities. As interest in home repairs, carpentry, and other such hobbies develops, the consumer market for power tools is expected to expand.
Do you need more detailed information and analysis? Visit The Freedonia Group's website for market analysis on home construction and building products.
About The Freedonia Group
The Freedonia Group, a division of MarketResearch.com, is the world's premier international industrial research organization, providing clients with product assessments, market estimates, industry trends, and market share statistics. Our professionals provide enterprises of all kinds, from one-person consulting firms to global conglomerates, with objective, trustworthy industry market research and analysis to aid them in making crucial business decisions. With over 100 studies published each year, we assist over 90% of the Fortune 500 industrial companies.