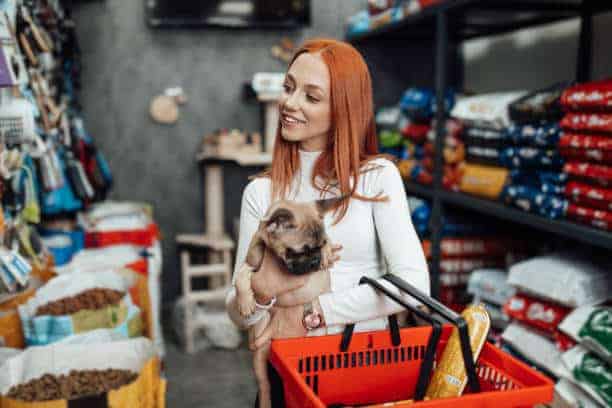 In order to write a Dog Day Care Business Plan you need to start with executive summary. In order to write an executive summary for a Dog Day Care Business Plan you need to mention- what your business is about and what you'll sell. Explain how you'll get people to buy it. The executive summary should be written at the end. Then you should write a Business Description mentioning goals, objectives, mission and vision. Some of the major sections or components of an Day Care Business Plan involves Fund Usage Plan, Marketing Plan, Industry Analysis, Organizational Overview, Operational Overview and Financials.
This article will provide you a step by step process to write your Day Care Business Plan. Get a free Day Care Business Plan Template at the end!
Executive Summary
Pawz Hub specializes in caring for and providing a secure area for your dog daily. They are aware of the stress that your pet experiences while you are working to pay your expenses. Small or medium-sized dogs are welcome at our serene daycare, where they may unwind and have fun all day. Our daycare service offers a half-day or full-day stay and several packages based on your requirements. Unless you specifically request otherwise, your dog will socialize with other dogs at daycare. We provide lots of beds, toys, and play areas for your dog at our cage-free daycare. Our knowledgeable and caring team will take good care of and watch over your dog.
Problem Summary: Puppies start learning the dog language with their mother and siblings. Their social abilities might deteriorate without a diversity of dogs to socialize with outside the house.
Solution Summary: Daycare allows dogs to keep practicing their dog-to-dog communication skills with a diverse cast of characters. It's also a healthy outlet. It's different from just taking them to a dog park where you won't know if the other dogs are friendly or healthy. They not only do get socialization, but they also get exercise. They learn how to bond and respond to different people. And they also play with other dogs in a safe and secure environment.
Industry Overview:
Many individuals struggle to juggle the demands of their jobs, personal life, and their pet's needs. Some of them are busy professional families that travel often. The pet daycare and lodging market are expected to increase significantly due to the rising demand for these services. The need for pet daycare facilities and accommodation will reach USD 8.24 billion in 2020–2024, expanding at a CAGR of 7%. Pet daycare and lodging services are in more demand because of the expanding pet humanization culture, particularly in North America and Europe.
Financial Forecast: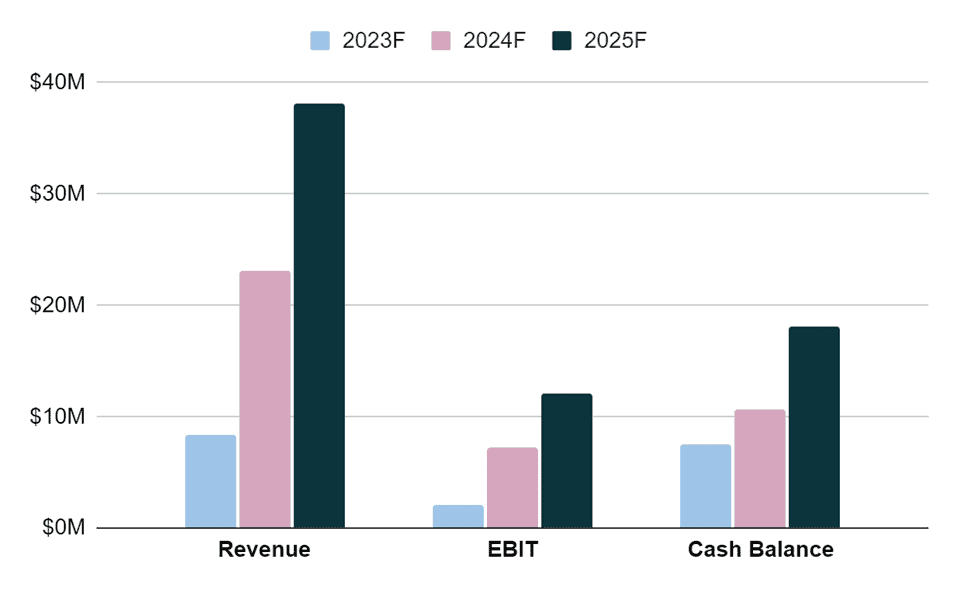 Business Description
Business Name: Pawz Hub
Owner: Steven Gould
Management Team:
| | |
| --- | --- |
| Name | Designation |
| Patricia Murphy | General Manager |
| Vince Williams | Playground Supervisor |
| Danielle Brown | Daycare and Boarding Manager |
| Mildred Miller | Finance Manager |
Legal Structure: LLC
Location:
Our daycare is located at 2006 West Galena Boulevard in Aurora, Illinois. In our spacious outdoor areas and climate-controlled indoor facilities, your dog will have the opportunity to interact with its other animal pals. At Pawz Hub, they may play without cages all day long, offering your pet the chance to make friends in a roomy, adorable facility that is stuffed with toys.
Mission:
Our mission at Pawz Hub is to provide a secure, energetic, and healthy recreational setting that will enhance the quality of life of fur kids and their owners.
Vision:
To be the most dependable doggy daycare in Illinois that ensures your furry child receives ongoing care and attention, allowing you to concentrate on your day without worrying about your puppy.
Services:
Dog owners may leave their animals at Pawz Hub at work, away for the weekend, or on vacation. In addition to offering the best pet care possible, we provide dogs with a memorable social experience. We give the animals food, exercise, bathing, grooming, and low-level veterinary treatments. While you are away, our skilled and qualified staff will completely watch your dog and provide them plenty of affection, care, and exercise.
Financial Overview
Fund Usage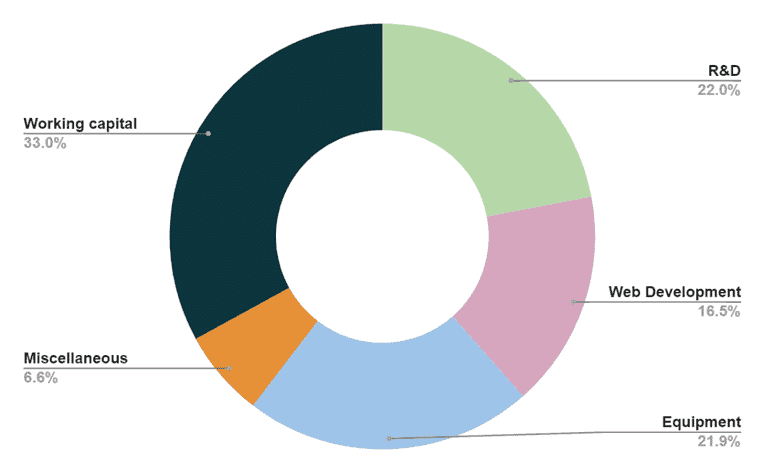 Key Metrics
| | | | |
| --- | --- | --- | --- |
| | | | |
| | 2023F | 2024F | 2025F |
| Earnings | | | |
| Revenue | $8M | $23M | $38M |
| Gross Profit | $5M | $14M | $23M |
| Gross Margin | 60% | 59% | 59% |
| EBIT | $2M | $7M | $12M |
| EBIT Margin | 25% | 31% | 32% |
| Liquidity | | | |
| Current Ratio | 5 | 6 | 6 |
| Cash Ratio | 4 | 5 | 5 |
| Others | | | |
| Average CAC | $18 | $20 | $22 |
| Inventory Turnover | 11 | 11 | 11 |
SWOT ANALYSIS
| | |
| --- | --- |
| STRENGTH | WEAKNESS |
| Our enthusiasm for our job and love of dogs will enhance client satisfaction and boost favorable feedback, which is an excellent form of exposure. Community components encourage more sign-ups Ratings and profiles promote repeat business | May be responsible for problems or pet losses The need for sitter credentials Relies on a large number of pet owners and pet sitters signing up for jobs.. |
| OPPORTUNITY | THREAT |
| Community involvement increases sign-ups Increasing use of secondary expenditure goods and services Pet ownership is reportedly growing globally. | Creation of competing services Holiday sales are down due to the recession. Poor response to professional services |
Objectives
1. To start the company and reach monthly revenues of $20K or more by the end of the first year.
2. To achieve financial success by the third year and break even in the second year.
3. To achieve profitability in the second and third years while increasing sales by 20% annually. 4. To build your reputation by securing local businesses.
Founder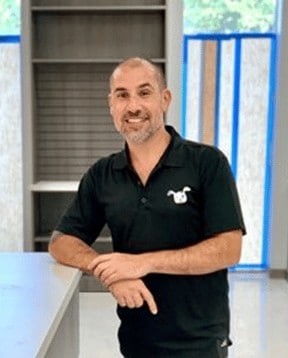 Steven Gould has been a proponent in the animal sector for the last ten years. Steven has developed skills in dog training, animal care, dog daycare, and pet CPR & First Aid during the last ten years. She is passionate about improving Houston Bark Park. The daycare dogs are all treated as Steven's own since she owns a business.

Management Team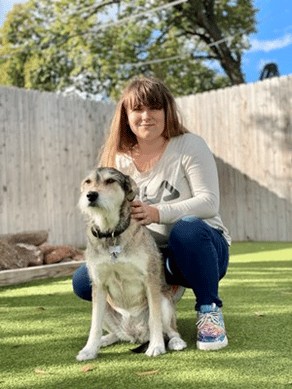 Patricia Murphy has always supported and volunteered for Pawz and is linked to the proprietors. Patricia leads the team as our GM and provides more than 12 years of managerial expertise. Patricia plays a significant role in our marketing and advertising as well. She is a fantastic match since she is equally at ease volunteering at a daycare as she is going to events.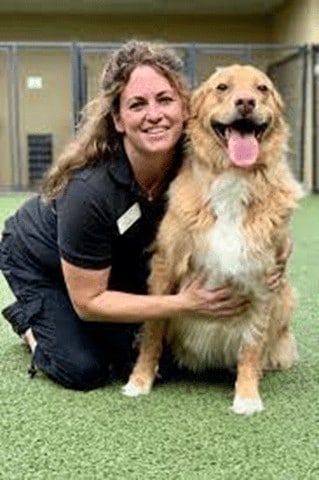 Mildred Miller is responsible for the budget planning, reporting, and monitoring of the development of the facility. Mildred loves pets, and her positive outlook is contagious in our pack.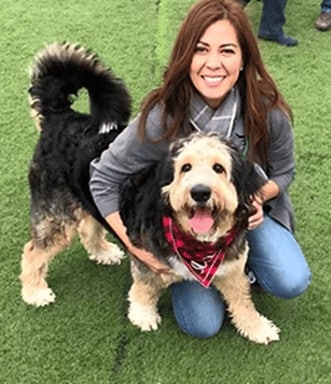 Danielle Brown has been a member of the Pawz Hub since day one. She began as a pet companion and advanced to management. Along the process, she received training in Pet CPR and First Aid and earned his certification as a professional dog trainer (ABC-DT).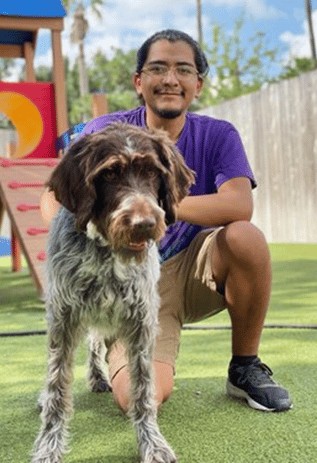 Vincent Williams has made Pawz Hub a better place to work by streamlining our processes. He sets an excellent example for all of the hub's rules and procedures regarding professionalism and responsibility.
Organogram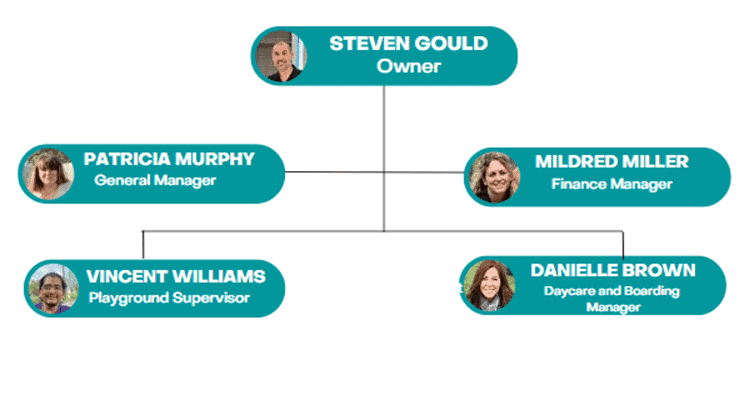 Operational Overview
Ms. Murphy will oversee all company operations, with Mr. Steven Gould, the owner, serving as group leader. Ms. Danielle Brown will be in charge of overseeing everyday activities. Vince Williams will be in charge of managing, directing, and keeping an eye on the facility, while Mr. Miller will be in charge of the money, keeping an eye on the sales, and track of client interactions.
The geographic market of affluent suburbs around the urban region will be the main emphasis of Pawz Hub. In Aurora, Illinois, on West Galena Boulevard, we'll set up shop first. Ages 35 to 65 make up the majority of our target market.
Industry Analysis
Industry Overview
The pet daycare and lodging industry are projected to reach $8.24 billion by 2024, a 7% CAGR. The study analyzes the current market situation, significant trends and drivers, and the overall market environment. Market providers should concentrate on fast-growing sectors' growth potential while retaining their positions in slow-growing segments. Pet Daycare and Lodging Market are categorized as below:
Type

Cat Daycare and Lodging
Dog Daycare and Lodging
Combined Daycare and Lodging
Geography

South America
MEA
North America
Europe
APAC
COVID-19's effects compelled many individuals to remain at home for long, whether due to shelter-in-place directives or work-from-home recommendations. Pet shelters saw a rise in adoptions and fostering. The pet industry has been booming. According to The American Pet Products Association, Pet ownership has risen from 56% to 68% in 30 years. The worldwide pet care market reached USD 148.10 billion in 2021 and is predicted to rise 5.1% from 2022 to 2030.
Rising pet humanization will boost family and pet care expenditure. Cats, dogs, and other pets are simpler to humanize and pamper than bigger pets. They pay a lot to provide their dogs with the best life possible. Consequently, pet care goods such as feeders, bowls, and waterers have grown popular. The internet and technology have changed pet ownership. Pet owners are eager to learn about pet health. They promote pet prevention. Responsible pet ownership has grown in popularity. This tendency also drives pet care product sales and the sector. Most market growth is attributable to cultural trends. Millennial and Gen Z customers have embraced pet-owning and pet-loving more than their predecessors. Younger families owned over 60% of pets in 2020, while baby boomer households owned 30%.
People are adopting lifestyle changes to reduce their ecological impact, including pet products. Many pet accessories are produced using sustainable, recyclable materials instead of plastic. Neo Bites became the first carbon-negative dog food manufacturer in 2022.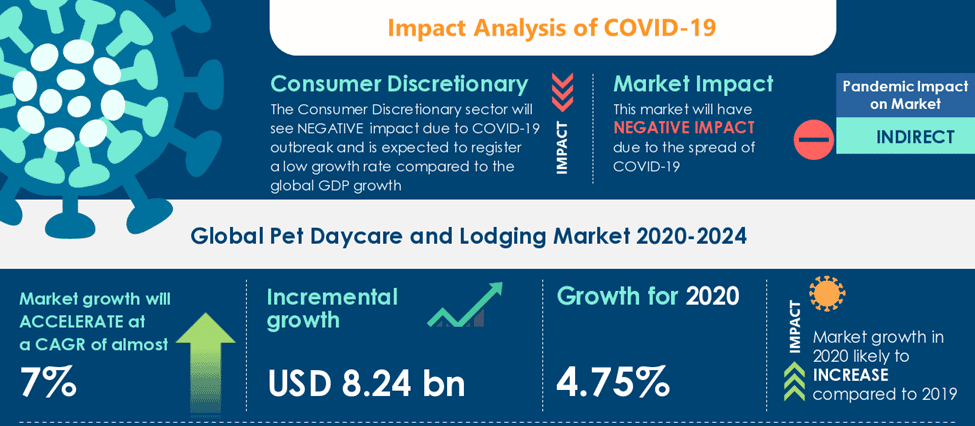 Pet Type Insights
Dogs made up 40% of the market in 2021. Most people own dogs or cats. Dogs are popular because they ease anxiety, stress, depression, and loneliness, boost cardiovascular health and stimulate exercise. People who live in apartments without a yard or porch choose pet furniture. This category will expand owing to these considerations.
Market Size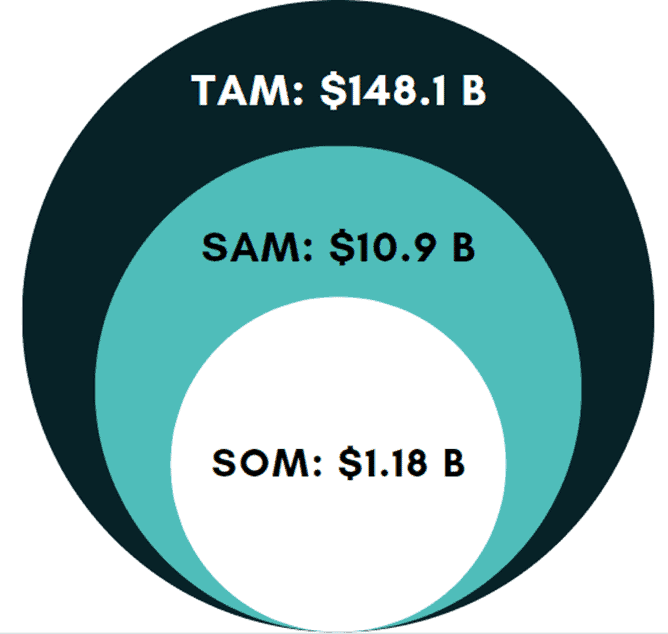 Competitive Landscape
Competitors in the industry take these variables into account when building pet daycare and lodging facilities and purchasing pet care items in an effort to stand out in the market and satisfy customers' individual needs. Daycare, boarding, training, walking, playing, and grooming are a few of the pet daycare and lodging services. The services are offered for a variety of time frames, including overnight, weekly, and monthly. Numerous businesses provide customized pet services to meet the needs of their clients, such as special pet rooms depending on the size of the animals and pet sitters in cage-free stay-n-play facilities. Depending on their demands, pet owners may choose from a variety of appealing pet services. During the forecast period, this is anticipated to contribute considerably to the expansion of the worldwide pet daycare and lodging market.
Some of our major competitors are the following:
Best Friends Pet Care Inc
Best Friends Pet Care Inc has been setting higher standards for the pet care sector since 1995. With more than 40 sites around the country, including Walt Disney World and Walmart Supercenters, we provide our clients the finest pet care in a convenient and welcoming environment where safety, enjoyment, comfort, and are at the heart of what we do.
Dogtopia Enterprises
Dogtopia Enterprisesprovides daycare, boarding, and spa services for dogs and other pet care options. Since 2015, we have given dog owners a secure and enjoyable location to board their dogs or spoil their puppies. Our staff takes great pleasure in offering our clients a safe and healthy environment for their cherished pets.
Hounds Town Happy Hounds has more than 10,000 square feet of spacious playrooms, luxurious overnight boarding suites and townhomes, and a state-of-the-art doggie day spa. Our facility provides a natural pack setting where dogs may socialize with other dogs of the same size, temperament, and play style all day long. Socializing helps a dog have a balanced life.
Marketing Plan
The cost of the "daycare" will be $12.00 per hour. This covers both dog grooming services and dog care. The predicted daily care for dogs and the average number of hours each dog will be housed daily are used to predict sales. With time for owners to drop off and pick up their dogs before and after work, it is anticipated that we will first provide services Monday through Friday, 8 AM to 6 PM. Sales will rise as the months go on due to an increase in the number of dogs we take care of each day.
As the need and demand grow, the range of services will be extended to include weekends and extended "holiday" boarding.
Marketing Budget
Total budget for projected years: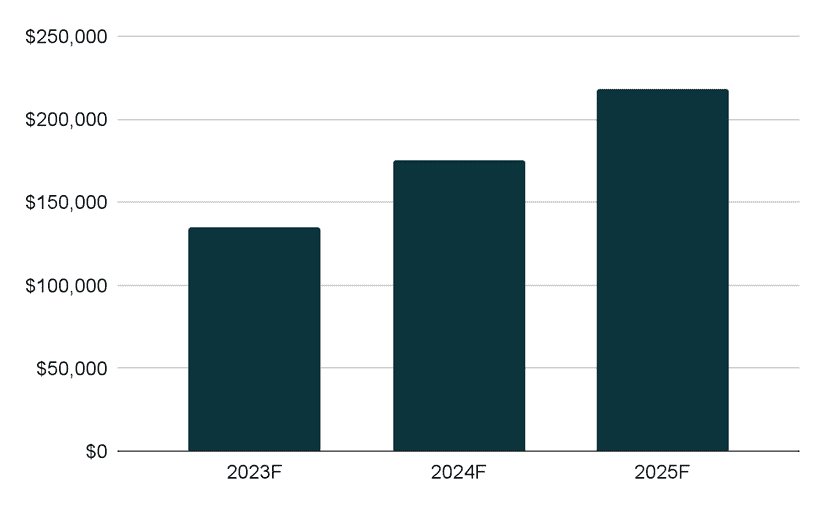 The following graphs indicate budget allocation across projected years: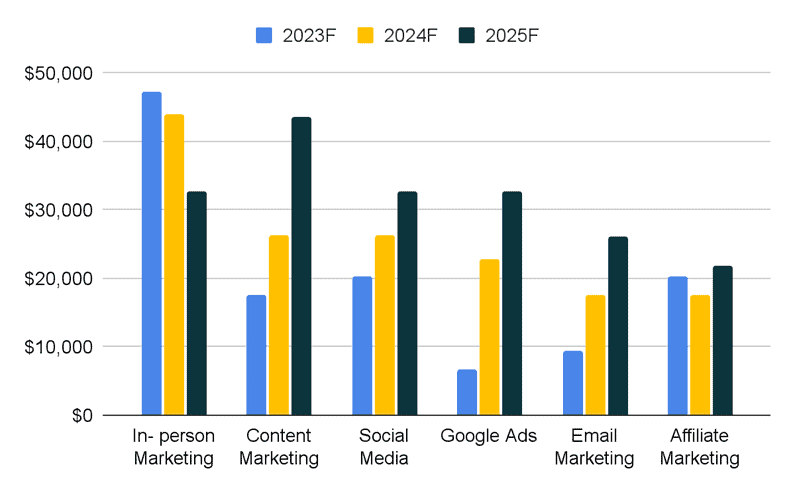 Marketing Channels
Social Media: Facebook and Instagram are two platforms we wish to use. We'll start by promoting our content and offers to attract additional fans. Our sponsored and organic campaigns will merge once they achieve a certain threshold of followers. The CAC for this channel will increase with time due to rising competition.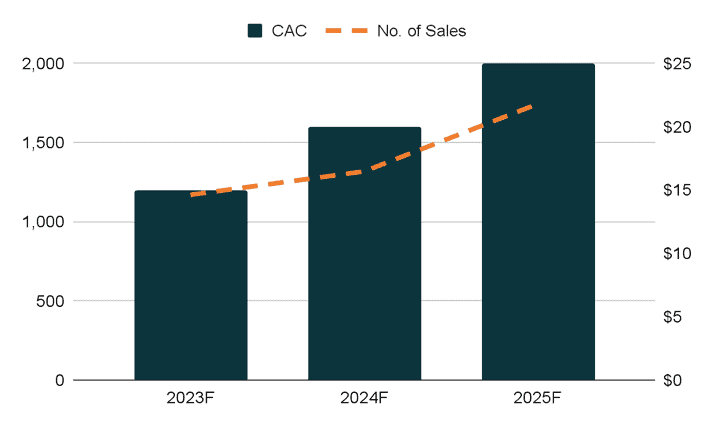 Google Ads: Google Ads will help brand recognition, revenue growth, and early content quality testing. Google Analytics numbers will help us attract traffic and determine how our target market will react since there won't be many visitors initially. We will be able to evaluate the quality of our content. As competition increases, the CAC for this channel will also increase with time.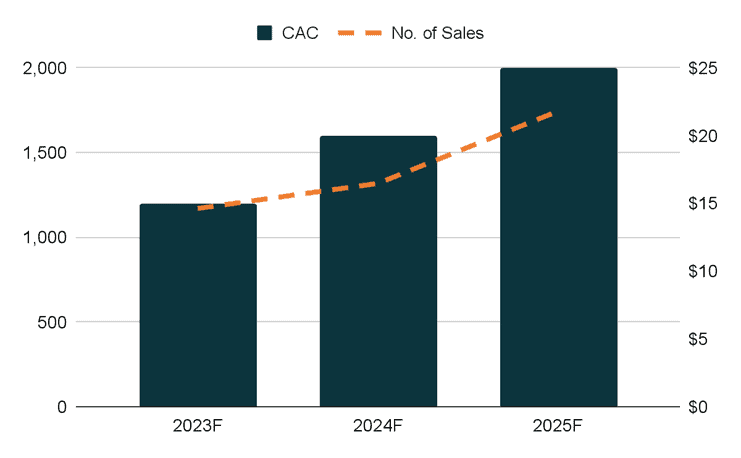 Email Marketing: Our first budget allotment for this channel will be small due to the small email list and the shortage of initial content on our website. From the second year, email marketing will be our primary focus. Greater competition has little impact; hence over time, the CAC for this channel will remain stable.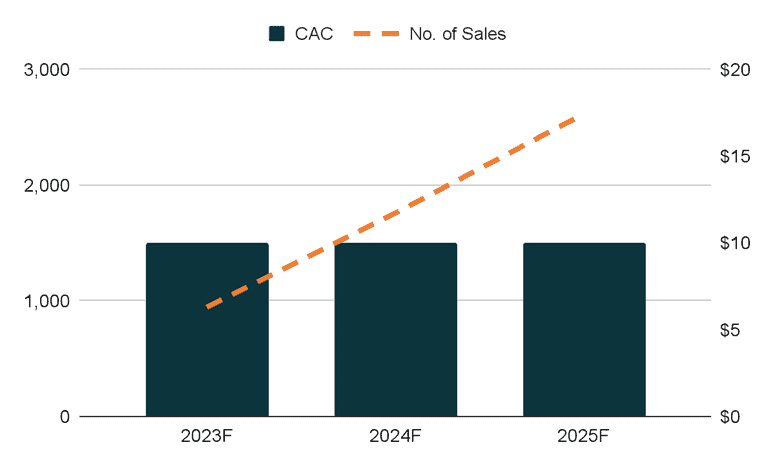 In-person Marketing: Marketing representatives will visit businesses, event organizers, and other relevant locations to spread awareness among stakeholders. We will initially allocate a larger budget for this channel since we need to increase awareness via word of mouth. The customer acquisition cost (CAC) for this channel will consistently decrease after first contact with stakeholders if communication is maintained using a more economical strategy.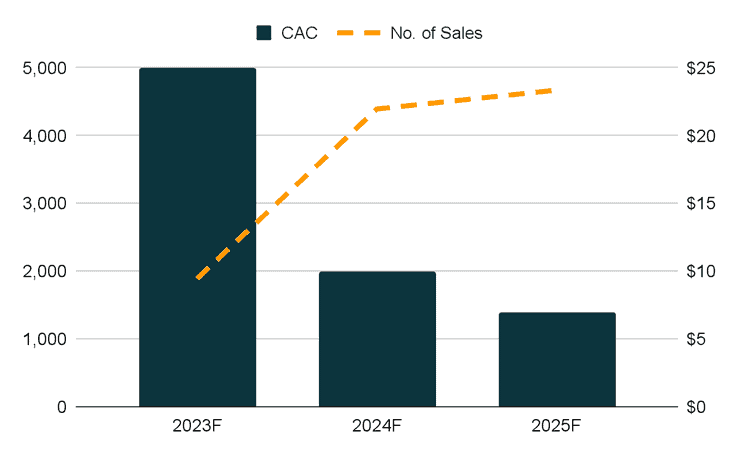 Event Sponsorship: We have two options: either we contact these event organizers, or we design our activities. These events will allow us to raise brand awareness and sales by providing discount coupons and employing other promotional techniques.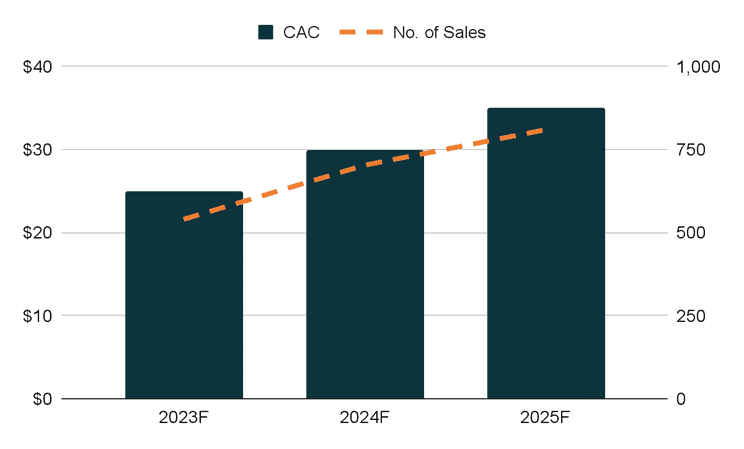 Content Marketing: Content production will take the shape of blog posts, YouTube videos, answers to Quora questions, social media updates, etc. We will conduct keyword research to produce articles based on specific keywords with a high search volume and low keyword difficulty. Due to increased competition, the CAC for this channel will increase over time.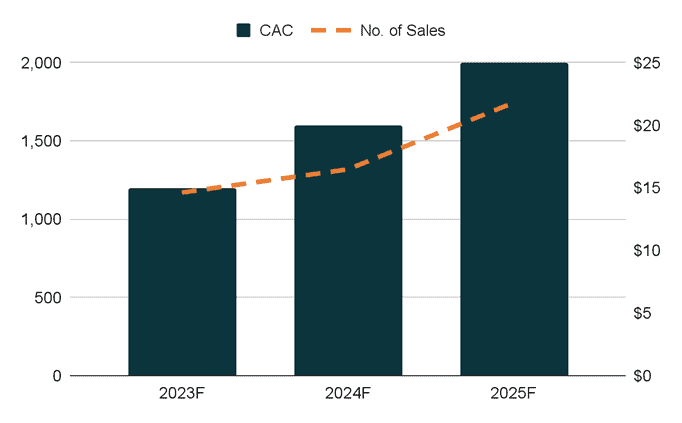 Financials
Earnings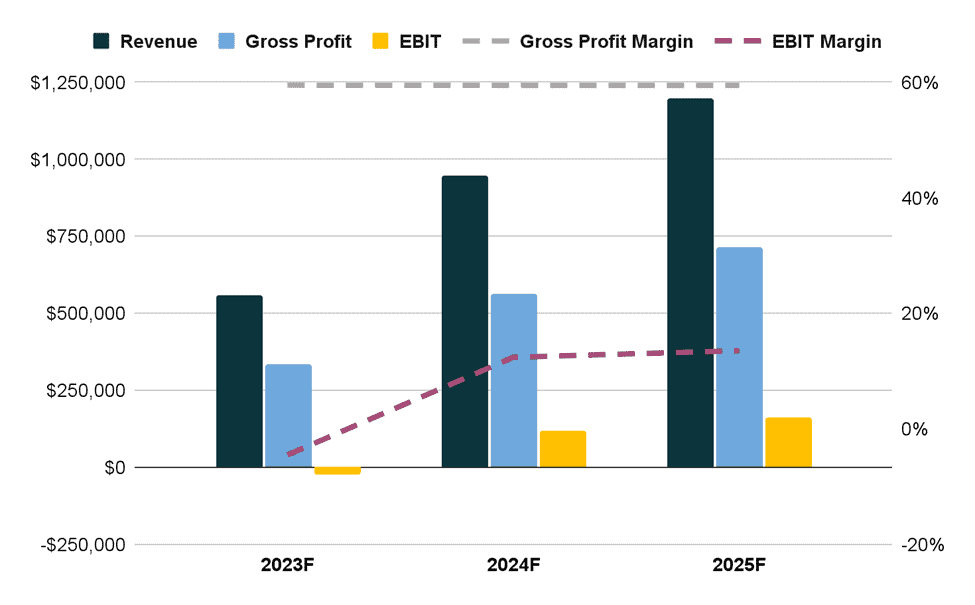 Liquidity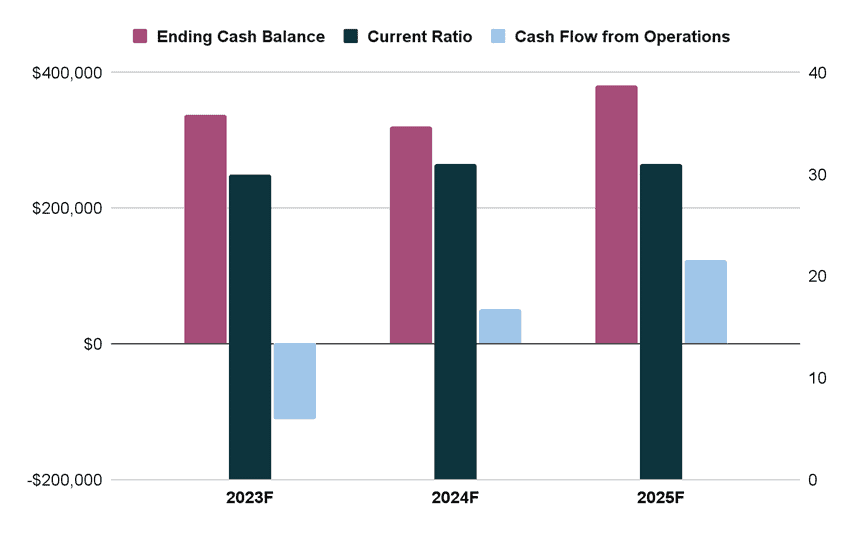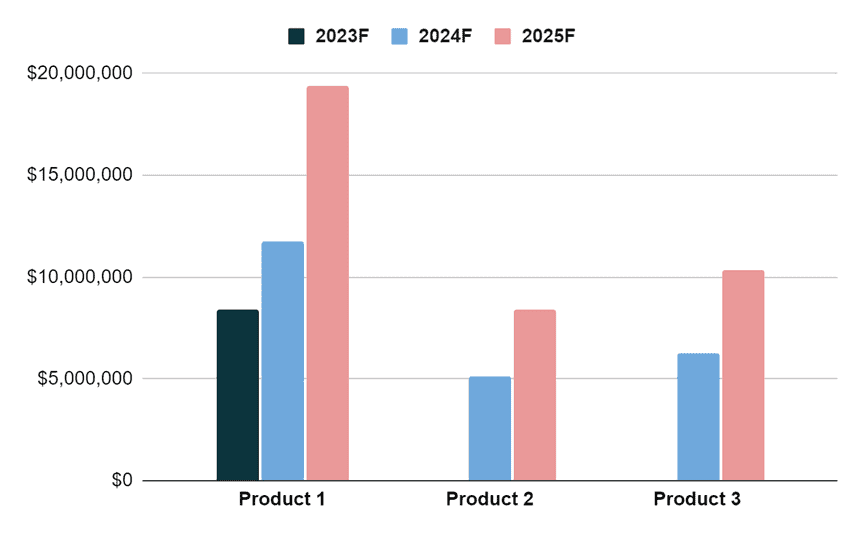 Revenue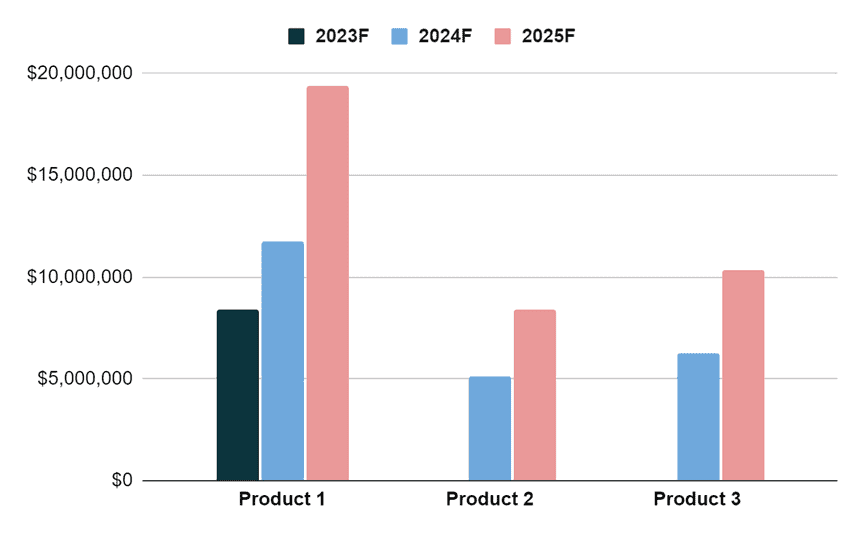 Cost of Goods Sold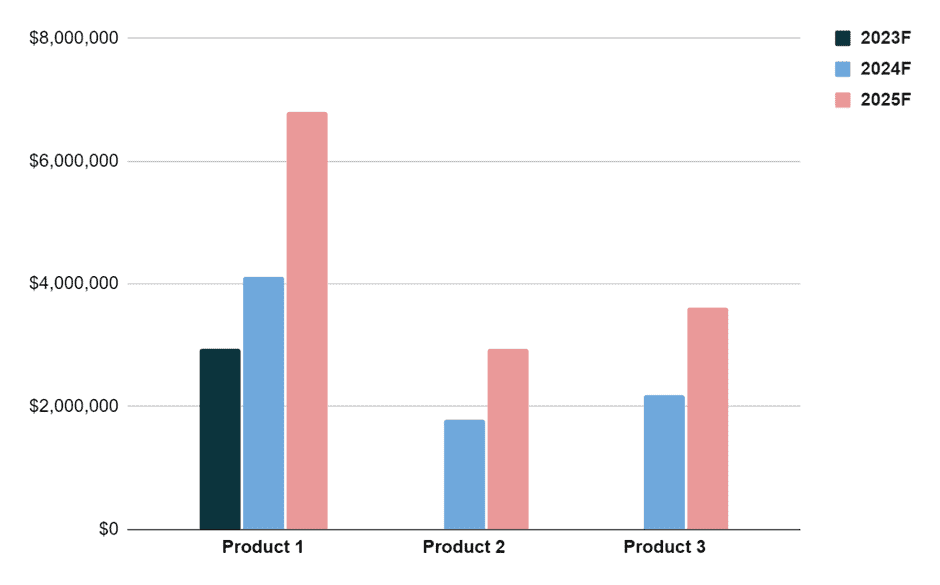 Operating Cost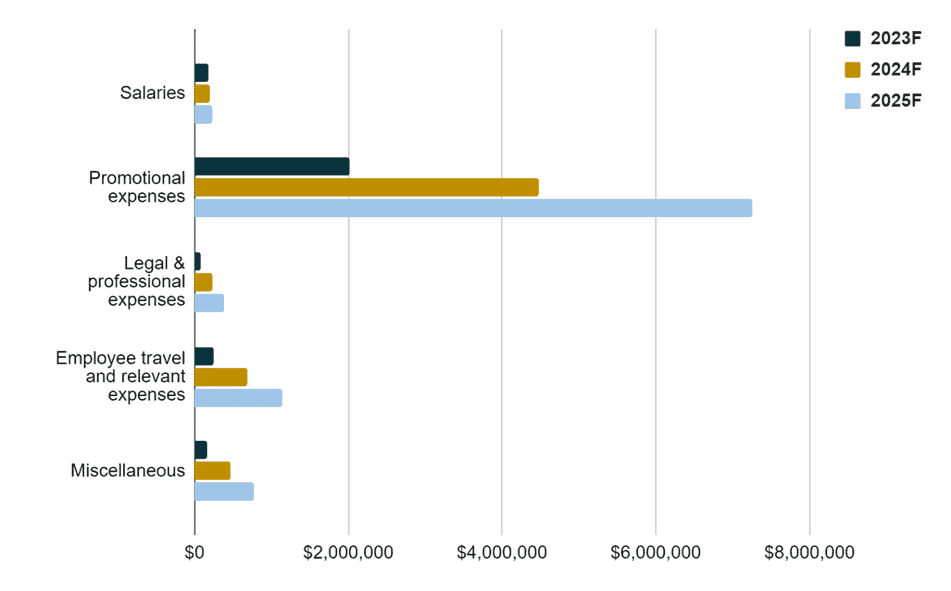 | | | | |
| --- | --- | --- | --- |
| Cash Flow Statement | 2023F | 2024F | 2025F |
| Cash Flow from Operating Activities | | | |
| EBIT | -$25,471 | $117,410 | $162,139 |
| Depreciation | $2,000 | $3,351 | $4,634 |
| Payables | | | |
| Salaries payables | $14,750 | $16,000 | $19,400 |
| Total payables | $14,750 | $16,000 | $19,400 |
| change in payables | $14,750 | $1,250 | $3,400 |
| Receivables | | | |
| Revenue related receivables | $46,688 | $79,064 | $99,960 |
| Total receivables | $46,688 | $79,064 | $99,960 |
| change in receivables | -$46,688 | -$32,376 | -$20,896 |
| Inventory | | | |
| COGS inventory | $56,725 | $96,102 | $121,502 |
| Total inventory | $56,725 | $96,102 | $121,502 |
| change in inventory | -$56,725 | -$39,377 | -$25,399 |
| Net cash flow from operating activities | -$112,134 | $50,259 | $123,877 |
| Cash Flow from Investing Activities | | | |
| R&D | $25,000 | $50,680 | $48,083 |
| Web Development | $15,000 | $10,136 | $9,617 |
| Miscellaneous | $10,000 | $6,757 | $6,411 |
| Net cash flow from investing activities | -$50,000 | -$67,573 | -$64,110 |
| Cash Flow from Financing Activities | | | |
| Equity | $500,000 | | |
| Net cash flow from financing activities | $500,000 | | |
| Net (decrease)/ increase in cash/ cash equivalents | $337,866 | -$17,315 | $59,767 |
| Cash and cash equivalents at the beginning of the year | $0 | $337,866 | $320,551 |
| Cash & cash equivalents at the end of the year | $337,866 | $320,551 | $380,318 |
| | | | |
| --- | --- | --- | --- |
| Balance Sheet | 2023F | 2024F | 2025F |
| Non- Current Assets | | | |
| R&D | $25,000 | $75,680 | $123,763 |
| Web Development | $15,000 | $25,136 | $34,753 |
| Miscellaneous | $10,000 | $16,757 | $23,168 |
| Total non- current assets | $50,000 | $117,573 | $181,683 |
| Accumulated Depreciation | -$2,000 | -$5,351 | -$9,985 |
| Net non- current assets | $48,000 | $112,222 | $171,698 |
| Current Assets | | | |
| Inventory | $56,725 | $96,102 | $121,502 |
| Cash | $337,866 | $320,551 | $380,318 |
| Receivables | $46,688 | $79,064 | $99,960 |
| Total current- assets | $441,279 | $495,717 | $601,780 |
| Total assets | $489,279 | $607,939 | $773,478 |
| Liabilities | | | |
| Accounts payable | $14,750 | $16,000 | $19,400 |
| Total liabilities | $14,750 | $16,000 | $19,400 |
| Equities | | | |
| Equity | $500,000 | $500,000 | $500,000 |
| Retained earnings | -$25,471 | $91,939 | $254,078 |
| Total equity | $474,529 | $591,939 | $754,078 |
| Total liabilities & equities | $489,279 | $607,939 | $773,478 |
| | | | |
| --- | --- | --- | --- |
| Salaries | 2023F | 2024F | 2025F |
| Management & Operations | | | |
| CEO | $24,000 | $24,000 | $24,000 |
| COO | $0 | $0 | $21,600 |
| Head of HR | $0 | $0 | $0 |
| Total | $24,000 | $24,000 | $45,600 |
| Marketing & Sales | | | |
| Marketing Manager | $15,000 | $30,000 | $30,000 |
| Regional Representative | $108,000 | $108,000 | $108,000 |
| Online Store Manager | $12,000 | $12,000 | $12,000 |
| Digital Marketer | $0 | $0 | $19,200 |
| Total | $135,000 | $150,000 | $169,200 |
| Finance & Accounting | | | |
| CFO | $0 | $0 | $0 |
| Bookkeeping Personnel | $18,000 | $18,000 | $18,000 |
| Audit Personnel | $0 | $0 | $0 |
| Total | $18,000 | $18,000 | $18,000 |
| Total Salaries | $177,000 | $192,000 | $232,800 |
| | | | |
| --- | --- | --- | --- |
| Non- Current Asset Schedule | 2023F | 2024F | 2025F |
| R&D | $25,000 | $75,680 | $126,147 |
| depreciation | NA | NA | NA |
| accumulated Depreciation | NA | NA | NA |
| Net book value | $25,000 | $75,680 | $126,147 |
| Web Development | $15,000 | $25,136 | $35,229 |
| depreciation | NA | NA | NA |
| accumulated Depreciation | NA | NA | NA |
| Net book value | $15,000 | $25,136 | $35,229 |
| Miscellaneous | $10,000 | $16,757 | $23,486 |
| depreciation | $2,000 | $3,351 | $4,697 |
| accumulated Depreciation | $2,000 | $5,351 | $10,049 |
| Net book value | $8,000 | $11,406 | $13,438 |
| Total Net book value | $48,000 | $112,222 | $174,814 |
| Total Depreciation | $2,000 | $3,351 | $4,697 |
| Total Accumulated Depreciation | $2,000 | $5,351 | $10,049 |
Assumptions
| | | | |
| --- | --- | --- | --- |
| Investment Assumptions | 2023F | 2024F | 2025F |
| Equity Injection | $500,000 | | |
| Total Capital | $500,000 | | |
| R&D | $25,000 | $50,680 | $48,083 |
| % of initial equity | 5% | | |
| % of last year's ending cash balance | | 15% | 15% |
| Web Development | $15,000 | $10,136 | $9,617 |
| % of initial equity | 3% | | |
| % of last year's ending cash balance | | 3% | 3% |
| Miscellaneous | $10,000 | $6,757 | $6,411 |
| % of initial equity | 2% | | |
| % of last year's ending cash balance | | 2% | 2% |
| Working capital | $450,000 | $270,293 | $256,441 |
| % of initial equity | 90% | | |
| % of last year's ending cash balance | | 80% | 80% |
| | | | |
| --- | --- | --- | --- |
| No. of Sales Assumptions | 2023F | 2024F | 2025F |
| Total Promotional Budget | $135,000 | $175,690 | $217,975 |
| as % of working capital | 30% | 65% | 85% |
| In- person Marketing | | | |
| proportion of total budget | 35% | 25% | 15% |
| spending | $47,250 | $43,923 | $32,696 |
| CAC | $25 | $10 | $7 |
| No. of Sales | 1,890 | 4,392 | 4,671 |
| Event Sponsorship | | | |
| proportion of total budget | 10% | 12% | 13% |
| spending | $13,500 | $21,083 | $28,337 |
| CAC | $25 | $30 | $35 |
| No. of Sales | 540 | 703 | 810 |
| Content Marketing | | | |
| proportion of total budget | 13% | 15% | 20% |
| spending | $17,550 | $26,354 | $43,595 |
| CAC | $15 | $20 | $25 |
| No. of Sales | 1,170 | 1,318 | 1,744 |
| Social Media | | | |
| proportion of total budget | 15% | 15% | 15% |
| spending | $20,250 | $26,354 | $32,696 |
| CAC | $15 | $15 | $15 |
| No. of Sales | 1,350 | 1,757 | 2,180 |
| Google Ads | | | |
| proportion of total budget | 5% | 13% | 15% |
| spending | $6,750 | $22,840 | $32,696 |
| CAC | $30 | $35 | $40 |
| No. of Sales | 225 | 653 | 817 |
| Email Marketing | | | |
| proportion of total budget | 7% | 10% | 12% |
| spending | $9,450 | $17,569 | $26,157 |
| CAC | $10 | $10 | $10 |
| No. of Sales | 945 | 1,757 | 2,616 |
| Affiliate Marketing | | | |
| proportion of total budget | 15% | 10% | 10% |
| spending | $20,250 | $17,569 | $21,797 |
| CAC | $15 | $20 | $25 |
| No. of Sales | 1,350 | 878 | 872 |
| | | | |
| --- | --- | --- | --- |
| Revenue Assumptions | 2023F | 2024F | 2025F |
| Light Knee Pad for Women | | | |
| % of total sales | 100% | 50% | 50% |
| No. of sales | 7,470 | 5,729 | 6,855 |
| unit price | $75 | $75 | $75 |
| Aggressive Knee Pad with Shin Guard for Women | | | |
| % of total sales | 0% | 25% | 25% |
| No. of sales | 0 | 2,864 | 3,427 |
| unit price | $65 | $65 | $65 |
| Spine Protector for Women | | | |
| % of total sales | 0% | 25% | 25% |
| No. of sales | 0 | 2,864 | 3,427 |
| unit price | $80 | $80 | $80 |
| | | | |
| --- | --- | --- | --- |
| COGS Assumptions | 2023F | 2024F | 2025F |
| Light Knee Pad for Women | | | |
| unit cost | $26.3 | $26.3 | $26.3 |
| Aggressive Knee Pad with Shin Guard for Women | | | |
| unit cost | $22.8 | $22.8 | $22.8 |
| Spine Protector for Women | | | |
| unit cost | $28 | $28 | $28 |
| Payment processing fees | | | |
| as % of revenue | 3% | 3% | 3% |
| Packaging fess | | | |
| as % of revenue | 1% | 1% | 1% |
| In- bound shipping cost | | | |
| as % of revenue | 1.5% | 1.5% | 1.5% |
| | | | |
| --- | --- | --- | --- |
| OpEx Assumptions | 2023F | 2024F | 2025F |
| Legal & professional expenses | | | |
| as % of revenue | 1% | 1% | 1% |
| Employee travel and relevant expenses | | | |
| as % of revenue | 3% | 3% | 3% |
| Miscellaneous | | | |
| as % of revenue | 2% | 2% | 2% |
| Spillage & wastage | | | |
| as % of revenue | 2% | 2% | 2% |
| | | | |
| --- | --- | --- | --- |
| Cash Flow Assumptions | 2023F | 2024F | 2025F |
| Payables | | | |
| Salaries payables as % of total salaries | 8% | 8% | 8% |
| period in months | 1 | 1 | 1 |
| Receivables | | | |
| as % of revenue | 8% | 8% | 8% |
| period in months | 1 | 1 | 1 |
| Inventory | | | |
| as % of revenue | 25% | 25% | 25% |
| period in months | 3 | 3 | 3 |