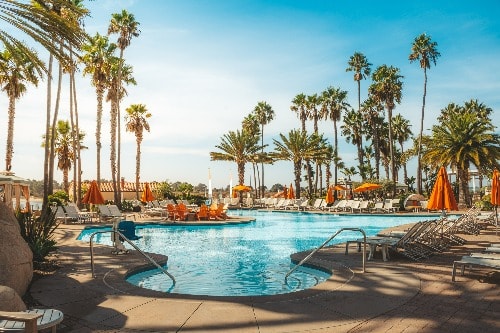 Are you interested in starting a resort business?
Do you want to start your own resort? If you answered yes, you should get started since, if correctly designed and performed, a resort company may be very profitable and create a high return on investment group business plan. To discover how to start a resort, you'll need to conduct a lot of research before getting started. Aside from that, you'll need to write a comprehensive business plan that will not only help you launch but also help you determine your long-term business goals. For your convenience, we've provided a business plan for a resort firm named 'Heaven's Inn.'
The Company
Heaven's Inn will be a dream resort at Mitchell's Cove Beach in Santa Cruz, California.
Management
Heaven's Inn will be owned and operated by Anna Jill, who has spent the preceding 10 years working at various resorts and hotels around the United States. Anna has prior experience in the resort industry and knows how to create and operate a business.
Customers
Our main customers will be tourists visiting Santa Cruz. We will help them by providing a dream hotel and unparalleled service.
The Company's Objective
We hope to be the top resort in Santa Cruz within five years after starting.
Owner of a business
Heaven's Inn will be owned and operated by Anna Jill. Anna has had a number of high-level positions in resorts and hotels around the United States. Her impeccable management and astute business skills have made her a household figure.
Why is the company being established?
Anna has always desired to establish a traveler's ideal location, and she aims to accomplish so with her new business by building a world-class resort with great customer service. Her resort, with its high-end lavish facilities, will be the perfect vacation spot for any traveler.
How will the company get started
Before you consider how to start your own resort, you must first assess all of your requirements. Anna has purchased a gorgeous building that was formerly used as a hotel in order to start her resort. Financial analysts have predicted the following expenditures for the start-up:
Customers' services
Before selecting how to create a resort, you must first decide what services you will provide to your customers, since your services will influence many subsequent choices.
Heaven's Inn will include ten two-bedroom suites, each with its own bathroom, laundry area, fully equipped kitchen, and parking. The resort will include a common outdoor swimming pool as well as a number of other facilities. The following are some of our most important services
Room service is offered 24 hours a day, 7 days a week.
Medical assistance is provided 24 hours a day, 7 days a week.
The Open Air Lobby Bar and Café has a swimming pool.
Babysitting service provided by a concierge service
Laundry services
Service for renting computers and laptops
Conference Meetings and Private Dining Service
Services such as massages, manicures, and pedicures are provided.
Service of Airport Pick-up and Transfer
The resort industry is being researched in terms of marketing.
If you don't know how to construct a resort business plan, this resort business plan sample might help. A comprehensive marketing research is the most important component of a successful resort business strategy, which is why Anna enlisted marketing experts to help her at this point. Only after this phase can a suitable resort business plan be formed. She also went through many resort business plans to get a better idea of how the process works. After examining the local market trends in Santa Cruz, the marketing pros and analysts supported her in picking the best site for the resort.
The success or failure of a business is totally reliant on its marketing strategy, which can only be developed after extensive market research. Because it impacts the creation of many future components, a marketing study is a must-do before going on to design a hotel and resort business plan. As a consequence, while developing a resort development business plan, it must be taken into account.
Market Developments
The global resort and hotel industry earned approximately $550 billion in sales in 2016. The resort and hotel industry in the United States is one of the most important, and it has been steadily rising in recent years. It made more over $190 billion in sales in 2015. Some of the world's most well-known urban resorts and attractions are located in the United States, and they all contribute significantly to the country's resort and hotel industry. The number of smaller resorts has also increased in recent years.
Segmentation of the Market
Our target market is the tourist population that visits Santa Cruz for various reasons. Almost all guests have enough money to spend on their lodgings, so staying at our resort is a no-brainer. As prospective future clients, our experts have identified the following target audiences:
These three target groups have different motives for visiting Santa Cruz, and so have different lodging requirements. We won't be able to target them unless we understand their requirements during their stay. The following is a detailed analysis of our target market:
Tourists who come for fun
The first group of visitors are leisure tourists who have come to Santa Cruz in search of excitement and adventure. This category also includes visitors who have come for sports, skiing, or other similar activities. Almost half of all visitors to Santa Cruz come for recreational purposes; as a consequence, this group will be the most regular consumers of our services, and our marketing plan will be customized specifically for them.
Tourists on business:
Business travelers who come to Santa Cruz for retreats and corporate vacations make up the second category of tourists. Almost every company in the United States has a corporate retreat once or twice a year to improve employee bonds and give a break from the hectic daily routine. Apart from lodging, our resort will provide conference meeting rooms and other necessities to assist these tourists in organizing their work sessions, team meetings, seminars, workshops, and conferences throughout their stay.
Medical Travelers:
The third category includes those who travel to Santa Cruz for medical reasons. The bulk of this category consists of patients and elderly people who need a change of environment as part of their medical treatment. These tourists will need special attention, specialized cuisine, and 24-hour medical assistance, all of which will be given at our resort.
A complete market analysis of our potential clients may be seen in the table below:
Business Objective
Our key business goals are as follows:
We hope to be the top resort in Santa Cruz within five years after starting.
We expect a net profit margin of $10k per month at the end of the first year, $15k per month by the end of the second year, and $25k per month by the end of the third year.
The startup's initial expenses should be matched with generated revenues by the end of the first year.
Pricing of Products (5.4)
Every bedroom suite will cost $200 per night and will have a high-definition LCD TV, DVD/VCR, video on demand, video games, premium music channels, high-speed internet, fireplace, fully-equipped kitchenette, king-sized bed, and full-sized sleeping sofa.
Strategy
The sales strategy of a small resort is an important aspect of its overall business plan. Anna did extensive research into various sales, marketing, and advertising methods before founding a resort firm.
Analysis of Competitors
Because Santa Cruz is home to a lot of high-end luxury resorts, we'll be up against some fierce competition. Regardless, we want to stand out because of our affordable costs and exceptional customer service. We'll provide all of the luxuries of a luxury resort at the best rates in town. Our unmatched customer service, which will be unparalleled in the city, will be our second competitive edge. Every customer will be handled with the utmost respect, and we will go above and beyond to guarantee that they get more value from us than they expected.
Strategy for Selling
We'll market and advertise our resort via social and print media.
We will offer online booking and payment services for the convenience of our customers.
We will provide a 25% discount on our services for the first three months following our launch.
Personnel strategy
After you've assessed the cost of establishing a resort, you'll need to develop a personnel plan to figure out how much money you'll spend on staff compensation.
Employees of the company
Anna will be in charge of the whole company and will begin by hiring the following individuals:
The financial records are kept by one accountant.
Marketing and new business development are handled by two sales executives.
For dinner preparation, there are four chefs.
15 Service Assistants are required to assist with various daily chores.
10 cleaners to keep the resort pristine and help with other housekeeping tasks including laundry.
For airport pickups and transfers, there are four drivers available.
1 IT specialist to do IT-related tasks 2 masseuses (masseuses and therapists)
In the case of an emergency, one doctor will give medical help. 1 Facility Manager will be in charge of the resort's infrastructure and equipment. 1 person to work as a receptionist at the front desk
2 Security Officers
Plan your finances
Finally, you must devise a financial plan before deciding how to start a resort. Heaven's Inn's financial strategy covers the company's development over the next three years and is customized to fulfill both short- and long-term objectives.