Executive Summary
Overview: Amazon.com, Inc. is e-commerce, digital streaming, cloud computing, and artificial intelligence-focused American multinational technology business. It's been called "one of the world's most important economic and cultural forces" and is one of the most valuable brands in the world. Customers' demands for cheaper pricing, greater variety, and convenient services have remained steady throughout the years, despite our company's evolution. Customers may now locate what they're searching for on Amazon online and in person. We are looking for new ways to thrill our clients, from bringing fresh vegetables to their door to producing and distributing movies, music, etc.
Mission: We aspire to provide our clients with the best possible rates, the widest variety, and the most ease.
Vision: To be the most customer-focused organization on the planet, where consumers can locate and learn about everything they could want to purchase online
Industry Overview: Over the last decade, the US e-commerce business has been rapidly changing. In the following years, retail e-commerce sales in the United States are expected to expand quickly, from over 470 billion dollars in 2021 to over 560 billion dollars in 2025. In the United States, Amazon is by far the most popular online store. The corporation leads the field in terms of e-retail sales in the United States, with 386 billion dollars predicted in 2021.
Financial Overview: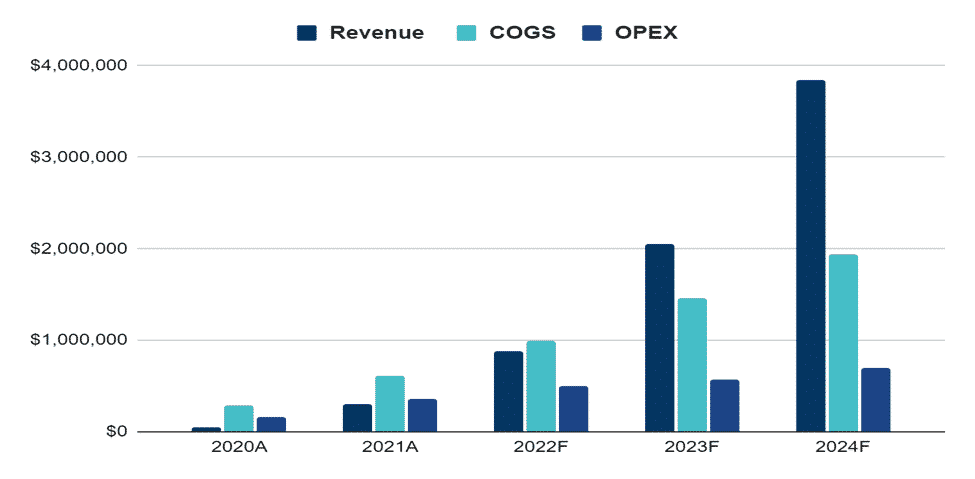 Financial Highlights:
| | | | | | |
| --- | --- | --- | --- | --- | --- |
| Liquidity | 2020A | 2021A | 2022F | 2023F | 2024F |
| Current ratio | 6 | 12 | 23 | 32 | 42 |
| Quick ratio | 6 | 11 | 22 | 31 | 40 |
| DSO | 8 | 8 | 8 | 8 | 8 |
| Solvency | | | | | |
| Interest coverage ratio | | | 8.2 | 11.1 | 14.2 |
| Debt to asset ratio | 0.01 | 0.01 | 0.2 | 0.18 | 0.16 |
| Profitability | | | | | |
| Gross profit margin | 51% | 51% | 53% | 53% | 53% |
| EBITDA margin | 12% | 14% | 21% | 22% | 22% |
| Return on asset | 5% | 6% | 13% | 14% | 14% |
| Return on equity | 5% | 6% | 16% | 17% | 17% |
Fund Usage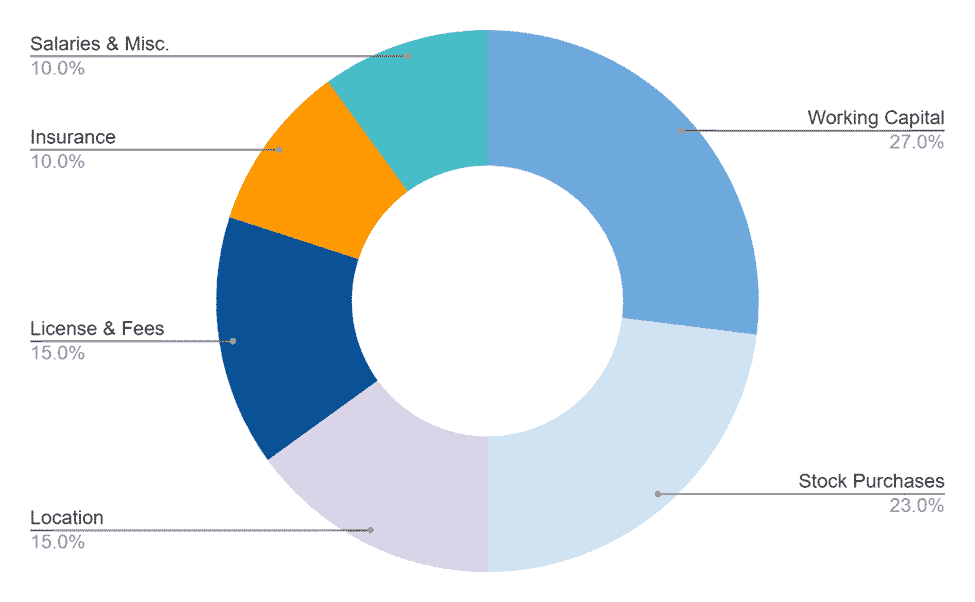 Industry Analysis
Following the massive eCommerce boom triggered by the pandemic outbreak, online sales growth slowed dramatically in 2021 as many immunized and exhausted customers returned to retail. According to numbers published Friday by the US Department of Commerce, digital spending climbed 9.2% year over year in the holiday-driven fourth quarter, bringing the overall gain in e-commerce for 2021 to 14.2%.
Based on the first, second, and third quarters of 2021, internet sales are predicted to increase by 14.2 percent. And the market did what was expected. According to Commerce Department statistics, consumers spent $870.78 billion with US retailers online last year, up from $762.68 billion in 2020. While in-store sales increased, consumers did not revert to their pre-COVID-19 purchasing habits and continued to purchase online with zeal. In 2020 and 2021, the e-commerce percentage of overall retail sales remained unchanged, with digital orders accounting for around $1 in every $5 spent.
Following a surge in online expenditure due to the pandemic in 2020, digital growth was set to slow in 2021. While the 14.2 percent increase in 2021 is less than half of the record-breaking 31.8 percent increase in 2020, it is comparable to pre-pandemic growth rates. In fact, in the five years preceding the pandemic, the median increase in internet sales was 14.2 percent, and the increase in 2019 was 14.3 percent. Online expenditure increased by 50.5 percent in 2021 as compared to 2019. Even though last year's eCommerce scene seems to be significantly less remarkable than that of 2020, online merchants maintained gains—and even grew—is notable.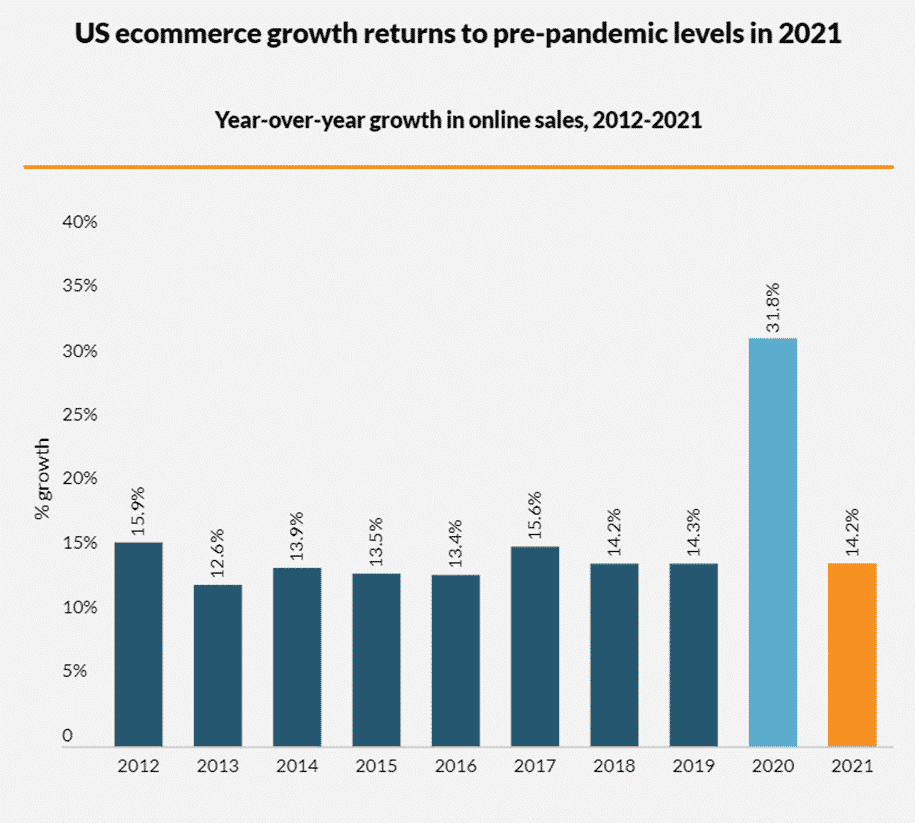 Retail sales will rebound in 2021 after a turbulent 2020, as the economy reopens and people are eager to spend. Pent-up consumer demand will boost both brick-and-mortar and online sales, with in-store sales increasing by 6.3 percent and e-commerce sales increasing by 17.9 percent. We forecasted a 2.8 percent year-over-year increase in overall retail sales 2020 in January 2020; That projection was reduced to a 10.5 percent drop. However, sales increased by 3.4 percent in 2020 as shops immediately shifted their operations online. Pent-up demand is expected to climax in 2021, resulting in a 7.9% increase in retail sales. In 2021, consumers in the United States would spend $933.30 billion on eCommerce, growing 17.9% year over year and accounting for 15.3% of total retail sales. Retail expenditure will increase by 6.3 percent to $5.149 trillion in 2021, the fastest pace of growth since 2011.
By 2025, eCommerce sales will account for 23.6 percent of overall retail sales, up from 11.0 percent in 2019. Click-and-collect use, for example, is expected to continue to expand, with sales hitting $140.96 billion by 2024. Retailers will continue to engage with customers throughout the buying process: social commerce sales will increase by 35.8% to $36.62 billion. Almost one-fourth of digital shoppers will utilize a buy now and pay later (BNPL) option. Only clothes and accessories, at 23.1 percent in 2021, will continue to outperform 2020 growth. The only other categories we expected to expand by more than 20% YoY in 2021 are food and beverage, furniture, and health and personal care.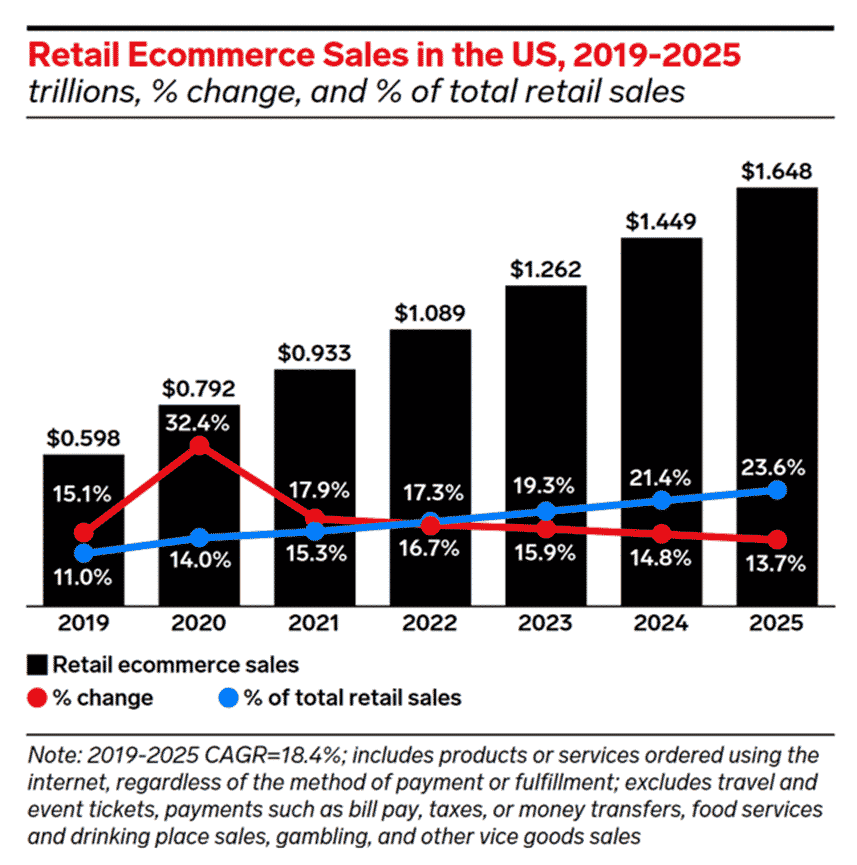 Ecommerce sales in the United States are expected to rise by double digits in the next years, reaching $933.30 billion in 2021, up 17.9% from 2016. Ecommerce penetration will more than double from 2019 to 23.6 percent in 2025. With sales of $599 billion in 2021, the United States is the second biggest market for eCommerce, after only Japan.
The eCommerce market in the United States increased by 11% in 2021, contributing to a global growth rate of 29%. eCommerce sales are still rising. New markets are developing, and currency markets have room to grow. Over the next several years, global expansion will continue. East and Southeast Asia will drive this trend with their growing middle classes and lagging offline retail infrastructure.
The eCommerce industry consists of online sales of physical commodities to individual consumers (B2C). Those made on a computer and purchases made on smartphones and tablets are all included in this definition. Digitally dispersed services (airline tickets), online shops specialized in digital media downloads or streaming, online stores dedicated to B2B markets, and sales between private persons (C2C) inside the eCommerce market.
The Statista Digital Market Outlook predicts that market growth in the United States will continue over several years. CAGR 21-25 is expected to be 5% during the next four years. This decline indicates a modestly crowded market compared to the 11 percent year-over-year rise. Another sign of market saturation is the 75 percent online penetration rate in the United States. In 2021, 75 percent of the population of the United States will have purchased at least one product online.
In the United States, customer satisfaction with internet shopping is high. However, internet sales will only account for roughly 13% of total retail sales in the United States by 2021. Despite this, it was projected that eight out of ten internet users in the United States would make purchases online that year. Popular e-commerce outlets include online stores and brand websites, but online marketplaces and social media are becoming more popular among online customers. By 2023, there are expected to be 100 million social commerce buyers in the United States.
The rising prevalence of mobile shopping in the US e-commerce business is a developing trend. In the United States, smartphone purchases are the most common. Mobile commerce revenue is predicted to account for roughly 6% of total retail sales in 2021, thanks to this vast base of mobile customers. Even if conversion rates in the mobile sector still trail behind the desktop segment, the average value spent per order when shopping on a smartphone is coming up.
Marketing Plan: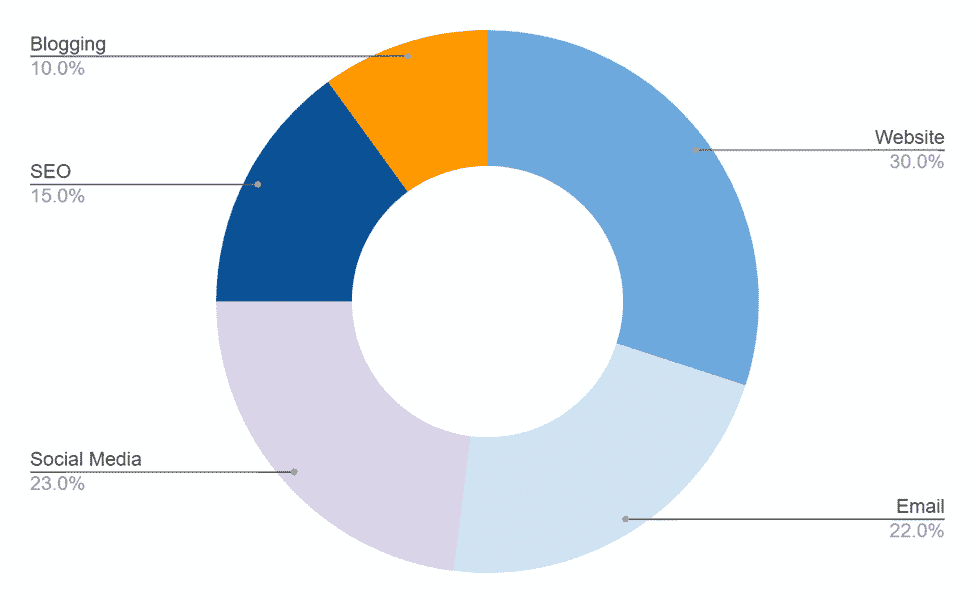 Website: We have an easy-to-understand site and many options for our products. Our prices and photos are checked and updated from time to time.
Email: We will be sending a regular email cadence that includes promotions, product launches, and news that can encourage prospective customers to visit our site.
Social Media: Boosting our social media channel with engaging photos and videos.
SEO: Our on-page content naturally uses the language of our customers so customers can search for it easily.
Blogging: We will be creating valuable and engaging content to encourage customers.
Organogram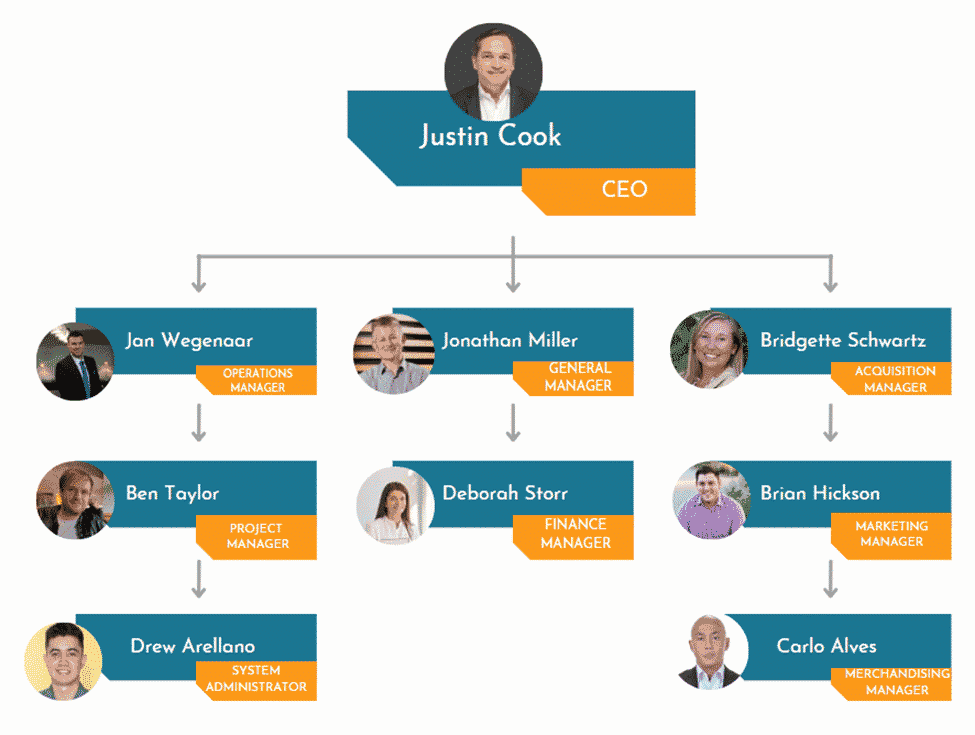 Financial Plan:
Earnings: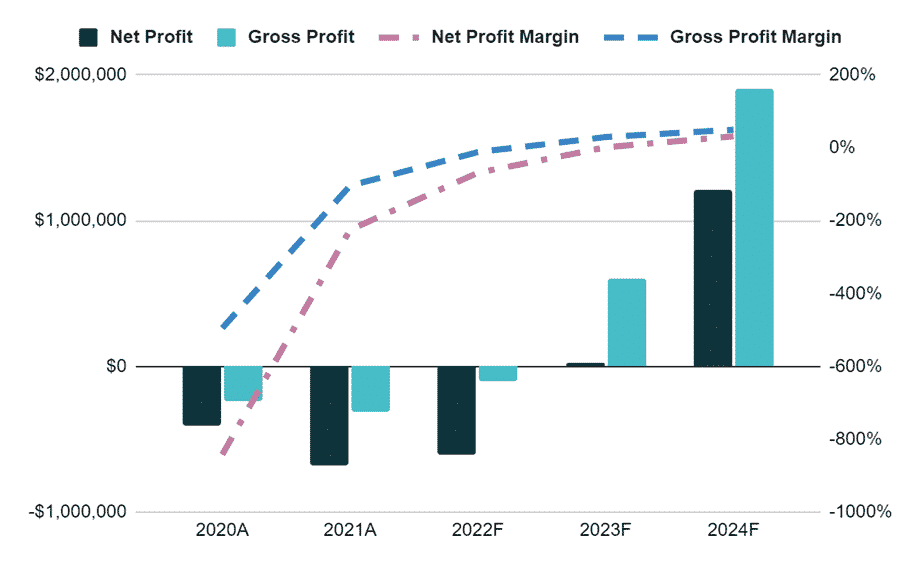 Break-Even Analysis: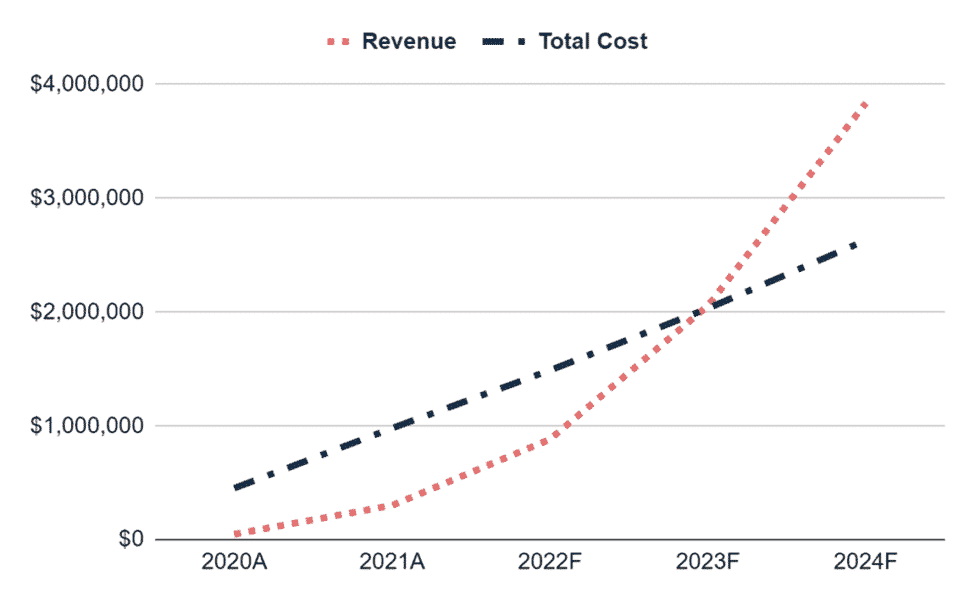 Income Statement:
| | | | | | |
| --- | --- | --- | --- | --- | --- |
| | 2020A | 2021A | 2022F | 2023F | 2024F |
| ANNUAL REVENUE | | | | | |
| Item 1 | 9,217 | 59,117 | 175,410 | 415,277 | 781,357 |
| Item 2 | 34,701 | 222,558 | 660,368 | 1,563,394 | 2,941,580 |
| Item 3 | 4,067 | 19,561 | 46,432 | 78,519 | 114,905 |
| Total annual revenue | 47,985 | 301,236 | 882,211 | 2,057,189 | 3,837,842 |
| % increase | | 528% | 193% | 133% | 87% |
| COST of REVENUE | | | | | |
| Item 1 | 360 | 2,259 | 6,617 | 15,429 | 28,784 |
| Item 2 | 480 | 3,012 | 8,822 | 20,572 | 38,378 |
| Item 3 | 52,000 | 65,000 | 78,000 | 91,000 | 104,000 |
| Item 4 | 720 | 3,615 | 8,822 | 16,458 | 23,027 |
| Item 5 | 140,000 | 336,000 | 560,000 | 840,000 | 1,120,000 |
| Item 6 | 60,000 | 144,000 | 240,000 | 360,000 | 480,000 |
| Item 7 | 32,000 | 61,333 | 85,533 | 112,153 | 141,435 |
| Total Cost of Revenue | 285,560 | 615,220 | 987,794 | 1,455,612 | 1,935,625 |
| as % of revenue | 595% | 204% | 112% | 71% | 50% |
| Gross Profit | -237,575 | -313,984 | -105,583 | 601,578 | 1,902,218 |
| SELLING & ADMIN EXPENSES | | | | | |
| Item 1 | 28,000 | 96,800 | 154,880 | 175,692 | 193,261 |
| Item 2 | 75,000 | 105,000 | 120,000 | 120,000 | 120,000 |
| Item 3 | 36,000 | 96,000 | 108,000 | 120,000 | 120,000 |
| Item 4 | 8,000 | 12,000 | 12,000 | 12,000 | 12,000 |
| Item 5 | 3,839 | 18,074 | 44,111 | 61,716 | 115,135 |
| Item 6 | 3,359 | 12,049 | 26,466 | 41,144 | 76,757 |
| Item 7 | 5,600 | 10,000 | 12,904 | 15,034 | 17,376 |
| Item 8 | 6,667 | 14,000 | 22,067 | 30,940 | 40,701 |
| Total selling & admin expenses | 166,464 | 363,924 | 500,428 | 576,525 | 695,230 |
| as % of revenue | 347% | 121% | 57% | 28% | 18% |
| Net profit | -404,039 | -677,907 | -606,011 | 25,052 | 1,206,987 |
| Accumulated net profit | -404,039 | -1,081,947 | -1,687,957 | -1,662,905 | -455,918 |
Cash Flow Statement:
| | | | | | |
| --- | --- | --- | --- | --- | --- |
| | 2020A | 2021A | 2022F | 2023F | 2024F |
| CASH FLOW from OPERATING ACTIVITIES | | | | | |
| Net profit before tax | -$404,039 | -$677,907 | -$606,011 | $25,052 | $1,206,987 |
| Depreciation | $44,267 | $85,333 | $120,504 | $158,127 | $199,512 |
| Payables | | | | | |
| Item 1 | $4,333 | $5,417 | $6,500 | $7,583 | $8,667 |
| Item 2 | $11,667 | $28,000 | $46,667 | $70,000 | $93,333 |
| Item 3 | $6,250 | $8,750 | $10,000 | $10,000 | $10,000 |
| Item 4 | $3,000 | $8,000 | $9,000 | $10,000 | $10,000 |
| Item 5 | $667 | $1,000 | $1,000 | $1,000 | $1,000 |
| Total payables | $25,917 | $51,167 | $73,167 | $98,583 | $123,000 |
| change in payables | $25,917 | $25,250 | $22,000 | $25,417 | $24,417 |
| Receivables | | | | | |
| Item 1 | $320 | $1,506 | $3,676 | $5,143 | $9,595 |
| Item 2 | $360 | $1,807 | $4,411 | $8,229 | $11,514 |
| Total receivables | $680 | $3,314 | $8,087 | $13,372 | $21,108 |
| change in receivables | -$680 | -$2,634 | -$4,773 | -$5,285 | -$7,736 |
| Net cash flow from operating activities | -$334,536 | -$569,958 | -$468,280 | $203,311 | $1,423,180 |
| | | | | | |
| CASH FLOW from INVESTING ACTIVITIES | | | | | |
| Item 1 | $16,000 | $13,200 | $14,520 | $15,972 | $17,569 |
| Item 2 | $20,000 | $22,000 | $24,200 | $26,620 | $29,282 |
| Item 3 | $28,000 | $22,000 | $14,520 | $10,648 | $11,713 |
| Item 4 | $96,000 | $88,000 | $72,600 | $79,860 | $87,846 |
| Item 5 | $20,000 | $22,000 | $24,200 | $26,620 | $29,282 |
| Net cash flow/ (outflow) from investing activities | -$180,000 | -$167,200 | -$150,040 | -$159,720 | -$175,692 |
| | | | | | |
| CASH FLOW from FINANCING ACTIVITIES | | | | | |
| Equity | $400,000 | $440,000 | $484,000 | $532,400 | $585,640 |
| Net cash flow from financing activities | $400,000 | $440,000 | $484,000 | $532,400 | $585,640 |
| Net (decrease)/ increase in cash/ cash equivalents | -$114,536 | -$297,158 | -$134,320 | $575,991 | $1,833,128 |
| Cash and cash equivalents at the beginning of the year | – | -$114,536 | -$411,693 | -$546,014 | $29,978 |
| Cash & cash equivalents at the end of the year | -$114,536 | -$411,693 | -$546,014 | $29,978 | $1,863,105 |
Balance Sheet:
| | | | | | |
| --- | --- | --- | --- | --- | --- |
| | 2020A | 2021A | 2022F | 2023F | 2024F |
| NON-CURRENT ASSETS | | | | | |
| Item 1 | $16,000 | $29,200 | $43,720 | $59,692 | $77,261 |
| Item 2 | $20,000 | $42,000 | $66,200 | $92,820 | $122,102 |
| Item 3 | $28,000 | $50,000 | $64,520 | $75,168 | $86,881 |
| Item 4 | $96,000 | $184,000 | $256,600 | $336,460 | $424,306 |
| Item 5 | $20,000 | $42,000 | $66,200 | $92,820 | $122,102 |
| Total | $180,000 | $347,200 | $497,240 | $656,960 | $832,652 |
| Accumulated depreciation | $44,267 | $129,600 | $250,104 | $408,231 | $607,743 |
| Net non-current assets | $135,733 | $217,600 | $247,136 | $248,729 | $224,909 |
| | | | | | |
| CURRENT ASSETS | | | | | |
| Cash | -$114,536 | -$411,693 | -$546,014 | $29,978 | $1,863,105 |
| Accounts receivables | $680 | $3,314 | $8,087 | $13,372 | $21,108 |
| Total current assets | -$113,856 | -$408,380 | -$537,927 | $43,349 | $1,884,214 |
| Total Assets | $21,878 | -$190,780 | -$290,791 | $292,078 | $2,109,122 |
| | | | | | |
| LIABILITIES | | | | | |
| Account payables | $25,917 | $51,167 | $73,167 | $98,583 | $123,000 |
| Total liabilities | $25,917 | $51,167 | $73,167 | $98,583 | $123,000 |
| | | | | | |
| EQUITIES | | | | | |
| Owner's equity | $400,000 | $840,000 | $1,324,000 | $1,856,400 | $2,442,040 |
| Accumulated net profit | -$404,039 | -$1,081,947 | -$1,687,957 | -$1,662,905 | -$455,918 |
| Total equities | -$4,039 | -$241,947 | -$363,957 | $193,495 | $1,986,122 |
| Total liabilities & equities | $21,878 | -$190,780 | -$290,791 | $292,078 | $2,109,122 |