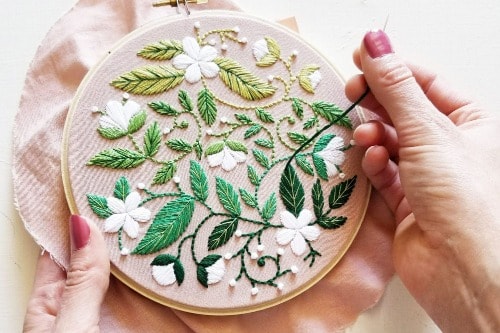 Do you want to establish a company in embroidery?
Do you want to learn how to start an embroidery business? Embroidery has a lengthy history, and new designs and trends have continued to transform the industry throughout time. We all like custom clothing since it may be used for fashion, accessories, or as a gift. As an industry that has lasted for centuries, it has deep roots not just in the United States, but also across the globe.
Because embroidered goods are famous for their catchy and unique look, everyone wants to be a part of this vivid culture. Professionalism and originality are required qualities for success in an A-list business that continues to have a major impact on the fashion industry.
What is the best way for me to start an embroidery business? You'll only be able to succeed if you have a well-thought-out company plan to guide you. With the increased need for embroidered things, there are no limits to how creative you can be, so try to be as unique as possible to stand out. As a mainstream industry, the revenue margins are promising, as long as the proper approaches are used.
The embroidery company's name will be Randora Designers, and it will be situated in Phoenix, Arizona. The firm will be owned by Jane Cookie, a skilled fashion designer. This business plan serves as a road map for starting an embroidery business and defining what has to be done to ensure a successful launch and operation. During registration, double-check that you have all of the licences you'll need to run your business.
Management Group
Jane Cookie, a skilled fashion designer with over 20 years of expertise, worked as the owner of a modest embroidery firm before starting her own. Throughout her career, she has worked with a variety of well-known fashion design companies around the United States.
Customer-centricity
Jane has spent over two decades working in the fashion industry and has seen firsthand how the industry and trends have evolved. As a consequence of her extensive experience, she has interacted with a wide range of consumer groups and has a good understanding of which markets will benefit the most from her embroidery business. Randora Designers is a potential customer for anybody looking for unique and transforming clothing.
Business Objective
Jane Cookie is aware of where she should focus her marketing efforts and the strategies she intends to use in order to effectively reach out to the market and generate sufficient revenue for her embroidery business.
Her ambition is to become the most well-known embroidery firm in Phoenix, Arizona, and the surrounding regions. Her extensive industry knowledge is expected to be a significant asset in assisting Randora Designers in achieving its business goals.
Owners of businesses
Jane Cookie is a well-known fashion designer with a wealth of experience. She worked for big fashion and design businesses in the US and abroad before deciding to start her own embroidered business. In various positions, Jane worked on a variety of large-scale design projects based on unique and innovative embroidered patterns.
Her work has earned significant praise, and she is a well-known fashion personality. Her embroidery business ideas have been transformed into beautiful designs that have become fashion industry trendsetters.
The Purpose of Starting a Business
Despite the fact that embroidery has been done for centuries, it has never been more popular. Jane Cookie's decision to start an embroidery business was motivated by the increased demand for embroidered goods across a variety of industry segments.
Jane believes she has a good chance of thriving as an embroidery entrepreneur since she has experience working in the fashion industry and seen its ups and downs. As modern society acknowledges the relevance of these patterns, the market for embroidered designs is expected to grow.
How Will the Business Be Begun?
Randora Designers is set to open its doors after a comprehensive market research by seasoned specialists. Jane understands that her knowledge and education are the most significant assets she can provide to the firm, since she is in a better position to make sensible decisions that will help it grow. She's also worked with a group of financial experts to provide a comprehensive financial analysis for the organization.
Customers' Services
Randora Designers intends to provide a diverse variety of products and services in order to strengthen its image and remain competitive in the marketplace. Jane is well aware that the degree of innovation and uniqueness represented in the company's products and services is critical to its success.
She wants to start an embroidery business with a unique pitch that includes the introduction of stand-out goods that buyers would recognize after a thorough analysis of the industry. Selling the needlework label is one of Jane Cookie's most challenging challenges.
Her experience and high skillset, on the other hand, put her in a great position to start an embroidery business whose products and services would meet market demands. In this regard, Randora Designers will supply the following items and services.
Jackets, hats, sweatshirts, shirts, and sportswear are all available with standard embroidery.
3D embroidery services are available.
Applique embroidery services
Chenille embroidery services
Marketing Analysis of the Embroidery Industry
Embroidery is a millennia-old craft that has been passed down through generations. The popularity of embroidery hasn't dwindled since the present fashion industry has fully embraced the concept, which continues to dominate high-profile catwalks and stages throughout the globe.
Because finding and using multiple marketing opportunities demands a lot of creativity, this organization has a lot of potential. In its embroidered business plan, Randora Designers did a detailed market assessment and discovered market gaps that the firm might exploit to enhance revenue.
Segmentation of the market
Randora Designers has identified the most important markets in need of various products and services in order to fulfill its objectives. Randora Designers can enter into the market since Phoenix is a large city with a lot of untapped potential.
In this embroidered business plan template, potential clientele have been identified, as well as ideas and procedures the firm wishes to undertake in order to get a larger market share.
Designers of Fashion
Embroidery is a popular notion in the fashion industry, and many businesses have adopted it. Antiquated designs with eye-catching embroidered details have attracted the attention of major garment manufacturers and design firms. Personalization of embroidered patterns is quite popular since many buyers enjoy uncommon and eye-catching things that stand out from the crowd.
Customers looking for embroidered things desire originality and distinctiveness. The fashion design industry is a multibillion-dollar industry, and Randora Designers profits significantly from having clients in it. In this embroidered business plan example, the company has clearly stated the measures it intends to take in order to approach and capture the fashion design industry, which is quickly growing in popularity throughout the globe.
Households
Many embroidered things make their way into many households around the city, and Randora Designers has a great chance to profit from this profitable market. Common household products include cushions, bedsheets, and curtains, to name a few.
Phoenix is a large city that gives Randora designers a great opportunity to reach out to a large target market that is constantly on the lookout for high-quality embroidered items. However, this is a highly competitive sector, as many similar businesses are hunting for customers who want to purchase embroidered household products.
Designers of interiors
Interior designers are constantly looking for unique and imaginative embroidery work to liven up different spaces. The firm realizes the need to enter into the interior design sector, which is quickly developing as clients desire to emphasize their homes with one-of-a-kind and attractive decorations in this sample embroidered business plan.
Art aficionados
Art lovers are always on the hunt for something new, interesting, and unique to keep their brains occupied and entertained. How to advertise an embroidered business requires a lot of ingenuity, which art lovers prize.
Shops that sell gifts
Embroidered items are popular among gift-givers, and gift shops have a wide variety of them. Randora Designers is in the right line of work and may think of creative methods to include embroidery into fantastic gift items that appeal to shoppers' desires.
Business Objective
Randora Designers want to be a well-known embroidered brand, especially in Phoenix, a large city with a plethora of possibilities. You should have a good idea of how much money you'll earn and how rapidly your embroidery business will grow when you start your own embroidery business. Randora Designers intends to increase annual sales by 15% to 20% in the first three years of operation under this scenario.
Pricing of Products
Investing in a proper price strategy that will aid consumers in purchasing your things should always be included in how much does it cost to start an embroidery business.
Strategy
Randora Designers plans to create a long-term marketing strategy to help the embroidery firm reach all of its target customers. If you want to learn how to start an embroidery business, you'll need to devise a marketing plan that will attract as many consumers as possible while also creating a positive business environment.
Analysis of Competitors
Randora Designers undertook thorough market research before beginning an embroidery business to find the most effective marketing tactics that would help the firm grow its market share, compete successfully, and fulfill its revenue targets.
Strategy for Selling
Randora Designers intends to employ the strategies listed below to better advertise its products and services and reach the intended audiences.
To create awareness of the embroidery sector, distribute brochures, pamphlets, and letters of introduction to stakeholders.
Plan an opening party with a guest list drawn from the main target market groups. Designers of interiors, fashion designers, and owners or representatives of gift shops, for example, should all be included. During the party, give them little gifts and samples to let them understand the originality and inventiveness of the concepts.
Participate in industry-related events, which provide an excellent opportunity for the embroidery company to connect with customers and key industry players.
Use social media platforms like Facebook, Instagram, and Twitter to promote your business. Google Ads for Local Businesses is a great way to advertise your business online.
Local directories, such as the Yellow Pages, may include Randora Designers.
Create a simple search engine optimized website to increase your search engine rankings.
To market your company, use both broadcast and print media, such as television and radio, as well as newspapers, magazines, and business journals.
Forecasted Sales
Prior to the commencement of commercial operations, a detailed sales forecast was created to provide the firm an idea of what to anticipate in terms of sales volume.
Personnel Strategy
It's critical to select the right team of employees to manage operations and strategically position the firm for success when considering how to start your own embroidery business. The key to building a successful business is to assemble a competent team of workers who have a track record of delivering excellent results.
The business will be separated into parts, each with its own set of workers working toward a common goal. Jane Cookie wants to hire a well-trained team of workers, thus this tutorial on starting an embroidery business includes a people plan.
Personnel Strategy
The following group of workers will be recruited to work at Randora Designers to help the embroidery firm achieve its goals. Jane Cookie is the company's owner and will also act as its Chief Executive Officer. She is a well-known professional fashion designer. The persons listed below will back her up.
3 Fabric Designers, as well as a Marketing and Administration Manager
2 Marketing Managers a single accountant
1 Customer Service Representative
There are two recipients.
1 cleaning product
Successful applicants will be instructed on critical company operating procedures a fortnight before the firm opens its doors to the public.
Salary Averages
Randora Designers intends to pay the following salary to its workers during the first three years of business.
Plan your finances
To address the issue, "Is the embroidery firm profitable?" Randora Designers developed a thorough financial plan. In any case, we all start a company with the goal of making money. Before launching an embroidered business, a number of important factors must be assessed, examined, and reviewed to ensure a high profit margin.
Starting a home embroidery business is quite straightforward, especially for those who are new to the industry and wish to keep their startup and operational costs minimal. Jane Cookie wishes to support the embroidery business with her own money. She also has two investors and plans to take out a small bank loan to support her business approach and fill the remaining budget gap.
Below is a full financial study of Randora Designers.