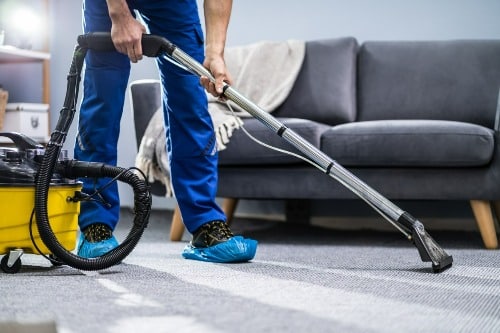 Do you want to establish your own carpet cleaning company?
Do you want to start a very profitable business that doesn't need a large investment, prior experience, or substantial knowledge? On the other hand, starting a carpet cleaning business will satisfy all of these requirements.
To aid you in creating an effective business plan for the Atlanta-based firm 'Gary Cleaners,' we've provided a sample business plan for this company.
The Company
Gary Cleaners will be a recognized and licensed carpet cleaning business situated in Atlanta. The firm, which will be led by Gary Jude, will provide services ranging from dry cleaning stains to pressure washing carpets while removing them from their existing position.
With this carpet cleaning business plan template, you'll learn how to start a carpet cleaning firm and attract significant customers.
Management
If you're not starting your business as a sole proprietor, you'll need a complete management strategy that includes all of the required equipment and staff. Check out Gary Cleaners' management plan if you want to learn how to start a carpet cleaning business.
Within one week of the company's launch, Gary will hire four individuals and acquire all of the essential equipment. He'll employ his crew a week ahead of time so that he can properly teach them.
Customers
Conduct some research before you begin crafting your carpet cleaning business plan template to determine who your customers will be and what their needs will be. Our clients will include residents as well as business organizations and corporations.
The Company's Objective
Our goal is to establish ourselves as Atlanta's most well-known and dependable carpet cleaning business.
Owner of a business
Gary Jude will be the owner of Gary Cleaners. To start a carpet cleaning firm, you'll need someone who is comfortable cleaning old rugs and carpets without feeling ashamed. Gary is passionate about the cleaning profession and will conquer any obstacles or competitors.
Why is the company being established?
The firm was founded in order to capitalize on the carpet cleaning industry's potential. Gary recognizes that the need for carpet cleaners is increasing, as expert carpet cleaning and care are essential in every house, company, and hotel. Because replacing carpets or having them cleaned takes time, Gary will provide this service using the most up-to-date procedures while keeping the carpet in its original place. It will surely give him with ample cash and profit for his carpet cleaning business.
How will the company get started?
It is not difficult to start a carpet cleaning company plan, and it does not need a huge investment. All you'll need are carpet cleaning brushes, chemicals, a vacuum cleaner, a carpet cleaning equipment, and flexible pipes. Gary has opted to rent an office and hire the required people one week before to the launch in order to guarantee that all of the essential preparations have been made.
The following column chart shows the most important initial costs.
Products
Before you start your own carpet cleaning business plan template, it's a good idea to decide which services you'd want to provide. Alternatively, indicate whether your services will be offered to commercial or residential clients.
Gary Cleaners will provide services to both residential and commercial customers. Here are some of the services that will be offered:
Steam cleaning, which includes injecting hot boiling water under high pressure, and carpet shampooing, which involves scrubbing rugs and carpets with a foamy chemical, are two methods for cleaning rugs and carpets.
The carpets had been colored.
How to Remove Stains from Carpets
Carpets that have been professionally repaired
A Carpet Cleaning Business Marketing Analysis
Your market is really favorable in the case of the carpet cleaning business plan template. In almost every house, hotel, and company, carpets are installed in rooms, on stairwells, and in the lounge, and they must be cleaned and maintained on a regular basis. This need is what makes this business profitable. Nobody likes dirty, discolored carpets, and no one wants to create an unhappy, unhealthy environment. As a consequence, if you properly design your business, you may be able to earn a lot of money.
Market Developments
According to the most current statistics from IBISWorld, the United States has over 39 thousand carpet cleaning businesses. Last year, these carpet cleaning companies produced $5 billion in revenue. In the United States, the industry employs more than 69 thousand people. Regardless of seasonal or financial swings, this company continues to be in high demand. Not only that, but experts have forecasted a 1.9 percent annual growth rate for this market based on several factors.
It means that if you want to start a business, you don't have to be worried. If you're concerned about the expense of starting a carpet cleaning service, keep in mind that it's one of those businesses that may be started with very little money.
Segmentation of the Market
Analyzing the market and identifying the kind of people who could be potential customers will be quite valuable to you. After you have defined the categories of your target clientele, it will be easier for you to plan how to start the firm and how to execute effective marketing for carpet cleaning business plan template.
Gary Cleaners thinks the following segments of the market will be future customers:
Restaurants & Hotels
Restaurants and hotels with wall-to-wall carpets that are too costly to remove, clean, and replace will be our primary customers. Our other carpet cleaning services, such as steam cleaning, vacuuming, dyeing, and spot removal, are also necessary. They will need our services on a frequent basis since their carpets are used in public.
Residents & Homeowners
This category includes residents who do not have enough time to clean their carpets thoroughly. This category will expect us to do their assignments on schedule and accurately.
Businesses and Educational Institutions
The final type of our target clientele would be educational institutions, companies, and commercial venues. Carpet cleaning that is both efficient and non-disruptive will be demanded by this group of customers. And we'll demonstrate that we're the best choice for them.
A complete market analysis of our potential clients may be seen in the table below:
Business Objective
Our business objective is to become Atlanta's most well-known carpet cleaning service, with monthly net profit margins of $10k by the end of the first year, $15k by the end of the second year, and $25k by the end of the third.
Pricing of Products
In the early stages of our business, we will provide special discounts and low prices to the commercial sector, such as hotels and institutions. This will help us to reach out to a wider range of prospective customers.
Strategy
After you've done a comprehensive marketing analysis in your commercial carpet cleaning business plan template, you'll be able to launch your carpet cleaning service in just a few steps. It's now up to you to come up with a convincing new client acquisition plan. If you want to discover how to establish a carpet cleaning business on a shoestring budget, focus on your sales strategy plan to extend your customer base.
Analysis of Competitors
Gary Cleaners' main competitive advantage will be its rapid, efficient, and amazing service since Gary is confident in his dedication and ability. Second, all of our personnel will be dedicated to providing excellent customer service and will treat your property and demands with the greatest care. We'll clean your carpets using cutting-edge technology, so you won't have to replace them or remove their fixtures; instead, our professionals will clean them just where they are. Finally, we will apply a steam cleaning method that no other rival currently uses. This procedure ensures that your carpets are completely cleaned and rapidly dried without sacrificing their quality.
Strategy for Selling
From the beginning of our firm, Gary Cleaners will use the following advertising strategies to increase sales:
For the first five months of our launch, customers in the business sector will get a 10% discount.
We'll execute a large-scale social media campaign as a marketing tool.
We'll distribute leaflets to enlighten people about our strategies and efficiency.
Personnel Strategy
The success of your business carpet cleaning will be determined by the skill and enthusiasm of your employees. Carpet cleaning is a business that just needs a few workers who are confident in their talents.
Employees of the company
Gary will run his company on his own, and a week before the premiere, he will hire the following staff to prepare them for future work:
At the front desk, one employee will collect orders and make reservations.
Four cleaners will be assigned to the job.
To keep track of funds, you'll need one accountant.
To offer transportation, one driver is required.
1 General Assistant to be in charge of the company's website and marketing.
Plan your finances
The last step before establishing your carpet cleaning company is to devise a financial plan. Renting a site, acquiring equipment, promoting, and paying people are all expenditures that must be included into your financial plan. If you have a comprehensive understanding of your spending, you will be able to devise solutions to balance your expenditures with your earnings.
You will profit financially if you start a carpet cleaning business from home, despite the fact that it is one of those businesses that does not need a large investment. You'll be able to do the cleaning yourself since you'll just need to hire one freelancer to handle reservations and administer your website.
Gary wanted to service the business community as well, so he acquired a real space and employed a few employees on top of himself.