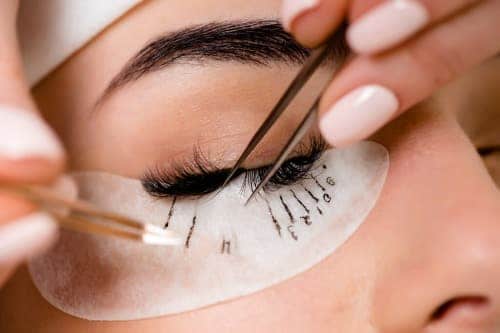 Do you want to start a company selling eyelash extensions?
Are you thinking of beginning your own lash company? This is a wonderful business opportunity, given that the beauty sector in the United States generates more than $60 billion. As a consequence of recent technical advancements, the eyelash extension business has surged in popularity, and it is currently one of the fastest growing segments of the cosmetic industry. This is the case since many customers desire non-surgical and non-invasive cosmetic treatments. If you have a good business plan, you may make a lot of money from this firm that demands a lot of imagination and energy.
The Company
The eyelash extension company's name will be Flawless Lounge Inc., and it will be located in downtown Nashville, Tennessee. Joan Stuggard, a qualified and experienced beauty therapist, will be in charge of the business. When launching a business, it's critical to come up with unique and attractive lash company name ideas to attract customers.
Management Group
Joan Stuggard worked as a professional beauty therapist for 17 years before starting her own eyelash business. She has a diverse set of technical skills and has contributed her expertise to a variety of businesses throughout the course of her career.
Customer-centricity
Joan is well-versed in the industry of eyelash extensions. Based on her significant experience in the field, she knows who really needs these services. Her clientele are generally women of varied ages who wish to get eyelash extensions properly put.
Business Objective
Joan Stuggard has identified the market segments where she has to focus her efforts in order to boost her company's revenue. Her objective is to get her services in front of the right people who require eyelash extensions.
Owners of businesses
Joan Stuggard is a professional beauty therapist who offers a wide range of services, including eyelash extensions. Throughout her career, Joan had the chance to work with well-known beauty companies, where she was crucial in the development of ground-breaking beauty ideas and concepts. After almost two decades in the industry, she decided it was time to establish her own eyelash extension business.
The Purpose of Starting a Business
Joan thought it was the right time to start an eyelash extension business after seeing how popular eyelash extensions had become among many clientele in the beauty industry. Because Nashville is such a large city, the corporation knew there was a market to tap into. Customers increasingly choose natural, non-surgical cosmetic enhancements.
How will the company get started?
When a comprehensive market research is finished, Flawless Lounge will open its doors. Joan recognizes that in order to achieve her goals, she needs excel in business formation, administration, and financial management. As a consequence, she has engaged the help of a group of financial experts to help her construct a comprehensive financial strategy.
Customers' Services
To remain competitive and attract new customers, Flawless Lounge Inc. aims to extend its service offerings. Joan recognizes that beginning your own lash company necessitates putting your imagination to work and offering a distinct range of services that sets you apart from the competition. Flawless Lounge has an advantage because of her knowledge of the industry and trends, which should help the firm achieve its goals. The following items and services will be provided by Flawless Lounge.
Safe and one-of-a-kind eyelash extensions
Tinting and threading procedures, as well as eyelash extension products, are provided.
Eyelash Extension Business Marketing Analysis
In recent years, the number of people seeking eyelash extensions has increased. As various types of cosmetic treatments grow more popular, many people are seeking for simple solutions to enhance their appearance rather than invasive medical procedures. In its eyelash extension business strategy, Flawless Lounge has discovered an untapped market where it can make money. Eyelash extension services are popular among women of all ages, giving the business a good opportunity. For planning purposes, the organization performed extensive market research and analysis in this regard.
Segmentation of the market
Flawless Lounge has identified a number of market segments where it needs to offer its products and services to reach its revenue targets. This lash business plan includes a list of potential target segments as well as a marketing strategy for reaching out to them.
Customers on their own
Flawless Lounge will need to come up with new ways to reach out to walk-in customers, who are likely to be the most lucrative. Nashville is a large city with a sizable number of individuals who get frequent eyelash extensions. As people have grown more conscious of beauty treatments, the number of people interested in eyelash extensions has increased. Any good eyelash extension business plan example should include the methods that will be employed to attract this kind of client. This is unquestionably a lucrative market, given the vast number of customers the firm will acquire. Flawless Lounge must position itself strategically to take advantage of what seems to be the most competitive industry.
Salons & Spas
For the eyelash extension sector, beauty salons might be a great source of revenue. Flawless Lounge provides eyelash extension products to a number of beauty salons in the city, allowing them to better serve their customers. The advantage of this category is that most beauty salons are likely to make large purchases for things on a regular basis, producing considerable revenue for the firm.
Shops selling cosmetics
Cosmetic boutiques sell eyelash extensions and other beauty-related items to individuals and other beauty-related businesses. Because cosmetic shops have access to a big market that the eyelash extension sector can tap into, Flawless Lounge should explore strategies to engage directly with them.
Artists who apply make-up
Make-up artists work with a wide range of materials, including eyelash extensions. Flawless Lounge can create a one-of-a-kind strategy for locating various make-up artists and their companies in order to market the company's products and services.
Business Objective
Flawless Lounge intends to build a site in Nashville, a heavily populated city with a plethora of opportunities for the organization. With their lash extension business model, Flawless Lounge hopes to achieve annual revenue growth of 15% to 18% in the first three years of operation.
Pricing of ProductsDoing a comprehensive market study and developing a pricing strategy that is both accurate and lucrative is the best approach to start an eyelash extensions business.
Strategy
Flawless Lounge Inc. intends to create a well-researched and effective marketing business strategy to help the firm fully cover all of its key target markets. Setting up an eyelash extension business demands the use of smart marketing strategies to help the firm reach as many customers as feasible.
Analysis of Competitors
Flawless Lounge Inc. undertook extensive market research in order to determine the most effective strategies for maintaining consistent growth, effectively competing, and being relevant in the business.
Strategy for Selling
In order to effectively reach out to the market, Flawless Lounge Inc. wishes to employ the following tactics to promote its brand.
In local directories, list your eyelash extension business.
Send introduction letters to firms in the beauty industry to generate awareness about the eyelash extension services.
Use social media platforms like Facebook, Twitter, and Instagram to promote your business. Use Google Ads to market your business to an online audience.
Create a simple search engine optimized website to improve your online presence and rank higher in search engine results.
The eyelash extension firm might be advertised in local print and broadcast media such as radio, television, and newspapers.
By offering outstanding service and asking for referrals, you may encourage word-of-mouth marketing.
Forecasted Sales
You'll need a thorough sales forecast to start your own eyelash extension business with a defined aim.
Personnel Strategy
You'll need a staff of well-trained and experienced personnel if you want to start your own eyelash business. Joan has realized she can't run the firm on her alone and needs the assistance of a qualified team. In order to pick the best team to operate Flawless Lounge Inc., a personnel plan has been developed.
Personnel Strategy
To help in the growth and success of the eyelash extension enterprise, the following group of staff will be hired. Management and administration will be handled by Joan Stuggard, the owner of an eyelash extension business. The persons listed below will assist her from various departments.
3 Lash Specialists 1 Manager's Assistant
1 accountant/cashier
2 sales and marketing executives
1 delivery representative and 1 customer service representative
Successful applicants will get comprehensive training a few weeks before the company formally opens its doors to the public.
Salary Averages
Flawless Lounge Inc. intends to pay the following salary to its workers during the first three years of operation.
Plan your finances
Flawless Lounge Inc. has developed a comprehensive financial plan, which is essential when starting your own eyelash extension business. Before launching a business, it's important to make sound financial decisions and consider a variety of factors. In this scenario, Joan Stuggard intends to finance the bulk of the company with her own money. Two investors, on the other hand, have agreed to provide a part of the first capital needed to establish the eyelash extension business. To bridge the financial deficit, a bank loan for a business plan will be requested. In order to start my own eyelash extension business, I need to create a precise financial strategy that would guide my operations.
The following is a financial study of Flawless Lounge Inc. in great depth.