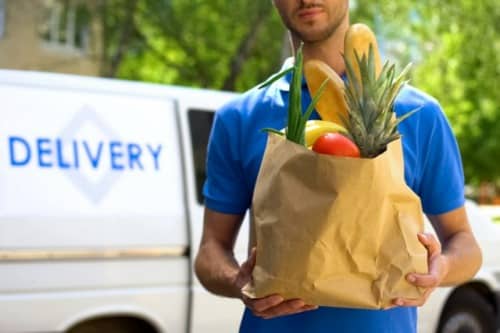 Business Plan for a Food Delivery Service
A meal delivery service is an excellent business idea. It's all the rage all around the world, and it's just becoming more popular. Because online meal delivery is such a young sector, there is a lot of market potential. Another attractive feature of meal delivery services is the cheap initial investment necessary to start a food business. Anyone with the desire to leave their job and start their own food business may do so. You just need roughly 5000-6000 bucks to be the proud owner of a food company. Because of its low cost and minimal risk, food delivery is a popular business to start and run. It's also a major hit with the burgeoning business community.
Please hold on! There is one thing you must do before you invest in your new food industry endeavor. For a high-quality food delivery service, you must first develop a business plan. Then, with determination, follow your ambition of beginning your own food business. Nothing will be able to stop you from taking your food business to new heights if you work continuously hard and with complete dedication.
Food Delivery Business Models
The meal-delivery business is rather significant. Food may be delivered in a number of ways. You may start any kind of food delivery business that meets your requirements. Depending on the service, there are home delivery food business plans, online food ordering business plans, partnered food delivery business ideas, and so on. Here are a few of the many food delivery company ideas that have been quickly studied to assist you:
Business Model for Local Food Delivery
The operators of a small food delivery firm desire to service just their immediate community. Knowing the market, existing competitors, communication methods, customer preferences, and so on are all benefits of a food business in your neighborhood. However, running a local food delivery business comes with a number of risks. Customer security is a major concern. Customers may not be reliable, which might be detrimental to the food sector.
Business Model for Organized Food Delivery
An organized food company concept is more safer than a local food business approach. In an organized food company approach, you may choose to have bonded support for all of your food supply. This process is more structured and consistent than the previous one, making it the better option.
Business Model for Health Food Delivery
This kind of company necessitates thinking from the customer's point of view. It is necessary to do extensive market research in order to establish which things are now readily available. This will show you which products are now unavailable in that market. Customers should be able to get products that aren't readily available. If your offerings are equivalent to those supplied by other meal delivery providers, why would a client be interested in them? Consider developing new food products and introducing them to the market. It will attract a significant number of customers. By offering new and uncommon things, you will be able to reap the rewards of the market. To make an impact on the market, it is necessary to give distinctive things. For example, among other things, give balanced baby meals, healthful food for pregnant women, and organic drinks.
Business Model for Diet Food Delivery
Currently, the vast majority of people are aware of what they eat. Physical fitness has risen to the top of the priority list. Everyone is concerned with maintaining a healthy lifestyle and eating habits. People are worried about their daily diet, calorie intake, sugar/salt consumption, and other factors. Adopting diet meals might be a game changer for your business in certain scenarios. These diet meals may assist you in maintaining your fitness, losing weight, and even treating health issues. Of course, running a food business comes with a lot of duties. The primary idea is to concentrate on offering both healthy and tasty food products. Your food firm will be able to dominate the market if this is completed.
The Dubba-walas of Mumbai, India, who bring meals to hundreds of clients every day, are a great example of a thriving food delivery service. This Mumbai food delivery company has received six-sigma honors. If you want to be inspired by the food delivery sector, read about the Mumbai dubba-walas.
Know the Most Important Pointers in the Food Delivery Business
Whether in the food sector or not, market research is the most critical component of every company. As a consequence, the food firm owner's eyes are opened. The market's present situation is easily apparent. This enables you to discard any previous notions and begin afresh. Understanding the market may assist you in charting your own path. It also helps in avoiding already traveled paths by other related food suppliers. Having a thorough awareness of the market helps in making sound decisions. It aids you in deciding the specific kind of foods to provide to customers via your food service.
Long-term goals include: You must have a firm mind-set to be specific in terms of the new food business venture. A broad, all-encompassing food delivery business idea will not go you very far. The idea is to be very meticulous and farsighted. Use all available market research options to obtain as much information as possible before starting your food business. You are free to do your own study. You may either utilize your existing data or pay someone to do it for you. Use all of the data from the market analysis to make decisions about your food and services. Make a list of long-term goals in your food delivery service business plan.
Make a statement: It's meaningless to do what everyone else is doing. Fresh food and transfer meals may make your restaurant stand out. If your selected market location, for example, does not provide meal delivery between the hours of 8 p.m. and 11 p.m., you must target those customers. Students, night-shift workers, and working couples all want to order dinner. As a consequence, serving food or meals at odd hours might be beneficial to you. Create a unique business strategy for your food delivery service while keeping the market in mind. To stand out from the crowd, come up with fresh ingredients, up-to-date meals, and so on. You might also add something new to your present culinary offerings.
Caution When Using: The price you charge for your food products is crucial to your business's success. You can't charge as much as you want. To begin, do a comprehensive market analysis. Investigate the pricing charged by your rivals' restaurants. Based on the market research, set the price for your food items and meal platters. If you undercharge your customers, your food business will lose money. You can't charge too much or people won't buy it. When it comes to billing, create a balance that benefits both you and your customer while also satisfying the consumer.
On a regular basis, evaluate: When it comes to running a food business, there's always the risk of becoming complacent. To prevent this, you must regularly assess the status of your food business. You should also monitor competency and keep your food delivery service plan current. The regular evaluation will reveal where your food business is prospering and where it is failing. This way, you'll know precisely what changes need to be made to keep your food business successful.
Business Plan for Online Food Delivery
Note
Delicious, hot meals are delivered to your home by online food delivery services. Anyone with an internet-connected smartphone or tablet may use these online services to make any meal order. Fresh, healthful, and reasonably priced, the delightful dinner is delivered. The popularity of online food delivery is growing.
Do you wish to benefit from the online food delivery service? Then read on to learn how to start your own food-ordering website. For a better knowledge of market dynamics, you must first grasp the revenue and business model.
A fundamental concept
Anyone interested in using an online meal ordering service must first create an account. The site will direct the user to give further information as needed. The user's preferred delivery location, a phone number to call at the time of delivery, the meals to be ordered, and the delivery time, for example. The option of daily delivery or delivery on certain days is also available for the user's convenience.
Online Delivery Policy Revenue Model
The revenue model is straightforward. As the number of food boxes sent each delivery rises, so does the profit.
The Most Important Features of a Website to Pay Attention To
Make sure you don't get lost amid the plethora of online food delivery services. Ingenious site design is a critical component in making it superior to your demanding rivals. It will draw the largest number of customers. The aspects of the website that make it a user-friendly online meal delivery platform are listed below in full:
Homepage
Make the following changes to your homepage to make it more appealing:
The top banner should be your primary focus. It has important features like sign-up and sign-in.
The banner image should be put together in a smart way. The website should feature all of the distinct food offerings in a manner that encourages customers to place an order.
The slogan should be both unique and inviting.
A search bar with a location selection list is essential since the meal delivery service is location-based.
On the homepage, there is a section for customer feedback. It will provide you with a means of persuading people to use your online food delivery business. The mix of customer testimonials and reviews attracts people to the website like magic. It is advantageous to both start-up businesses and well-known corporate brands. The majority of first-time meals rely on reviews and testimonials to choose whether or not to make an online meal order.
The Most Important Features of a Website to Pay Attention To
This article is intended to explain how online food delivery works to newbies. Anyone who is unfamiliar with the operation may learn how to execute it by reading this page. It's possible that it'll give details on-
What is the method for ordering meals via the internet?
Online-ordered food and meals are delivered.
Optional Payments for Online Food Orders
Page for logging in and signing up
This page must be easy to use and navigate. Nobody likes to waste time filling out a long and complex online registration/log-in process. Instead of a full-fledged log-in page, you may choose for a pop-up. One-click internet login through social networking sites is really convenient. It is really popular among users. You can also sign up and log in using your email address.
System for pre-activation verification
Users must send an email confirmation in order to activate their user accounts online using this approach. This is critical since it lowers the chances of spam accounts. For phone verification, a One-time-password (OTP) may be sent to the user's contact number.
Summary of the account
This is a must-have for every meal-ordering website since it provides all of the necessary instructions for using it. User information includes things like contact information, delivery address, wallet balance, and contact
Search
As previously stated, a search bar is required for the site to function properly. Following the user's arrival at the desired place. The user must next pick their preferred meal, such as whether they want breakfast, lunch, or dinner. When the user chooses this option, the user will be offered a delivery time estimate.
List of Foods
When it comes to a home delivery food service, delicious and tailored meal packages are a must. It must also be nutritious. Those who buy breakfast, lunch, or dinner online choose tasty, light fare over greasy, difficult-to-digest fare. Changing the menu and introducing new products to the menu can also keep your existing customers interested. They will not get bored with the same cuisine and seek out alternative meal delivery choices.
The following foods should be included on the list:
Well-designed
Food platters and meals should be photographed in high resolution. Make sure the photos you're using aren't too high-resolution; otherwise, the site's loading time will increase, and visitors will quit it.
To keep customers' interests in mind, it's critical to keep vegetarian and non-vegetarian cuisines separate.
The Ordering Procedure
Every food company, whether it is a start-up or an established one, need a business strategy. You'll also need a business plan if you want to establish a food delivery service. Many food business owners have no idea how to put together a 'business plan.' There may be a few questions that emerge. Why is a meal delivery service necessary to have a business plan? What influence would a plan like this have on food delivery? This is how the vast majority of business CEOs, especially those who manage a start-up food delivery company, feel.
Why do you need a Business Plan for a Delivery Service?
A business plan is a document that includes all of the information you need to start your own food delivery service. You may then display it to anybody who might be interested in assisting you with your food delivery business. It may be used for a number of things:
A business plan resembles a detailed blueprint that outlines all of the processes required to launch a food delivery service. It also aids in the enhancement of an existing meal delivery service. It provides all of the information on the meal delivery service's operations (time of delivery, types of food that customers can order; online, phone and textual modes of ordering food, etc.). The market for meal delivery services is addressed (whether there are other food business, is it a competitive market area, etc.). The management of a meal-delivery service is also explored.
As a starting point, look at a meal delivery business plan. You may assess how well your food delivery business accomplished its goals.
A food delivery business plan is a tool for recruiting lenders and securing funding for your firm. It also aids in attracting a huge number of other company owners' attention. You may be eligible for financial aid if your food delivery business idea is successful. You may also be able to get extra supplies to aid in the operation of your food delivery service.
What is the standard format for a business plan?
Several well-known areas of the food service sector are typically assumed to be included in a meal delivery business plan. This is a common food delivery company plan. It will provide you a rough idea of how to put up a business plan.
The Executive Summary's Objectives
Mission Keys to Success Synopsis of the Company (It gives a broad summary of the meal-delivery service's history and beginnings.)
The product description
Synopsis of the Market, Strategies, and Execution Synopsis and Management Synopsis and Management Synopsis and Management Synopsis and Management Synopsis and Management Synopsis and Management Synopsis and Management Synopsis and Management Synopsis and Management Synopsis and Management Synopsis and Management Synopsis and Management Synops
The Financial Analysis' Appendix
Certain company plans may incorporate additional food business and service features. Corporate operations methods, for example, owners, management, product and service promotion and marketing approaches, and so on.
3 Easy-to-Use Tools for Creating a Business Plan: Template, Software, and Sample
A large number of organizations choose from a range of possibilities when drafting a business plan for their company. Some approaches are quick and easy to implement, while others take time. Creating a business plan may be done using business plan templates, business plan software, obtaining a sample business plan, or employing a professional consultant to complete it for you.
Template for a Business Plan
Do you have a limited amount of time to complete your task? Do you need a business plan produced as quickly as possible? Then adopting a business plan template might be an excellent choice.
Template for a Business Plan
A business plan template is simply a document that has already been created. A professional business plan expert creates the whole business plan, leaving just a few holes for individual business owners to fill up. All you have to do now is type in your names, and your own company plan will be generated. To put it another way, if you're searching for a food delivery business plan template, go through the numerous templates available on a website that offers business plan templates and choose one that best suits your demands. There may be no gaps or blanks in the templates, but they may have some phony names that you must alter.
It might be challenging to find the proper template at times. Some website template companies include a form to assist with this issue. By filling up the parameters, they may choose an acceptable template. Make a list of information about your food delivery service. Consider the following illustration: Consider whether you offer breakfast, lunch, or dinner, and you'll be presented with a similar business template almost immediately. After finding the suitable template, the business owner merely has to fill in the personal information and the template is ready to use. Personal information, such as the company's name, the services supplied, the financial date, and so on, must be kept up to date.
Is it safe to use a custom-made business plan template?
It's common to make concerns while selecting a meal delivery business plan template. Several questions are likely to arise in your mind. Is it feasible for a template to be precise? Is it safe to use a template to create a business plan? How much is it going to cost you? Before making a decision, it's a good idea to consider all sides of the argument. Let's look at some of the benefits and drawbacks of using a business plan template.
Outline of a Business Plan
A good business plan may help you arrange your thoughts. When it comes to your meal delivery service, you'll undoubtedly be considering a number of factors. However, expressing one's views in writing might be challenging. You may know precisely what you want to write about your food delivery service, but you don't know where to start when it comes to drafting a business plan. A food delivery business plan template might come in handy at situations like these. It serves as a reference point. It's a good idea to download a template instead than staring at a blank page. It lays forth the fundamental components of a typical corporate plan. You may just enter in any information you want. If you like, you may also make modifications to it.
Detailed instructions are provided.
A good business plan template can help you arrange all of your information. Keep investors in mind while creating a business plan for your food delivery service. It should be worded in such a manner that investors can understand and appreciate your idea. It takes you step by step through the process of writing a meal delivery business plan.
It's possible to rely on it.
The Small Business Administration (SBA) has approved a high-quality business plan template. As a consequence, the technique may be relied upon. There are a variety of food delivery service business plan templates available. Check out which templates the Small Business Administration has authorized! Those with the stamp have been properly written. It might be used to develop a food business plan.
Customizable and industry-specific
There are a variety of business plan templates from which to pick. They may be used in a wide range of businesses and services. The restaurant and hospitality area, for example, includes a broad variety of services. A meal delivery might be huge or little, specialize in a certain cuisine, or come at a specific hour. A breakfast delivery firm's business strategy will vary from one for a dinner delivery service. The availability of such customizable service templates is a huge bonus. Customizing and tailoring the plan depending on your company's requirements is also a possibility.
They are unrestricted
A business plan's best feature is that it is entirely free. Any business owner may locate and download free business plan templates on the internet.
Personal input of large amounts of data is required.
Do not confuse a template with a finished, ready-to-use document. Of all, this is only a preliminary draft. It is, however, not a business plan that can be applied immediately. When you have discovered a template that is suitable for your food delivery service, you must work on it. Data input will be required in many sections. Consider the fact that you will be responsible for doing all of the calculations and entering the financial spreadsheets. This is a time-consuming and demanding process.
It's difficult to insert spreadsheets from Excel into a Word document.
It may not occur to you when you get a free template. It is only when you try to transfer all of the data from Excel to a Word document that you realize how tough it is. It's difficult to keep all of the statistics up to date when the numbers are changing. Diagrams, tables, and relevant pie charts should also be included in the food home delivery business plan template.
Instructions that aren't clear
Free templates' most prevalent problem is that they don't always come with clear instructions. This makes developing a corporate plan very difficult. This is especially true for those who are new to the process of writing a business plan. You'll need a solid grasp of the business plan writing process to put everything in its proper position. Furthermore, owing to a lack of rules, developing a business plan may be a tortuous process.
It's Difficult to Find an Appropriate, High-Quality Template
A vast variety of templates are available from a lot of providers. It might take a long time to choose the ideal template. Furthermore, some businesses want to defraud customers by supplying a low-quality template. It might be difficult to tell the difference between companies that supply trustworthy first-rate food business plan templates and those that are not.
Some websites have a fee.
Don't be fooled by shady companies attempting to deceive business owners into paying for a template. Any site that asks for a fee for a template should be avoided at all costs. Even if they charge a little amount, don't pay for a template that you can acquire for free!
A template, on the other hand, may be useful to any business owner who wants a broad idea of how a business plan should be constructed. Furthermore, obtaining a template is straightforward. It gives you the push you need to get started on writing a business plan. Finally, since the templates are free, there is no risk in trying one out because it could turn out to be extremely beneficial.
Software for creating business plans
Aside from templates, there is business plan software that may assist business owners in developing a strong business plan. So, if the template doesn't satisfy all of your needs, this may be a good option. The clear instructions and adaptive approach required to complete a business plan are provided by company plan software. It may be used to construct a business plan for a food delivery service.
There are several software packages available on the internet that claim to assist you in developing a service business plan. They aren't all fantastic. It's easy to discern the difference between good business plan software and bad business plan software. You merely need to be aware of a few details present exclusively in the best software. Some of the features of high-quality software are as follows:
Expert advice is available at every level of the company plan development process.
Video Lessons for a Better Understanding
The appropriate financial estimates are identified automatically.
All of the data is automatically sorted into the proper order.
There are diagrams and charts made.
Creating a business plan for your food delivery service using top-notch business plan software might be a good decision. It allows you to save a significant amount of time. Because most business owners are ignorant of business plan software, they spend a lot of time recording Excel spreadsheets in Word. With the application, all of these complex chores may be performed in a couple of minutes. This gives business owners more time to focus on other vital elements of the organization. Even yet, if you have any issues while using the application, there are professionals on hand to help you.
Sample of a Business Plan
There's one more tool that might be quite useful for you. This is an illustration of a business strategy. The phrases sample and template are often interchanged. Both are separate from one another.
A sample is basically a fully produced business plan by a professional. Unlike a template, a sample does not include any gaps or blanks for the business owner to fill in. A sample writer is a knowledgeable and experienced professional who has created sample business plans on a number of topics. The samples are well-written, proofread, and presented in compliance with industry standards for business plans. These kind of samples are easy to get by. On their websites, a number of firms provide business plan documents for download. Some services have a fee associated with them, while others are absolutely free.
How to Locate a Good Food Delivery Business Plan Sample
A meal delivery service business plan sample may be found on a website that gives examples of business plans. Choosing a website isn't difficult since there are so many to pick from.
Once a suitable location has been identified, the business owner should go to the "Restaurant and Hospitality" section and choose the business plan samples.
A sub-page with a business plan focusing just on food delivery services will be added to the "Restaurant and Hospitality" page. That needs to be selected.
Once you've arrived, see if you can come up with a company plan tailored to the service you provide. If your service is geared at a certain age group, such as youngsters, students, office employees, senior citizens, and so on. Then there are the many cuisines available. Furthermore, your service may have a specific delivery schedule focusing on breakfast, lunch, or dinner. Look for a topic that relates to your company's specialized services.
If you can't find an appropriate food delivery business plan example, don't abandon the website. There are an endless amount of samples to pick from, and it is common to be unable to choose one that is appropriate. In such circumstances, you should contact the website's contact page by phone or by filling out a contact form on the website's contact page. On most forms, there are some questions. After you've completed those questions, the attendant will be able to inform you the business plan sample you need. After that, the service representative will guide you in finding a specific meal delivery service firm sample.
Everything will be laid out in a manner that impresses the potential investors. However, since it is a pre-written paper, it is likely to be based only on general information. It is better to make changes to the document in order to make it your own food delivery service business plan. Fill in all of the information that will make your food delivery service stand out. Keep in mind that this sample may be used by anybody who operates a food delivery service. As a consequence, make as many adjustments and revisions as you can to make it a really unique and remarkable business plan.
Expert aid is available if you're short on time. You may reach out to a specialist right now by email or phone. They will customize the sample business plan to meet your needs. Typically, they do it by conducting a series of interviews. They will challenge you and seek your input on every area of the company's plan. Finally, you'll be handed the completed paper to review. You must express your desire for additional modifications. The experts will make all of the necessary adjustments and provide you with a fully operational food delivery service business plan example. Unlike an example that is generally available for free download, a custom-made business plan sample may need money
Consultation about your business plan
If all else fails, you may hire a business plan consultant. For a variety of services, website portals are offered. There you can find all the information you want about consultants. They are experts who have developed business strategies for a wide range of sectors. It might be a little business or a well-known enterprise. A company plan requires meticulous attention to detail at every level. Additionally, persuading a prospective investment is challenging. Using a template, software, or an example may be advantageous. However, developing a fantastic business plan tailored to your organization will need expert aid. This is something that a consultation can assist you with. You should check out their credentials, experience, and previous company plan ideas before hiring them. You may speak with them and get answers to your questions.
Only how to draft business proposals is taught to them. As a consequence, you may be certain that you are in capable hands. They are experts in their respective fields. You may also describe your thought process and how you want your food delivery service business plan to look. They're experts at developing business plans, but that doesn't mean they'll dismiss your ideas. They will, on the contrary, build a business plan that is exactly what you desire. In addition, the final paper will be properly formatted. It will catch the investor's attention and create a lasting impression due to its inventiveness and correctness.
Delivery Service for Lunch
The most current business craze is lunch delivery service. This particular corporation has grabbed the interest of a big number of business owners. To begin, this is a low-cost business opportunity. Second, the business owner must choose whether to operate on a small or large scale. The business plan for a lunch delivery service comprises identifying and categorizing service zones, as well as the various kinds of meals that will be delivered.
The popularity of lunch delivery services in workplaces may be attributed to a number of factors.
Employees all across the world, especially in metropolitan areas, have been relieved by businesses beginning to bring meals to work. Due to the following considerations, the lunch delivery service has become quite popular among the general public, especially among office workers:
In today's environment, when everyone is busy working, there is little time to prepare and transport meals to work.
There isn't enough time during lunch breaks to go to a local eatery. Visiting the canteen is often impossible due to a lack of time. As a consequence, bringing afternoon meals to workstations is a great idea. It's a nice respite, especially for those who are trapped at their desks for the whole lunch period.
This is a budget-friendly and cost-effective option. It may be a stretch to order an expensive gourmet lunch at a restaurant.
This is perfect for organizations without canteens or eateries nearby.
The options at the canteens at work are limited. During noon, the menu items are often low. At times, the food may be of poor quality. Eating the same thing every day becomes monotonous and boring.
There are two options for starting a food delivery business.
The company's owner has two possibilities for continuing the business of delivering meals to the desired customer location:-
Option 1: The owner of the service may choose to handle everything. There are numerous stages in this sector. Everything is taken care of, from taking the customer's order to obtaining the ingredients, making the meal, organizing, packing, and delivering it on time. All of the tasks may be assumed by the service provider.
Option 2: The business owner might enter into a contract with a food company owner and create a partnership. In this approach, the food provider and the business owner that distributes lunch packs share responsibility. The food business is in charge of the first component, which involves preparing and packing the meal according to the customer's specifications. The owner of the food firm is in charge of the second step, which involves distributing lunch packs to customers.
Three Crucial Elements of the Lunch Delivery Business
The success of lunch delivery businesses has inspired people from many walks of life. Young people, housewives, stay-at-home mothers, the elderly, and others from all walks of life are turning their homes into new companies. Their business has been successful because to their low-cost investment and high-demand feature.
There are three essential elements to running a lunch delivery service:-
First and foremost, any firm that distributes meals must have the fundamental license. The Department of Health and Human Services must also provide its approval.
You'll need a decent space to arrange all of the food in a systematic way.
To get the lunch packs to the customers, you'll need a suitable mode of transportation. Examples include food trucks, vans, and other similar vehicles.
10 Things to Include in a Lunch Delivery Service Business Plan
The indications suggest that the lunch delivery service is of high quality. A unique lunch menu, regional cuisines, the use of fresh local herbs, organic goods, prompt delivery, no competitors within an acceptable distance set for lunch delivery, and personal request based meals such as sugarless, less salt/chili, and so on
The initial costs of getting all of the items should be clearly stated. Culinary tools, a mobile refrigerator, ovens, coolers, and a delivery van are all included.
The information about food suppliers and wholesalers must be supplied. It is also necessary to address the demands of working personnel.
Restaurant marketing strategies aimed at increasing, retaining, and expanding its customer base. Face-to-face marketing, building a website for a food firm on the internet, distributing menu pamphlets, sending direct mail, and other tactics are examples of how to achieve it.
Having a food assembly site that complies with the Health Department's standards
There is a wide range of food to choose from. Seasonal variations, product availability, customer tastes, and other variables all influence menu rotation.
Routes are deliberately established based on the number of workplaces in a certain region, as well as the facilities used for meetings and social gatherings.
Specialized target customers include office workers, private parties, neighborhood gatherings, business events, lodge visitors, social events, and formal conferences.
Various styles of lunch packing, as well as the materials used to pack them. Boxed lunches, paper packets, steel cases, and plastic containers are all examples.
Financial statement outlining the overall performance of the food business over the preceding five years. Money spent on supplies, food packaging fees, staff fees, charges for getting a health department approval, insurance bill, and transportation costs, for example, must all be included.
5 Things to Consider When Providing Lunch Delivery Services
Entrepreneurs in the food delivery industry must be excellent managers.
To have the food ready on time, it's necessary to plan ahead of time. Making the plan foolproof is crucial. Because problems may happen at any moment, it's vital to have a backup plan in case of an emergency.
A trustworthy vehicle for transporting the packed lunches/food is essential.
All firm advertisements declaring that all deliveries would be completed on time must be followed through on in fact. It's critical to clear up any ambiguity before making any promises to prospective customers regarding delivery schedules. Is it fair, for example, to make such a guarantee while providing food delivery in a packed area? In a heavily crowded neighborhood, will it be possible to deliver lunch boxes on time?
A food business owner has to know all there is to know about the competition. When presenting the lunch delivery service business plan to investors, every element must be included. All similar lunch/meal delivery services, such as adjacent fast food restaurants, must be mentioned.
In the hotel and restaurant industries, our consultants have vast experience establishing food delivery business strategies. Getting in touch with and hiring a consultant is straightforward. Simply call or submit an online form with your requirements, and an expert will respond as soon as feasible.