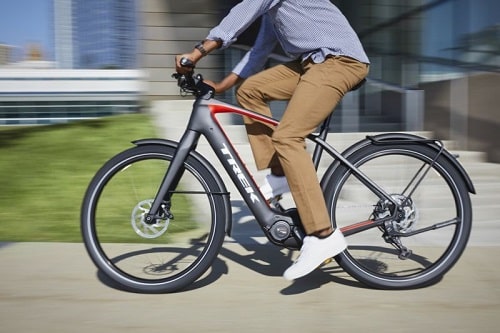 Electric bicycles, often known as e-bikes, are a relatively new technology that has gained widespread use in China and Japan. The worldwide e-bike industry, on the other hand, is still in its early phases of development, with lots of room for growth.
Demand for e-bikes is expected to grow rapidly in many countries between 2019 and 2024, according to new data from The Freedonia Group, a leading market research firm and division of MarketResearch.com. These countries include the United States, the United Kingdom, Italy, Spain, Switzerland, Brazil, and India, to name a few.
In this quickly increasing industry, there are a few crucial aspects to keep in mind.
Electric bicycles come in a range of designs.
An e-bike is a regular bicycle with pedals and an integrated electric motor that may both be used to propel the rider. There are four types of electric bicycles:
Commuter-type
E-mountain bike
E-cargo bike
Compact, foldable bike
The Impact of COVID-19 on the E-Bike Market
Despite long-term industry growth, the global e-bike market is expected to decrease in 2020 as a result of the COVID-19 epidemic's economic effects. Consumer spending cutbacks, supply chain disruptions, and the closure of e-bike factories and stores will all have a short-term negative impact on the sector.
"However, when compared to other durable goods sectors, the e-bike business is going to fare rather well," says Gleb Mytko, author of the study and an industry veteran. A rapid rebound is expected due to the rising popularity of e-bikes in many countries and the growing appeal of e-bikes as a mode of public transportation.
Many urban commuters who wished to socially separate themselves on their way to work during the COVID-19 epidemic changed to e-bikes. Commuters on e-bikes can go farther and quicker than those on regular bicycles. They're also less expensive than electric scooters, motorcycles, and mopeds, and they usually don't need insurance or a license to operate.
The World's Largest Market for Electric Bicycles
E-bike technologies are widely used in China, which is by far the largest e-bike market in the world. Despite being a more mature market with a slower pace of development than the rest of the globe, China will account for more than half of all new product demand.
Outside of China, demand for e-bikes is predicted to grow fast year over year due to a variety of factors:
E-bikes are becoming more popular among consumers, as is their availability.
In developing nations, personal incomes are rising.
E-bikes that are more capable and powerful are on the way.
Policies aimed at boosting the use of e-bikes in order to reduce pollution and climate change
E-Bike Companies to Watch
The following are some of the industry's major players:
Aima Technology Group
Accell Group
Giant Manufacturing
Jiansu Xinri
Merida
Pedego Electric Bikes
Pon
Rad Power Bikes
TAILG
Trek Bicycle
Yadea
Where can I learn more?
The complete report, Global E-Bikes with COVID-19 Market Impact Analysis, is available for purchase and covers the scope, size, and growth of the global e-bike market with targeted data for 19 countries in North America, Central and South America, Western Europe, Eastern Europe, Asia/Pacific, and Africa/Middle East.
In addition, the study explores the structure of the global e-bike industry and estimates market share for leading manufacturers.
The Freedonia Group is a well-known global industry research firm that produces more than 100 studies each year. It's a MarketResearch.com subsidiary. Since 1985, we've conducted research for clients ranging in size from multinational enterprises to one-person consulting firms. Freedonia Group research is used by more than 90% of Fortune 500 industrial companies to guide their strategic direction.