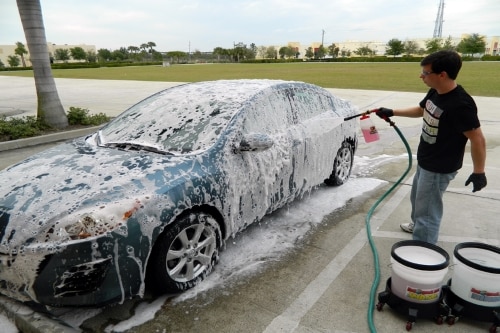 1. The Business
What will be your main business activity?
Golden Nozzleunderstands that the car wash business is a service sector from top to bottom. Golden Nozzlewill develop itself as USA's top car wash facility by offering a high-quality service at a reasonable price and concentrating our employees on customer service.
Roughly how will the business be structured?
In order to provide excellent services for vehicle class, luxury cars are built on a sophisticated framework. The facility will be a well-lit, well-landscaped, contemporary building that provides high-quality service at reasonable rates, as well as remote (video) security monitoring in the service area. Golden Nozzle caters to both men and women, making them feel at ease and secure when washing their cars, motorbikes, and other vehicles.
What kind of property and equipment will you require?
The car wash will be constructed on property that is located at the intersection of Romana Square and Bld.Magheru. The land will be leased in the first phase.
Two "touch-free and spot-free" laser automatic vehicle wash bays
There are four "self-serve" bays available.
Services such as vacuuming and vehicle washes are available via vending machines.
Drinking water using reverse osmosis.
What is your background?
Approximately how many people will the company employ and in what capacity?
Only the owner and a part-time attendant work at this self-service vehicle wash. At this point, the organizational structure is simple: the employee reports to the owner.
If the company expands in the future, more workers will be hired, and a more comprehensive organizational chart will be created.
This is a self-service car wash that employs only the owner and a part-time attendant. The organizational chart at this time is simple – the employee reports to the owner. If expansion is undertaken in the future and more employees are added, a more detailed organizational chart will be developed.
2. The Product or Service
What are the benefits of your service or product?
Golden Nozzle will give the community a location for automobile clubs and automotive enthusiasts to gather in addition to a technologically sophisticated vehicle wash facility. Charity and fund-raising vehicle washes will be assisted by Auto Lux. People will be encouraged to utilize the facility whenever it is convenient for them, day or night, thanks to the video security surveillance.
What is your product or service?
Golden Nozzle Vehicle Wash will provide external in-bay automated and self-service car wash facilities that are technologically sophisticated, frictionless, and touch free. The self-service car wash is the most basic kind of car wash. An under chassis wash, tires, and an in-bay automated upgrade wash with prolonged drying are included in in-bay automatic upgrade washes. Not only will S&G provide the cleanest and most technologically sophisticated vehicle wash, but it will also provide remote video surveillance and monitoring.
What are the advantages of your product or service?
What are its unique features?
Other elements that are unique to the self-service car wash industry will be available:
❖Rinse with no spots. Only full-service washers typically provide this service. The client may get a costly service at a fraction of the usual price.
❖Pre-soak system and tire cleaner Another opportunity for the consumer to save money on a costly service.❖Overhead Radiant Tube Heaters and Floor Heating System Customers may wash their vehicles without getting uncomfortable even during the coldest months of the year.
3. Marketing
Who are the target customers?
According to Professional Carwashing and Detailing Online, the target market characteristics are divided into seven categories:
Population density between the ages of 16 and 65. Between the ages of 34 and 45, the highest proportion should be found.
What are your main rivals?
There are no big rivals.
What is the current market situation?
How do you set your prices?
The Golden Nozzle washes' prices have been set in order to benefit the client. We put a premium on service quality.
How will your product or service be launched and promoted?
In our car wash company, marketing is based on the Laserwash system's reputation as an industry leader and the site's "curbside" attraction to first-time consumers. Customers will return again and time again if you provide excellent service. Additionally, we will expand our client base by using a local radio station and "word of mouth" advertising from happy customers. We will provide a cost-effective solution for all budgets. Our standard wash will cost $5, while our deluxe wash will cost $8.
What are the selling and distribution methods?
In our line of work, customer service is more important than sales. It's a recurring revenue stream. The following components will form the foundation of our marketing/sales strategy:
Service is available around the clock.
service of high quality at a reasonable price (attendants on duty: 10 – 6, Mon – Sat, who are always focused on customer satisfaction)
Reliability in all seasons and weather conditions.
4. Finance
Roughly how much finance is required and for what purpose?
Our company is an "all cash" operation, which means we will pay for all variable and fixed costs on a monthly basis. As a result, we'll be able to quickly generate cash flow to fund future expansion. Two important problems will aid Golden Nozzle in quickly developing capital over the first nine months (six months of operation).