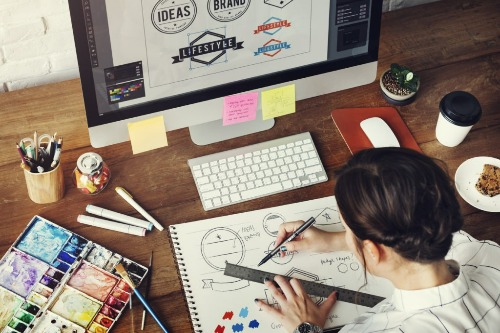 Do you want to establish your own graphic design company?
Do you want to establish your own graphic design company? If you are creative and have the ability to bring your creativity to the table, this is surely the firm for you.
Graphic design is unquestionably a skill that is needed in practically every other business. Take a look about you if you're still not convinced. Graphics are all over the place. Branding, posters, print adverts, product packaging, publications (newspapers, books, magazines, etc.), handbills, billboards, and websites are all examples of graphic design. This sector has a lot of market potential and is always looking for new and innovative minds.
The most major benefit of starting this business is that, compared to many other businesses, it requires the least amount of capital. This business might be launched in a small office with a small staff and a limited inventory of computers, office supplies, and stationery. The second benefit is that this business starts producing money as soon as it is formed, and it has the lowest risk if you are original and well-designed.
So, before you start your company, you'll need to create a precise graphics design business plan that will serve as the framework for your future operations and decisions. If you're not sure how to make one, we've created a business plan for PixelCo, a graphic design agency.
The Company
PixelCo will be a bonded, insured, and licensed graphic design studio devoted to establishing meaningful and relevant interactions between businesses and people via our unparalleled visual and graphic design services.
PixelCo will be owned by Angela Gori, a well-known graphic designer, and will be based in the Manhattan borough of New York City. Gori has worked for some of the world's most prominent graphic design businesses and has spent the past six years as the Chief Creative Officer of the American Marketing Association's D.C. Chapter. She's worked with 14 of the Fortune 100 companies, as well as a number of notable organizations, consumer brands, educational institutions, and government agencies.
In the heart of Manhattan's main commercial district, a 200-square-foot office has already been rented. The room was formerly used as the workplace of a small IT business. Some interior design woodwork and adjustments are also required, for which a contractor has been hired.
Management
Because a startup's personnel and management are so important to its success, make careful to plan ahead of time when contemplating how to start your own graphic design firm. Gori had dreamed of starting her own graphic design studio since she was in college, and she had methodically planned every detail.
The company's principal management body will consist of sales executives, graphic designers, cartoon and animation specialists, website developers, and customer care representatives. Gori will be in charge of leading and managing the team, since she is well-versed in all elements of graphic design business strategy. Gori will hire and train staff one month prior to the launch of the company.
Customers
Our target market is the business sector, institutions, and organizations in Manhattan and other parts of the world, since anybody from anywhere may acquire our services through our official website and pay us using PayPal, Payoneer, or online bank transfer. We will provide a variety of graphic design services, such as website design, logo design, advertising material design, and animation design, among others.
We have priced all of our services in the same ranges as our competitors, with the exception of brand logos, which have been placed at a 20% discount to boost sales. A 10% surcharge will be added to all of our services for a 24-hour fast delivery.
Business Objective
We want to be the top graphic designer in New York City within the first five years of our business. Our major business objectives to achieve as milestones over the next three years are as follows:
We expect a net profit margin of $10k per month at the end of the first year, $15k per month by the end of the second year, and $25k per month by the end of the third year.
The startup's initial expenses should be matched with generated revenues by the end of the first year.
By the end of three years, we want to open a second corporate office in San Francisco, and a third office in Los Angeles by the end of five years.
Success Factors
Following these success keys may assist us in achieving our company objectives:
Promotion of our services successfully via a range of channels in order to reach as many people as possible.
Delivering high-quality work and enabling unlimited modifications till the client is entirely satisfied ensures customer delight.
Unparalleled customer service to build long-term client relationships
Owner of a business
PixelCo will be owned by Angela Gori, a well-known graphic designer. Gori kept connected with some of the world's leading graphic design organizations after getting her Master of Art in Graphic Designing from the University of Illinois, Chicago, and serving as Chief Creative Officer for the American Marketing Association, D.C. Chapter for the preceding 6 years. For her leadership efforts, she was also awarded the prestigious FOLIO: Top Women in Media award. She has worked with almost 14 of the Fortune 100 companies, as well as a number of notable organizations, consumer brands, educational institutions, and government agencies.
Why is the company being established?
Gori pursued her interest by working for some of the country's greatest graphic design businesses, but she soon realized that the only way she could establish a name for herself in this field was to start her own business. She took the choice to start her own graphic design firm at that point. She will now be able to follow even the most strange of her brilliant ideas with total freedom.
How will the company get started?
Graphic design is an easy business to start since it requires less inventory than other kinds of businesses. Gori has methodically structured all aspects of her business, including personnel and inventory. The following products will be purchased by the company as a start-up.
The office furniture consists of three file cabinets, four work desks, a couch and chairs for the client waiting area, and a circular table with seats for the conference room.
Four PCs are equipped with color printers, scanners, and graphic tablets.
Graphic design and related software include Illustrator, Freehand, Photoshop, Quark, Traffic Office Manager, Font Management Utilities, and Microsoft Project.
A small library with the required journals and periodicals
Brochures and various types of office supplies
It is necessary to have a stable internet connection as well as telecommunications infrastructure in the office.
Financial experts predicted the following expenses for the corporate strategy: expenditure, assets, investment, and bank loans.
Customers' services
PixelCo will primarily focus on visual communication and graphic design for both small and large businesses. We aim to compete with all of the top graphic design firms in the country, which is why we've developed a quality assurance team to guarantee that all of our services match our clients' expectations. Below is a list of our goods and services:
Graphics and website design.
Newspapers, magazines, and books are examples of print media.
Brochures, infographics, posters, and product packaging are all examples of advertising and branding.
Services for logo design and branding
Presentations and diagrams
Production of animated films and animations
Our services are available either in person at our Manhattan office or online via our official website.
Graphic design business marketing analysis
The most crucial aspect of a successful graphic design company plan is a thorough marketing study, which is why Gori hired marketing professionals to assist her at this stage. A good graphic design business strategy can only be produced after this point. The marketing professionals and analysts assisted her in selecting the finest location for the company's main office after assessing the trends in the graphic design sector in New York City.
A company's success or failure is entirely dependent on its marketing strategy, which can only be produced via thorough market research. To do an accurate graphic design marketing analysis, you must first discover current market trends, then define your target demographic and prospective consumers, then create company goals, and then determine product and service pricing. Marketing analysis is important because it influences the development of many following components and serves as the foundation for graphic designers' or graphic design businesses' marketing strategies. As a result, it must be taken into account prior to the creation of the business model graphic.
Market Developments
Nonverbal or visual communication is what graphic design is. Anything that cannot be expressed orally must be placed into some type of design. The image on your coffee cup, the magazine cover, the pack of gum on your desk, and even the typography in a TV commercial are all instances of graphic design business ideas.
As a result, the graphic design sector is one of the world's largest and most rapidly developing. There were about 335,000 graphic design organizations in the globe as of 2017, comprising small and major businesses as well as freelance graphic designers. These firms brought in more than $62 billion in yearly sales. Furthermore, this sector is one of the few that has had consistent revenue growth throughout time, as well as an expansion in company locations.
Similarly, in the United States, graphic design is a popular industry. As of 2008, the graphic design sector in the United States employed about 280,000 individuals, including web designers and other print designers, according to the US Bureau of Labor Statistics.
This rise may be ascribed to the expansion of other companies in the United States, since all firms need graphic design services in order to seem professional to the general public. Every firm needs graphic design services for advertising, promotion, and marketing, and as the market for graphic design business ideas grows, so does the demand for graphic design services. Following the identification of these market trends, it is apparent that the graphic design industry is always growing and may be quite lucrative if well planned.
Segmentation of the Market
The corporate sector in Manhattan's Central Business District, where we have numerous prospects, is our target market. As of 2014, Manhattan has about 300,000 enterprises, including local, national, and global corporations. These companies produce millions of dollars on average each year and can afford to spend lavishly on graphic design to promote their brands.
Analyzing market segmentation is essential for developing a successful marketing plan. Only once we have a thorough understanding of our target clients can we design an effective marketing plan. Our analysts have identified the following types of potential customers:
Sector of Business:
The corporate sector, which is based in Downtown Manhattan and other regions of the globe, will be the largest user of our services. Within a 15-kilometer radius of our office, there are hundreds of local, national, and multinational businesses and companies, including product manufacturers and distributors, real estate owners, developers, and contractors, research and development firms, banks and insurance firms, hotels, restaurants, and food firms, IT and software development firms, branding and advertising agencies, and research and development firms.
Graphic designers are needed by these enterprises and businesses to meet their visual communication requirements, such as creating/updating brand logos and updating visuals on their websites and social media pages. Graphic designers are needed by these businesses to create an immediate connection between their target audience and their products/services, as well as to create visual aids and instructive visuals (e.g., restaurant menus, infographics) that assist consumers in communication and other objectives. Graphic design may enhance every part of a company and have a good influence on customers, suppliers, and staff.
Our specialists have predicted that this target group would provide the most percentage of our earnings, based on the demand for graphic design in these enterprises and their typical yearly income. As a result, our marketing plan will be geared precisely to appeal to this demographic.
Organizations & Institutions:
Government and public-sector organizations, schools, colleges and universities, political parties, religious and sports groups, and non-profit organizations make up our second target group, which is based in Manhattan. Graphic design services are also required by these companies for marketing and other objectives.
Print and digital media are two different types of media.
Print and digital media organizations based in Manhattan make up our third target category. Television studios, video production organizations, and publishing corporations are just a few examples of these businesses (for graphics designing of newspapers, magazines, and books). Because of its unique character, this organization will demand a significant amount of graphic design work, and will therefore become our second largest customer.
The following table contains a comprehensive market study of our prospective customers:
Business Objective
Our goal is to cover our beginning costs in the first year and to become New York City's greatest graphic designer in the following five years.
Pricing of Products
The cost of products and services is one of the most important factors to consider when deciding on an event planning business approach. With the exception of brand logos, which were set at a 20% discount to stimulate sales after analyzing market needs, we priced all of our services in the same ranges as our rivals. Our pricing strategy is centered on generating the lowest possible attractive rate of return, which would be impossible to do if we gave our services for a low price. The price of various packages varies based on the delivery time and the number of changes requested. A 10% surcharge will be added to all of our services for a 24-hour fast delivery.
Strategy
After examining graphic designer demographics, industry trends, market demand, and potential consumers, the next step is to create an effective strategy to acquire graphic design clients. Setting clear marketing objectives, creating milestones to achieve those goals, doing a competitive study to discover what your current competitors lack, and finally designing a plan to attract your target customers are all essential elements in building a successful strategy.
Marketing Objectives
Website Traffic & Conversions: We want to see a 20% increase in monthly website traffic and an 80% conversion rate, which implies we want to turn 80% of our website visitors into customers.
Engagement Rates and Social Media Followings: Engagement rates are used to determine how often people interact with your material. To shorten customer response times, we want to increase engagement rates and develop our social media following.
Brand Recognition and Awareness: Over time, a company's reputation evolves. We aim to get included in the local newspaper or on a renowned blogger's website within the first three months of our launch.
Google Search Rankings: Google search rankings are one of the most important factors in determining a company's success, especially a startup's success, which is why we'll pay special attention to them. We hope to be on the first page of Google within three months of our launch.
Milestones
The Gantt Chart below depicts the critical stages in attaining our marketing and commercial goals.
Analysis of Competitors
Graphic design business ideas is one of the most competitive industries in the United States. As the number of graphic design firms and freelancers increases, the competition is growing more intense. In order to survive and thrive in this area, one must be very creative and come up with fresh ideas and concepts. Our competitive advantages are the strength and dedication of our team. We have a team of professional and creative graphic designers on staff, all of whom have impressive credentials and experience in a wide range of graphic design fields. Gori's leadership, as a world-renowned graphic designer who has worked with 14 of the top Fortune 100 companies, will be our second big competitive edge.
Strategy for Selling
After performing a comprehensive analysis, our experts came up with the following outstanding tips for promoting and selling ourselves.
Our firm will be promoted in relevant business publications, newspapers, television stations, and social media platforms.
To introduce our company, we will send introduction letters with our brochures to corporate groups and key players.
We will provide a 25% discount on our services for the first three months following our launch.
We will provide a 40% discount on all of our services based on the Client's recommendation.
Forecasted Sales
Because of the great quality of our services and our exceptional marketing strategy, we expect our sales pattern to increase over time. Based on our market segmentation technique, our analysts predicted the following yearly sales, which are shown in the column charts.
Personnel strategy
Personnel plans, like all other plans, are a necessary component of a successful design business plan, thus they must be completed before you even contemplate how to market your graphic design firm. It is critical since every organization's success is primarily dependent on its employees. Because predicting the number and kind of workers a company will need before it even opens its doors is never easy, it's essential to recruit the help of HR specialists to help you get through this stage. Gori enlisted the help of experts to help her establish the following personnel strategy for her company.
Employees of the company
Gori will be the company's General Manager, and she will first hire the following people before starting her own graphic design firm:
One accountant is in charge of maintaining financial and other records.
Four sales executives are responsible for marketing and new ventures.
Ten graphic designers create logos, infographics, brochures, and other visuals.
2 Cartoon and Animation Professionals to Create Animation for a Wide Range of Applications
The graphical work on websites is handled by four Website Developers, led by Anna.
Customers will be dealt with by four Customer Service Representatives, who will maintain track of their orders.
A single security officer and one employee to work as a receptionist at the front desk
We will only hire qualified, creative, hardworking, customer-focused workers that are always prepared to put in extra effort to help us build a successful company that benefits all stakeholders (owner, workforce as well as customers). To provide the best possible service, all employees will be properly vetted and trained for a month before starting work.
Employees' Average Salary
The table below shows the statistics about employees and their salaries for the following three years. Based on our predicted increase, our experts estimate worker compensation for the second and third years. Compensation will fluctuate depending on whether the company develops faster or slower than projected.
Plan your finances
Following the decision on the firm's strategy and personnel plan, the next step is to construct a detailed financial forecast that encompasses all aspects of the organization. Before you consider how to start a graphic design company, you must first prepare a financial plan, just like you would for any other business venture. The financial plan should contain a detailed breakdown of the startup costs, inventory, payroll, equipment, rent, and utilities, as well as how these expenditures will be paid by earned income. As a result, before starting a graphic design business, make sure to do a complete profit and loss analysis. The company's financial plan outlines the company's development over the next three years and is tailored to fulfill both short- and long-term objectives.
Important Premises
To forecast the company's financial prospects, the following assumptions are employed. These assumptions are conservative, and there's a risk they'll stray, but only to the point where the company's core financial strategy is jeopardized.