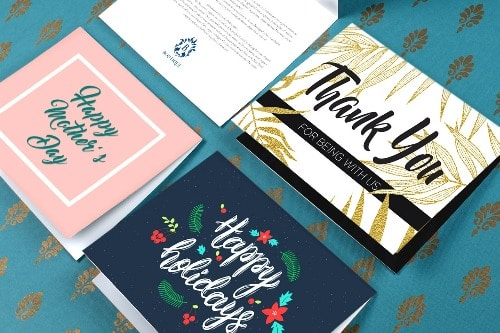 Do you want to establish a greeting card company of your own?
Do you want to start your own greeting card business? If you are creative and like producing greeting cards, this is the firm for you.
The greeting card business has a large market potential and is always looking for new and innovative ideas. The fact that 7.4 billion greeting cards were sold in the United States in 2017 might be used to estimate the market size.
The most major benefit of starting this business is that it offers an extremely high rate of return on investment while offering the least amount of risk when compared to other businesses. The second benefit is that its market never shrinks since people buy cards for a wide range of occasions, events, and festivals all year.
Given these characteristics, we may infer that if you generate high-quality designs and run your organization efficiently, this firm may be highly profitable.
As a result, you'll need to prepare a thorough business plan before you start your company, which will serve as the framework for your company's future operations and decisions. If you're not sure where to start, we've created an example business plan for KJ Cards, a greeting card firm.
The Company
KJ Cards will be a licensed American card manufacturing company headquartered in the heart of Manhattan's business area. The firm will be owned by Kelly Janes, a committed Graphic Designer. Janes has worked in the greeting card industry for over 6 years, the past three as the Assistant Director of Hallmark Cards' Design Department.
The company will begin by purchasing office furniture such as workstations, cabinets, tables, and seats, as well as computers and related devices such as printers and scanners, ten card printers, and necessary software and stationery.
Management
Janes planned ahead of time before beginning her greeting card company, since a startup's success is mostly determined by its workforce and management. The company's core management will consist of sales executives, graphic artists, technologists, and customer support representatives. Janes will manage and supervise the team, since she has vast experience in greeting card design and production. Janes will hire and train staff one month prior to the launch of the company.
Customers
The nearby residential area, which is around 10 minutes away from our company, is our target market. The average monthly income in the town is between $40k and $50k, with around 10% of inhabitants earning more than $100,000. We will provide three types of greeting cards for various festivals and holidays: printed cards, hand-made cards, and customized cards. The hand-crafted cards will be made totally by Artisans without the use of machines, whilst the customized cards will be made specifically for the client's demands.
Despite the fact that there are hundreds of established greeting card companies in New York City, owing to the united efforts of our imaginative and creative team members and Janes' leadership, we will soon exceed our competitors.
Business Objective
We hope to be the leading greeting card company in New York City within five years of our inception. By the end of the first year, we want to be able to balance the startup's initial expenses with produced earnings, with a net profit margin of $10k per month, $15k by the end of the second year, and $25k by the end of the third year.
Owner of a business
KJ Cards will be owned by Kelly Janes, a devoted Graphic Designer. Kelly graduated from the University of Illinois in Chicago with a master's degree in graphic design. Janes worked for some of America's most well-known greeting card companies after completing her studies, and she was the Assistant Director of Design Department at Hallmark Cards for the last three years. She's noted for her original ideas and excellent graphic design skills.
Why is the company being established?
Janes has always wanted to work in the field of graphic design, namely greeting card creation. Everyone has appreciated her cards, and it was her amazing abilities and inventive thinking that landed her an executive position in one of the country's major greeting card manufacturers at such a young age.
Her achievement, however, is just a part of her career strategy, as she had aspired to even larger things. She had intended to build a greeting card company from the beginning of her career, or rather since her college days, and her employment in this field was only to get the necessary skills for launching her own company.
How will the company get started?
KJ Cards will be a greeting card company that produces both personal and business cards. The firm will be located in the financial area of Manhattan. The following products will be purchased by the company for its start-up.
The office furniture consists of five file cabinets, five work desks, a circular table with seats for meetings, and a couch and chairs for client waiting spaces.
There are four PCs accessible, each with a color printer and scanner.
For greeting cards, there are eleven card printers available.
Graphic design and related software include Illustrator, Freehand, Photoshop, Quark, Traffic Office Manager, Font Management Utilities, and Microsoft Project.
Brochures and various types of office supplies
It is necessary to have a stable internet connection as well as telecommunications infrastructure in the office.
The following expenses for expenditure, assets, investment, and loans have been assessed by financial specialists for the Start-up.
Customers' services
KJ Cards will be an American card company that will provide a broad selection of cards for a variety of events, festivals, and people. We'll design a range of cards for businesses and individuals, including holiday, business, birthday, and Christmas cards. The following are some of our most popular items:
Printed cards include: The bulk of our production will be printed cards, which will be our main product. They will also be the source of the bulk of our earnings. The cards will be printed by the company's card printers when the graphic design team has done their job. The three categories described below may be used to further categorize these cards.
Occasional cards include those for Anniversaries, Baptism and Christening, Bar/Bat Mitzvah, Birthday, Confirmation, Congratulations, First Communion, Get Well, Graduation, Just Because, New Baby, Promotion, Retirement, Sympathy, Thank You, and Weddings.
Cards for Holidays & Festivals: The Holidays & Festivals category includes cards for Christmas, Easter, New Year, Passover, St. Patrick's Day, Valentine's Day, and other local festivals.
1. Relational Cards: Relational cards may be given to a brother, daughter, father, friend, God-family, grandmother, grandpa, husband, children, mother, partner, love interest, sister, son, and wife.
2. Hand-made Cards: Our second category includes hand-made cards. There will be no machinery used in the manufacture of these greeting cards; they will be fully handmade. Each card will be hand-cut, hand-designed, and hand-wrapped before being handed to customers. This product category will be created by skilled artisans. These cards will be more costly than printed cards due to the substantial hard work and talent necessary for their manufacturing.
3. Customized Cards: Our third category includes customized cards that are completely made to order and fitted to the client's requirements. Customers may get a customised card by going to our official website or visiting our Manhattan office.
Analysis of the greeting card industry's marketing
A comprehensive marketing research is the most important part of a successful greeting card business plan, which is why Janes employed marketing professionals to help her at this stage. A strong greeting card business plan template can only be established when this phase is done. Marketing pros and analysts advised her in determining the best site to start a greeting card company after reviewing greeting card business trends in New York City.
The success or failure of a business is totally reliant on its marketing strategy, which can only be developed after extensive market research. To do a thorough marketing analysis, you must first research current market trends, then define your target demographic and potential customers, set corporate goals, and then evaluate pricing for your products and services. Marketing analysis is crucial since it has an impact on the design of a number of future components. As a consequence, it must be considered while developing a greeting card company's business plan.
Market Developments
According to the Greeting Card Association, around 7.4 billion greeting cards were made and sent in the United States in 2017. (GCA). Freelancers and non-major greeting card distributors manufactured and sold around 2.5 billion of the 7.4 billion cards, while established firms made and sold the balance. Approximately 80% of all greeting cards were bought by women. In 2017, there were over 2000 established greeting card companies in the United States, generating over $7.5 billion in yearly sales.
Over 35,000 people are employed in the greeting card industry, which pays out over $1.2 billion in annual compensation. The future development of this sector is expected to be similar to that of the US economy as a whole. Following the discovery of these market trends, it is clear that the greeting card industry has a lot of potential and may be highly profitable if properly organized.
Marketing Segmentation
The nearby residential area, which is around 10 minutes away from our company, is our target market. Individuals from many walks of life make up the community. Approximately half of the population earns between $40k and $50k each month, with approximately 10% earning more than $100,000, according to the financial position.
There are presently roughly 738,000 houses in Manhattan, with 17.1 percent having children under the age of 18, 25.2 percent being married couples, and 12.6 percent having a female householder without a husband. Individuals make for 48.0 percent of all households, with 10.9 percent having someone living alone who is 65 years old or older.
Before starting a greeting card business, you should assess your prospective clients' market segmentation, since a strong and successful marketing strategy can only be developed if we have a complete grasp of our target market. As prospective future clients, our experts have identified the following target audience:
Adults & Married Couples:
Our first target audience will be married couples and those between the ages of 25 and 50. These people are the most likely to purchase greeting cards when compared to the other target groups for a number of reasons, including having the greatest social circle, which includes friends, family, relatives, neighbors, colleagues, and so on. This group buys greeting cards for birthdays, anniversaries, weddings, festivals, and other special events for their pals. Because this group is the most likely to purchase our products, our marketing strategy will be designed to appeal to them.
Children and teenagers:
Our second target group is children and teens under the age of 25. Birthday, friendship, and festival cards are often purchased by children and teens in elementary, middle, high, and college schools and colleges, who have a large network of connections. Teenagers are the most common purchasers of Valentine cards.
Citizens in their Golden Years:
Our third category consists of those above the age of 50. These people will largely buy anniversary, birthday, and festival cards, but they will contribute less to our sales than the other groups, therefore they will be excluded from our marketing strategy.
A complete market analysis of our potential clients may be seen in the table below:
Business Objective
We hope to be the leading greeting card company in New York City within five years of our inception. Our major business objectives to achieve as milestones over the next three years are as follows:
We expect a net profit margin of $10k per month at the end of the first year, $15k per month by the end of the second year, and $25k per month by the end of the third year.
The startup's initial expenses should be matched with generated revenues by the end of the first year
Pricing of Products
Product pricing is one of the most important factors to consider when choosing a greeting card business strategy. After analyzing market demands, we priced all of our things in the same ranges as our competitors. Our pricing strategy is centered on generating the lowest possible attractive rate of return, which would be impossible to do if we gave our services for a low price. Our product price is as follows:
Printed cards vary in price from $4 to $15.
Handcrafted cards vary in price from $20 to $50.
Customized cards vary in price from $20 to $50.
Strategy
After examining industry trends, market demand, and potential consumers for the organization, the following process is to build an efficient strategy to target prospective clients and tempt them to us. The sales strategy of a greeting card company is equally as important as the marketing research. Janes did a lot of research into various marketing tactics used by large and small greeting card companies before she concluded her plan on how to start a greeting card business.
Setting clear marketing goals, doing a competitive analysis to identify what your competitors are missing, and devising a strategy to attract your target customers are all critical elements in constructing a successful strategy.
Analysis of Competitors
Our competitive advantages are the strength and dedication of our team. We have a team of outstanding and creative graphic designers, as well as a team of experts in a number of greeting card genres. This is unquestionably one of the most competitive industries in the United States, and the competition is intensifying as the number of greeting card firms increases. In order to survive and thrive in this area, one must be very creative and come up with fresh ideas and concepts. Thanks to the joint efforts of our ingenious and creative individuals, as well as Janes' leadership, we aim to beat our competitors.
Strategy for Selling
After performing a comprehensive analysis, our experts came up with the following outstanding tips for promoting and selling ourselves.
We'll pay special attention to Google search ranking since it's one of the most important factors in determining a company's success, particularly for a startup. We'd do all we could to improve our rankings in Google search results, particularly on the top page.
We will see a monthly increase in website traffic of at least 20% and a conversion rate of at least 80%, which means that at least 80% of our website visitors will become customers.
We will be featured in the local newspaper or on a specialized website by a well-known blogger to increase public awareness of our business.
Our firm will be promoted in relevant business publications, newspapers, television stations, and social media platforms.
We will provide a 20% discount on our cards for the first three months after our launch.
Personnel strategy
Personnel planning, like all other plans, is an important part of a successful business plan, so you should think about it before deciding how to start your own greeting card business. For her company, Janes has devised the following personnel strategy.
Employees of the company
Janes will be the company's General Manager and will hire the following people at first:
One accountant is in charge of maintaining financial and other records.
Marketing and new business development are handled by two sales executives.
6 graphic artists are needed to create printed cards. Handcrafted cards will be made by four artisans.
The card printing machine requires three technicians to operate.
The company's official website and social media accounts will be managed by two Managing Assistants.
Customers will be dealt with by four Customer Service Representatives, who will maintain track of their orders.
4 drivers are needed to distribute cards to retailers.
1 person to work at the front desk as a receptionist
just one security guard
To provide the best possible service, all employees will be properly vetted and trained for a month before starting work.
Plan your finances
There are hundreds of greeting card companies in New York City, and a business must develop an optimal financial plan to succeed in this competitive environment. The financial plan should include all initial costs, such as inventory, payroll, equipment, rent, and utilities, as well as how these costs will be paid by revenues earned.