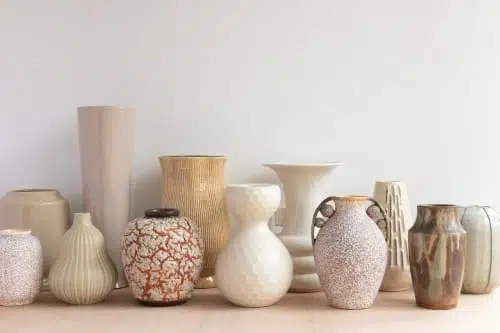 Do you want to learn how to sell ceramics online?
Everyone else who wants to make a livelihood off of ceramics is in the same boat. The main difference is that those that succeed follow a particular pattern meant to remove risk, whilst everyone else battles to maintain their margins.
Because it's one of the more unusual craft business ideas, you'll want to be sure you know what you're doing because there are some special requirements to follow.
Let's have a discussion about it.
Is it possible to make a living selling pottery?
It's almost too wonderful to be true, doesn't it? The fact is that if you make pottery that other people enjoy, you can sell it for money.
The true objective is to be able to sell enough ceramics to support yourself full-time. Because there are so many numbers involved, this is a little more difficult. There are, nevertheless, a number of ceramics-related eCommerce firms that generate 7-figure yearly income.
You'll probably have to outsource the pottery manufacturing at some point.
However, if you understand how to sell ceramics online properly, you may make a full-time career.
What Is the Value of Pottery?
The cost of pottery varies dramatically depending on what you're selling.
Here are the results of an Amazon search…
$32.99 Handwarmer Mug
$79.95 for a medium-sized bowl
$109.95 for a 16-piece ceramic cookware set
In the end, the answer is that it depends. Finding someone else who successfully sells your style of pottery online and imitating their price point while double-checking whether it meets your desired margins is the easiest approach to figure out how much your pottery sells for.
As a result, you'll mostly be selling items in the $25-$75 bracket.
Where Is The Best Place To Sell Pottery On The Internet?
You may sell pottery online these days in a variety of ways.
However, there are three primary areas to examine.
Etsy
With Etsy, you'll be pushed into a community of people who like buying handcrafted things. Furthermore, the Etsy platform makes it quite simple to begin selling. Because of these two factors, it is the most popular site for pottery dealers.
Amazon
You can take advantage of the world's greatest logistics and shipping operation when you shop with Amazon. Furthermore, if you put in enough work into Amazon SEO, you might see a significant increase in traffic to your listing. This needs greater technological knowledge than Etsy.
Shopify
You may create your own shop on your own domain using Shopify. You get to design the complete experience from beginning to finish. This includes creating the highest-converting pages possible so you can expand your business with Facebook advertisements.
STRONGLY RECOMMENDED: Shopify
Because you're aiming to create a full-time living selling your handcrafted ceramics online, I propose Shopify. To do this, you must create a true brand with its own "home" in order to optimize both traffic and conversions.
That isn't to say that you shouldn't sell on Etsy or Amazon. Instead of being the center focus of your brand, those other two possibilities should be seen as "sales channels."
So, to sell your things, use Shopify, and if you have extra inventory to transfer, use Etsy or Amazon on top of that. As a result, I recommend concentrating on Shopify until you've figured out how to sell ceramics online.
Build, Build, Build, Build, Build, Build, Build, Build, Build, Build, Build, Build
The majority of firms fail due to a lack of traction rather than a lack of goods.
Fortunately, if you're manufacturing handmade ceramics, you have two advantages…
1/ You have specialized expertise that few people possess.
2/ There are several options for you to create original material.
So, before you start selling your products online, use these advantages to establish a following of adoring fans who will be eager to purchase your product on launch day. This should be done at least 6 months before your debut date to allow for organic traffic.
In terms of where you should focus your audience-building efforts these days, it's…
Blog \sYoutube \sTikTok
Choose one and stay with it for the remainder of the campaign. You're better off focusing on one traffic source and doubling down on your content there rather than trying to be everywhere at once.
Launch of the Official Pottery Business Plan
You should start directing your visitors to an email opt-in around a month before your launch date. You want this opt-in to expressly state that your pottery brand will be launched shortly.
This email list will be crucial to your launch's success.
It's time to publicly launch your brand after that month is up.
I recommend launching in three rounds to maximize efficiency. In other words, you introduce your items and sell them out before moving on to the next batch. Rep three times more, each time increasing the size of the previous round.
When you reach round three, you must maintain the shop open.
This allows you to focus on your marketing while also certifying your brand with the least amount of effort possible. In this manner, you only advance to the next round when the previous one is finished.
And, if your items aren't selling, you now have the freedom to pivot depending on client feedback and repeat the process.
Scale is the official pottery business plan
Assuming you've sold two rounds of pottery, it's time to consider scaling.
Fortunately, it's not that difficult. Getting more traffic and turning more people into consumers and repeat customers are the most important aspects of learning how to sell pottery online.
Traffic is still your top concern at this point.
If at all feasible, you should quadruple down on the organic approach you began in the plan's "construct" phase. While it is the slowest method, it will also have the greatest conversion rate and provide you with the most lucrative consumers.
You'll want to add sponsored traffic after your organic traffic is working properly.
This may be accomplished by using Facebook advertisements, Google shopping ads, or Youtube ads. Influencers, niched email newsletters, and podcast sponsorships are among more options. Basically, you'll want to focus on one channel and generate creativity that encourages people to leave their social media accounts and visit your website.
Sell your ceramics in bundles for the greatest returns.
With a greater AOV (average order value) offer, you'll have a far better chance of attracting the top clients than with a lower offer. If at all feasible, packages in the $50-$100 range are preferred.
Related link