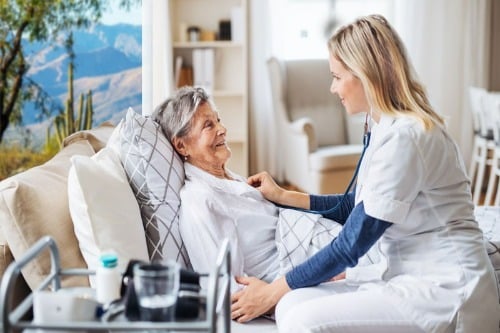 Starting your own home health care organization requires a business strategy.
Home healthcare is a $84 billion industry in the United States that shows no signs of slowing off. It consists of both non-medical and skilled home health care teams. There are now over 386,000 home health care businesses in the United States, employing around 1.7 million people. This is not, however, a business for everyone. There is a lot of tension and peer pressure in this environment.
This field is quite profitable, and if you have a great desire to serve others, you may earn a lot of money in it. If you want to start a home health care business but don't have enough money, a detailed care agency business plan is a smart option.
Summary of the Report
In this part, you must define all of the foundations of your homecare business idea. Explain how much money you'll need to build your home healthcare business, as well as the operations and financials you'll require in the next three years. As an example,
Wheatland Home Healthcare Agency (Your Company Name) is a home healthcare agency established in Kansas that intends to offer home health care services to a specific market.
The company's operations
If you want to start a non-medical caretaker business, the first step is to acquire modern medical equipment. Make a detailed list of all the business equipment you'll need to get started.
Your company should also be licensed by your state, and you should know who your partners will be.
Management
When designing a homecare business model, you should indicate who will be the owner and primary operator of the company. For example, Wheatland Home Health Care Agency would be based in Wilson County (the area) and would be owned by the company's operators and investors. The office will be located in a high-end Kansas office building.
Customers
Your core clients are families and individuals requiring social assistance and/or home health care. If you're seeking for non-medical home care clients, talk to attorneys, physicians, healthcare organizations, and insurance firms to see if they can refer you to someone.
Business Objective
Keep this example in mind while writing a business plan for home health care.
"Investors are expected to provide a five-year business loan to the company.
"We'll manage cash flow in the future to support growth without taking on further debt." Everything will be sold on credit. As a consequence, we need to have enough cash on hand right now to avoid any cash flow problems."
Summary of the Business
You must clarify how you want to develop a presence in the market when launching a care company. "For example, our agency will be located in central Kansas and will provide a variety of services to clients and patients in Wilson, Neodesha, and Labette counties, all of which are within a 90-mile radius of our corporate headquarters," says the company.
You must first create your organization and goals before launching a home health business. You may want to create a website to sell and publicize your business and build an online presence.
Owner of a business
Wheatland Home Healthcare Agency will be operated and controlled as a limited liability corporation by Ethan J. Peter (name of company owner).
Explain the owner's area of expertise and credentials, as well as his or her years of experience in the healthcare profession.
Why is a home health care company being established?
In your non-medical home care business plan, explain why you want to start a non-medical home health care firm. Do you have a great passion to help people in need and want to make a profession out of it? After years of working for a healthcare institution, do you want to start your own business?
What is the best way to start a home health care business?
You'll need to worry about money and startup costs since your company is only getting started. In this sample business plan for a home health care agency, we have listed the assets required for start-up, a breakdown of start-up expenses, total cash required, total funding, investment, capital, and other liabilities, as well as the startup cost diagram to illustrate the expected expenses, investment, assets, and bank loans for the business plan, etc.
Customers' Services
A home care business plan should have the purpose of assisting people with special needs, as well as the elderly, in their daily activities and providing all living help at home. The firm should also keep a skilled team of healthcare professionals in case any particular treatment is required or in the event of an emergency.
Your organization should also provide transportation if they are unable to drive their own car, in addition to at-home services. In this section of a home care business plan, you must explain the services you wish to provide.
You should ensure that all of your clients/patients have gotten exceptional care as a home health care provider. The following services should be provided by specialized health care nurses, physicians, mental health counselors, physical therapists, chiropractors, rehab counselors, and other specialists who are highly trained in providing critical services. Your non-medical home care agency business plan should cover the following services:
Social Work with Skilled Nurses Aides to Nurses
Personal Injury Case Management is a service that helps people who have been injured in an accident.
Personal Assistance Medication Administration at Home Note: Occupational, physical, and speech therapy services are available.
In your business plan for a home health care company, you could want to add resource linkage, assessment, planning, and reporting services for injury case management.
Analysis of the Home Health Care Industry's Marketing
When it comes to collecting money, having a sound business plan for a home care service that will help you stand out from the crowd and market your business is the most important thing you can have. On a national and international basis, home health care is undeniably a quickly growing business. If your area has become an over-saturated market with a large number of home health care providers, you must face a lot of competition.
A thorough marketing analysis for a home care services business plan, on the other hand, may help you save money and break into the market more rapidly. You must discover your competitors' weak spots and devise marketing strategies to counteract them.
For additional information, see the example home health care business plan in this area.
The bulk of Wheatland Home Health Care Agency's clients would be referred by health care facilities, physicians, and other industry specialists. Only a small percentage of patients will be insured by a commercial insurance company since the bulk of patients will be covered by Medicare.
Patients who have been injured in any kind of accident or on the job make up the bulk of our client base for our domiciliary care agency's Personal Injury Case Management department. Attorneys seeking case management services for these patients or insurance companies seeking aid in limiting client losses and injuries often refer these cases.
Market Developments
Direct comparison shopping is rare among customers who utilize personal injury case management and home health care services. They typically prefer physicians' recommendations for health-care providers.
Speaking with other professionals and asking them to refer their clients to your company is the most significant part of analyzing competition in the field of home health care. To do so, your firm must provide the best possible patient care, as well as show competent corporate management and organization, as well as appropriate and up-to-date credentials. It will allow you to get into the bulk of your region's personal injury case management and home healthcare sectors.
Segmentation of the Market
The target market for a home health care company should be an older population that chooses to stay in their homes most of the time and only go out to see doctors rather than being admitted to a nursing home. Patients who are old and need high-quality medical care from a well-trained nursing staff should be included in your target market. They may also seek extra home care services, such as social work, to access important community resources.
Business Objective
You should concentrate on the areas where your services are most needed since you specialize in community-based services and home health care. By eliminating the need to create a second office, working with market segments that just need home care services helps you to dramatically decrease overhead expenses.
Pricing of Products
When it comes to acquiring home health care services, both recommending specialists and customers seek trust. They should have faith in your home care service's trustworthiness, experience, and quality.
Customers' decisions are unaffected by the price of your services. Many of these therapies are paid for by Medicaid, Medicare, and private insurance companies, who set the rates.
Price is a significant determining factor when it comes to personal injury case management. It varies depending on the situation and is based on an hourly charge that may be negotiated. In the event of personal injury case management, the fee is dependent on the total length of time sought by the client.
Marketing Plan for Home Health Care
So you've written a comprehensive domiciliary care agency business plan and met all of Medicare's and your state's accreditation standards. You've also engaged the assistance of seasoned experts.
The second issue to consider in a free business plan for a home health care firm is how to acquire consumers. To be successful, you'll need to use excellent marketing strategies.
Analysis of Competitors
In this free business plan for a home health care firm, we'll start with your competitive advantage. If you've learned a lot of basic administrative tasks and have experience in the home health care field, you could be a good fit. Your reputation may help you build a solid consumer base even before you open your business.
Strategy for Selling
When referring people to healthcare organizations and providers, you must give great patient care and ensure complete satisfaction.
Personnel strategy
In this sample business plan for a home care firm, the following sections should explain your personnel requirements, benefits, and recruiting costs. You should consider the cost of living of your employees without jeopardizing your administration. Project the growth of your consumer base without compromising your payroll by working more hours.
Employees of the company in this area of the free home care business plan, explain how many employees will be hired, as well as who will be hired for what services and for how many hours.
Plan your finances
As previously said, you may opt to support your growth through cash flow. It will ensure modest but continuous progress. Non-medical home care firms rely heavily on dues collection to stay afloat. The bulk of the expenditures will be covered by insurance companies.