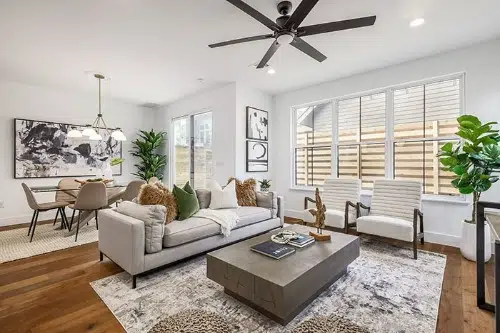 Do you want to establish your own home staging company?
Do you want to start a home staging company of your own? This may be the best choice for property owners who want to increase the curb appeal of their house before selling it to a potential buyer. It's not only about decorating or cleaning a home; it's also about fixing minor issues like loose handles, malfunctioning electrical outlets or LEDs, repainting walls, and switching out furniture, among other things.
If properly planned and implemented, starting a staging company might be quite beneficial to you. We've provided a sample business plan for a home staging firm named 'Jaxon Home Staging Company' to help you get started.
The Company
The headquarters of the Jaxon Home Staging Company will be in the San Diego metropolitan area. The business will be centered on increasing the curb appeal of your home in order to attract potential buyers. The company will clean every inch of your home, fix any problems with your plumbing, electricity, or drainage system, and finally, organize your stuff in the most appealing manner possible.
Management
Jaxon Ben, who has been in this line of work for the last six years, will own and oversee the company. Jaxon has a lot of knowledge on how to start a home staging company. Jaxon will hire a motivated and talented crew to carry out the chores required to run this company.
Customers
Understanding your clientele may help you come up with the ideal services and marketing techniques if you're attempting to figure out how to establish a staging company.
Our major clients will be property owners who want to freshen their homes and business buildings before selling them. All of San Diego's customers will benefit from our high-quality, timely services.
The Company's Objective
The business aspires to become the best and most recognized home staging company in San Diego within a year of its launch.
Owner of a business
Jaxon Ben will be the only proprietor of the company. Jaxon has been running a window cleaning business for the last six years and is excited to expand into a new enterprise. Jaxon has done extensive research on how to start a home staging business and has even produced a basic home staging business plan that includes the necessary equipment and personnel.
What is the reason for the company's formation?
The firm was established with the intention of assisting a greater number of people while still earning a profit. Jaxon feels that the home staging firm will be the most ideal, prosperous, and easy to manage business for him because of his previous experience in virtually this area. Furthermore, although having a large investment group is an advantage, not a must for a startup, this organization requires an ambitious person with a brilliant idea. This is the fundamental reason why so many people are attracted to the staging profession, including Jaxon. Jaxon strives to deliver unsurpassed service to his customers and to develop his business as the industry's most respected and trustworthy. If you're unsure how to start a staging firm, Jaxon's comprehensive sample business plan will help.
How will the company get started?
Jaxon has decided to rent a building in the metropolitan area and turn it into the headquarters of his firm by acquiring the required items and hiring the necessary people. The company will be incorporated and insured. The company will buy the tools and chemicals needed to restore the house to its former state, as well as any things needed to boost the curb appeal of your home. Jaxon recognizes that the productivity and devotion of his workers will be crucial to him and his company's success. As a consequence, he has opted to hire dedicated and talented employees prior to the launch and train them to his demands. The following are the prerequisites to get started:
Customers' services
Before you start your home staging business, think about the services you want to provide your customers and make a strategy to put those services into action.
Customers may expect Jaxon to provide the following services:
Home Staging/Home Enhancement: Our major service will be to stage your home in order to enhance and revive it. We'll clean and freshen the house, including windowsills, drawers, closets, tiles, baths, tables, and other places that are often forgotten. We'll equip your property, fix minor damage, patch and refinish holes and cracks, and offer illumination and a spacious aspect in your rooms.
Interior Design: To make your house more appealing, we'll add mirrors, rugs, hangings, baskets, ornamental things, and more. To make your house more aesthetically attractive, we'll execute interior design by adding small furniture items, art materials, paintings, and accessories.
Property Auctioning: We'll hold an auction for your valuable property items to help you discover the best possible buyer.
Making a Purchase Simpler: We'll lead and assist your consumers in completing the essential steps for making a purchase, making it easier for you and them.
Analysis of the Home Staging Industry's Marketing
Marketing analysis is the most important factor in deciding the success of your home staging firm. No matter how high-quality services you strive to provide to your customers, if you fail to publicize your business, it will all be for nothing. Before you think about how to start your own home staging company, think about if the sector in which you'll work has the possibility for a new business.
You should explore the different market segments to learn about their desires and requirements before starting a home staging firm. Knowing your target market before starting a home staging company is crucial to your success. Understanding market trends and using them into your home staging business plan template may also help you figure out how much your products and services will cost in order to reach the greatest potential audience.
If you're starting a home staging business and don't know how to market it effectively, Jaxon Home Staging Company offers a free home staging business plan template. Nonetheless, engaging a marketing analyst to build a home staging proposal form for you based on your market and area is a better idea.
Market Developments
Home staging businesses are in great demand since they increase a home's or property's worth, which is vital because no one wants to sell their house for less money. According to data, roughly 156 thousand single-family residences were sold after staging in the United States in 2013, an increase of 16 percent over the previous year. In 2017, over 5.51 million previously owned houses were sold in the United States, according to statistics and information from over 22,500 sources, with the number projected to climb in the coming years.
Furthermore, 77 percent of buyers found it easy to visualize the property when it was staged, according to a research done by the National Association of Realtors. According to a study conducted by NAEBA, the National Association of Exclusive Buyer Agents, after polling brokers and agents, 82 percent of buyers are likely to be diverted by some serious problems while walking through a staged house. Since a consequence, the need for home staging services will never go away, as the vast majority of previously owned houses will need to be staged before they can be sold.
Segmentation of the Market
It is vital to do market research before developing a home staging company plan. A thorough analysis of who will be your clientele and what their demands will be should be included in your home staging business plan. Successful business owners are those who comprehend their customers' demands and devise the most effective techniques for meeting those needs by making services easily accessible. If you need help writing a successful business plan, Jaxon hired a professional to do an adequate marketing research for his firm. To begin started, you may use this sample business plan.
Our expert has identified the following groups of people as prospective future customers:
Owners of Real Estate Companies: Our major target market will be real estate companies, both residential and commercial. What do you think they're searching for in a house before they sell it? Yes, they want to make their house as desirable as possible in the hopes that a buyer will come knocking with cash. Staging a property enhances its curb appeal while also making it seem bigger and more spacious on the inside. It's a terrific opportunity for homeowners to make their homes pleasant and livable for potential buyers. A gleaming, well-dressed, and meticulously presented property provides buyers a feeling of security while also diverting their attention away from minor problems.
Sellers' Agents: The second category consists of sellers' agents, who are in charge of aiding the purchase and sale of a business, as well as being tasked with the rehabilitation of a property. According to a survey, 58 percent of sellers' agents believed that staging increased the value of their house by one to twenty percent. We will provide special discounts on our services to encourage consumers to try them out. We believe they will utilize and trust our services for the rest of their careers following the first encounter.
Locals: Every city's citizens need to maintain their houses and properties on a regular basis, and many, especially financially privileged homeowners, avoid the trouble of doing so by employing professional home stagers. They would need the services of a home staging company to rebuild and refresh their houses by replacing worn-out furniture and arrangements with new ones. These folks are also expected to sell their outmoded but valuable objects and assets via our auctioning service.
Business Objective
Our key short- and long-term business goals are as follows:
We intend to be the most well-known and recognized home staging business in San Diego in within two years.
We expect a net profit margin of $10k per month at the end of the first year, $15k per month by the end of the second year, and $25k per month by the end of the third year.
We intend to have balanced the startup's early expenditures with generated profits by the end of the first year.
Our plan for the next 10 years after our launch is to open a second branch of our firm in the same or a neighboring city.
Pricing of Products
We maintained our rates low in contrast to our competitors to familiarize our target audience with us and our services. In order to make our services more accessible to people, we have also offered various discounts on our services.
Strategy
If you're starting a home staging business, you should focus on creating processes that will help you boost sales. So, before you hire a staging business, you must first ensure that your sales strategy is functioning.
Analysis of Competitors
We will encounter severe competition in the market, but we believe that we will be able to exceed all of our competitors due to the excellent competitive advantages we are building. Our most major competitive advantage is that our organization is not only licensed but also insured, which means that any damage to your property or goods caused by our workers' negligence or fault will be paid in an equal amount. Second, we will provide unsurpassed customer service; all of our employees are committed to their jobs and will treat clients and their property with the utmost care, going to great lengths to ensure that they are entirely happy.
Strategy for Selling
Jaxon has selected the following methods to market his company:
We'll market and sell our services via print and social media.
To collect input from our customers, we'll build a company website.
We'll offer you a 20% discount on our services for the first two months after we launch.
Personnel Strategy
In order to build a successful home staging firm, you must pick a team that will work with total dedication and enthusiasm, since the success of a startup is directly affected by the performance of the employees. Before even thinking how to establish a home staging company, Jaxon had created a list of his necessary team members and their job descriptions, realizing the importance of people.
You may use this sample business plan made for Jaxon Home Staging Firm as a help if you're wondering how to establish a home staging company.
Employees of the company
Jaxon will be the company's only owner and manager, and he will enlist the following individuals to assist him:
2 Accountants are in charge of keeping financial documents safe. 2 Sales Executives for marketing and new initiative development 1 Project Manager is responsible for overseeing all areas of the project.
eight cleaners to take care of the most of the cleaning
The staging and decoration of the home is the responsibility of five general workers.
2 Interior Designers for further design work on the client's home 2 plumbers to fix plumbing or drainage problems
2 electricians/technicians to solve any issues with the electrical system 2 receptionists to welcome visitors and collect phone orders
For the auction of the property, there will be just one auctioneer.
In the case that extra personnel is necessary for the staging of a property, Jaxon has chosen to hire an HR Manager.
Plan your finances
The last step in starting a home staging company is to design a financial plan to guarantee that your firm does not fail. Anyone who wants to make money from home staging must first think about how he will finance his company so that he can achieve a double-triple return on his investment. A financial strategy should contain information on how you plan to manage your startup costs, employee pay, inventory costs, and profit margins, as well as what will happen if the company fails to fulfill its financial goals.
Jaxon had enlisted the help of a financial advisor to draft an accurate and effective financial plan for him, outlining the money necessary for the company's development in order to accomplish its short and long-term objectives. If you're considering beginning a home staging business, this sample business plan might help you estimate how much it will cost. Anyone who needs assistance putting up a strong financial plan may access the financial plan for Jaxon Home Staging Company for the next three years.