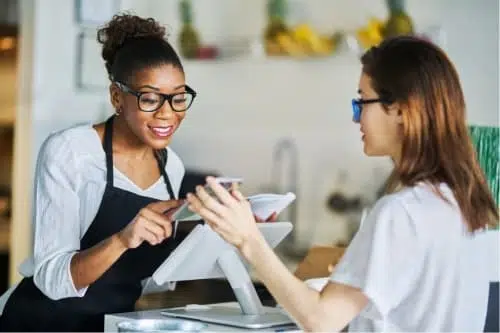 The Difference Between Stripe and Square
When it comes to Stripe vs. Square, Stripe is the better option for those seeking for a developer-friendly online payment platform that provides consumers with much more payment choices. Square will provide you more robust in-person payment alternatives as well as a simple way to set up an ecommerce shop. Stripe's in-person transaction cost is 2.7 percent + $0.10, whereas Square's is 2.6 percent + $0.10. Square and Stripe charge the same 2.9 percent + $0.30 fee for online transactions.
Stripe and Square are two of the most well-known merchant services firms on the market today, and as a consequence of their name awareness, business owners often ask what the distinctions are and which is better for their company.
Although Stripe and Square are quite similar in some ways—both are payment service providers, which means they combine all of their merchants into one big account—their services may be very different in reality. As a consequence, understanding the distinctions between Stripe and Square is critical to choose the best payment option for your company's requirements.
In this tutorial, we'll go over all you need to know about Stripe and Square, as well as other popular payment methods. Here's the definitive Stripe vs. Square comparison to help you figure out which is best for your company.
Overview of Stripe vs. Square
Overview of Stripe
If you've ever made a payment online or through a mobile app, chances are you did it via the Stripe payment platform—even if you didn't know it. Stripe is a white-label online payment solution that's designed to take on your identity and provide the checkout experience you want.
Stripe terminal, a portable point of sale (POS) device that works with a variety of credit card readers, is also available for in-person payments. Credit card readers with integrated readers start at $59.
Overall, Stripe allows you to incorporate online payments into your company's website with ease.
Overview of the Square
In 2009, Square made their debut with in-person payment options, and their iPad POS system revolutionized the game. If you shop at small companies, chances are you've paid with their hardware.
Square launched its own online payment system in 2016, and the Stripe vs. Square debate has only become worse for company owners since then.
Setup Stripe Setup vs. Square Setup
Depending on what you need from your payment provider, setting up a Stripe checkout experience on your company's website may be easy or complex. If you don't have access to a tech expert, you may install the Stripe embeddable checkout by copying and pasting a line of JavaScript into your company's website. If you have a developer on hand, you may use the Stripe custom UI toolkit to build your own payment platform, which is known as Stripe Elements.
Installing a Stripe payment platform will be much simpler if you're selling via a platform like WordPress or Shopware—you'll just need to install the open-source Stripe plug-in that these ecommerce systems provide.
Square Setup Square payments will be set up similarly to Stripe, but with less need on developer resources. Square, for example, offers ecommerce plugins based on much of the same technology as Stripe. Additionally, they provide an embeddable checkout option as well as a configurable online payments API, but the developer documentation for both is less comprehensive than Stripe's.
However, one advantage of Square's arrangement is their Weebly offering. Square bought ecommerce platform Weebly in April 2018 to enable Square clients to quickly set up their own online shop. [1] You can now access your retail website and payment platform in one location, whether you set up your shop directly via Weebly or through Square Online.
Features of Stripe vs. Square
Features of the Stripe
Stripe's virtually ubiquitous payment choices are one of the company's most noteworthy characteristics. If a client requests a specific payment method, your Stripe payment platform will almost likely accommodate them. ACH payments, Discover cards, Microsoft Pay, and pretty much everything in between are all available as payment choices.
Stripe Sigma also provides unified financial reporting, built-in reporting, and customer reporting. Stripe will also provide accounting assistance, including QuickBooks and tax reporting interfaces.
Stripe also has the following features:
Send bespoke invoices and request payment from clients using Stripe Billing. You can also establish recurring, usage-based, tiered, promotional, and scheduled payments using Stripe Billing.
Stripe Sources: Using the Stripe Sources API, businesses may take payment methods from all around the globe with only one integration. Alipay, Bancontact, and Giropay are all accepted payment options. Stripe.js also has APIs that you may use to create your own checkout form.
Stripe Connect is a payment tool for online marketplaces with a lot of traffic.
Stripe Atlas is a toolset for launching an online company in the US.
Stripe Relay is a mobile in-app purchasing API powered by Stripe.
Features that are square
Square online payments provide the same benefits as Square in-person payments: Fast deposits, reporting tools, and PCI compliance are all available. If you opt to create your online shop with Square Online and take online payments with Square, you'll get even more benefits. If you choose a premium online shop plan, you'll get configurable website themes, a top-rated mobile app for backend reporting, and a free custom domain for a year. You'll have access to shipping labels, inventory management, sophisticated analytics, and marketing tools, among other things.
POS software is one thing Square has that Stripe does not. Square has a free version of their POS software as well as premium services tailored to restaurants and retail establishments. You may use Square POS to manage inventory and workers, provide statistics on sales success, and give incentives like gift cards and discounts.
Fees for Stripe vs. Square
Stripe Charges
You must pay the Stripe payment processing fee of 2.9 percent + $0.30 for each successful credit card transaction to use the Stripe payment platform for your business's website. Fees are 2.7 percent + $0.05 per successful card charge for in-person card processing.
You'll have to pay an extra 1% processing charge on top of the normal 2.9 percent and 2.7 percent if someone wishes to pay with an overseas card.
Stripe is a pay-as-you-go service, therefore there are no monthly costs. Accepting mobile payments such as Apple and Google Pay incurs no extra charges. If you get a chargeback, however, you will be charged a $15 disputed payment fee in addition to the original payment amount.
Check out our full guide on Stripe fees for more details.
Fees per square foot
If you're only utilizing Square to take online payments, you'll only have to pay 2.9 percent of the transaction value plus $0.30 per transaction in Square payment processing costs. Isn't this something you've seen before? That's because the costs for online payment processing are same across Square and Stripe.
However, depending on the features you desire for your online shop, you may elect to upgrade to a premium plan with a monthly charge if you decide to create an ecommerce site with Square.
Square is somewhat less expensive than Stripe for in-person payments. You'll just have to pay a 2.6 percent + $0.10 processing charge each transaction.
Check out our full guide to Square fees for more details.
Benefits of Stripe vs. Square
Let's take a look at the benefits of each of these online payment processors when comparing Stripe vs. Square.
Benefits of Stripes
Here are a few of Stripe's most valuable features.
Developer-Friendly
When you look at Stripe's developer documentation on their website, you'll see that this is really a payment platform for tech-savvy company owners. Stripe is a payment platform designed mainly for companies with at least one developer on staff.
One of their most notable features is their branded custom UI toolkit, which is utilized by some of the most well-known companies, like Glossier and Slack. Furthermore, Stripe provides an in-app payment platform, allowing developers to create a unique checkout experience inside your company's app.
Furthermore, since the Stripe payment infrastructure is superior for higher-volume online transactions, Stripe will be used by most online-only businesses. As a consequence, many businesses will already have developers on staff who will be keen to use this highly configurable checkout platform.
Accepts a Wider Range of Payment Options
Furthermore, when it comes to the number of payment choices available to your consumers, Stripe triumphs over Square in the Stripe vs. Square discussion. Stripe[2] has a large and varied range of payment methods, ranging from major credit cards to almost every mobile wallet you can think of. Stripe is likely to process it if your client utilizes it.
Having so many payment alternatives may help your company's bottom line by substantially boosting conversion rates. Customers are more likely to complete a transaction when they have the option to pay precisely how they want.
Benefits in Squares
Overall, Square's benefits are geared at small companies and their requirements. For example, if you want to establish an ecommerce shop to grow your brick-and-mortar company, Square's online payment solutions may be more suited to your requirements.
Accepting online payments via Square will be more natural for company owners that have a mix of in-person and online transactions but aren't completely web-based.
Consider the following two areas where Square outperforms Stripe:
Option to Create a Square Online Store
Square Online is a game-changer for ecommerce shop creation for company owners who are just getting started. Without the help of a professional developer, you'll be able to access professionally designed web store templates and set up your business. In addition, with a premium subscription, you'll get a free custom domain for a year.
However, in addition to aesthetics, using Square payments and adding the Square online shop setup option will offer you access to a number of other useful services. You'll be able to use integrated shipping labels to deliver your products to consumers, manage inventory, and promote your new shop, among other things. This is very impressive for a monthly fee beginning at $12 and offers up a lot of options for companies without access to web professionals.
Solution for Point of Sale
Finally, when it comes to in-person payment options, Square clearly outperforms Stripe. When comparing Stripe vs. Square, if you conduct the majority of your sales face-to-face, Square is likely to win.
Square will give you their unique mobile credit card reader for free when you sign up for an account. The Square POS hardware choices, however, do not end there. Some of the most common Square POS hardware choices are as follows:
Square Register is an all-in-one countertop payment processing system with a customer-facing display, and it's Square's most capable POS hardware. The Square Register accepts magstripe cards, chip cards, and contactless payments, and it comes with the Square POS app.
Square Terminal: Square Terminal is Square's smallest all-in-one POS terminal. It's a portable device that accepts all of the same payment methods as Square Register and connects to the internet by USB, Ethernet, or WiFi.
Square Stand for Contactless and Chip: Square Stand is exactly what it says it is: a stand for your iPad. Then, after installing the Square POS software on your iPad and connecting the accompanying hardware, you can use your iPad as a point-of-sale system for your business.
Square Card Readers: Square sells a variety of external gear designed to take various kinds of payments, including the aforementioned mobile magstripe reader, a chip card and magstripe card reader, and a chip card and contactless payment reader. When you join up, you will get a free magstripe card reader.
You may buy iPads, cash drawers, barcode scanners, receipt printers, and everything else you need to take payments in person via Square.
Square is also a comprehensive solution for in-person and online payments, thanks to their free POS software, which we discussed before.
Top Square vs. Stripe Alternatives
We'd be negligent if we didn't discuss additional payment processing choices after delving into the complexities of Stripe vs. Square. Here are some more services worth investigating:
PayPal
PayPal is another popular option for small companies seeking for payment processing. Payflow Link, their entry-level checkout experience, will set you back just $0.10 each transaction (plus whatever fee your merchant account charges).
However, it is just a payment gateway, and you will need to bring your own merchant account to the table. However, if you already have a merchant account for your company, PayPal may be a suitable alternative for online payments.
If you're interested in learning more about how PayPal compares to Stripe and Square, see our Stripe vs. PayPal comparison.
Depot for Payments
In contrast to Square, Stripe, and PayPal, Payment Depot provides wholesale interchange rates. This implies you'll pay a monthly membership fee of $49 to $199 and get the lowest interchange rate available, as well as transaction costs of $0.05 to $0.15.
Payment Depot, unlike PayPal, offers subscribers a merchant account, payment gateway, and virtual terminal. You may handle Visa, Mastercard, American Express, and Discover credit and debit cards with Payment Depot. You may also take payments through ACH and e-check. Payment Depot works with a variety of POS hardware and software, as well as the majority of popular ecommerce platforms.
Authorize.Net
Authorize.Net is a third alternative, however it only offers a payment gateway for online payment processing. You can provide your consumers a variety of payment choices with Authorize.net, including credit and debit cards, e-checks, and digital payments, all from your website or ecommerce platform.
If you currently have a merchant account with them, you may join up for their payment gateway-only plan for $25 per month plus $0.10 per transaction and a $0.10 daily batch charge. If you don't already have a merchant account, you may choose their combo package, which includes both a merchant account and a payment gateway. In this instance, you'll pay a $25 monthly charge plus 2.9 percent + $0.30 each transaction.
Last Thoughts
Keep all of this information regarding Stripe vs. Square in mind when you choose your online payment platform moving ahead. Because each was created with a particular kind of company in mind, each will serve your business in a unique manner.
As a result, be certain you're selecting the appropriate online payment experience for your company and your customers.