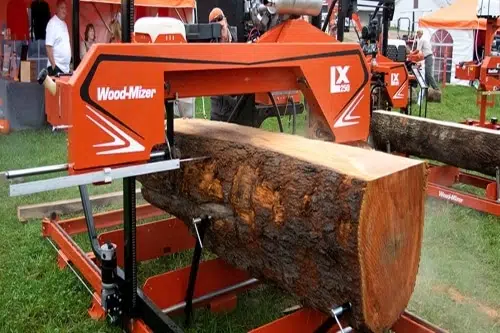 Given that approximately 60% of all portable sawmill operators rely on milling lumber and other wood products for all or part of their revenue, it's astonishing how little attention is given to marketing the industry on which they rely. When asked what sawyers rely on the most for marketing, the majority of mill owners said "word-of-mouth."
While it is true that as soon as you place the edge of a blade on the end of a log, people notice and you begin to develop a company, your full-time or part-time business will never live up to its earning potential unless you take efforts to perform at least some marketing. Remember, most people have no idea who their state's two senators are. Don't expect to improve public awareness of your company without making at least some attempt to aggressively introduce yourself to the people who rely on you.
So, let's speak about three marketing measures you may do nearly immediately and for little or no money.
First and foremost, give your company a name. Alternatively, if required, rename your company and give it some consideration.
Consider the success of Wood-Mizer during the last three decades. Do you believe the business would have been as successful if the founders had called it "Laskowski and Tekulve Sawmills" instead of "Laskowski and Tekulve"?
The term "Wood-Mizer" has proved to be an effective marketing tool, and I doubt the creators spent more than a little time coming up a moniker that has become a legend in the industry.
Consider some ideas that are significant to people nowadays when coming up with a name for your company. Those ideas differ depending on where you live, but for starters, the phrase "urban wood" conjures up thoughts of environmental stewardship, recycling, and forest preservation, particularly among consumers who live in or near cities. Other significant buzzwords nowadays include "local," "green," "recycle," "sustainable," and "renewable."
Consider what is essential to your customers when naming your company, and attempt to include something into the name that indicates you are likely to care about what they care about. Although not every name will be a home run, batting singles is a better way to earn a livelihood than striking out. "Farm to Market Sawmilling" is much more likely to conjure up a good picture in the mind of a client than "A to Z Sawmilling."
When you've decided on a name, think about signs, particularly if you live or work near a busy route.
Place a sign where people may see it every day as they go by. Do you have a work truck? You may buy a magnetic sign for your rig's doors for a reasonable price. It follows you everywhere you go. If you've ever driven someplace and pulled over because of a sign or billboard, you know that signs sell. Make a sign that will accompany you when you move your portable mill from one location to another. Potential clients will notice you sawing and will be able to contact you as a result of the signage.
Last but not least, consider the use of social media.
Start by looking at Wood-Facebook Mizer's page, which has thousands of followers. That's incredible. For the same amount that Wood-Mizer spent, you can create a Facebook business page. You'll also have the same amount of likes that Wood-Mizer had at the start – none. However, don't anticipate a flood of "likes" straight away.