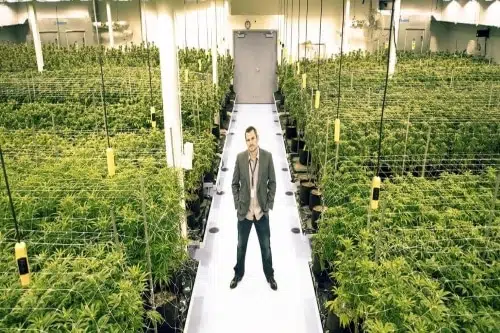 One of the fastest-growing businesses in the United States is legal cannabis.
The cannabis business is just recently legal, and it has seen extraordinary growth as it transitions from the underground to the mainstream.
It takes a lot of hands to build a multibillion-dollar business from the bottom up, and the cannabis sector has drawn entrepreneurs of all colors, from growers to distributors to IT specialists, all of whom want a piece of the multibillion-dollar pie. While the sector has seen tremendous development, predictions indicate that it is still in its infancy. With nowhere to go but up, you may be thinking about starting your own marijuana company.
Due to its infancy and the legal conditions surrounding it, the cannabis business is a complex area. This cannabis industry startup guide will provide you a bird's-eye perspective of some of the most important things to know about the marijuana market before starting your own firm. Knowing the fundamentals of the industry is important to establishing a successful legal marijuana company, whether you're intending to operate a dispensary, get a production license, or run an auxiliary business.
The start of a business
Adult-use cannabis (sometimes known as "recreational marijuana") is legal in 10 states plus Washington, D.C. Medical marijuana is allowed in 33 states plus Washington, D.C. A total of 15 states have decriminalized cannabis, making possession of small quantities of the drug a civil offense rather than a criminal one. The wave of legalizations started in 1996 with the passing of Proposition 215 in California, and concluded in 2012 with the legalization of recreational cannabis in Colorado and Washington. More states have followed suit after then. What was once a black-market commodity has become the cash crop of a new business in only 20 years.
However, the federal government continues to classify cannabis as a Schedule 1 prohibited drug, despite the fact that it is expected to grow to be worth more than $20 billion by the early 2020s, according to various estimates. This implies that cannabis is classified as a controlled drug having no recognized medicinal value and a high risk of misuse.
Despite federal illegality, the cannabis sector flourished and prospered, thanks in large part to the Department of Justice's Cole Memorandum, which indicated that the feds would not interfere with cannabis businesses that followed their state's legal framework. Former US Attorney General Jeff Sessions revoked the Cole Memorandum in 2018, but the medicinal cannabis business is still protected by a hands-off approach from prosecutors and a legislative legislation called as the Rohrabacher-Blumenauer amendment. In essence, Rohrabacher-Blumenauer says that no federal funds would be used to pursue enforcement proceedings against state-licensed medicinal cannabis companies. Sadly, even with these safeguards in place, the federal ban continues to obstruct legal cannabis companies in other ways.
The legal cannabis business is thriving despite this albatross around its neck. The cannabis business in the United States was worth $10.4 billion in 2018, according to industry researchers New Frontier Data. Through 2025, that value is expected to rise to $26.3 billion. Without accounting for employment generated indirectly by support businesses such as marketing firms or professional advisers, the cannabis sector has directly created over 300,000 jobs.
Various types of business
You would assume the window of opportunity has largely closed with figures like $10.4 billion in worth, but industry experts told business.com that it's still early in the game. Stuart Titus, Ph.D., president and CEO of Medical Marijuana Inc., an industrial hemp business, believes that cannabis companies of all kinds still have a lot of room to develop and thrive.
In an interview at the Cannabis World Congress & Business Exposition, Titus stated, "The whole business is at the very ground-floor level." "We're still a long way from realizing our full potential. Consider the ban of alcohol. Legalization sparked a flurry of new sectors and companies… We believe the same can be said for this business."
Cannabis companies come in a variety of forms and sizes. Most people envision large-scale growing facilities or dispensaries brimming with glistening green blooms. Those are unquestionably important aspects of the business, but many cannabis entrepreneurs never touch the plant itself. Companies that provide logistical assistance, such as distribution and transportation, or technology, such as dispensary software development or high-tech infrastructure for grow houses, are examples.
Science, like it is in other agricultural efforts, is a major motivator of the cannabis business. Testing the strength and genetics of cannabis flowers necessitates the use of laboratories, extractors are necessary for collecting oils, and continuing research sheds light on the characteristics of cannabis for medicinal treatment. Glassblowers, vape shop owners, and delicacies makers are also in great demand.
"I think there's a lot of potential," Titus remarked. "Everything from medical to recreational, support industries, and infused goods is at a very early stage. As time passes, creative brains, innovative goods, and distribution systems will continue to evolve, and I believe there will be enough potential for individuals to earn a substantial profit in this wonderful sector."
Regulatory environment
The condition of the sector is still extremely fluid. Various state frameworks have resulted in a fragmented business that looks quite different depending on location, either despite or perhaps because of the federal ban. Everything from licensing to reporting may vary dramatically across jurisdictions, making it difficult for businesses to grow. For example, experience acquired in Colorado may not always transfer to the New York market.
"There are numerous things that are impacted since we're not a federally recognized business," said Sara Gullickson, CEO of DispensaryPermits.com, a consulting firm for marijuana entrepreneurs. "Every state program has its own set of rules. They're developing programs that are tailored to their environment. As a result, things that are essential in Arkansas may not be as relevant in Ohio, and we're seeing this play out."
Newer markets are adding requirements that do not exist in earlier markets as understanding of the sector increases. For example, Arizona's legal cannabis program makes no mention of testing, whereas emerging markets need testing to verify that cannabis is a safe, high-quality medicinal product for patients before it reaches the market, according to Gullickson.
The absence of federal policy has resulted in a period of experimentation, in which states take what works from one another and attempt to eliminate what doesn't, according to Gullickson. While the federal ban causes a lot of uncertainty and difficulties, she believes that the trial-and-error phase has been beneficial to the industry's development.
Gullickson remarked, "I'm a little bit more hopeful than others." "I almost believe there would be a lot of opposition if the government came in and forced something down everyone's throat. How could the federal government come up with something that is consistent, adopted throughout the country, and works in all 50 states? It's both essential and frightening, because we know what we're doing in various states and there are some excellent initiatives. We don't want anything to interfere with the excellent work we're currently doing."
Taxation
Cannabis businesses confront distinct tax difficulties than other sectors since it is still illegal on the federal level. The Internal Revenue Service's Section 280E, which prevents cannabis businesses from deducting regular business costs from their tax bills, is the most well-known of these obstacles.
A 1981 court decision resulted in Section 280E, which allowed a convicted drug dealer to deduct business expenditures linked to his illegal operations. To prevent a recurrence of the occurrence, Congress passed Section 280E shortly after. Any expenditures linked to the "trafficking of prohibited drugs" are not eligible for deductions or credits under Section 280E. This tax regulation applies to state-compliant legal cannabis companies since cannabis remains a prohibited drug under federal law.
As a consequence, cannabis companies pay more taxes than they would if they were selling a federally authorized product. Cannabis businesses must pay taxes on their gross revenue, not their revenue minus cost of products sold. As a consequence, cannabis firms pay a 55 percent effective tax rate, compared to a 30 percent effective tax rate for similarly situated non-cannabis businesses.
Cannabis businesses must adhere to different state tax schemes in addition to the federal tax law. Some jurisdictions, like as Washington, levy excise taxes on top of their regular tax system, such as a 37 percent excise tax on all cannabis sales. As a cannabis company owner, your tax responsibilities are substantial and often complicated, so make sure you understand both federal and state tax laws.
Permitting and licensing
Licensing and permits are required for companies that work with plants. The procedure varies by state and may be lengthy. In addition to laying out rules and processes, applicants must outline who makes up their company and demonstrate that what they claim is accurate. According to Gullickson, balancing a high degree of detail in short-term applications has become its own skill set in the consulting business.
"When you were submitting applications three or four years ago, everyone put everything in – hundreds and thousands of pages to confuse them and hoping they wouldn't read it," she added. "Currently, the application procedure requires you to explain your business in five pages. You'll need someone to explain your rules and processes to those who aren't familiar with them. In order to be as detailed as possible in restricted characters, we had to refine our skill set."
Ultimately, growers and dispensaries seeking a license should budget between $150,000 and $200,000 to complete the procedure, according to Gullickson. Costs for bigger businesses seeking a "super license" range from $500,000 to $750,000.
Banking and financial services
Another issue brought on by the federal restriction is banking. Many banks are wary of doing business with cannabis-related businesses, while others simply refuse. Working with cannabis companies poses a risk to banks: on the one hand, it exposes them to extra monitoring and responsibility; on the other side, there is a real concern that a government crackdown would result in confiscated assets and a financial disaster.
Due to a lack of traditional banking alternatives, cannabis entrepreneurs, particularly those who deal with the plant, rely heavily on cash. Not only is it hazardous – cannabis businesses are often targeted for robberies – but it's also very difficult to monitor cash payments for tax and regulatory reasons.
"Right now, it's devastating," said Keegan Peterson, CEO of payroll and HR firm Wurk. "When you don't have banking, you don't understand how essential it is – simply paying workers is terrible. It's tough to show you paid [your workers], your suppliers, or your tax obligation in a cash economy."
Furthermore, cannabis companies are often unable to get a conventional line of credit, restricting a popular early-stage development funding alternative. As a result, the most frequent method for new businesses to get started is through bootstrapping or obtaining funds from friends, family, and angel investors.
In the meanwhile, the industry has devised several solutions. Angel investors who are prepared to take a chance contribute a lot of startup and growth money, and many startup accelerators and incubators have sprung up to assist their cohorts advance.
Venture capital companies keep their cards close to their chests, but they are keeping a careful eye on the sector and making some early bets. Still, the cannabis sector is holding its breath in the hopes that the federal ban will be removed soon, allowing access to conventional banks and boosting the industry's already promising development prospects.
Regardless of whether traditional financing becomes accessible soon or not, David Goldstein, CEO and co-founder of medicinal cannabis software firm PotBotics, told business.com that it's critical for a startup to manage resources efficiently. He also encouraged newbies to bring in professionals with experience in other fields who can apply their skills to the cannabis business.
"What we've seen is that institutional investment has been difficult to come by," he added. "We see two kinds of investors: wealthy people who are enthusiastic about cannabis, either because they have had cancer and cannabis benefited them, or because they see the development potential. Institutional money, I believe, is on the way… However, it's critical for a company to operate lean while also bringing in individuals with experience in other sectors… so they can contribute their skills to help move something out of [the] black market and into the white collar."
Questions regarding establishing a cannabis company that are often posed
Are you looking for information that isn't included in the aforementioned cannabis business starting guide? These frequently asked questions may assist you in getting started with your own cannabis company, whether it's plant-touching or auxiliary.
What is a cannabis auxiliary business?
A firm that offers essential services in the cannabis industry without ever touching the plant is referred to as a "ancillary cannabis business." Marketing agencies, professional consultants, payment processors, security firms, and other businesses fall into this category. Ancillary businesses often offer business-to-business (B2B) services to other cannabis firms.
Plant-touching companies have onerous licensing and regulatory procedures, which are avoided by ancillary businesses. Many newcomers to the cannabis sector are adapting their current skill sets or businesses to the industry in order to offer essential services.
What does it cost to establish a marijuana dispensary?
The cost of establishing a cannabis dispensary is determined by a number of variables, including your location, dispensary size, and the application and licensing procedure in your state. Opening a cannabis shop may be a multimillion-dollar endeavor in certain instances, but just a few hundred thousand in others. In the end, it isn't inexpensive to operate a cannabis shop. Furthermore, it is a time-consuming and complex procedure that requires careful preparation.
If you're thinking about establishing a dispensary, you'll need to find the appropriate partners, get financing, and become acquainted with your state's application procedure. Every state will search for somewhat different characteristics in an application, therefore it's critical to tailor your strategy to what the state is looking for.
What does it cost to establish a cannabis grow operation?
Starting a cannabis growing business, like establishing a dispensary, is not a cheap undertaking. The entire initial expenditure for a 7,700-square-foot facility with 1,000 plants is estimated to be more over $800,000, and many growing facilities are multimillion-dollar ventures. Navigating the licensing process is very comparable to establishing a dispensary; it's essential to learn what your state is looking for in an application and then tailor your team and business strategy to meet those requirements.
What is the procedure for obtaining a cannabis production license?
You'll have to go via your state's regulatory agency to get a cannabis growing license. This is usually a marijuana control board, although the precise procedure differs from state to state. Some jurisdictions, for example, demand vertical integration, which means you grow and sell your cannabis goods from start to end. Other states have separate cultivation and dispensary permits, limiting your business to one of the two.
What additional licenses does your marijuana dispensary require?
Other permissions or licenses may be required depending on where your company sits in the cannabis supply chain. Processor licenses for value-added firms like extractors or edibles businesses, research licenses, and transportation licenses are available in addition to cultivation and retail licenses for growers and dispensaries. Before starting your company, be sure you are acquainted with all of the requirements of your state's legislation and that you have obtained the required licenses and permissions.
What guarantees do I have that my cannabis company will be licensed?
Although there is no assurance that your cannabis company will be licensed, adhering to your state's regulations to the best of your abilities can improve your chances. A solid team and well-thought-out company strategy are essential, as are realistic financials and a reliable source of financing. Some governments place a premium on social justice and diversity, boosting minority and veteran-led teams. Identifying the particular objectives of your state's regulators and customizing your business and strategy to meet those priorities significantly improves your chances of receiving a license; nevertheless, getting a license is never a certainty.
How can business owners become more knowledgeable about cannabis laws?
When establishing a cannabis company, it is essential to hire an experienced attorney in addition to doing your own study. Ideally, you should establish a working relationship with an attorney who can assist you in learning about the relevant legislation. Given the ever-changing regulations from state to state and the unclear future of federal policy, entering the cannabis business without legal advice is particularly hazardous.
How can you get started in the cannabis transportation or logistics industry?
A transportation license is likely required to start a transport or logistics company for the distribution of cannabis and cannabis products. Direct-to-consumer cannabis distribution is allowed in certain states but illegal in others. Regardless, every legal cannabis business will need transportation to carry gathered cannabis to processing plants and dispensaries. Again, each state has its own set of laws and restrictions when it comes to cannabis transportation, so do your research and follow all of the relevant standards.
What kinds of funding do cannabis companies have access to?
Because the FDIC will not support any bank that lends money to a company that violates federal law, which all state-compliant legal cannabis businesses presently do, traditional loans are uncommon in the cannabis sector. While traditional financing for cannabis companies are difficult to come by, there are other options. In addition to angel investors and venture capitalists, cannabis-specific financing firms have emerged to fill the void created by banks unwilling to lend to fledgling cannabis businesses. Many auxiliary cannabis businesses are also bootstrapped, meaning they were established with the founders' own money or personal credit.