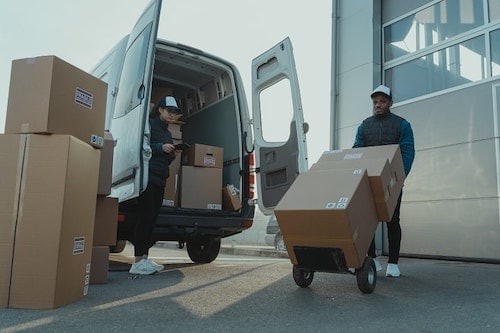 Hospitals and clinics rely on medical couriers to move test samples, drugs, equipment, and more. Medical couriers may also pick up and drop off people who need medical devices at home, such as oxygen tanks or IV drip.
But this is not like bringing pizza. Medical couriers must be trained in the right way to handle medical devices, drugs, and samples. The medical courier business expects strong growth for at least the next five years. This means that now is a great time to take advantage of this growing market.
But before you can start learning how to handle medical tools, you'll need to know what it takes to start a business. Luckily, this step-by-step guide has the information and tools you need to start and grow a profitable medical courier business.
Step 1: Find Out if this is the Right Business for You?
Positives Vs Negatives
Flexibility – Make your own hours
Good Money: Charge as much as $45 per hour
Low Starting Costs – Use your current car, if you have one.
Highly regulated: licenses are needed, and there are strict rules to follow
Tough Competition – Will need to stand out from other drivers
Industry Trends
Size of the market and past growth – The US courier and local delivery services business is worth $133.8 billion after growing 5.5% each year since 2017.
Growth prediction: The global medical courier industry is projected to grow at an annual rate of 5.5% through 2027.
Number of businesses: As of 2022, there were 256,633 courier and local delivery service companies in the US.
Cost of Starting Medical Courier Business
The start-up costs for a medical courier business range from $4,000 to $10,000. Costs include getting the right certification, software, a website, and marketing costs. One of the benefits of starting a courier business is that you can use your own car, which keeps costs low.
Visit Integrity Medical Courier Training for more information on online medical courier licensing. Courses cost between $20 and $100, and each can be finished in three hours or less.
Investment Items:
Is Medical Courier Business Profitable?
The average cost for medical messenger services is $35 per hour. If you use your own vehicle, your major costs will be certification, a website, and marketing. Expect a profit margin of about 85%.
In your first year or two, you could deliver for eight hours a day, five days a week, and make $35 per hour. This would bring in $73,000 per year. Assuming an 85% profit rate, you'd make $62,000 in profit. As your number of clients grows, you could hire another driver to double your business, which would cut your profit margin to about 65%. With yearly revenue of $146,000, you'd make a nice profit of $95,000.
Entry Barriers
Getting OSHA and Department of Transportation certification
Building a strong pool of clients
Step 2: Create a Strategy
Identify a Gap
Research the medical delivery services in your area to find out about their services, prices, and customer reviews. You are looking for a market gap to fill. For instance, maybe the local market is missing a medical courier who makes supplies after hours.
This could jumpstart your word-of-mouth marketing and bring in customers right away.
Solutions
You'll provide pick-up and delivery services for doctor's offices, labs, and other medical centers. Because you'll be handling medications, specimen samples, and medical tools, you need to be safe and reliable.
Pricing
Costs for medical courier services run from $25 to $45 an hour. You can charge more for rush orders or requests outside of business hours.
Once you know your costs, you can use this Step By Step Profit Margins Calculator to figure out your markup and end price points. Remember that the prices you use at start should be open to change if the market calls for it.
Target Market
Your target market will be medical sites that need pick-up and delivery services for prescription drugs, medical equipment, blood samples, and other items. Hospitals, labs, doctor's offices, and nursing homes could be customers.
Think about going to trade shows in the medical field to build your network and get leads. You can also connect with medical professionals on LinkedIn and promote your services on social media sites like Facebook and Instagram.
Location
In the beginning, you may want to run your business from home to keep costs low. But as your business grows, you'll likely need to hire people to do different jobs and may need to rent an office. You can find business space to rent in your area on sites like Craigslist, Crexi, and Instant Offices.
When picking a commercial space, you might want to follow these rules of thumb:
Central position accessible via public transport
Ventilated and roomy, with good natural light
Flexible leases that can be stretched as your business grows
Ready-to-use space that doesn't need big renovations or repairs
Step 3: Write a Business Plan
Each business needs a plan. This will help you guide your startup through the launch process and stay focused on your main goals. A business plan also helps possible partners and investors better understand your company and its goals:
Executive Summary: A brief outline of the whole business plan. It should be written after the plan is finished.
Business Overview: An overview of the company's vision, purpose, ownership, and corporate goals.
Products and services: Describe your services in depth.
Market study: look at market trends, such as changes in demand and growth prospects, and do a SWOT analysis.
Competitive Analysis: Analyze your main rivals by looking at their strengths and flaws and making a list of the benefits of your services.
Sales and Marketing: Look at your company's unique selling points (USPs) and come up with sales, marketing, and promotion strategies.
Management Team: An overview of the management team, including their jobs and professional backgrounds, as well as a corporate hierarchy.
Operations Plan: Your company's operational plan includes procurement, office location, key assets and tools, and other logistics details.
Financial Plan: Three years of financial planning, including startup costs, break-even analysis, profit and loss forecasts, cash flow, and a balance sheet.
Appendix: Add any extra financial or business-related documents.
Step 4: Create a Marketing Plan
Some of your business will come from word of mouth and online visitors, but you should still spend in digital marketing! Getting the word out is especially important for new businesses, as it will increase customer and company awareness.
Once your site is up and running, link it to your social media accounts and vice versa. Social media is a great way to promote your business because you can make interesting posts about your products:
Facebook is a great tool for paid advertising because you can target specific groups, like men under 50 in the Cleveland area.
Instagram has the same benefits as Facebook, but it's for a different group.
Website: SEO will help your website appear closer to the top of relevant search results, which is a key part of growing sales. Make sure that your website's calls to action are set up well. Try different things with calls to action like "Schedule Now" in terms of writing, color, size, and placement. This can greatly increase sales leads.
Google and Yelp: For businesses that rely on local customers, getting mentioned on Yelp and Google My Business can be crucial to getting people to know about them and buy from them.
Flyering – Give out flyers in your area and at industry events
Sponsor events – You can pay to be a sponsor at events that are important to your target market.
Email marketing and newsletters: Send regular emails to customers and leads. Make them more special.
Start a blog – Start a blog and post to it regularly. Change up your content and share it on various sites.
Look for referrals. Offer incentives to customers who send you to new clients.
Paid ads on social media: Choose sites that reach your target market and make focused ads.
Pay-per-click (PPC) marketing – Use Google AdWords to do better in searches. Do research on your keywords first.
Testimonials: Share customer comments about how your medical courier service helped them.