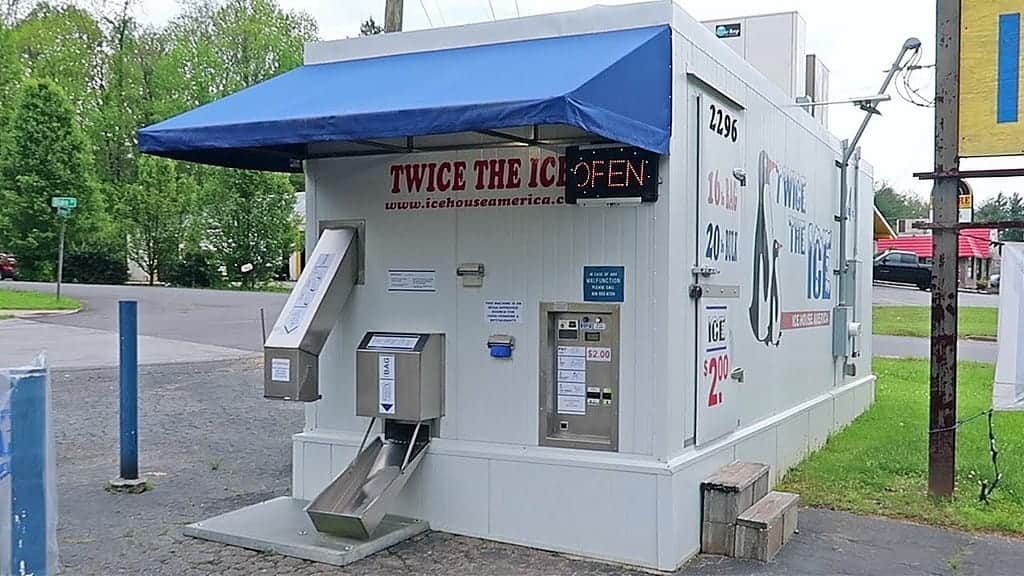 Ice Vending Business Plan is an outline of your overall ice vending business. The business plan includes a 5 year projection, marketing plan, industry analysis, organizational overview, operational overview and finally the executive summary. Remember to write your executive summary at the end as it is considered as a snapshot of the overall business plan. The creation of an ice vending business plan requires careful consideration of various factors that might impact the business's success. Ultimately, a ice vending business plan serves as a roadmap to guide the company's direction.
Table of Contents
Executive Summary
Overview: Twice the Ice, a brand of Ice vending machines, was introduced by Ice House America in 2003, altering the way Ice was purchased and sold. We merged the convenience of a drive-up vending machine with the superior quality of Ice packaged and sold without ever coming into contact with human hands. Twice the Ice is exemplified by our owner/operators. Some have been with us from the beginning, while others are new to the vended Ice and water industry, but they all have one thing in common: a desire to provide you with the most excellent Ice and water possible.
Mission: Using superior technology, we supply inexpensive, fresh Ice and water to our planet in the most environmentally friendly manner possible.
Vision: To be the world's greatest ice vending business, with a staff of committed, courteous, and ice specialists.Industry Overview: In the projected 2021 to 2028, the global ice maker market is predicted to expand. According to data from Data Bridge Market Research, the market is estimated to increase at a CAGR of 3.0 percent from 2022 to 2029, reaching USD 3,499.09 million. Increased demand for ready-to-drink beverages due to a busier lifestyle and increased need for ice in the healthcare sector drive the worldwide ice maker market.
Financial Overview: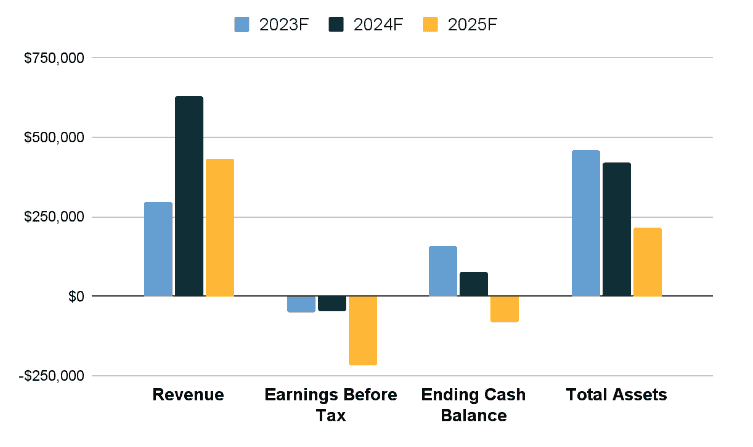 Business Description
Business Name: Universal Laundromat
Founder: Jacob Harris
Management Team:


Legal Structure: LLC
Location:
Goals:
Market Penetration: Establish your presence in at least X number of key markets within the next 12-18 months.
Customer Satisfaction: Achieve and maintain a customer satisfaction rating of 90% or higher, as measured by customer feedback surveys.
Revenue Growth: Achieve year-on-year revenue growth of 25% by focusing on the expansion of your machine network and improving sales strategies.
Products:
[Mention your services in bullet points]
Download Free Ice Vending Machine Business Plan Template
Write a plan in just 2 days!
Financial Overview
Fund Usage Plan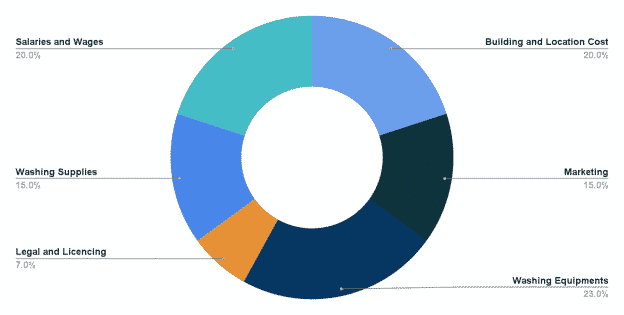 Key Metrics:


Business Model Canvas
The Canvas summarizes the business model of the entire ice vending business plan. It comprises nine key components – customer segments and value propositions to revenue streams and cost structures. The canvas provides a clear and concise way to map out, analyze, and communicate the intricacies of a business idea. It offers a holistic view of how a business creates, delivers, and captures value. It also aids entrepreneurs in refining concepts, fostering innovation, and making informed strategic choices. It serves as a versatile tool for brainstorming, planning, and presenting business models to stakeholders.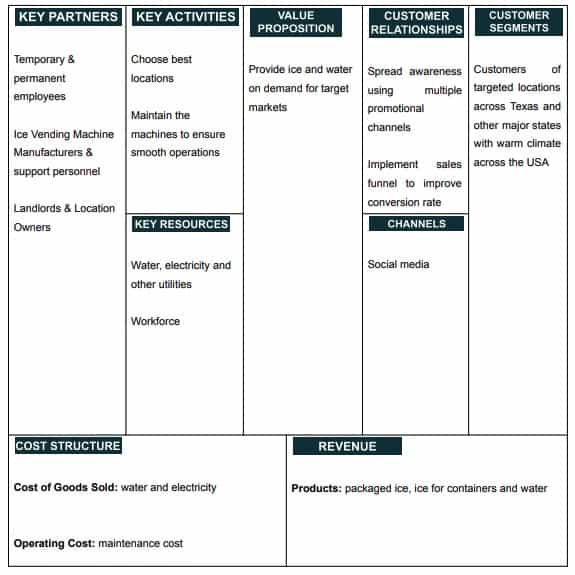 SWOT
A SWOT analysis is integral to the ice vending business plan. it offers a clear lens into a company's strengths, weaknesses, opportunities, and threats. This self-awareness enables effective resource allocation and strategic positioning against competitors. Businesses can mitigate risks, make informed decisions, and set realistic goals. In addition, presenting a SWOT analysis in a business plan communicates to stakeholders that the company possesses a deep understanding of its market environment. In essence, SWOT ensures a business's strategy is grounded in reality enhancing its chances of success.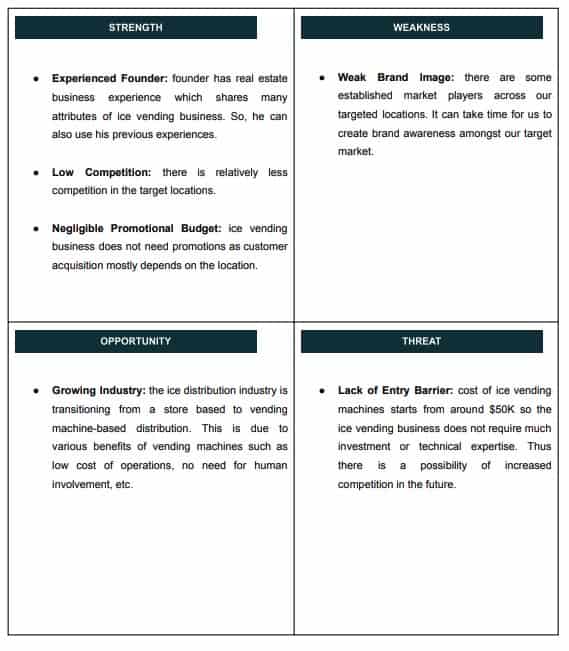 Organizational Overview
Organizational overview in a ice vending business plan provides a snapshot of how a company is structured and operates. It outlines the ownership structure, roles, responsibilities of key management personnel, and the reporting hierarchy within the organization. This section offers stakeholders, investors and other readers a clear understanding of the company's leadership and its chain of command. Additionally, it may give insight into the company's culture, values and operational philosophy.
Founder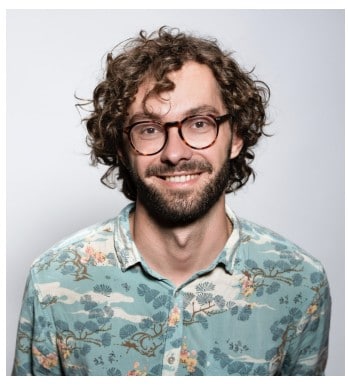 I am Jacob Harris, the passionate entrepreneur behind the innovative concept of our Ice Vending business. With a keen interest in providing sustainable, practical, and convenient solutions to everyday challenges, I bring more than a decade of experience in the retail and vending sector to my role as Founder and CEO of our company.
My journey began with a Bachelor's Degree in Business Administration, which laid the groundwork for my entrepreneurial endeavors. I quickly realized the transformative potential of the vending industry and set out to make my mark.
Over the years, I've worn many hats – from operations to customer service, to marketing and sales. This wide range of experience has given me a comprehensive understanding of the industry, equipping me with the skills needed to successfully drive our ice vending business forward.
I have always been motivated by the desire to fill gaps in the market with creative and profitable solutions. The idea of an ice vending business was born out of my observation of a significant need for readily available, high-quality ice, particularly in high-traffic and event areas.
My commitment to sustainability, high-quality products, and excellent customer service has shaped the ethos of our ice vending business. As we expand, my vision is to continue prioritizing these core values, setting us apart in the competitive landscape and driving our success into the future.
Organogram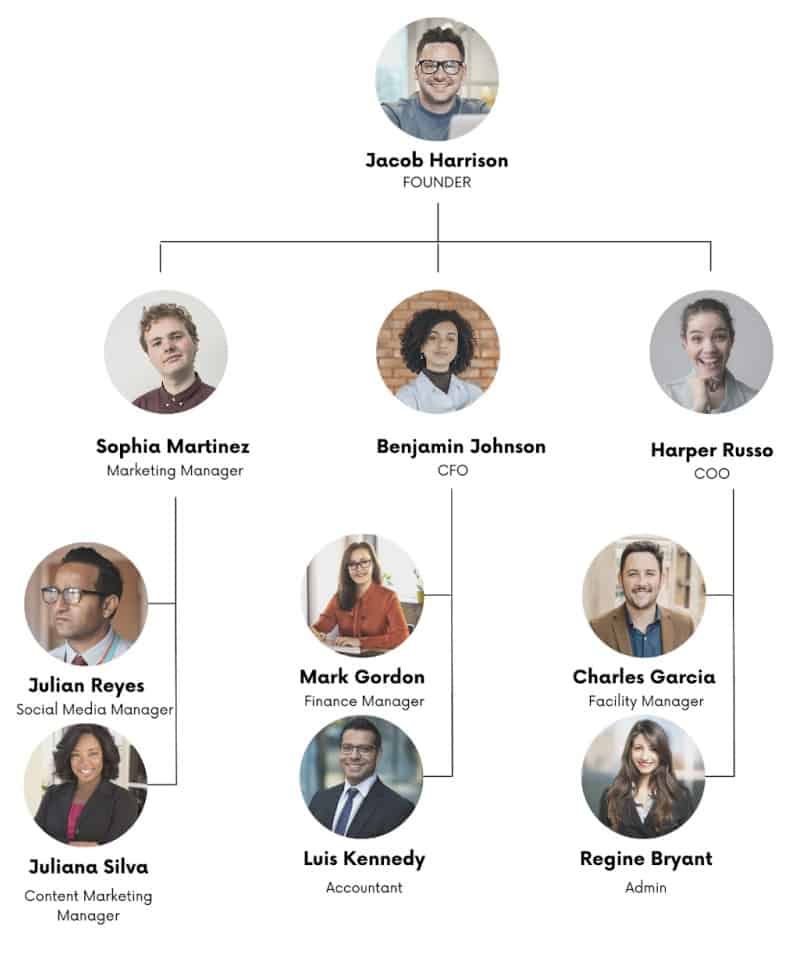 Industry Analysis
As investments in the public and private healthcare sectors continue to expand, there seems to be a growing need for ice machines. Increased demand for cold beverages and alcoholic beverages are pushing the ice maker industry forward. In the following years, the global ice machine market will grow faster. The expensive cost of ice machines, on the other hand, may limit market expansion.
The market has grown significantly because of the widespread use of ice maker systems in the food and beverage industries. It aids in the manufacture of vast amounts of fresh ice and may be found in various forms, including ice cubes, flakes, and nuggets. Product manufacturers are building energy-efficient technologies to minimize total power and water use. The commercial and residential market is expected to have significant demand in the anticipated term. The ice cube sector, which is the most popular, has a strong need for consumption of cold alcoholic and non-alcoholic drinks in homes, businesses, colleges, hotels, and bars, resulting in high ice maker machine sales. As a consequence of decreased downstream demand, revenue growth for the Ice Making Machine Manufacturing business is expected to slow in 2020. The industry's two biggest downstream markets are hotels and foodservice. Due to the pandemic, both of these are expected to have high decreases in 2020, adversely impacting industry revenue. New rules for enterprises established by the Centers for Disease Control and Prevention (CDC) in reaction to the pandemic have an impact on industry operators.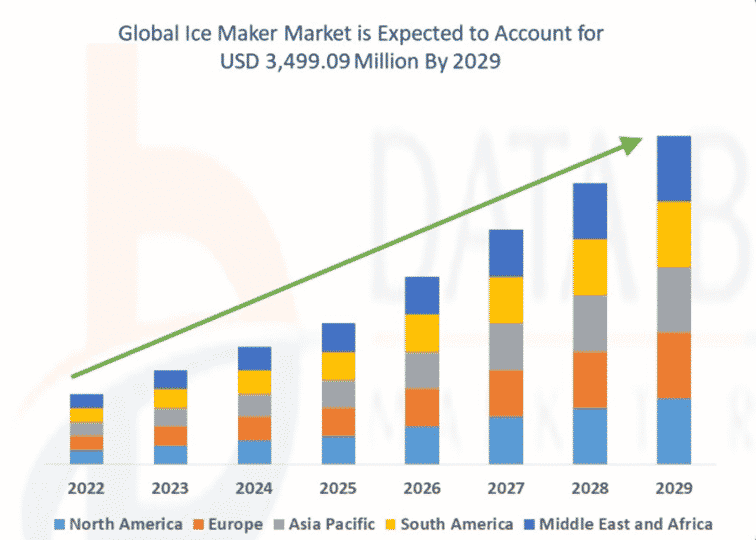 The Ice Maker Market is expected to develop at a 5.5 percent CAGR between 2021 and 2027, surpassing USD 1.5 billion in 2020. Demand is expected to be driven by the developing food and beverage business and the growing number of fast-food restaurants worldwide. Newmarket possibilities will emerge as ice makers become more widely used to store perishable commodities in the household, commercial, and industrial sectors.
The rising healthcare business is driving the use of ice machines for healing and therapy. These devices create safe, fresh ice that may be used to keep organs for a long time. One of the critical causes driving demand for ice makers is the growing use of ice in cold compression treatment, tissue and organ donation. The market will grow as the healthcare industry's need for energy-efficient ice machines grows.
The growing use of industrial ice makers to preserve raw materials and finished goods in the seafood and meat food processing sectors will fuel market growth through 2027. To maintain quality and increase the shelf life of seafood, constant temperature regulation is required. Ice keeps marine goods fresh because it suppresses bacteria development, enzyme activity, and deterioration. The increased demand for frozen food products will provide opportunities for ice maker firms in the retail food market due to their cheap cost, consistent quality, and long shelf life.
The Ice Making Machine Manufacturing business comprises companies that make ice machines for hospitals, restaurants, grocery shops, and other commercial clients. Despite periodic losses in industry income due to growing import penetration, stable demand from these important downstream markets has kept the sector afloat throughout the first half of the five years to 2022. The COVID-19 (coronavirus) pandemic, on the other hand, introduced significant instability into the business since downstream demand from large industries such as restaurants dwindled in 2020 as a result of mass shutdowns to halt the pandemic's spread.
Expected improvements in per capita disposable income and consumer spending will drive downstream demand for food and lodging services, such as restaurants and motels. This growth in downstream markets will spur private investment in long-term commodities like ice machines for usage in these facilities.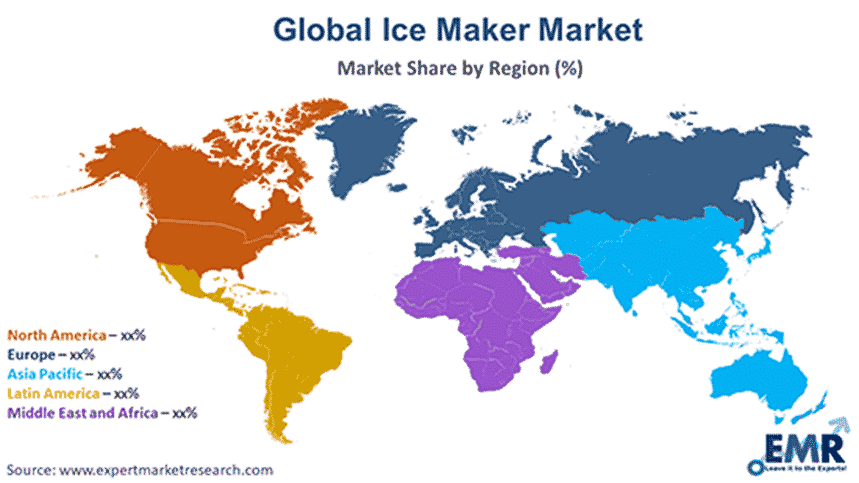 The worldwide ice maker market was estimated to be worth over USD 4.6 billion in 2020. From 2022-to 2027, the industry is predicted to develop at a CAGR of 6.2 percent, reaching USD 6.5 billion in 2026.
The rising healthcare sector and increased government expenditure on healthcare infrastructure development propel the worldwide ice maker market. Due to the manufacture of rhomboid cubes, which are commonly utilized in restaurants worldwide, the ice cube maker sector leads the market among other product kinds. The product has several uses in the foodservice industry, accounting for a large portion of the market. The rising consumer demand for dining out at cafés, hotels, and restaurants, especially among the urban population, may
Marketing Plan
A marketing plan of a ice vending business plan outlines the company's strategy to promote its products or services to its target audience. It includes specific tactics and channels the business will use to reach potential customers. This section defines the company's unique value proposition, identifies the target market segments, and discusses the competitive landscape. It also includes insight into budget allocation, projected outcomes and key performance indicators to measure success. Marketing plan helps businesses demonstrate their understanding of the market dynamics, their positioning within the industry and their approach to driving customer engagement and sales.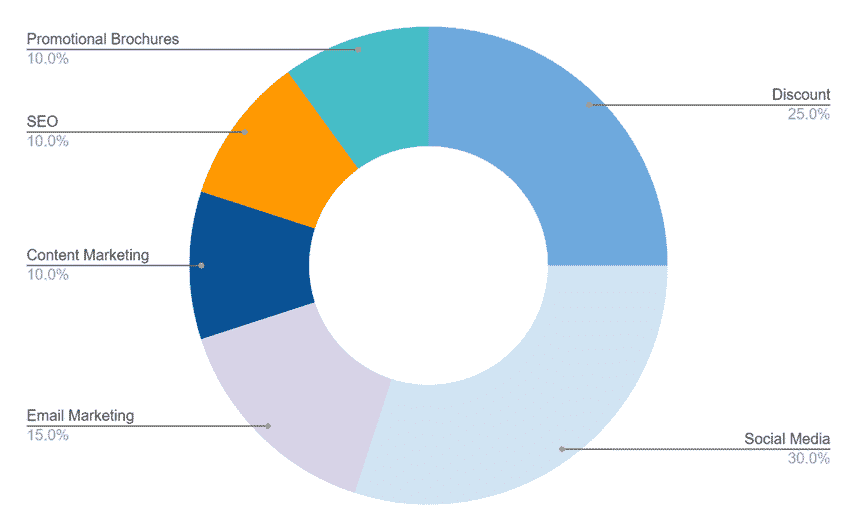 Content Marketing: Create a blog of Twice the Ice on the website with material catering to prospective customers. Content marketing is the development and distribution of relevant, helpful content—blogs, newsletters, white papers, social media posts, emails, videos, and the like—to current and potential customers.
Discounts: Provide multiple rewards or incentives where members get a deal if they successfully recommend someone.
Social Media: Engage and promote Twice the Ice on Twitter, publish news on Facebook, and utilize Instagram to promote curated photos of your space and events. Think about if you have a place in your budget for Facebook Marketing or other social media-focused ads.
SEO (Search Engine Optimization) Local SEO makes it easier for local consumers to find out what you have to offer. It creates trust with potential members seeking what your place offers.

Email Marketing: Sending automated in-product and website communications to reach out to consumers at the right time. Remember that if your client or target views your email as really important, they are more likely to forward it or share it with others, so include social media share buttons in every email.
Financials
A financial plan of a ice vending business plan provides a comprehensive projection of a company's financial health and its anticipated monetary performance over a specified period. This section encompasses a range of financial statements and projections such as profit and loss statements, balance sheets, cash flow statements and capital expenditure budgets. It outlines the business's funding requirements, sources of finance and return on investment predictions. The financial plan gives stakeholders particularly potential investors and lenders a clear understanding of the company's current financial position. A financial plan helps businesses demonstrate their financial prudence, sustainability, and growth potential.
Earnings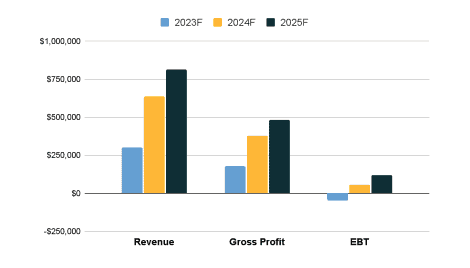 Liquidity