Ice Vending Business Plan Template 
30 page business plan template & financial model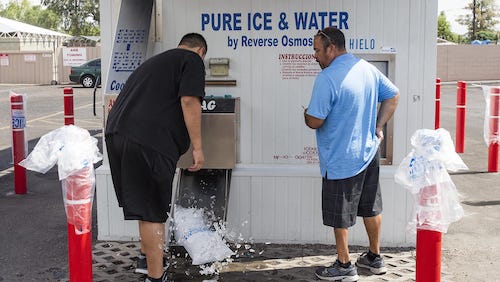 ✅ Sections in Business Plan Template: Executive Summary, Business Description, Fund Usage, Industry Analysis, Marketing Plan, Organizational Overview, Operational Overview and Financial Plan. Format: Google Doc and Microsoft Word.
✅ Sections in Financial Model: Firstly you get 3 year anuual projection in the financial model and monthly breakdown for Cost and Revenue Tabs. The tabs that you get in Google Sheet or Excel File included are Dashboard, Income Statement, Cash Flow Statement, Balance Sheet, Revenue Monthly Breakdown, Cost of Goods Sold or Cost of Service Breakdown, Operating Cost, Non- Current Asset Schedule (which is used to calculate depriciation) and Graphs & Charts which can be copied to the business plan.
✅ 100% Editable in both Mac and Windows
✅ Detailed 21 Statement Financial Model
✅ Write a Plan in just 2 days!
✅ Video Tutorial
✅ Hands-on Support
Here is a Glimpse of the Executive Summary
The [Company Name] ice vending business, founded by [Founder Name], offers convenient and reliable access to ice for both commercial and residential customers. Located in strategic areas, our ice vending machines provide a self-service solution for ice needs 24/7. Customers can purchase bags of ice in various sizes, ensuring they have a readily available supply for parties, events, and everyday use. With a focus on quality and customer satisfaction, we aim to provide a hassle-free and cost-effective solution for obtaining ice in a fast-paced world.
Problem Summary: traditional retail ice industry is labor intensive, and requires transportation & storage of ice and other overhead costs which makes the ice more expensive and also has a negative impact on profitability for ice suppliers. 
Solution Summary: ice vending machines are easy to operate as it does not require a constant supply of inventory, have almost no human involvement, have low overhead costs, and is easily scalable.
Industry Overview: our potential market size is close to $200 million and we plan to achieve around 3% to 5% of this market over the long term. Some of the key benefits of the ice vending industry include high-profit margins, easy scalability due to mostly automated operations, and a growing retail cooler market which will positively impact the sales of ice through ice vending machines.
 Financial Overview: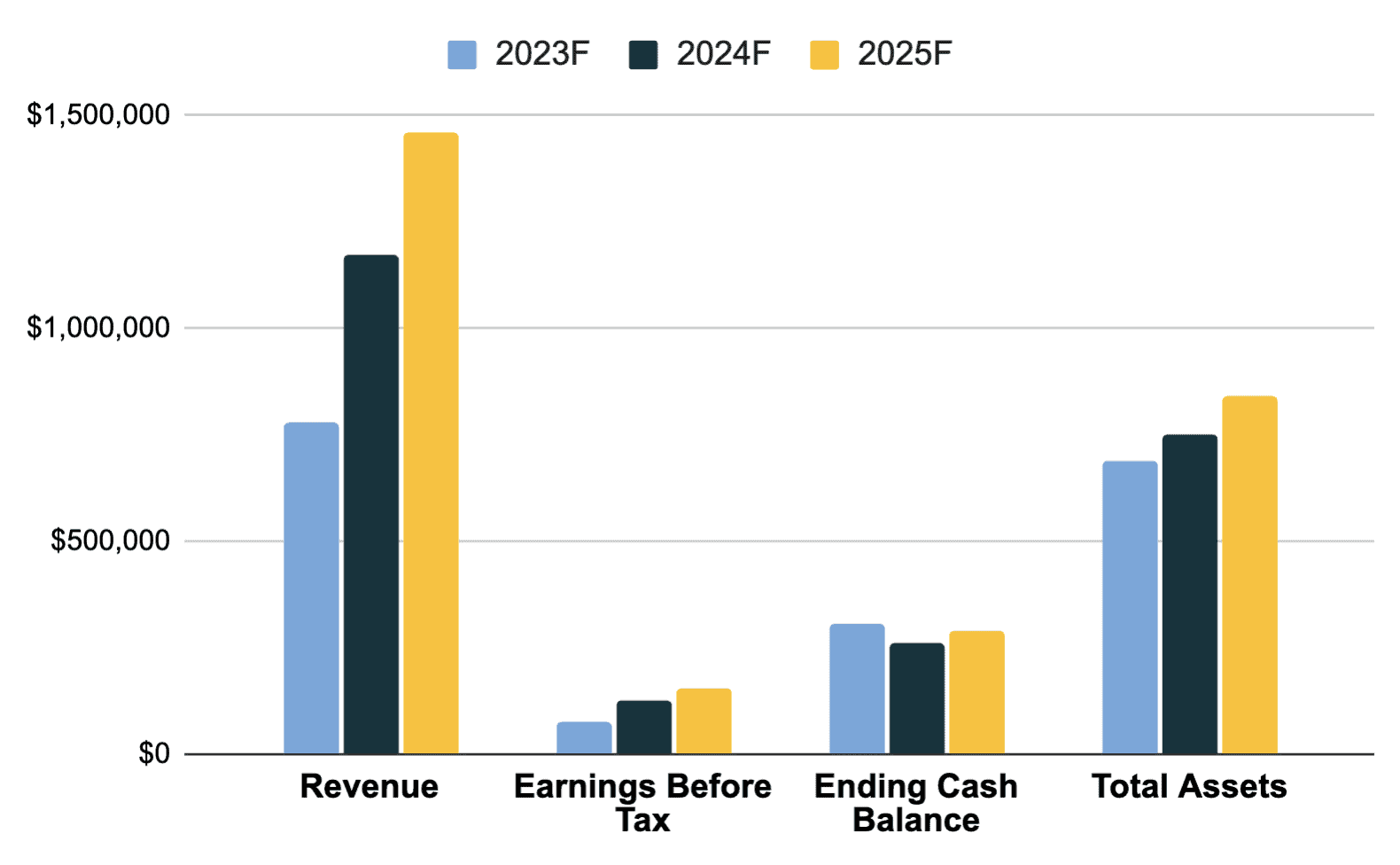 Highlights of the Ice Vending Business Plan Template 
Charts and graphs in the business plan are editable through the financial model. When you make changes to the spreadsheet then all the graphs and charts in the spreadsheet then these are automatically updated in the business plan. In addition, proper links have been provided in the business plan template in order to edit graphs or charts.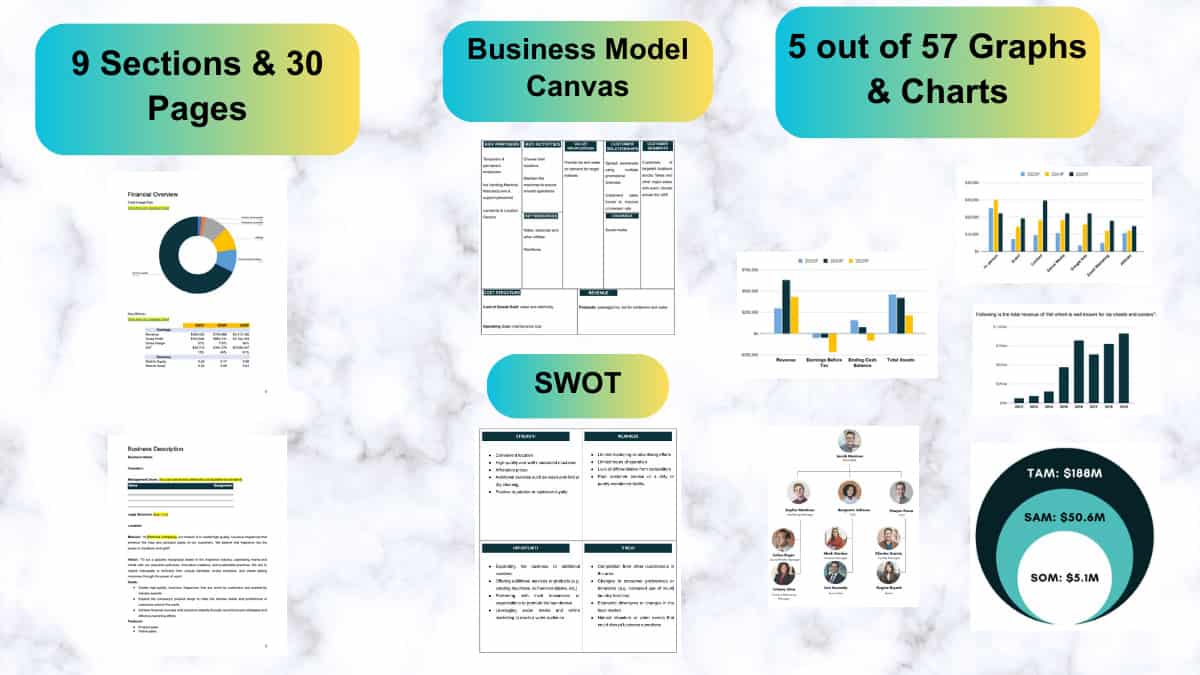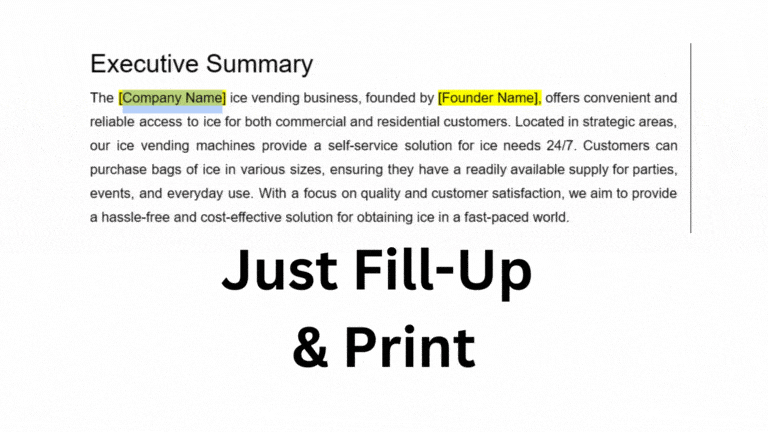 These are just some of the cover pages which you can use for your Massage Therapy Business. It is easilty editable with a free Canva account. There are 33 cover pages to choose from and you can can change the pictures or writing.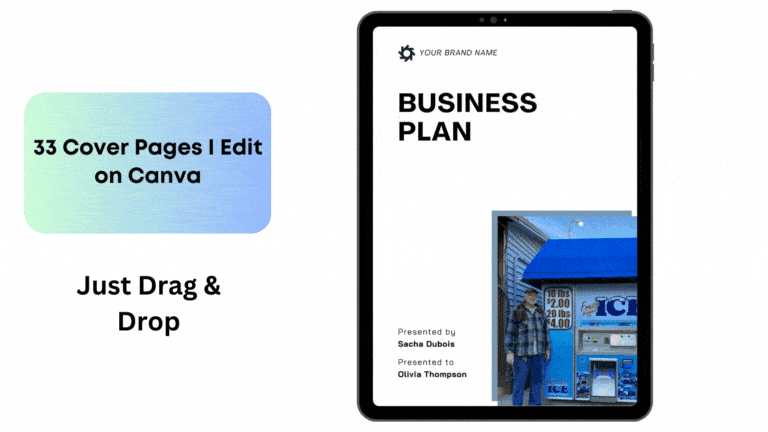 Is Ice Vending Business Plan Template Profitable?
We have analyzed these 3 factors in details in our financial model. Find out by playing with the numbers in the financial model. Edit the model with either Microsoft Excel or Google Sheets and see the magic! Don't forget to check out the dashboard to summarize the projected financial performance. 
Fund Usage Plan
You need to identify how you will use the funds. We already have a list of items in the financial model which can be modified and this chart will update automatically. This is mostly needed by investor or lenders as they want to know- why you need X amount of funds?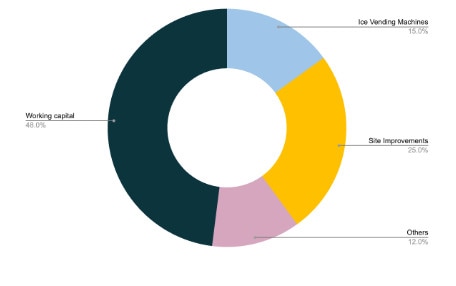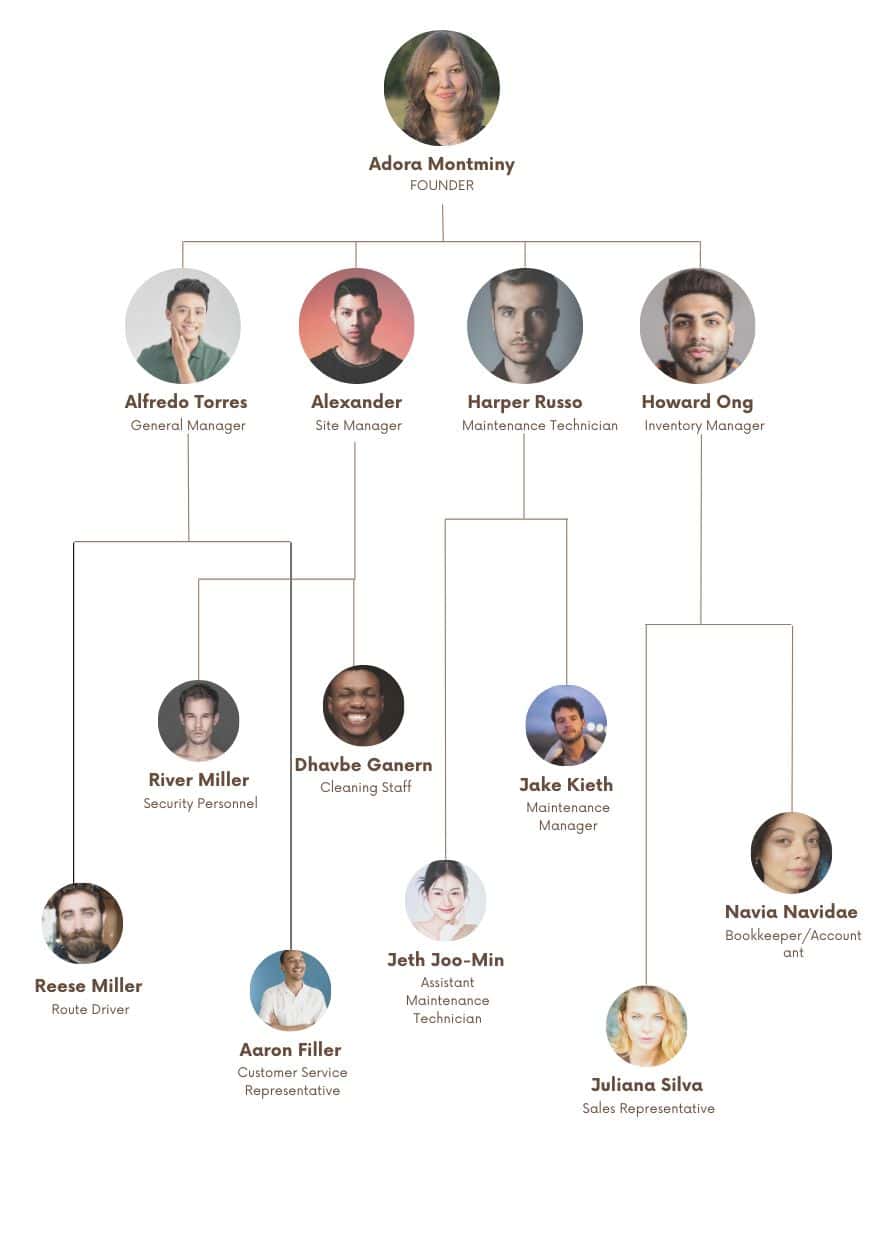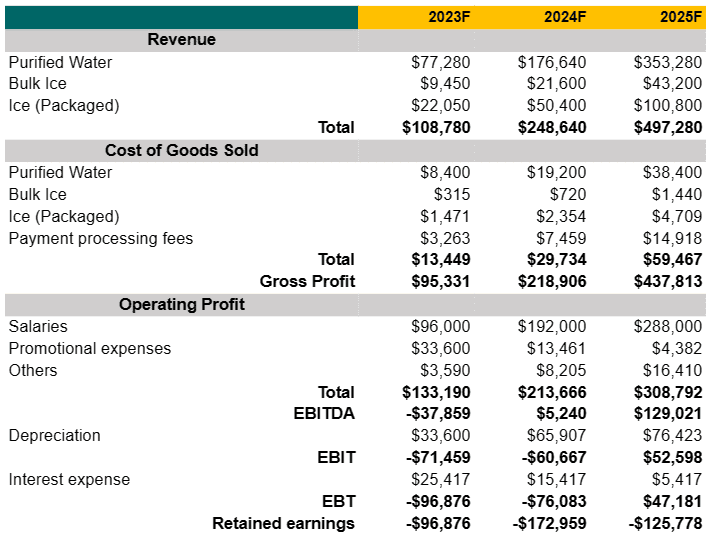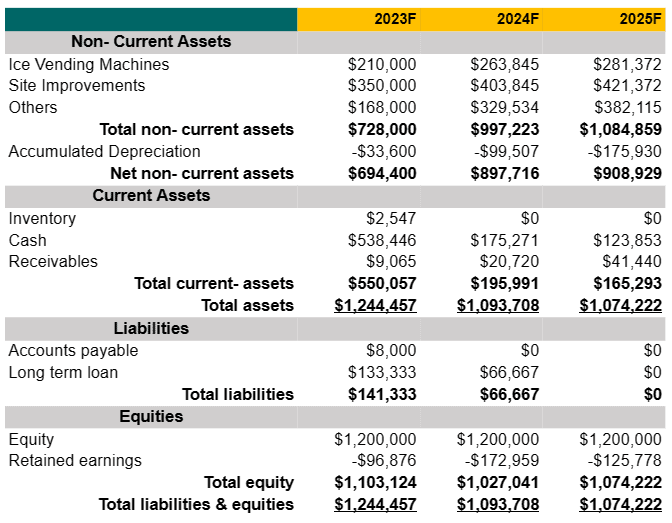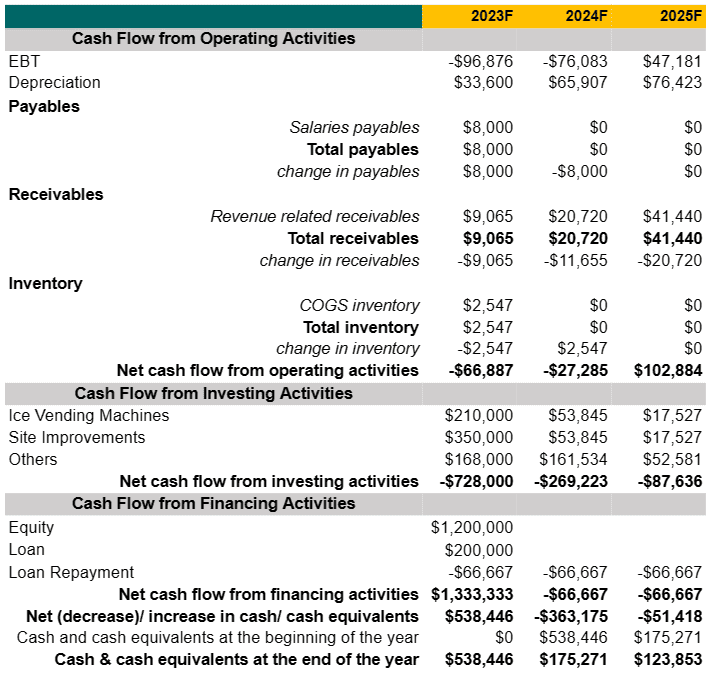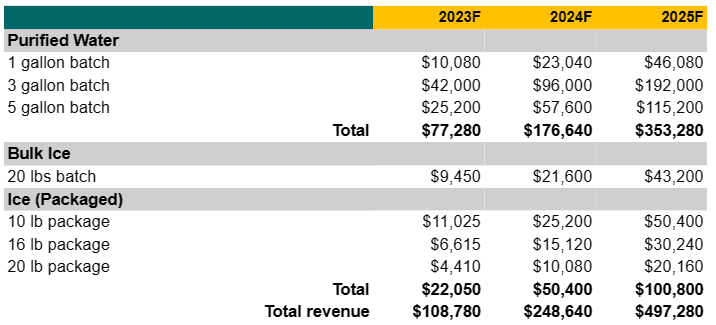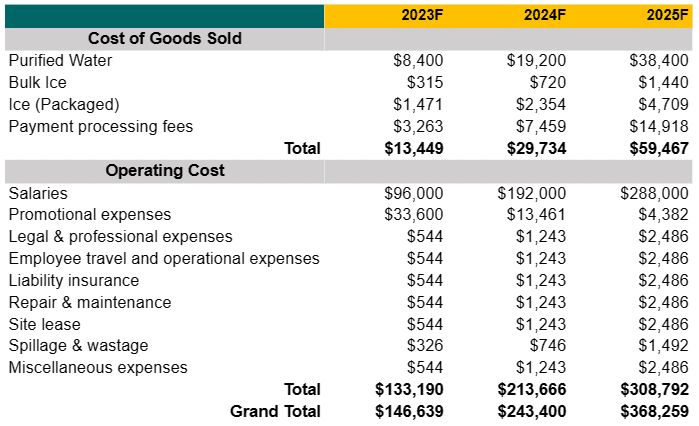 Marketing Plan
The marketing plan will help you create a budget with appropriate promotional channels, brand management, target market segmentation, possible promotional tactics, etc.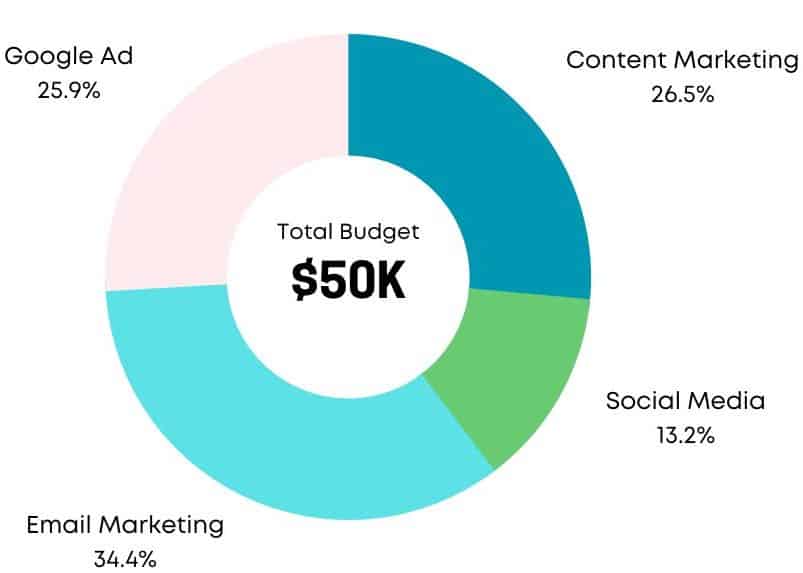 Promotional Channels
You can remove or add more channels based on your own strategy. These are also mentioned in the financial model excel file which will help you identify the budget, customer acquisition cost and number of customers acquired from each of the promotional channels.
Possible promotional channel for your ice vending business. There are more channels in the business plan template.
✅Mobile App: Develop a mobile app that allows users to find the nearest ice vending machine, check availability, and receive promotions.
✅Outdoor Advertising: Consider billboard advertising near high-traffic areas or major highways. Use eye-catching visuals and simple, memorable messages.
✅Customer Loyalty Program: Create a loyalty program where customers can earn rewards or discounts for repeat purchases. Promote the program through your website, social media, and email marketing.
✅Referral Program: Encourage your existing customers to refer others by offering them incentives. Word-of-mouth marketing can be powerful in local communities.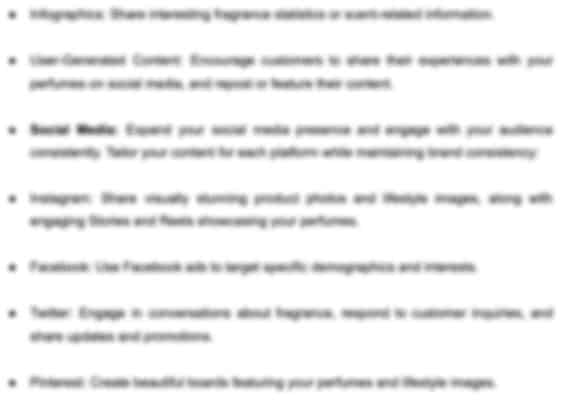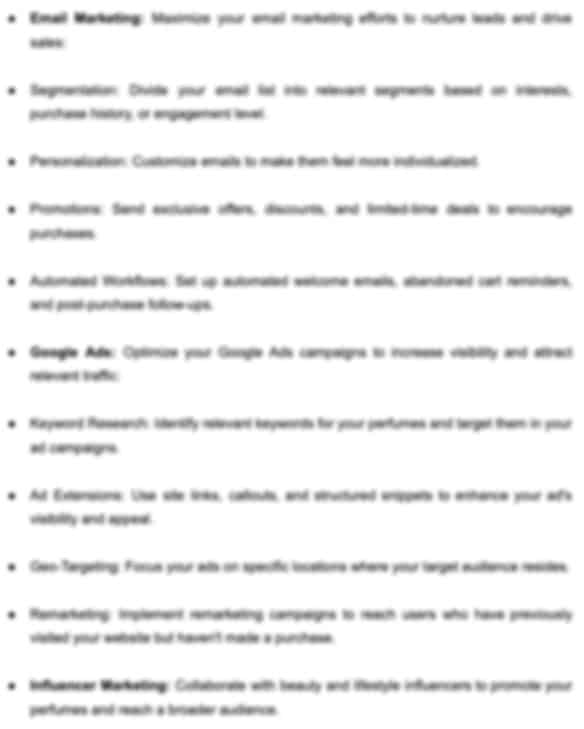 Business Description
Business Name: 
Founders:
Management Team:

Legal Structure: [e.g. LLC]
Location: 
Mission: "Our mission at [Ice Vending Business Name] is to provide our customers with convenient access to high-quality ice products, delivered with speed, reliability, and eco-friendliness. We are committed to ensuring that our ice vending machines are always stocked, well-maintained, and located in strategic locations, so our customers can enjoy refreshingly cold ice whenever they need it."
Vision: "At [Ice Vending Business Name], we envision a future where ice is readily available to everyone, anytime, anywhere. We aim to be the industry leader in ice vending solutions, continuously innovating to enhance the customer experience, reduce environmental impact, and expand our footprint globally. Our vision is to become synonymous with ice convenience, sustainability, and excellence in service."
Goals: 
✅Set a specific target for increasing your monthly sales revenue. For example, aim to increase sales by 15% in the next quarter.
✅If you currently have one or a few vending machines, set a goal to expand your network by adding a certain number of new machines within a specified timeframe. For instance, add five new machines in the next year.
✅Ensure that your vending machines are consistently in good working order. Set a goal to reduce downtime and maintenance issues by a certain percentage, which will lead to higher customer satisfaction and revenue.
Products: 
✅Ice Delivery Service
✅Ice Sculptures
✅Ice Merchandise
Industry Analysis
Industry Overview
As of 2021, the ice vending business has experienced steady growth within the broader ice production and distribution sector, which generates over $2 billion in annual revenue in the United States. These self-service ice vending machines offer convenient access to ice 24/7, serving various markets, including restaurants, convenience stores, and households. Emerging trends include technological advancements for automated vending, touchless interfaces, and a growing emphasis on food safety and eco-friendly ice production methods. Location selection and effective branding remain crucial for attracting customers in this industry. For the most current statistics and trends, consult industry reports and sources specializing in ice production and vending.
Opportunities
✅Diverse Ice Products: Offer a range of ice products to cater to different customer needs, including cubed ice, crushed ice, gourmet ice, and flavored ice.
✅Water and Filtration Services: Provide purified or filtered water dispensing alongside ice vending machines, appealing to health-conscious consumers who value both ice and water quality.
✅Ice-Related Accessories: Sell ice-related accessories such as coolers, ice scoops, and reusable ice bags to generate additional revenue and enhance customer convenience.
✅Eco-Friendly Practices: Implement eco-friendly ice production methods, such as energy-efficient machines and sustainable packaging, to appeal to environmentally conscious consumers.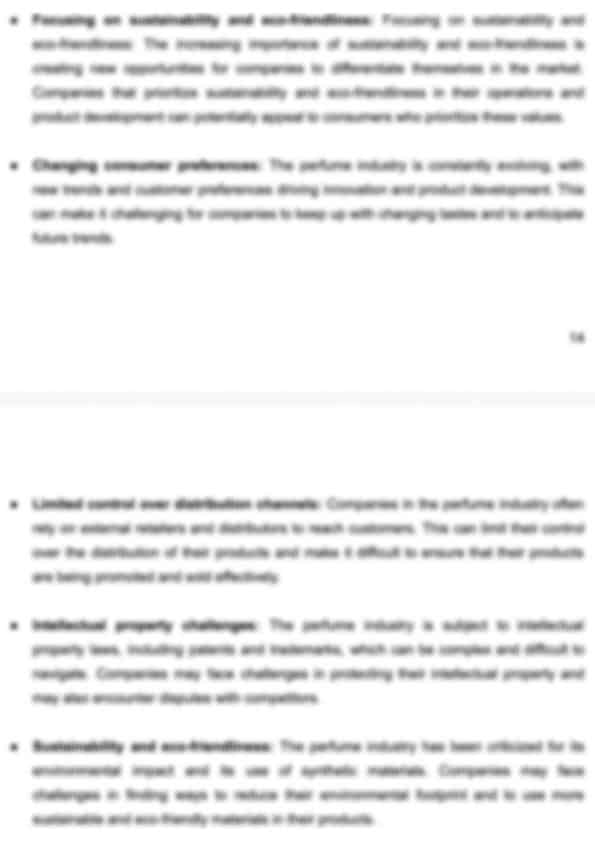 Target Market Segmentation
Geographic Segmentation:
✅Urban Areas: Target urban locations with a high population density, where people may require ice for various purposes, including convenience stores, gas stations, and recreational areas.
✅Coastal Regions: Focus on coastal areas, marinas, and beachside locations where ice is in high demand for boating, fishing, and beach outings.
✅Rural Areas: Cater to rural and agricultural areas, serving the needs of farmers, outdoor enthusiasts, and community gatherings.
Demographic Segmentation:
✅Age: Tailor marketing efforts to different age groups. Younger demographics may prefer flavored or novelty ice, while older customers may prioritize ice quality and purity.
✅Income Levels: Offer a range of ice products to accommodate various income levels, from budget-friendly options to premium ice for upscale markets.
✅Family Status: Create family-friendly marketing campaigns and promotions for households with children, emphasizing the convenience of ice vending.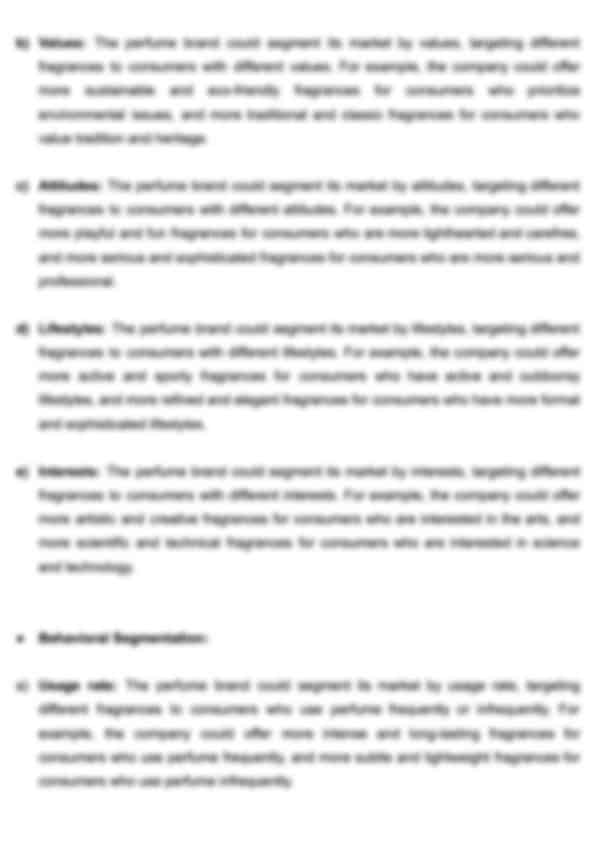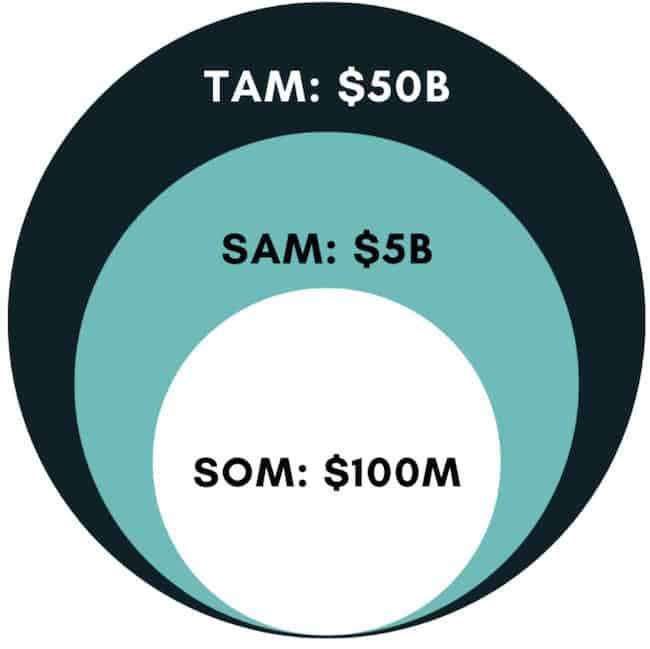 Total Addressable Market: TAM refers to the total demand for a product or service in a specific market. It represents the entire market size without any limitations, assuming there are no constraints or barriers to adoption. TAM represents the maximum revenue opportunity available for a product or service if it were to capture 100% market share. Let's assume the global perfume market is estimated to be $50 billion annually. So, our TAM is $50B.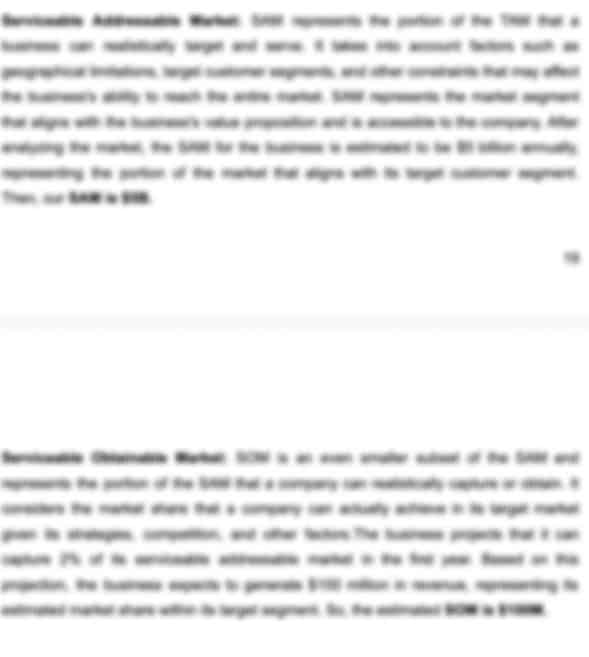 I was initially overwhelmed by the idea of starting an ice vending business, but the Ice Vending Business templates and financial model have provided me with a clear path forward.
★★★★★
The Ice Vending Business templates and financial model are exceptional resources. They've helped me make informed decisions and set realistic goals for my business.
★★★★★
I'm incredibly grateful for the Ice Vending Business templates and financial model. They've empowered me to turn my ice vending dream into a reality.
★★★★★
The Ice Vending Business templates and financial model have been instrumental in my ice vending business's success. They're practical and insightful resources for any ice vending entrepreneur.
★★★★★
Yeah but will this template help me get a loan?
Maybe. This mostly depends on your business idea, previous experiences, ability to provide collateral and relevant factors. This is a template for present your plan in the best possible way. In addition, the financial model helps to validate your business concept or your expansion plan. It's kind of hard to provide more for just $49.
Is the payment secure?
Our payment is processed by Stripe so you can rest assured about your data privacy and security.
What is the refund or cancellation policy?
Due to the fact that templates are downloaded, we cannot give refunds.
Digital material is exempt from the 14-day return policy applicable to physical products. Because of this, our downloadable content are non-returnable. All sales are final. You can also check out the video in the product page to get an idea of contents of the template. This should help you get a clear idea on the features of the product. 
However, we do value the customer experience and are accessible to assist you with any problems you may have while using our goods. If you have particular queries regarding our product, please use the chat box on this page or send an email to [email protected].
How can I edit the template?
Simple. If you are using Google Doc and Sheets then just make a copy in your own Google Drive. In case you are using Microsoft Office then Download the files and start editing.
What about support?
You can email us at [email protected] and we will respond in 24 to 48 Hrs. We offer in-person or email based support depending on your needs.
Every other reason for not buying....
❌ "But you can't replace hiring a business plan writer to do this"
✅ This template costs $49 not $2,000. Also, you have more control over the writing process. The template is very specific so you will have relevant info in Industry Analysis, Financial Model and other sections. So, it will help you write the business plan at a fraction of the time and cost of the writer as the writer has to start from scratch.
❌ "I feel like just browsing online and using the free templates available online.
✅ Sure, if you wish to spend 4 weeks instead of 2 days to write a plan then please go ahead. Our research team found that free resources are very generic and does not offer fill-up and print facility. Also, you won't get the specialized financial model from the free resources.
❌ But wouldn't everyone's content look the same?
✅ Nope. Our customers are smart and customize by adding their own images, logo, company description, etc.
❌ "But can you garuntee that I will get a bank loan using this?
✅ No, I cannot garuntee anything for $49. The purpose of this template is to make it easier and less time consuming for you to write a business plan.
Who developed this template?
Our templates are developed by CPAs, CFAs and Ex- consultants of BCG, Mckinsey, PwC and KMPG. Elma Steven is the Head of our Quality Control.
Can I validate my the prospect of my MVP using this?
Yes. The financial model will help you plug in price, unit cost, payables and other assumptions which will allow you to project the revenue, profit and other KPIs.