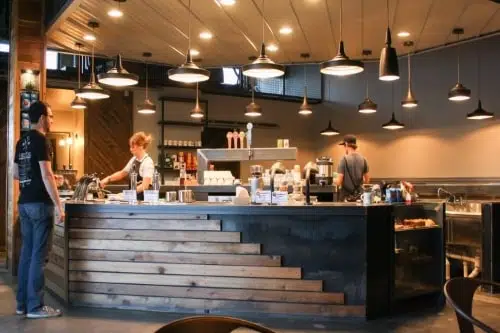 OAKLAND — One of, if not the first, cannabidiol-themed coffee shops in the state has opened its doors.
Since its soft opening on Sept. 3, The Warehouse in Oakland has been giving out free samples of its trademark cannabidiol-containing beverage, but it needed to pass a final health inspection before it could sell the drink for profit.
According to CDC spokesperson Robert Long, the Maine Center for Disease Control and Prevention awarded The Warehouse a 60-day conditional license on Friday that will be extended provided owner John Jabar installs a particular kind of sink.
Between the inspector's visit and the granting of the conditional license, Jabar claimed he had already accommodated the request.
Regulators said it was difficult to say why Jabar was allowed to serve CBD prior to the final health inspection since the rules regulating CBD are both new and complicated, but that the act was lawful. The CDC, according to Long, is exclusively responsible for verifying that the facility, not the product, complies with health standards. Food inspections are handled by the Maine Department of Agriculture, Conservation, and Forestry.
"We as a department only control retail sale," said Jim Britt, the agricultural department's communications director. "It's within their jurisdiction to sample (the cannabidiol) at their own discretion, as long as they're not selling it." "Things are still being ironed out, regulations are still being established, and it's still so new to Maine." It's a difficult situation."
Cannabidiol, a compound derived from hemp, is thought to provide a number of health advantages. It may be used to treat anxiety, insomnia, chronic pain, arthritis, and inflammation, according to a Harvard Medical School article from 2019.
CBD has also been shown to aid in the treatment of some epileptic disorders in children. Despite the fact that hemp is a "cousin" to marijuana, CBD is non-psychoactive and does not cause people to get "high."
The CBD utilized at Jabar's coffee shop is made in The Warehouse, which is located at 826 Kennedy Memorial Dr., in the red building that used to be home to Guardian Building Products.
Jabar claims to process 5,000 pounds of dry hemp each day, extracting and purifying the CBD before sending it to a lab for testing, then refining it again to guarantee that no THC, the psychoactive component of cannabis, makes it into the final product. Jabar intends to construct laboratories in the Oakland site in the future so that virtually everything may be done in-house. Local farmers provide the hemp, according to Jabar.
Customers seemed to be pleased with the company's performance so far.
"The first day was a little sluggish," said manager Jessica Thurlow, blaming the slowdown on a deliberate lack of promotion. "(Wednesday) was a fantastic day.)" There were 13 sales and approximately 25 individuals in attendance. The coffee seems to be a hit; people seem to like it."
The Warehouse has a gleaming concrete floor, wood accents, and a modest sitting area with plenty of cushions for a welcoming atmosphere. Thurlow expressed her hope that it would become a location where people can mix work and play. Wireless Internet access is provided.
She described it as "rustic and homely." "It's a really relaxing and pleasant environment." People are welcome to come in, hang around, and do their schoolwork."
According to Jabar, drinking CBD coffee in the site where it is made deliberately resembles the brewery concept. Both Britt and Long said they couldn't say if The Warehouse is the state's sole facility of its type. However, according to David Heidrich of the Maine Department of Administrative and Financial Services, who oversees marijuana-related regulations, many shops throughout the state give consumers the option of mixing CBD into coffee beverages.
People who want a hot cup of CBD coffee from The Warehouse may pick between pre-infused coffee beans or a water-soluble liquid that is added to regular coffee after it is prepared. For those who simply want a normal cup of coffee, Thurlow noted that plain coffee, including nitro cold brew, would always be available for purchase.
According to Thurlow, a 12-ounce cup of hot coffee without CBD costs $1.99, but the same amount with an 8-milligram dosage of CBD costs $3.50. A 16-ounce cup of cold brew costs $4.50, plus an extra $0.50 for a dash of CBD.
Thurlow remarked, "The pricing are really excellent." "However, we're maintaining a high level of quality by using a Maine-made method and keeping everything local."
Vera Roasting Co. in New Hampshire provides the coffee beans utilized at The Warehouse. All of the company's coffee beans are infused with the antioxidant resveratrol, which is found in red wine and has cardiovascular, neuromuscular, and immune system advantages. A CBD-infused range of beans is also available.
Glen Miller, an organic chemist and professor at the University of New Hampshire, established Vera Roasting Co. Jabar said that he selected Vera as a partner since he knew Miller via his son and common acquaintances.
The Warehouse sells whole beans as well as K-Cups, both with and without CBD. The shop isn't completely stocked yet, but it does offer a selection of tinctures and gummies. Thurlow wants to offer seasonal CBD tincture tastes for the autumn, such as pumpkin spice. Pain treatments, lotions, pet treats, and other products will be available in the future, according to Thurlow.
The company created a sensation in February when local councillors and Jabar's lawyer squabbled about the legality of running a CBD-extraction facility before letting Jabar to proceed with his plans.