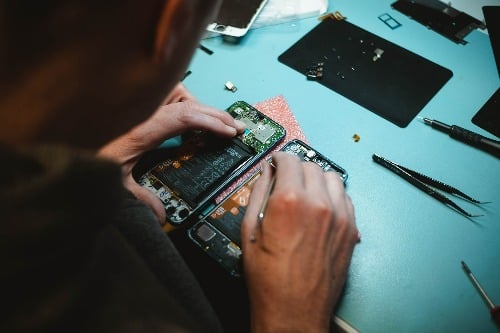 Because there are millions of iPhones on the market, opportunity is knocking. Every day, iPhones get dropped, wet, abused, and simply stop working due to technical or mechanical issues. Every one of those telephones has to be repaired, and many owners are hesitant to send it back to the manufacturer for fear of having to wait too long or spending too much for it.
Starting an iPhone repair business is quite inexpensive, and by offering up-to-date repair services, it may grow in lockstep with the introduction of new phone models.
The initial stage in the business planning process is to identify the specific phone models that will be repaired. Many iPhone models from the past are still in use today. The services, marketing, inventory, and technical abilities of the repair crew are all influenced by the kind of objects that will be mended or refurbished. One of the most important things the corporation wants to be able to communicate is, "We have the components in stock." Smartphone users, on the other hand, rely on their devices for both business and pleasure, and they have little tolerance for slow repair services. One of the primary competitive advantages that may be claimed is the ability to repair iPhones quickly, efficiently, and affordably.
Other measures to guarantee that a new smartphone repair company is competitive include:
• Increasing the number of phone models that can be repaired, despite the fact that the iPhone continues to be the most popular (many people eventually switch to an iPhone which means repairing other phone brands creates future iPhone repair business)
• Make sure you have adequate inventory on hand for the things that are most likely to need repair or replacement, such as damaged phone screens and batteries.
• Create a marketing approach that taps into the various social media channels where tech-savvy folks may be found to find respectable and trustworthy suppliers who supply authentic iPhone components that aren't cheap or terrible (which might harm a company image).
• Make use of technology-friendly content such as web-based videos and live customer service chat.
• Develop a plan for obtaining leads for follow-up, which has an influence on customer growth rates and profitability projections.
One of the services provided by the organization is the refurbishment of iPhones. The gadgets may then be resold to generate fresh revenue. Customers are more willing to accept a less expensive choice to acquiring the most current iPhone upgrade, therefore this is a critical strategic aim.
As the industry evolves, more customers are looking for low-cost methods to stay connected, creating opportunity for forward-thinking businesses to stay ahead of the competition. Potential investors are looking for detailed market research, technical personnel, realistic financial projections that account for market changes, and a well-thought-out marketing strategy in their business plans.