If you are planning to write the Laser Tag business plan on your own, then this sample Laser Tag business plan can be great for guidance. However, if you are looking for a professional business plan writer for a business loan, SBA loan or to find out the possibility of success for your new business then let's talk!
Executive Summary
Overview: The Blazers Laser Tag Arena, LLC will be a conventional and well-equipped laser tag arena and games facility located in Carson City, Nevada. Our primary goal in starting the business is to do our part in ensuring that residents of Carson City have a place to play laser tag, keep a healthy lifestyle, and mingle with other gamers in the area. In Carson City, we were able to get a conventional facility in a convenient and central location. We have everything we need to serve the entire neighborhood, as well as visitors and tourists.
Our laser tag arena is specifically designed and built to accommodate standard laser tag tournaments as well as individual or groups of laser players and gamers. We also offer active childcare for toddlers and membership packages that are heavily discounted for families who enroll with us or groups who wish to use our laser tag arena. The Blazers Laser Tag Arena, LLC will be open 24 hours a day on weekends (Fridays through Sundays) and from 6:00 a.m. to 12 a.m. on Mondays through Thursdays to accommodate consumers with diverse time preferences. That is why we have put in place an effective floodlight system, as well as adequate people to manage shifts among our employees.
Francis Newton and his immediate family own The Blazers Laser Tag Arena, LLC, which is a family-owned business. Francis Newton and his wife Tricia Newton will run the company. Francis Newton has more than ten years of experience as a leading gamer in the Laser Tag Arenas and video game industries in the United States of America.
Mission: Laser tag gamers will enjoy the thrilling game in a safe, low-light, 4,500 square foot arena with flashing lights, theatrical haze, pounding music, and unexpected special effects. Laser Tag will provide a fun, relaxing ambiance while being devoted to providing an environment that appeals to not only teenagers and young adults, but the entire family. Our professionally trained team will treat our customers as special guests and assist with various group occasions such as birthday parties or scout recognition and accomplishment ceremonies, ensuring that everyone has a good time.
Vision: Our vision in forming The Blazers Laser Tag Arena, LLC is to create a world-class laser tag arena and games leisure facility, as well as to contribute our fair share to encouraging Carson City families and residents to participate in games and social activities.
Industry Overview: Laser tag is a type of tag game in which lasers are used. Every participant has a laser tag pistol and wears a sensor headband when playing laser tag. Infrared-sensitive targets are usually worn by each player and are, in most cases, integrated within the arena in which the game is played.
Each player attempts to hit members of the opposing team by shooting at their sensors; it is a fast-paced game in which players wear electronic vests and 'tag' one another. In its most basic form, laser tag can be described as a competitive shooting game that is comparable in concept to a traditional video game, although it is significantly more interactive than video games. Indoor and outdoor recreational laser tag arenas are operated by the Laser Tag Arenas Industry.
Because of the growing consumer interest in laser tag games, the Laser Tag Arenas business has been seeing favorable growth in recent years. As a result, the number of laser tag arenas has expanded dramatically, leading in unwavering revenue growth and an increase in customer preference, which is driven by predictions of high income growth and reducing unemployment, which incentivizes increased laser tag game expenditure.
The laser tag arena sector is likely to expand in the future as the number of adolescents stabilizes and per capita income continues to climb.
The Laser Tag Arenas sector is a very huge industry that is thriving in almost every area of the world, particularly in industrialized countries like the United States of America, Canada, the United Kingdom, Germany, Australia, and Italy, among others.
According to statistics, there are over 1,032 licensed and registered laser tag arenas in the United States, employing approximately 6,960 people, and the business generates a whopping $409 million yearly, with an annual growth rate of 1.1 percent. It is critical to emphasize that the industry's accessible market is open to all, and no company may claim to have a lion's share of it.
The capital intensity of the Laser Tag Arenas industry is relatively low. It is well known that the start-up capital costs for a standard laser tag arena and video games facility are high, as an aspiring entrepreneur who wishes to open this business must lease a large facility in a good location, as well as laser tag equipment, arena obstacles, video games, kitchen equipment, and vending machines, among other things.
Financial Overview: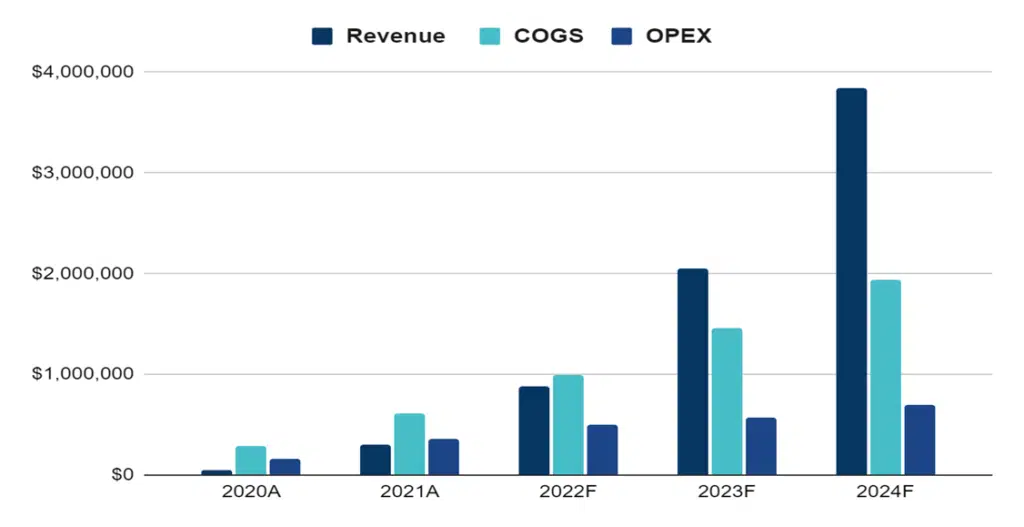 Copy-paste the following in this section:
Financials is one of the most important sections of a Laser Tag business plan. You can get an idea of your projected revenue, required investment amount, is the business sustainable without additional funding, etc.
Financial Highlights:
| | | | | | |
| --- | --- | --- | --- | --- | --- |
| Liquidity | 2020A | 2021A | 2022F | 2023F | 2024F |
| Current ratio | 6 | 12 | 23 | 32 | 42 |
| Quick ratio | 6 | 11 | 22 | 31 | 40 |
| DSO | 8 | 8 | 8 | 8 | 8 |
| Solvency | | | | | |
| Interest coverage ratio | | | 8.2 | 11.1 | 14.2 |
| Debt to asset ratio | 0.01 | 0.01 | 0.2 | 0.18 | 0.16 |
| Profitability | | | | | |
| Gross profit margin | 51% | 51% | 53% | 53% | 53% |
| EBITDA margin | 12% | 14% | 21% | 22% | 22% |
| Return on asset | 5% | 6% | 13% | 14% | 14% |
| Return on equity | 5% | 6% | 16% | 17% | 17% |
Use of Funds: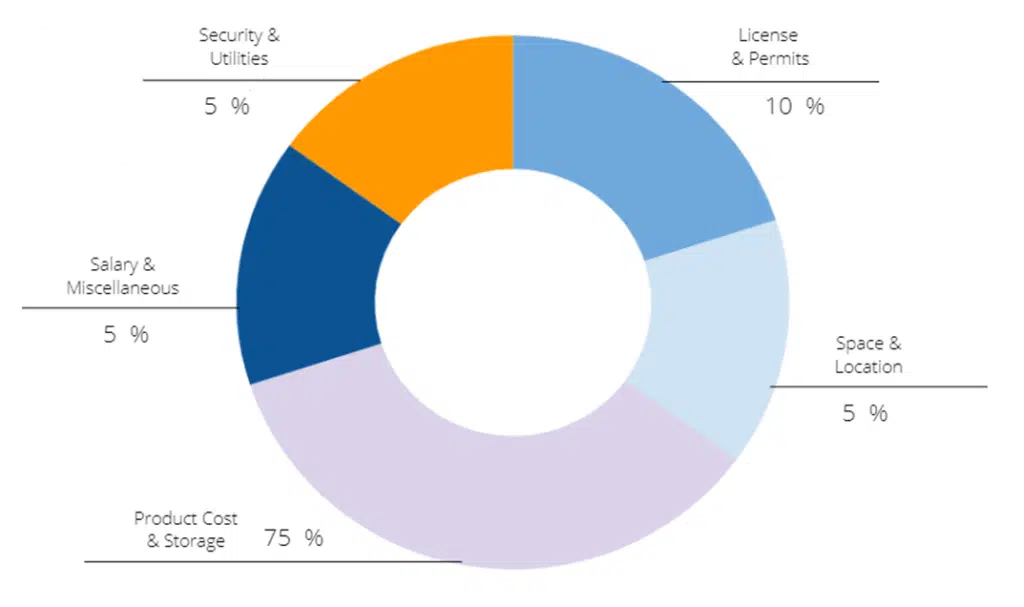 Industry Analysis
The industry analysis section of the Laser Tag business plan will help you get better insights into competitors, market growth, and overall industry prospects. You can order a custom market research report for your Laser Tag business.
Digital technology can be a double-edged sword for location-based entertainment and FEC businesses. Management tools and attraction technology developments can boost operating efficiencies and improve the tourist experience. Simultaneously, advances in digital technology for at-home and mobile screen entertainment create fresh and intriguing competition for traditional entertainment. Indoor laser tag centers are the epitome of this. Technology advancements have tremendously improved game equipment, playing experience, and operations. LED lights, for example, have improved the arena's atmosphere and performance while lowering operating expenses. We now have projection mapping that "paints" the laser tag arena's walls, allowing us to not only change the theme of the arena at the push of a button, but also interact with the shooter.
Despite the Great Recession, the indoor laser tag market has enjoyed remarkable development. It increased from 581 in 2008 to 979 at the end of 2014. That is a compound annual growth rate of 9%.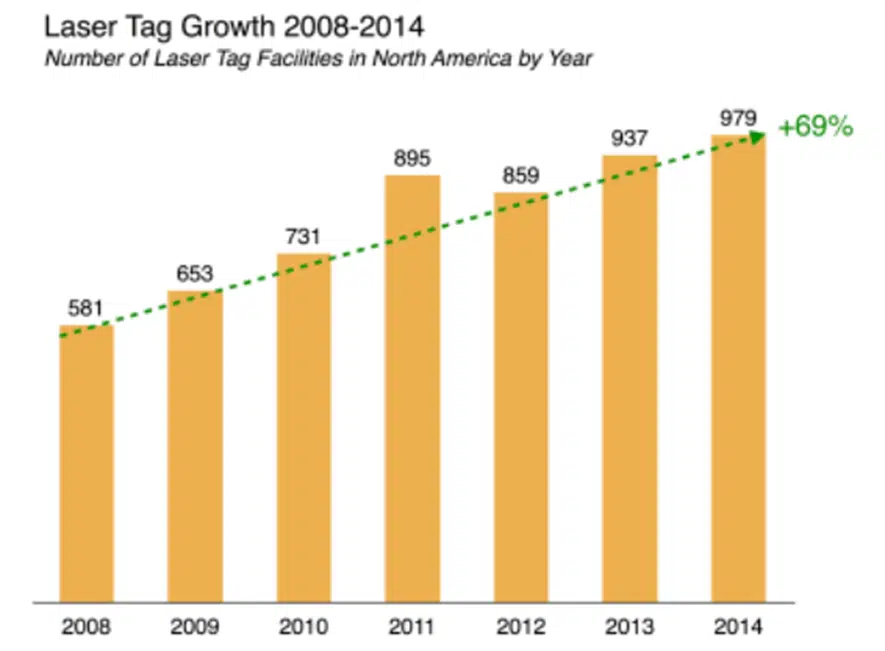 While working on the industry analysis section of the Laser Tag business plan make sure that you add significant number of stats to support your claims and use proper referencing so that your lender can validate the data.
Some digital innovations have actually improved the popularity of laser tag on the at-home and mobile screen side of the entertainment scene. Laser tag is the real-life version of multiplayer first-person shooter video games. Video games are played by 59 percent of Americans. A game console is used by 40% of Americans, whereas computers are used by 37%. A dedicated game system is owned by 51% of households, with an average of two consoles per family.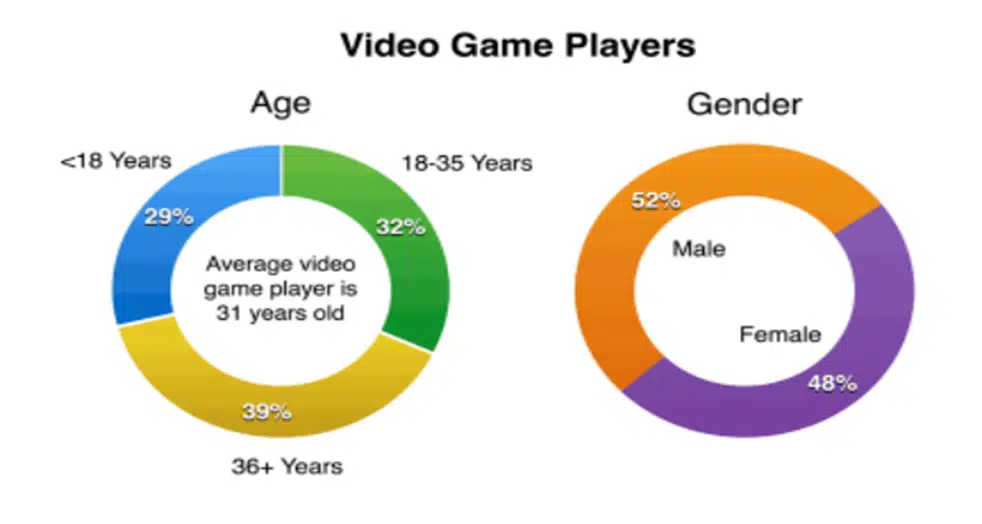 However, the increasing high quality of today's first-person shooter multiplayer video games, notably massively multiplayer, has increased the bar for drawing people away from their screens and out of their homes. As a result, we now have two gaming universes. You can either watch a screen and alter figures on it, or you can be the shooter in a real-world laser tag arena.
Laser tag facilities that do not have a wonderful premium socializing place with good contemporary food and drink are missing out on a lot of extra cash and repeat business. It also restricts their market potential. The duration of stay and the time it takes to arrive to an entertainment venue are inextricably linked. The market area will be larger if the length of stay is longer when players stay around and socialize after they play, as well as come earlier to socialize before playing.
Marketing Plan
A key part of the marketing plan in a Laser Tag business plan is the marketing budget. The growth in the number of customers is proportional to the budget and dependent on the CAC.Laser TagA key part of the marketing plan in a niche business plan is the marketing budget. The growth in the number of customers is proportional to the budget and dependent on the CAC.Laser TagA key part of the marketing plan in a niche business plan is the marketing budget. The growth in the number of customers is proportional to the budget and dependent on the CAC.Laser TagA key part of the marketing plan in a niche business plan is the marketing budget. The growth in the number of customers is proportional to the budget and dependent on the CAC.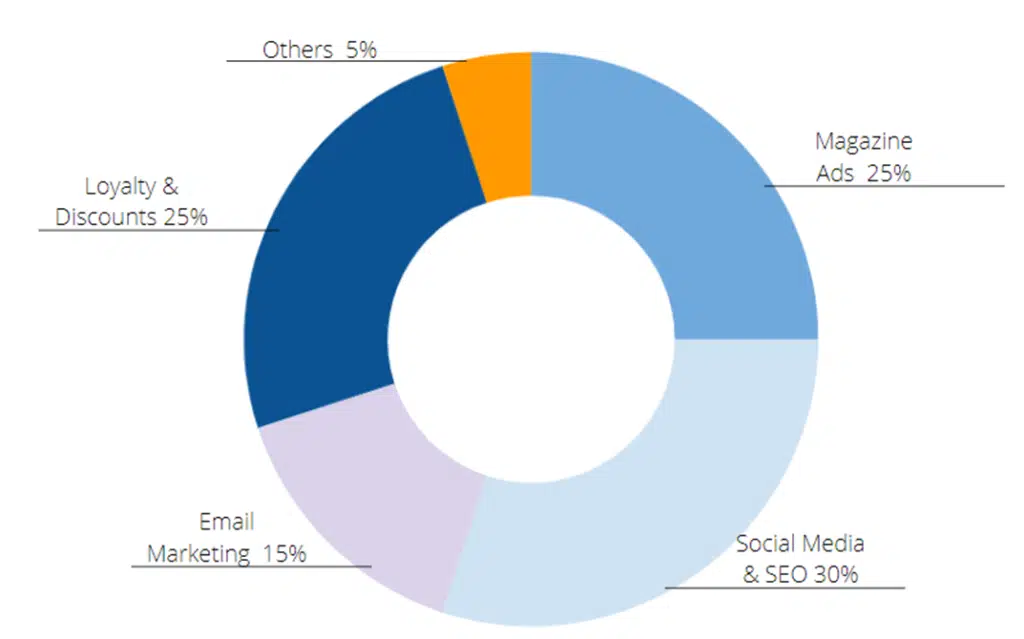 Loyalty Discounts: Create a loyalty program that will allow us to reward our faithful members, particularly those who have registered as a family or a group.
Social Media & SEO: Our laser tag arena will be promoted online through our official website and all relevant social media platforms.
Email Marketing: Adopt a coupon marketing strategy that involves direct mailing.
Magazine Ads: Introduce our laser tag arena to sports groups, schools, corporate organizations, homes, and other key stakeholders in Carson City, Nevada, by sending introductory letters with our brochure.
Others: With a massive neighborhood party, we will open our laser tag arena and gaming center and participate in neighborhood road shows to raise awareness for our laser tag arena.
Organizational Plan: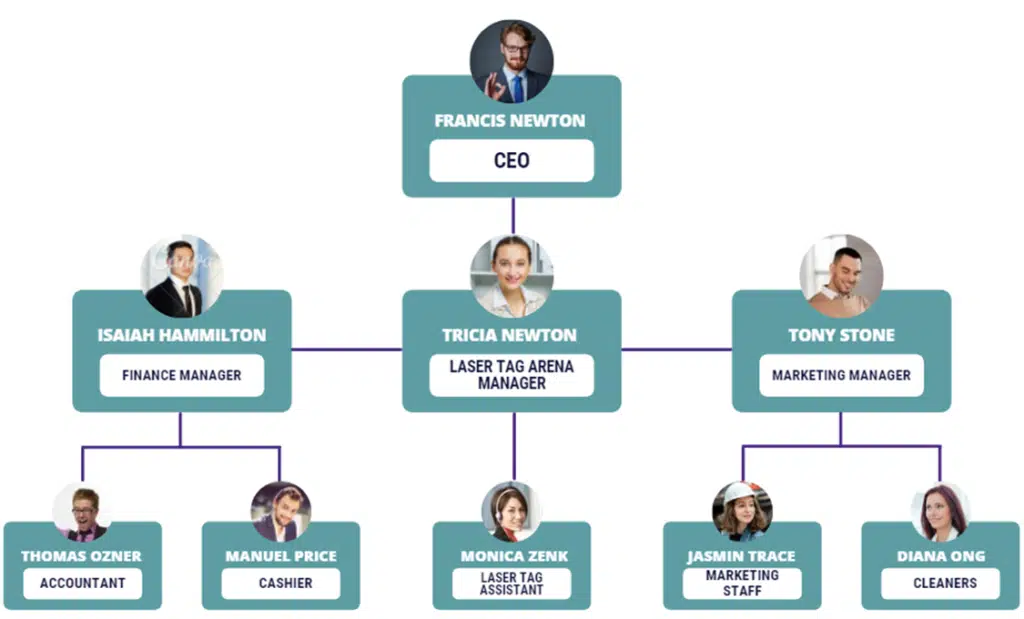 Financial Plan
This section of the Laser Tag business plan helps your lender figure out whether you will be able to pay off the loan, whether the business is sustainable, what are the growth prospects, etc.
Earnings: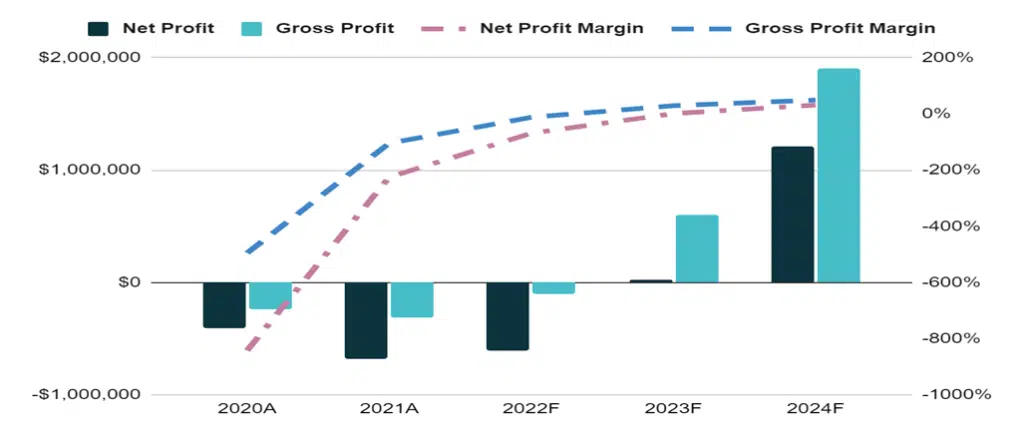 Income Statement:
| | | | | | |
| --- | --- | --- | --- | --- | --- |
| | 2020A | 2021A | 2022F | 2023F | 2024F |
| ANNUAL REVENUE | | | | | |
| Item 1 | 9,217 | 59,117 | 175,410 | 415,277 | 781,357 |
| Item 2 | 34,701 | 222,558 | 660,368 | 1,563,394 | 2,941,580 |
| Item 3 | 4,067 | 19,561 | 46,432 | 78,519 | 114,905 |
| Total annual revenue | 47,985 | 301,236 | 882,211 | 2,057,189 | 3,837,842 |
| % increase | | 528% | 193% | 133% | 87% |
| COST of REVENUE | | | | | |
| Item 1 | 360 | 2,259 | 6,617 | 15,429 | 28,784 |
| Item 2 | 480 | 3,012 | 8,822 | 20,572 | 38,378 |
| Item 3 | 52,000 | 65,000 | 78,000 | 91,000 | 104,000 |
| Item 4 | 720 | 3,615 | 8,822 | 16,458 | 23,027 |
| Item 5 | 140,000 | 336,000 | 560,000 | 840,000 | 1,120,000 |
| Item 6 | 60,000 | 144,000 | 240,000 | 360,000 | 480,000 |
| Item 7 | 32,000 | 61,333 | 85,533 | 112,153 | 141,435 |
| Total Cost of Revenue | 285,560 | 615,220 | 987,794 | 1,455,612 | 1,935,625 |
| as % of revenue | 595% | 204% | 112% | 71% | 50% |
| Gross Profit | -237,575 | -313,984 | -105,583 | 601,578 | 1,902,218 |
| SELLING & ADMIN EXPENSES | | | | | |
| Item 1 | 28,000 | 96,800 | 154,880 | 175,692 | 193,261 |
| Item 2 | 75,000 | 105,000 | 120,000 | 120,000 | 120,000 |
| Item 3 | 36,000 | 96,000 | 108,000 | 120,000 | 120,000 |
| Item 4 | 8,000 | 12,000 | 12,000 | 12,000 | 12,000 |
| Item 5 | 3,839 | 18,074 | 44,111 | 61,716 | 115,135 |
| Item 6 | 3,359 | 12,049 | 26,466 | 41,144 | 76,757 |
| Item 7 | 5,600 | 10,000 | 12,904 | 15,034 | 17,376 |
| Item 8 | 6,667 | 14,000 | 22,067 | 30,940 | 40,701 |
| Total selling & admin expenses | 166,464 | 363,924 | 500,428 | 576,525 | 695,230 |
| as % of revenue | 347% | 121% | 57% | 28% | 18% |
| Net profit | -404,039 | -677,907 | -606,011 | 25,052 | 1,206,987 |
| Accumulated net profit | -404,039 | -1,081,947 | -1,687,957 | -1,662,905 | -455,918 |