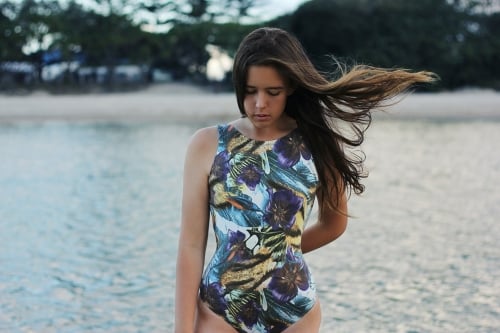 Making your swimwear line is the most effective approach to learning how to establish a swimwear brand online.
During this session, we'll cover everything from expenses to identifying manufacturers to marketing strategies. In other words, bear in mind that even if I believe it is one of the most incredible online business ideas for parents and others, it is still a company.
Is it a good business to be in the swimwear industry?
It is dependent on the situation.
The wonderful thing about the swimsuit company is that it is a trendy segment in the fashion industry. It's also more commercially feasible than other garment categories on a generalized basis. Examples include swimsuit companies specializing in just one form of swimwear, such as those selling only bikinis.
The disadvantage of being in the swimsuit industry is that it is often a seasonal company. For obvious reasons, more sales will occur during the summer months, and fewer sales will occur during the winter months. These may make it more challenging to manage a firm, mainly when working on cash flow issues.
You may still be debating whether or not swimwear is a viable business venture.
My ultimate conclusion is that it is if you turn it into a successful company.
It is feasible to develop a profitable swimsuit company that is efficient enough to provide a healthy profit margin via intelligent product selection and clever marketing.
How long does it take to start a swimwear line from start to finish?
When starting a swimwear line, one essential part of the inventory that most e-commerce company owners do not inquire about often enough is the time it takes to launch the line. To put it another way, the lead times.
The greater the lead time, the more money you'll have accumulated in inventory at any point in time, and vice versa.
The shorter the lead time, the more money you'll have leftover to invest in the actual growth of your firm.
Given that swimwear is a subsection of clothing, it's reasonable to infer that it moves slower than other categories. Regardless of the product type, you may anticipate a production time of 4-6 months. This is because you must deal with fabric procurement, color approvals, and cut and sew projects.
The good news is that placing a reorder will take less time since you've already completed the majority of the work during the initial iteration of your product. Reordering will take 3-4 months, depending on the category and manufacturer with whom you operate, so plan accordingly.
What is the approximate cost of launching a swimwear line?
The most significant hurdle to launching any e-commerce business is the cost of doing so.
It may also vary widely since so many variables might influence the final cost of launching a swimsuit line in the first place. For example, fabric quality has a significant impact on the final cost of your purchase. In addition, if you wish to create many SKUs, you're in for a major shock when it comes to pricing.
But, for the time being, let us imagine that you wish to create one product of above-average quality in one color.
You may anticipate it to cost anything from $2,000 to $25,000, depending on your location.
Yes, this is a significant amount of variety. It's going to come down to the bare minimums set by your manufacturer. If you're on a tight budget, you'll have to work extra hard to discover someone who has low minimums. Just bear in mind that the lower you go, the less your profit margins will get.
How to Locate a Swimwear Manufacturing Company
The beautiful thing about swimwear and any other garment category is that manufacturers are simple to come across and purchase. Because clothes are one of the essential categories in all commerce, let alone retail, there are a limited number of them.
In order to locate a swimsuit manufacturer, there are two options.
The quickest and most straightforward method is to search for one in a manufacturer's directory. Some may even contain reviews of the products. Some of them are suitable for clothing, such as.
Maker's Row Sqetch Factory Finder Sewport CALA Maker's Row Sqetch Factory Finder Sewport CALA
If you decide to take the freeway or cannot discover enough manufacturers via the directories listed above, your next best bet is to search for them on the internet. If you want to search for "swimwear manufacturer" or "private swimwear label," you may enter in words such as these:
You'll wind up with a TON of possible partners as a result of this process.
How to Promote a Swimwear Line on the Internet
The first step in marketing a swimsuit line on the internet is to use owned media channels.
Owned media refers to any media in which you are the exclusive proprietor of the content. This essentially entails increasing the traffic to your website via search engine optimization and expanding your email list. No one, unlike social media sites such as YouTube, can remove your website or newsletter. However, although this is often a perfect method of expanding any firm, it is also one of the most challenging and time-consuming.
In addition to paid media, earned media is another effective method of marketing a swimsuit line online.
Earned media refers to any media in which you have reached the attention of others. It also takes into account any social media shares you get, whether they are viral or not. This is an excellent method of expanding a swimsuit company's reach, but it is also the most transitory.
The third method of marketing a swimsuit line on the internet is via paid advertising.
There are a variety of options available, ranging from Facebook advertisements to purchasing newsletter sponsorships. The quickest technique to generate sales, but it is also the most costly since the cost of advertising increases exponentially with each dollar spent.
The key to successfully promoting a swimsuit line online is to use all three elements. Assuming everything goes as planned, you would begin by establishing an audience via your blog/newsletter or through a social media outlet that links to your newsletter. You would target that demographic with the introduction of your swimsuit brand. Then you might use earned media to continue to generate sales without having to spend money on advertising. Finally, you would begin running advertisements to grow your brand.
This method of marketing your brand increases your chances of being successful.
Related Links: