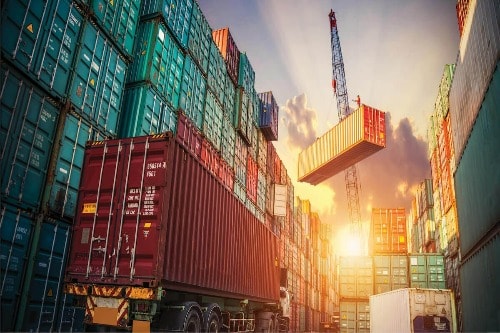 A brief overview
If you are new to the logistics sector and do not understand the current trends, starting a logistics firm might be challenging. A logistics company acts as a middleman, storing and delivering the items of other companies. The scope of logistics is fairly vast, and it isn't restricted to a region's borders.
It might be based inside a country or exports internationally. In any case, logistics has become an indispensable component of every business. Because of its breadth and intricacy, it requires a thorough knowledge of this specialty. As a result, our logistic professionals at Skyrocketbpo are ready to help you devise a viable plan for launching your own logistics firm.
The logistics business plans are designed to assist budding entrepreneurs in launching their own businesses. Distributors, manufacturers, freight dealers, carriers, and end users will all need to be coordinated with while running a logistics firm. This market isn't only B2B; it also has a B2C component.
For you, it will surely be a costly and time-consuming investment. As a result, our capital logistics experts at Skyrocketbpo will handle it for you. They'll devise a cost-effective and revenue-generating plan to assist you in starting your own business, allowing you to make the most of your time and resources.
When beginning your own logistics firm, securing a financial investment is equally crucial. This is when a well-thought-out concept comes in handy. It will undoubtedly be difficult for you to gain an investor's trust and convince them of the value of your firm. As a result, Skyrocketbpo's business plan specialists will help you get capital for your company's first requirements.
They'll also propose a number of networking events where you may meet possible investors, which will help you establish your reputation as an entrepreneur. Furthermore, you will be aided in obtaining niche-specific equipment as well as dealing with your company's legal obligations. Because working in the logistics business necessitates dealing with legal authorities and regulatory frameworks both inside and outside of the nation, our specialists will provide you with complete legal advice.
This thorough manual offers techniques for marketing your logistic firm while you are just getting started, starting from the absolute fundamentals. The types of marketing techniques you should pursue for your business, as well as the methods of your rivals and how to publicize it, are all detailed. In addition, Skyrocketbpo's specialists have drafted a detailed industry study that will assist you in grasping a clear image of the domain in which your firm must function.
It also incorporates SWOT (Strengths, Weaknesses, Opportunities, and Threats) and PESTLE (Political, Economic, Social, Technological, Legal, and Environmental) analyses to assist you in analyzing both the external and internal environment of the logistic business for your organization.
Introduction:
Do you want to build a lucrative logistics company of your own? Do you want to harness the potential of your logistics talents as a determined entrepreneur? Do you need a comprehensive reference to the logistics sector in order to avoid missing out on any opportunities? If this is the case, don't worry; we've got you covered!
We are excited to help you start your own logistics firm. If you are unfamiliar with the dynamics of this particular region, we can also help. You may have thought of all of the many subjects you want to cover in your company, met potential investors, and even have some early capital… However, you're at a loss as to how to take the first step in turning your concept into a company. This is where we come into play.
Comprehensive logistics business strategies make achieving your objectives much simpler. Our team at Skyrocketbpo is fully capable of educating you on every element of your logistics operation. They will help you with every part of starting a business, from the very beginning, such as the design of logistics business plans, through the execution of such strategies.
What exactly is a logistics company?
The distribution of services or commodities from the point of manufacturing to the place of use is referred to as logistics. It's done to make life easy for customers and end users. Every organization, whether it's a restaurant, café, IT firm, or clothes store, must use logistical operations. Every industry and organization must ensure that end users have access to products at all times.
Note
Businesses that work with a logistics partner may see a significant improvement in the overall efficiency of their operations. It saves them money and, more importantly, it speeds up the delivery of goods and products. As a consequence, if done correctly, developing logistics firm plans is never a bad idea.
Logistics firms include warehousing, third-party, courier, freight, and air cargo services, to name a few. They all come under the banner of supply chain management or logistics firms, and they may be characterized as follows:
Warehousing:
Warehousing is an essential component of any logistics plan. It aids logistics by storing, securing, and delivering things from one company to the next as well as to customers, all while maintaining strict quality control. Warehouses are viewed as a significant growth driver for the whole logistics industry. In the recent decade, warehouses have become more significant. They're not only storage facilities; they also help with packaging, labeling, and bar coding, among other things.
Each company has its own set of norms and criteria for a standardized warehouse. In order to keep a well-maintained warehouse, safety, security, pest control (to prevent products from going to waste), regular cleaning, reporting, and other considerations must all be addressed.
Warehouses may be commercial, transit, bonded, governmental, open, constructed, and so on, depending on the kind of use a logistic organization requires. Location, site condition, land availability, staff availability, floor condition, and so on are all factors to consider when creating a warehouse.
Courier services:
A courier service is in charge of delivering important mail or documents in a timely and effective manner. This service differs from regular postal services in terms of rapid delivery, personalisation, customisation, and keeping track of your mail.
Services for freight and air cargo:
Materials, goods, and other physical objects are transported by a freight company both locally and abroad. Anything is permissible. If they are delivered by air vehicle, they are known as air freight services. Goods are transported via a variety of means of transportation, including ships, trucks, and trains.
Logistics provided by a third party:
Third-party logistics refers to the process of outsourcing your logistical services to a third-party company. Many firms use outsourcing services, and the logistics sector is no exception. The company to whom outsourcing is entrusted is in charge of the whole supply chain process. The use of third-party logistics businesses may help a company enhance its customer service and efficiency.
Inventory control is important.
The logistics business relies heavily on inventory management. Any things or stocks that are kept under constant surveillance in a firm are referred to as inventory. Logisticians must keep track of both the amount of merchandise leaving the warehouse and the demand for new inventory depending on the business's requirements.
Docking at two places at the same time
Cross docking is a term used in the logistics sector to describe the process of transporting things from one truck to another without having to store them in a warehouse. A supplier or a manufacturing unit may also deliver goods and products directly to customers or the company. The outgoing vehicle is now free to drive to its destination once the commodities or products have been placed into it.
Cross docking is an essential part of any company's supply chain since it saves money on transportation. It also assists in the splitting of a huge load into smaller sections, simplifying the distribution process.
A summary of the logistics industry:
The logistics sector has always been a high-speed environment. Finding trustworthy drivers to deal with is challenging enough, much alone establishing a trusted relationship with industry and customers. It has progressed from a simple and restricted transportation or storage service to a more comprehensive service that not only delivers the items but also assures quality at each step of the process. Before you start planning your logistics company strategy, Skyrocketbpo will help you assess the whole industry's potential.
A sophisticated network of freight, cargo, and other transport services such as shipping, courier, and air freight forms the structure of a logistic organization. They exist to connect a supplier and a client on a physical level.
On a global basis, the transportation business is growing at an unprecedented pace, presenting opportunities for aspiring entrepreneurs in a $4 trillion market. In the next years, the network of logistic business segments will grow to emerging economies such as China, India, and other Asian countries. As a consequence of the incorporation of technology, they will also be more efficient.
Quality is one of several characteristics that gives the logistics industry a competitive advantage; as a consequence, a logistic firm is always seeking to increase efficiency throughout the process while keeping customer needs in mind.
The logistics industry's global tendencies
The logistics industry's global expansion is largely dependent on cross-national trade. Trade between Asia, Europe, and North America has assisted the expansion of logistics. The most challenging challenge, on the other hand, is to match customers' demands with a high degree of personalisation. Providing a certain product or service at a given time, with diverse wants and directives, is a headache. This is where a flexible distribution system is required, so that complex requirements may be met fast. In order to grow, a logistics firm must be able to adapt to rapidly changing global trends.
Information technology is being employed in internationally intricate supply chain operations for the convenience of end consumers. By ensuring that alternate distribution methods are accessible, the risk of delaying is reduced. The logistics industry is becoming more reliant on multi-channel strategies, resulting in increased competition. Owners of logistic enterprises must guarantee that their service delivery techniques remain cutting-edge.
In addition, the nature of a supplier-customer relationship is continuously changing. Globalization has made it more cooperative and engaging, removing any previously existing communication obstacles.
Creating a logistical business strategy is a great way to get started.
The first rule of thumb for drafting a logistics business plan is to keep it as simple as possible. The simpler your logistics company's tactics are, the easier it will be to give high-quality services to customers. The process steps that should be included are those that bring considerable value to the customers. Modern logistics is heavily reliant on technology, and introducing such tactics into the mix might make things a lot smoother.
Adding more phases to your logistical planning would be too burdensome for both producers and end users. Make the process as straightforward as possible. Before you start your logistics company, our team at Skyrocketbpo will ensure that you have a solid grasp of the many aspects of logistics so that you may maximize your profits while using wise financial resources. Our experts will devise effective strategies for everything from expanding your logistic organization's total transportation to ensuring that your resources may be reused.
Components of logistics business strategies that are essential
The logistics industry is focused on offering value-added services to customers by ensuring customer satisfaction, operational flexibility, and a proactive approach to customer issues. Consumers' desires are anticipated before the process begins, and the distribution method is modified in response to the customers' demands. This is a more difficult balance to achieve, and it requires a large amount of effort throughout the operation.
Starting a logistics company plan demands determining who will be involved in the process. Skyrocketbpo's team would be delighted to assist you in establishing a list of all prospective partner businesses, partners, participants, and even competitors so that you can create a thorough roadmap to follow.
The main purpose of a logistician is to reduce the time it takes for a product to be created and delivered to the end customer.
For a logistical company strategy, marketing techniques and concepts are needed.
The logistics business strategy has focused on operational operations and capital generation. Until recently, the logistics industry's marketing has never been a concern. However, the trend has evolved considerably, and a solid marketing strategy as well as long-term objectives are now equally important for a logistics firm. To reach your target market, whether you're a shipper or a logistics specialist, you'll need a comprehensive marketing approach. This might be an effective way to get your company's name out there among potential logistics customers.
The business professionals at Skyrocketbpo can help you design a solid marketing strategy for your logistics business plan that will help you position your firm effectively in the market. In the marketing guide, the following themes will be discussed:
The objectives are as follows:
Imagination is important (long term)
Marketing tools and methods to use in the areas of advertising and public relations
Content marketing and social media
Pricing for execution plans
Evaluation of the Results – Investment Returns (ROI)
The following are the goals:
The objectives of your business will be clearly defined immediately at the outset of your marketing campaign. This will help your audience comprehend what you're hoping to achieve at the end of the day. Setting objectives is an important part of developing your company's market position. As a consequence, Skyrocketbpo will ensure that goals are set in accordance with the SMART management theory, i.e., they will be specific, measurable, attainable, realistic, and timely.
Vision:
The vision has a huge benefit when it comes to developing a long-term marketing plan. Before we begin, we will make certain to give you with a vision that explains the logistics firm's drive and goal. It doesn't have to be long; all it has to do is contain your long-term goals and aspirations.
Marketing tools and tactics include:
Before you can start marketing your logistic plan, you must first figure out who your target market is. Manufacturers, distributors, carriers, supply chain builders, and end users are all possible audiences for a logistics organization. Each category will be categorised, and marketing strategies will be prioritized according to these classifications. We'd make sure the marketing guide has a comprehensive approach, which means it caters to a wide range of people.
The primary purpose of the marketing plan would be to provide excellent customer service, which would help in the venture's organic growth. A logistic company's expansion would need an organic strategy. If your customers are happy with your services at the end of the day, it will help you build a great image of your logistics firm, which will lead to repeat business.
Aspects of advertising and publicity
The strategy experts at Skyrocketbpo can help you design a successful advertising and public relations campaign for your logistics firm. The days of limited advertising to product-related businesses are long gone. A strong public relations strategy is also essential for a logistics company. There will be many competitors with whom your business will compete throughout its implementation, therefore advertising will help you stand out while also promoting a favorable image.
The most effective medium for advertising your company might be anything, depending on how well you develop it. The company's message must be conveyed to the target population via advertising, whether digital, print, or television.
Social media and content marketing
In today's world, digital is as essential to every organization as oxygen. If your company does not have an internet presence, reaching out to a bigger number of people who do have an online presence and might be potential customers will be difficult.
Having solid information in the marketing guide is equally as important for a logistics firm. Maintaining a relevant online presence may appeal to the logistics firm's B2B and B2C segments. You may establish many brand awareness campaigns on the internet to help you communicate your company's message.
The content is also very crucial for the online exposure of your logistics firm. Your company's message must be crisp, clear, and brief in order for consumers to understand it. Content may be a great method to provide significant value to your company. A company's content marketing plan may include the construction of a blog, social media sites, and newsletters. If these media supply easy to read and enriching information, it will be easier for your logistics business plan to reach out to the public in a rational manner.
The ultimate goal of any internet marketing platform for a business is to produce leads and sales. If the message is clear and represents what customers want to hear, it may provide outstanding results for your logistics business strategy. The key is to maintain an active online presence for your company. Your company's response must be swift and accurate. Complaints and enquiries from your internet visitors must be answered as soon as possible.
Branding
While branding encompasses a wide range of factors, the logistics business, on the other hand, must be exceedingly selective in its branding efforts. Some logistic firms specialize on just transporting items, which is a very standard technique. If you want to be your clients' first choice, you must seem to be more than just a company. It's possible that it's not only about your company's ability to provide things.
Branding becomes even more discerning when it comes to B2B marketing. You need to create a "feel good" factor that encourages consumers to trust your service and prefer your company over others.
Results evaluation
Developing your own logistics firm strategy requires a number of complex procedures, many of which are often disregarded. As a consequence, some companies miss the smallest details that may help them build a great image. You must monitor your logistics firm's success after plans are executed if you want to take it to the next level. This might go a long way toward aiding you in discovering and resolving issues as your company expands.
It's not simple to promote your logistics firm if you're just getting started. Because a logistics business plan is no longer just about delivering products, there are numerous factors to consider when developing an effective marketing strategy for your company to reach out to your target market. Skyrocketbpo's strategists can help you with all of the aforementioned aspects of creating a long-term marketing plan for your logistics firm.
Financial considerations
Quantitative metrics are the greatest way to analyze and assess the performance of your logistics firm. The financial aspects of the logistics sector are as sophisticated as any other firm. The cash flow statements are critical because they include all of the transactional analytical data. Workers, lawyers, customers, lenders, bankers, tax authorities, and government officials are among the financial stakeholders. You must address their concerns regarding the financial elements of your company and reassure them that it will succeed.
You should incorporate the guidance of a financial professional in order to prevent making any inadvertent blunders while starting your firm. Skyrocketbpo has put together a team of financial experts to advise your company. And if you're not sure how to get the most out of your investment money and create income, our financial specialists will make it easy for you. To save time and effort, there's no need to outsource your financial operations from the start of your logistics firm. All of your financial problems will be quickly handled by our team.
Our experts will design a financial guidebook that will provide you with a comprehensive understanding of all financial operations. With the help of this tutorial, you'll be able to showcase your logistics firm idea to potential investors and raise funds. When it comes to starting a logistics firm, you can't underestimate the need of raising capital. Our experts will provide you with a variety of solutions for finishing that assignment.
Pricing
Setting pricing is an important component of every business. At the end of the day, every business wants to make money in addition to providing services to its customers. In the logistics business, this is also true. Pricing correctly requires a detailed evaluation of the industry and competitors.
Following the completion of the sample audit, it is decided how much of a given pricing for a certain service must be set in order to get a competitive advantage while still generating money. Because capturing a market in the early stages of a firm is difficult, it's vital to choose your pricing strategy carefully.
You should not consider raising your pricing until you have developed a big customer base; otherwise, it will be extremely difficult for a business to position itself financially.
Logistics business SWOT analysis
Each startup's strengths, weaknesses, opportunities, and threats are assessed using a SWOT Analysis from the onset. SWOT analysis assists in the assessment of all elements and information that may help them get a footing in the industry. It looks at both internal and external factors that might affect your company's capacity to remain afloat.
To help our potential entrepreneurs understand the industry's vulnerabilities, strengths, opportunities, and threats, Skyrocketbpo has produced an example SWOT analysis for this firm. A complete representation of the industry's SWOT analysis will assist you in identifying all possible challenges that might damage your company.
Strength:
A competent logistics partner may assist a business in gaining a competitive advantage. The channel strategy, outsourcing strategy, and customer service strategy all contribute to the logistics industry's success. These are the structural elements that define the network's primary function. The distribution network includes factors such as stocking, assessing, and storing. If done right, it has the potential to be a game changer for any logistics firm on the market.
Weaknesses:
The logistics industry's most major shortcomings are delivery delays, a lack of communication, manual techniques, and inadequate execution of operational processes. These are the factors that might jeopardize the success of a logistics firm. As soon as the order is received, you must guarantee that your inventory is available and ready to ship.
In this case, the quality factor may be quite important. This might be your logistics company's most critical fault, lowering your potential to almost nothing. Furthermore, you may run into a number of issues in the early phases of creating your company in this area; as a consequence, it's critical to examine and find solutions to any potential flaws that may appear.
Opportunities:
People who want to build a business that generates revenue streams will find lots of opportunities in the logistics industry. These options, on the other hand, must be utilized strategically. The way distribution networks function has changed as a result of globalization; automated operations, the use of technology, apps, and data exchange are just a few of the opportunities that the logistics sector is taking use of in this digital age.
Threats:
Changing market dynamics are now posing a serious threat to the logistics industry. There is a tremendous element of uncertainty in almost every logistics firm. The rapidity at which breakthroughs develop might pose a variety of challenges in this field. If you're new to the logistics industry, you should update your logistics business model to make it more responsive to changing conditions. Businesses that fail to adapt to changing technological demands are likely to lag behind. Skyrocketbpo can ensure that your logistics company plan is adapted to the possible challenges that this industry may face in the coming years.
Furthermore, the lack of educated drivers is seen as a threat to the logistics business. The number of educated drivers is decreasing with time, making it more difficult to coordinate with individuals who are inexperienced with the profession.
Automation is all about becoming a transformative agent. Labor is being replaced by machines to monitor the quality of stored items, which is stripping people of their employment and reducing their alternatives for work.
Economic:
The economic picture for the logistics business is rapidly shifting. The logistics sector fills the gap between supply and demand. The growing population puts great pressure on logistics firms, making it more difficult to meet demand with cost-effective products. Furthermore, raw material availability is becoming more difficult to control in recent years.
Market price is also an important factor to consider in this logistics company's strategy. It might be difficult to evaluate logistical options when peak pricing is prevalent. Manufacturers are unable to choose the most cost-effective option due to the monopoly of logisticians. There are a variety of risks involved, including operational risk, credit agreement, delivery contract, and completion risk, to mention a few.
Changes in national and regional regulations affect manufacturing and distribution processes, causing logistics to be disrupted. Shippers must continually look for ways to save costs by effectively using lead time. The PESTLE analysis template for this industry is supplied below, which may educate you on its multiple features:
Environmental:
Global warming and climate change are making it increasingly difficult to protect our natural resources, leading to a rising issue of raw material shortages. In the logistics business, green logistics is gaining interest as a strategy to promote low-carbon vehicles and energy efficiency.
Because the logistics industry's transportation has a negative influence on the environment, logistics firms must also consider the green aspects of their operations. As a corporation that largely works with vehicle transportation and movement, the logistics industry is increasingly required to develop policies that safeguard the environment from any potential damage caused by fuel usage. Customers like companies that use these approaches because they help them establish a long-term competitive advantage.
Social:
Given that a logistics firm may operate both inside and outside of the country, the logistics industry is influenced by a number of socioeconomic challenges. Many factors must be considered before warehouses may be established in a given place. Keep social responsiveness and people's ease of use in mind when putting the distribution network into operation.
Legal:
You may encounter a number of challenges if you are unfamiliar with the legal aspects of the place where you will be operating. Respecting the foreign legal framework for logistics is a legal requirement. Currency problems, corrupt practices, money laundering, risk management, security breaches, the compliance, accountability program, transaction activities, and trade regulations are just a few areas where you should gather your data ahead of time to avoid any possible legal infractions.
Before extending your business to a new site, you must be aware of several labor, manpower, working conditions, health and safety, and other restrictions. Legal problems impact the cost and profitability of every company, and the same is true for starting a logistics organization. Understanding the region's legal culture for logistics firms is one of many key requirements for success since the region's law and order regulations are dynamic and change often.
Political:
Political considerations have a significant impact on the logistics industry. Rich economies are outsourcing industrial activity to developing countries to take advantage of cheap labor. Logistics operations are becoming more sophisticated as a result of this outsourcing.
To be sold via distribution partners, the manufactured items must be carried to their final destination. As a consequence, every organization must implement a logistics business plan. Government forces in such instances do not spend enough money in shipping and transportation infrastructure, stifling the industry's growth.
During the 2008 recession, the logistics industry's profits plummeted. Government rules created in reaction to such significant changes are not especially dynamic since the supply chain company has incorporated intricate processes, making transportation longer and more expensive. On a macro level, this has an impact on economic conditions.
Due to the extreme economic volatility, consumers are finding it difficult to spend as much as they want, resulting in a decrease in their buying power. If government institutions and officials were unable to spend, it would be difficult for them to collect enough money in the name of tax collection. The government's ability to manage the dynamics of the logistics company will be constrained since there will be no extra money to spend on progress.
As a result, there are a flood of opportunities that might have been achieved if the logistics and transportation infrastructure had been more effective and competent. This highlights how a well-functioning transportation and logistics system, which is dependent on infrastructure developed with public monies, is critical to economic stability.
Technological:
The logistics industry is undergoing substantial changes in this age of digital revolution. All sample ordering, handling, and oversight, as well as keeping track of storage durations, will be done digitally. In almost every regard, the logistics industry is likely to become self-sufficient. Amazon's use of drone technology for fast delivery is the most recent example we've seen. This technology is five times faster than human travel, meaning it takes less time and is more productive.
In recent years, robotics, self-driving trucks, wearable gadgets, and the internet of things (IoT) have all had a major influence on the logistics industry. The Internet of Things is the new cool in the logistics sector. It makes it easier for distributors and carriers to do their jobs since it connects all possible equipment to the internet. IoT templates are being heavily used in the logistics industry to incorporate suitable sensors to monitor supply chain activities and package quality.
They've enhanced the automation aspect, which has boosted the industry's overall efficiency. These gadgets can easily do tasks that would take an hour for a human to complete in this industry in less than or about 15 minutes. This is becoming an easier way for all logistics companies in the industry to get a competitive advantage.
The following are crucial success factors:
Effective communication between carriers, consumers, and bases
Starting a logistics business plan, like any other business, takes a lot of time and effort to get off the ground. The ability of transporters, clients, and bases to communicate effectively is critical. In every logistics operation, they are the most significant stakeholders. It can be advantageous to have a template for this kind of communication. It would be difficult to start a logistics firm unless employees were educated to communicate, coordinate, and integrate.
Delivery schedules that are both reliable and focused on quality
The competence of a logistics firm to deliver high-quality services is essential. In truth, the logistics business thrives by offering superior services that no one else can match. If services are supplied on time, customers will have more trust in them, and the manufacturer will become more reliant on them, eventually converting them into long-term contractors.
Communication between carriers, customers, and bases that is effective
Starting a logistics business plan, like any other business, takes a lot of time and effort to get off the ground. The ability of transporters, clients, and bases to communicate effectively is critical. In every logistics operation, they are the most significant stakeholders. It can be advantageous to have a template for this kind of communication. It would be difficult to start a logistics firm unless employees were educated to communicate, coordinate, and integrate.
Delivery schedules that are both robust and quality-oriented
The competence of a logistics firm to deliver high-quality services is essential. In truth, the logistics business thrives by offering superior services that no one else can match. If services are supplied on time, customers will have more trust in them, and the manufacturer will become more reliant on them, eventually converting them into long-term contractors.
Having strong relationships with the drivers/employees who are in charge of the operations
In this business, like in any other, manpower is critical. It's vital to keep your drivers and other employees happy so that they can perform to their greatest capacity. To feel pleased to be a part of this organization, they must be kept engaged and encouraged on a frequent basis. It's not only about the money or the outside forces; internal elements must also be considered. Unless they are naturally motivated, they will have no feeling of purpose in what they are doing, and it will all be meaningless to them. This will result in a loss of productivity, which will affect the success of your logistics firm plan.
Suggesting the right distribution strategy to your customers or end users.
Any logistics service that you provide must have an acceptable distribution strategy for your customers and manufacturers. The creation of a distribution plan template is necessary. Customers are only concerned with receiving their products or services on time and in good shape, but your manufacturers are focused on offering value-added services to their clients. As a consequence, it is incumbent upon you to serve as an efficient mediator. As a logistics partner, this puts you in a tough and sensitive position. As a consequence, you must provide an effective and efficient distribution strategy to your customers and manufacturers.
Assuring the convenience
The main premise of every logistics firm is to make customers and producers as comfortable as possible. You must guarantee that your distribution is simple on both sides, even if it means going to all the bother. You may add convenience to your services by ensuring timely delivery, high quality, and efficient service. If you want to be successful in the logistics sector, keep these points in mind.
Taking care of the financial elements of the logistics industry
A logistics company's financial plan should never be disregarded. After all, aren't you in business to earn money? You should review your logistics company's plans and templates on a regular basis to identify where you may save costs without compromising service quality.
The need for efficient services has risen substantially as globalization and technology have taken over every aspect of business. As a consequence, logistics firms must integrate emerging trends into their global strategy. Essential factors such as demand forecasting, transportation management, warehouse capacity utilization, loading rates, and so on should be updated as the dynamics of the sector change. Our team at Skyrocketbpo will assist you in making the most of your resources by applying foreign technology-oriented practices, integrated logistics management systems, and laws that might provide your logistics company a competitive advantage in the market.