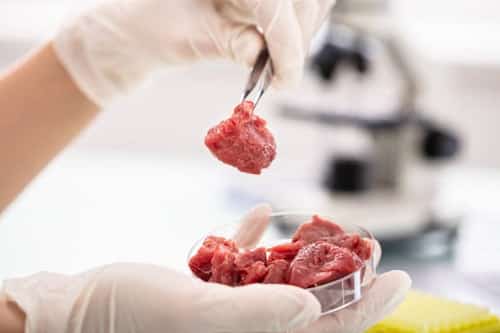 By altering animal product supply chains and offering affordable and sustainable food to a growing population, cellular agriculture has the potential to make a significant contribution to a more secure future.
In cellular agriculture, tissue engineering techniques are utilized to manufacture meat and dairy products that are molecularly comparable to those produced by traditional methods.
Cellular agriculture offers the production of milk, eggs, meat, leather, fur, perfumes, and other animal-derived goods without the need of animals. The market for alternative products has exploded in recent years as a result of technological improvements and increased awareness of animal care and rights. A number of cellular farming businesses and non-profit technology promotion organizations have grown up in recent years.
According to business intelligence research issued by BIS Research, the global cultured meat industry is expected to reach $94.54 billion by 2030, up from $28.60 billion in 2026. The market is expected to expand at a 34.8 percent compound annual growth rate from 2026 to 2030, according to projections (CAGR).
Factors Influencing the Cultured Meat Market
A lot of factors influence the growth of the global cultured meat sector, both positively and negatively.
Global Cultured Meat Market: Business Dynamics
One of the most serious challenges in the next decades will be how to feed the world ethically, due to the planet's ever-increasing population. Meat is an essential element of the food chain since it is a source of nutrition for many people all over the world. According to studies, meat production has more than quadrupled in the previous 50 years.
More than 320 million tons of beef are produced each year across the world. Increased greenhouse gas emissions, as well as detrimental impacts on freshwater and agricultural land, are all important environmental implications. Traditional meat production has reached its maximum capacity, and any further production will have a significant environmental impact. As a consequence, the desire for cellular meat production is especially beneficial since it can supply protein need while also reducing future environmental degradation.
Another factor impacting consumer choice for cultured meat is the amount of animal suffering involved in traditional meat production. It has been observed that between 2010 and 2018, the number of animals slaughtered to supply the demand for meat surged substantially. Because cultured meat is developed in labs and just a sliver of animal cells is required to renew the flesh, the number of animals killed may be reduced if more people accept it.
The environmental impact of traditional meat production is the third major factor driving demand for cultured meat. Meat processing technologies used in the past contribute greatly to global warming. Increased usage of cultured meat might reduce the high environmental costs of meat processing by using just the resources to develop and preserve created cells. As a consequence, the cell-based meat industry is expected to develop at a faster rate.
However, various restrictions, such as high production costs and a lack of consumer trust and acceptance, are restricting the cultured meat industry's growth. On the other hand, increasing government support and clarifying marketing limits may surely help to boost market demand for cultured meat.
Market Segmentation
Currently in the research and development stage, cultured meat products will be accessible in the next years. The cultured meat industry aims to improve animal welfare while simultaneously supporting long-term sustainability. Cultured meats include pork, beef, chicken, fish, and a variety of other meats.
Seafood goods are projected to provide the highest revenue in the cultured meat industry. This is mostly due to increased demand for fish in the Asia-Pacific region, notably in China. Some significant corporations with a global presence are currently developing cultured fish products. Once cultured meat products are on the market, a wide range of goods are expected to emerge.
Cultured meat may be used to make meatballs, burger patties, sausages, and nuggets, to name a few foods. Cultured meat producers are focusing their efforts on getting their products into restaurants and foodservice networks. Because of the positive advantages of cultured meat, prominent firms such as McDonald's are contemplating using it in their restaurants after it has been commercialized.
North America, Europe, the United Kingdom, China, Asia-Pacific and Japan, the Middle East and Africa, and the Rest of the World are likely to dominate the worldwide cultured meat market in the next years and continue their dominance during the projection period, 2026-2030.
In recent years, China's appetite for pork has skyrocketed. The country is having trouble keeping up with the country's growing demand for beef. Despite being one of the world's top meat producers, China's consumer demand necessitates significant meat imports.
Cultured Meat Companies
Major players in the cultured meat market include:
BlueNalu, Inc.
Eat Just, Inc.
Cellular Agriculture Ltd
IntegriCulture Inc.
Avant Meat Company Limited
Mosa Meat
Memphis Meats
Cubiq Foods
Shiok Meats
Meatable
Future Meat Technologies
SuperMeat
Mission Barns, Inc.
Higher Steaks
New Age Meats
Global Cultured Meat Market
Visit MarketResearch.com for more information and to acquire a free sample of BIS Study's cultured meat industry research, which provides critical market insights. This comprehensive analysis was built using data from a number of primary and secondary sources, as well as analytical tools to develop forecast and prediction models.
Information from the publisher: BIS Research is a market intelligence, research, and consulting organization specialized in disruptive technology developments. The company's personnel consists of industry veterans, experts, and analysts from consulting, investment banking, government, and academia.