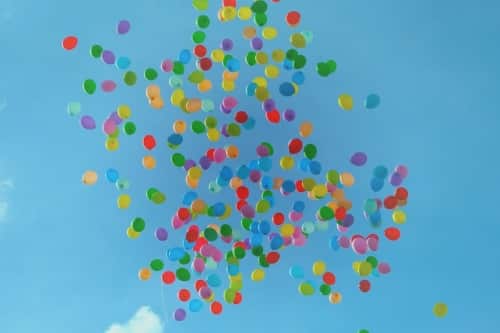 VISION
Mark's Balloon Cabin strives to be the leader in balloon goods and services in Tacloban City, as well as the city's preferred balloon business. Powered by joyful workers who like their work and gain satisfaction from the pleasure they provide to others. Mark's Balloon Cabin will collaborate with you and our ideas to produce the most amazing balloon items and decorations that will brighten and delight everyone.
MISSION
To be the city of Tacloban's most competent and passionate balloon service, delivering distinctive kinds of balloon decorations and goods for everyone. Respects the community by providing a pleasant and safe work environment for workers and consumers. Our mission is to give the highest level of customer service and pleasure possible.
GOALS
To earn our desired profit and generate our desired income. Mark's Balloon Cabin intends to expand its venues and engage with additional people from throughout the city and area in the future.
OBJECTIVE
Mark's Balloon Cabin is committed to providing high-quality goods and services to people of all ages via their diligence, decisiveness, tenacity, and passion for their profession.
VALUES
Collaborate effectively with others. Encourage, encourage, and appreciate one another. Maintain a cheerful attitude and take pleasure in everything you do. Maintain an awareness of the changing world and a willingness to embrace change in a positive manner. Maintaining a safe environment and participating in social activities. Maintain superior customer service, persevere in the face of adversity, and strive for increased success.
SUMMARY
Balloons are often used to adorn birthday parties, weddings, business events, and school activities, as well as other celebratory gatherings. They are available in a variety of sizes, shapes, and styles.
Mark's balloon booth has a variety of balloon types. This firm values innovation and strives to give the highest level of client pleasure.
The shop will be located on Real Street, next to the Ambassador Hotel, in Tacloban City. The shop is now situated on the campus of Leyte National High School. The temporary site is used to sell things to consumers. At the moment, the temporary store will only sell one product, the Heart-shaped Balloon. The balloon in the form of a heart is ideal at this time of year since February is the month of love. All students, professors, and even out-of-town consumers are entertained. Marketing methods may include the establishment of a Facebook page for the corporate organization, the distribution of brochures, and other business-related activities conducted at the temporary site.
As a contribution to society, our business strives to provide an atmosphere that is friendly and safe for workers and customers, while also respecting the local community. Produce the highest-quality balloon items and decorations that will cheer and delight everyone.
Having said that, the firm wants to enhance the city's employment base by hiring residents from all backgrounds, therefore generating possibilities for everyone.
NAME OF BUSINESS
"Mark's Balloon Cabin"
The name was suggested by the company's creator, Mr. Mark Joseph Pelingon. He sold his first balloon in a hut and has since built a successful company.
TAGLINE AND BUSINESS LOGO
Our logo comprises three balloons with our business's name and slogan below.
Mark's Balloon Cabin's motto is "Enjoy the Euphoria," which translates as "feel the tremendous pleasure and happiness" while purchasing a balloon for someone or for yourself.
HISTORY
Mr. Mark Joseph Pelingon, the company's founder and CEO, suffered from poverty as a youth. He began by selling balloons out of a hut behind his home. He sold balloons at his school and also roamed the neighborhood selling them. Mr. Pelingon overcame poverty and remained on the entrepreneurial route after graduating from college, and is today a successful businessman as a result of his tenacity, persistence, and hard work.
The First Section
PLAN OF MARKETING
The product description
Mark's Balloon Cabin is presently only manufacturing one product since the ultimate shop structure has not yet been built. February is also known as "Love Month," thus the heart-shaped balloons are perfect for today's era. Employees customize the Heart-Shaped balloons with various statements based on the customer's condition, such as whether he or she is single, in a relationship, single but taken, and so forth. It is then adorned with bright patterns once the phrases have been chosen. The heart-shaped balloons are available for purchase by anybody.
Comparison of the Product to it's Rivals
168 Zamora Street, Tacloban City – Balloon Station
Palengke Central, Calanipawan Road, Tacloban City – Anngold Gift Shop & Party Needs
Church, A3, LY Luxuria, MFC Balloons & Party Supplies (besides our Lady of Fatima)
Del Pilar Street, Tacloban City – Z Party Hub
Tacloban City's Wonderland Mania Party Shop is located on Real Street.
Avenida Veteranos Street, Tacloban City – Dhory Party Needs and Events
Caribana, Tacloban City – AC's Crazy Beautiful Balloons
Real Street, Tacloban City – PartyHub Events and Creations
Location
On Real Street in Tacloban City, the first official Mark's Balloon Cabin shop will open (next to the Ambassador Hotel). Because of its proximity to the Tacloban City Expressway, this site was selected to attract clients. However, the company's interim site is at Leyte National High School, across from the Gabaldon Building, for the time being.
Area of the Market
The business's market region will be the streets around Ninoy Aquino Avenue, such as Sta. Cruz St., Juan Luna St., Avenida Veteranos St., and especially Lino Gonzaga Avenue and Paterno St., since our temporary location is at Leyte National High School.
Main Clients
Mark's Balloon Cabin's main customers would-be students, teachers, workers, staff, and other non-working persons from Leyte National High School, Eastern Visayas State University, and Leyte Normal University. Clients who are not linked with the aforementioned universities may use our product as well.
Demand in Total
Our marketing efforts, such as discounts and advertising, are aimed at increasing demand for Mark's balloon booth, especially the heart-shaped balloons. The initial demand was estimated to be 50 persons out of 100 who took part in promotional efforts. The original demand had climbed by 25% within a week. The overall demand is 31.25 percent when the original and subsequent demand are added together and divided by two.
Share of the Market
The market that would be functional and accessible would be: The serviceable accessible market would be: If the served available market is P1500 and we expect to acquire 20% of it, then the serviceable obtainable market would be:
20 percent multiplied by 1500 equals 300.
Price of Sale
The heart-shaped balloons from Mark's Balloon Cabin cost P50 for two balloons. Packages depending on the number of balloons purchased are also available.
Forecasted Sales
During Valentine's Season, the firm predicts a 20 percent boost in demand from a total of 31.25 percent.
Promotional Techniques
This is done to raise consumer awareness of the goods, for example, by handing out pamphlets and offering discounts. We've also gotten some input that will help us enhance and develop the product. This task may assist in determining the product's strengths and flaws.
Marketing Techniques
As part of Mark's Balloon Cabin's strategy, we implemented promotional strategies including leaflet distribution, advertising, and discounting. The processes outlined above were implemented in order to attract more customers. In order to reach out to additional customers through social media, the firm also created Facebook and Instagram pages.
Budget for Marketing
The marketing budget for Mark's balloon booth was P5000. Only P200 was employed in the promotions that were carried out. The remaining P4800 is utilized for various commercial purposes.
The Second Section
PLAN OF PRODUCTION
The Manufacturing Process
Purchasing raw materials, as previously said, includes going to the site where the raw materials are obtained. The next phase is to gather the essential equipment, after which the product, which contains quotations, drawings, and other random objects, will be developed. The finished product will be packed, labeled, and sold under the company's name.
Fixed Capital
Deflated balloons, plastic sticks, glue, printers, pumps, frame materials, scissors, papers, and other miscellaneous goods are among Mark's Balloon Cabin's fixed assets.
Fixed Capital's Life
The fixed capital that was decided in the company may vary in terms of availability. Printers, pumps, scissors, glue, plastic sticks, and other unusual items should all last a long time.
Repair and maintenance
Mark's Balloon Cabin set aside P3000 for equipment maintenance and repairs, particularly those that are used often, such as pumps, printers, and scissors.
Equipment Sources
The equipment utilized in the product's manufacturing and packaging originated from the owner's and company organization's assets and cash.
Capacity Expected
The company's daily capacity for the product is projected to be between 100 and 200 balloons. Its maximum capacity is expected to increase from 200 to 400 people.
Capacity in the Future
If sales go well, the business plans to expand its manufacturing capacity in the future. It is predicted that the maximum capacity of 200 would be increased to 300.
Equipment Purchase Terms and Conditions
Warranties (1-5 years) and repairability if the equipment is broken or malfunctioning are included in the terms and conditions of purchasing equipment from Mark's Balloon Cabin.
Factory Layout and Location
On Real Street in Tacloban City, the first official Mark's Balloon Cabin shop is located (next to the Ambassador Hotel). This site was selected because it is conveniently placed on the Tacloban highway, making it simple to attract clients.
Availability of Raw Materials
The raw materials for Mark's Balloon Cabin's Heart-Shaped balloon were purchased in Tacloban City's central business area.
Workforce
People who are eager, energetic, and appreciate what they do at work will be hired by the company. For consumers to get the finest service possible, they must have a pleasant personality.
Labour Costs
Availability of Labor
The business organization will recruit individuals from different regions of Tacloban City in order to contribute to the local economy. Those with the correct personality traits and technical abilities will be in great demand.
Productivity of Labor
Each shift at Mark's Balloon Cabin features three employees and a cashier. The personnel will be in charge of balloon manufacturing and design, as well as customer service. The concession counter must open at 9:00 a.m. and shut at 7:00 p.m.
Cost of Manufacturing Overhead
Section Three
PLAN FOR ORGANIZATION AND MANAGEMENT
Business Structure
Mark's Balloon Cabin is a company with seven employees. Every member has the same responsibilities and has the same power to make business decisions. The members came to an agreement on how the profits would be divided and what efforts should be done to improve and develop the business.
Organizational Structure
Behind the scenes of Mark's balloon booth, there are seven people working. The CEO serves as the organization's leader. The Marketing Sales Department and the Production Department are listed below. Each department has its own manager in charge.
The sales manager, who is under the direction of the marketing and sales managers, evaluates daily reports on product sales. The Marketing Manager is in charge of executing promotional efforts.
The director of the production department, the financial supervisor, and the administrative supervisor are the three members of the production department. The production department's leader is in charge of the whole manufacturing process, as well as worker productivity and product quality. The Financial Supervisor is in charge of the expenses of product development. The Administrative Supervisor is also responsible for charges that aren't directly connected to product sales but are necessary for the company's functioning.
The Entrepreneur's Business Experience and Qualifications
Mark's Balloon Cabin is a Protean-owned company. Entrepreneurs take on a number of responsibilities, including managing employees, monitoring business circumstances, developing new goods, and, like any other firm, risking uncertainty.
Every entrepreneur has prior experience with a variety of commercial tasks. It might be basic or complex. They are all experts in their fields.
Pre-Operating Activities
Mark's Balloon Cabin started a Facebook page in December. The page was created purely for the purpose of increasing public knowledge of the company, posting any business-related activities, and attracting new customers. Fliers were also sent to potential customers, such as students and teachers. Those who were lucky enough to acquire a complimentary membership ticket received discounts as well.
Pre-Operating Expenses
Office Supplies
Various teams were involved in the business effort. The flyers of the prospects and offers that hung outside the balloon were printed on a printer. In order to make inflating the balloons quicker and simpler, electric balloon pumps were employed. To make the balloon, you'll need balloons, scissors, special papers, plastic sticks, glue, and a variety of other materials.
Expenses for Administration
Mark's Balloon Cabin's administrative costs include electricity, water, internet, office expenses, and employee compensation. The electricity bill was P1500, the water bill was P500, the internet cost was P1200, the equipment bill was P2300, and the employee compensation was P46,800. P52,300 is the total administrative cost.
Section Four
Plan your finances
Cost of the Project
The raw ingredients needed to make a Heart-Shaped balloon in four months are listed in the table above. The tools utilized were an electric balloon pump, a printer, scissors, and adhesive.
Loan Requirement and Financing Plan
Loan Guarantee
AGREEMENT ON SECURITY
Except for this claim and the others stated in this Security Agreement, the collateral fee is held by Debtors as an adverse lien or encumbrance.
The Debtor will be responsible for defending the collateral against third-party claims.
The Debtor shall be the one to inform the Secured Party of any changes to his or her name or address.
The Debtor will do all that the Secured Party reasonably requests to establish and maintain a perfected security interest in the Collateral at any time.
The Debtor will not transfer or encumber the Collateral without Secured Party's prior written agreement.
Debtor shall insure the Collateral against loss or damage on the conditions that the Secured Party may reasonably demand.
Statement of Profit and Loss
The company will begin to generate money as soon as the first batch of balloons is sold. Because of the low expenses, the return on the organization's investments will not be a problem. Each product distribution will generate a profit of 20% on average if the company functions smoothly. The whole income of the firm will be divided among the seven members.
Statement of Cash Flows
Accounts Payable
Repayment Schedule for Student Loans
Principal to begin with: 50,000
Rate per month: 0.50 percentage point
Years of the Term: 30
Payment Schedule: 700
Break-Even Point
BEP = 245/50-8 = Fixed Cost/Selling Price (Per Unit) – Variable Cost (Per Unit)
equals 6 units
Return on Investment
In the table above, you'll find the raw materials required to create Heart-Shaped balloons in four months. The total cost of all utilities, supplies and other expenditures over the period of four months is displayed in the table below.
Analysis of the Financial Situation
For the quarterly forecast period, Mark's Balloon Cabin generated the following statements. The financial plan, balance analysis, cash flow analysis, and balance sheet are all included.
As you can see from the price, Mark's Balloon Cabin will need 28,400 pennies to be up and running in four months. Throughout the month's projection period, the cash flow estimate stays positive. The breakeven threshold in the first month is 6 units, and financial projections presume that it will stay constant. According to projections, the firm would earn a lot of money in four months.
Related link