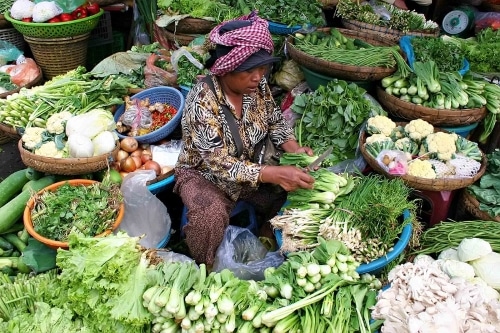 INVESTMENT IN VEGETABLE AND FRESH FRUITS ESTABLISHMENT
One Twelve Firm ltd is a Tanzanian firm that will produce vegetables, pastured chicken, and a variety of fruits, depending on the location.
EXECUTIVE SUMMARY
Description of the company
Statement of purpose
Objectives and Goals
Summary of the Plan
a brief overview
Description of Our Company
One Twelve Business Ltd is a fully recognized Tanzanian corporation. This corporation is permitted to operate in Tanzania's main area in a range of industries, including agriculture, passenger and parcel transportation, media, and many more.
One Twelve Company Ltd will cultivate avocados, vegetables, onions, tomatoes, carrots, peas, beans, cabbage, pumpkin, and other vegetables. Within the region, we will also deal with pastured cows and pastured chickens in different ways. All of this will be farmed on a seasonal basis in a 100-hector fenced area.
The products will be sold throughout Europe, Africa, and other nations once they have been processed and packed. In 2011, Fadhili established One Twelve Company Ltd. A. nswila, and Alfred Mutiganzi, who want to create this Tanzanian vegetable firm with the best autumn experience and super leading producers. This is made possible by the Songwe International Airport (SIA), which opened last year and allows for rapid and easy transit of produced products.
STATEMENT OF THE MISSION
Our mission is to produce healthy, safe food while still generating a profit and conserving our rural heritage. It will be vital for us to provide our market customers with a high-quality product as well as agricultural education. We will be able to build our firm and our employees in the long term if we create a good reputation.
OBJECTIVES AND GOALS
One Twelve Company Ltd plans to boost revenue by providing the most unique and surprising entertainment and retail location conceivable. The installation of a manufacturing greenhouse will be the most significant and best problem. One Twelve Company Ltd, on the other hand, will have specific goals.
Increase gross revenue every year after you start production by expanding and innovating.
To provide a safe and enjoyable environment for everyone who visits or works at the vegetable growing plant.
Have the financial and managerial expertise to pass the business on to the next generation.
OBJECTIVES THAT ARE EXPLICIT
To carry out the dairy day activities as planned, a big number of personnel, both expert and unskilled, will be engaged.
Every person hired to effectively play their roles, with performance judged in terms of touchable and visible actions, hence defining the task's efficiency and not otherwise.
RESOURCES REQUIRED TO ACHIEVE THESE GOALS
A 100 hector piece of land will be used as a production center and will be available for purchase at a low cost, skilled staff, fencing the area, building a water system for irrigation, tractors, offices within the area, 6 cars to transport goods from the center to the airport, staff cars, administrator cars, and directors cars are all required resources.
SUMMARY OF THE PLAN
The purpose of this plan is to secure funding for One Twelve Company Ltd as it expands, which will be consistent with our goal of keeping One Twelve Company Ltd fresh and fascinating by enabling us to offer customers more inventive alternatives.
REQUESTED CAPITAL
A total of $800,000 in the capital will be needed. The request is for the purchase of 100 hectares, trucks, and the building of a 5000 square foot greenhouse for the production of ornamental crops. Personnel recruiting, water system and storage tanks, tractors, irrigation pumps are Just a few examples are solar energy, fence construction, and administrative expenditures.
DESCRIPTION OF THE BUSINESS
One Twelve Company Ltd will be a seasonal agri-tourism business where you may pick your own tomatoes and other products such as carrots, onions, green vegetables, pumpkins, maize, peas, beans, cassava, and other goods.
BUSINESS LOCATIONS
In Tanzania's Mbeya district, in rural Mbeya in the Umalila region, only a few kilometers from Songwe International Airport, One Twelve Company Ltd will grow vegetables and fruits. The soil in this place is very rich, and the weather is suitable for producing the specified crop.
FACILITIES
We want to divide 100 hectares for each vegetable we intend to grow, for example, 10 acres for peas and 10 acres for avocados, to mention a few examples.
Expect to witness cutting-edge production machinery including packing machines, tractors, tourist busses, and other vehicles for transporting items from the city center to the airport.
HISTORY OF THE COMPANY
One Twelve Company Ltd vegetable and fruit production is a serious business, and the Ideal began when Fadhili nswila realized that there was an opportunity to start such a business since the means of transportation, Song We International Airports, was launched, and it is only a few kilometers from the center of production.
We believe and have found that the existence of this Airport will give us with a fantastic chance to develop this concept of vegetable and fruit production that is needed worldwide and has no rivals in this area, thus we hope to raise enough money.
STRUCTURE OF OWNERSHIP
Fadhili Nswila and Alfred Mutiganzi own and run One Twelve Company Ltd. I hold 50% of the corporation as a company member, and Alfred owns 50% of the company. Our sole possession is a house in Dar es Salaam.
SERVICES AND PRODUCTS
One Twelve Company Ltd will grow avocados, peas, tomatoes, onions, several varieties of pumpkin, pastured hens, and pastured cows in the area, among other things. Customers will be able to appreciate this product since it will be created in a high-quality, healthful way.
PERMITS AND REGULATION FOR LICENSES
We have everything we need to create, supply, and distribute the goods we want to make, but we don't have a food service permit since they promised to provide it to us once we start making them.
RISK ADMINISTRATION
Management of legal risks
The client's presence on the farm is unquestionably the most dangerous aspect of our business; even one customer's injury might jeopardize OUR PRODUCTION CENTER. As a consequence, we'll make sure our company is covered by agricultural liability insurance and increase our safety.
Production Hazards
A specific insurance policy will cover traditional agricultural crops including vegetable crops and other field commodities. Specialty crops and greenhouse crops will be included in the agricultural service agency's Non-Insured Assistance Program.
Markets' Perils
Cold and wet autumn might be devastating for a business, cutting yearly revenue in half. That is why, in order to protect ourselves from a big revenue loss due to weather, we will get a gross revenue insurance policy (Adjusted Gross Revenue).
TIMELINE FOR IMPLEMENTATION
HOW ARE WE GOING TO PUT OUR TIME LINE IN PLACE?
The following is the timeframe for implementing the suggested project in this business plan.
Phase 1: Purchasing land from locals in the most fertile location for a reasonable price.
Phase 2: Fencing the space and developing the greenhouse using LEED (Leadership in Energy and Environmental Design) as a guide.
Phase : Construction of a greenhouse that will enable us to begin full production.
Phase 4: The greenhouse will be fully operational for full production, sales, and tours.
All of this will be put into action as soon as we get funding and sign contracts.
CUSTOMERS
We predict a sufficient market in Europe, Asia, the United States, and other parts of the globe due to the strong demand for fruits and vegetables.
OUR MARKETING AGREEMENT
We'll have a contract that compels us to manufacture and advertise stuff, and it will also need us to deliver our products, ensuring that we provide service. At some time in the future, we will provide specific contracts in order to produce new products.
PARTNERS IN STRATEGY
For our produced products, we expect to have a strong strategic marketing network as well as a robust distribution and promotion chain. Each year, we also want to increase our strategic partnership.
PRICING
Vegetable production by One Twelve Company Ltd
Product differentiation is vital, and with food goods, this may be difficult, thus our company must compete on price with farm produce. Our food costs are generally 10% cheaper than the competition since our company will be operating with less overhead than its competitors. Visitors will be enticed to visit the farm by the lower-cost food goods. The firm will then have to sell them something of value.
PROMOTION
There will be two primary promotion strategies: the first will entice people to visit the farm, and the second will persuade them to make a purchase. As a consequence, both techniques will be useful to agro-tourists as well as other people of the country. In addition, the key promotional strategy will be to advertise the farm in major markets via media such as television, radio, the Internet, and newspapers, as well as to host balanced diets, nutrition concerts and distribute pamphlets wherever they are required. The customer will be persuaded to spend more money if you have all of these skills.
DISTRIBUTION
The manufactured goods will be sold in bulk and disseminated locally, nationally, and worldwide. Our goods or services will also benefit customers buying big volumes. We want to have a retail facility and the opportunity for consumers to buy items online, over the phone, or through email for those who cannot visit the farm. We believe we will be able to process the presence order more promptly after the order has been delivered. In addition, we will work with a distributor to distribute our products. Others, for example, distributors.
MARKERS THAT ARE CUSTOMIZED
The things developed will be targeted towards the demographics listed below. The industries that provide the essential items, such as onion, tomato source, chill source, and so on, will be the first. It will be determined by which product is the substance required to manufacture anything, which we shall discuss in detail.
Then there will be some who come for the entertainment and want to eat while they're there.
Our company will maintain track of all of our clients' information utilizing our point-of-sale software and mailing list to keep them up to date on what we're up to.
Related link