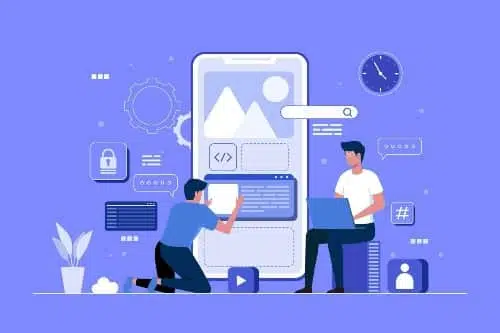 For launching your own firm, create a mobile application development business plan.
Mobile apps have evolved from being a curiosity in technology to something we use for virtually everything. A smartphone app is now required for everyone. Businesses, services, and merchants are all included. You may use this mobile app business plan to create your own mobile app development firm.
Read this article if you want to understand how to create a business strategy for an app. From strategy to finance, this mobile app business plan template will cover all you need to know about starting a mobile app development firm. This follows the same guidelines as an online dating site business plan.
The Company
Rob Developers will be a cutting-edge mobile app development company that will serve as an example for this mobile app startup business plan that you will read. The firm will offer all mobile application development services under one roof. The firm will be owned by Rob Hancock, who will also be the CEO.
Business Management for Mobile Application Development
The next stage in learning how to create a business plan for a new mobile app is to comprehend the company's management structure. As previously mentioned, the firm would be led by Rob Hancock. To improve company operations, he aims to recruit three managers. These executives will be in charge of the company's operations, sales, and external relations.
As with a video game business plan, the managers will report to Rob, and any pertinent concerns will be brought to his attention as they arise. Rob will have entire authority over the firm, and his decision will be final after consultation with necessary executives.
Clients of the Mobile Application Development Company
Because mobile application development is such a vast business, customers will come from a range of backgrounds. The following are some of the company's biggest clients:
Businesses seeking software to use in their online shops.
Employee applications are needed by businesses.
Educational institutions demand apps for campus management systems.
People who want to create mobile apps for their companies.
Companies want apps created for their products.
Business Objective
The goal of Rob Developers is to become the number one app developer in the United States. The following goals are established at the start of the company:
You should have at least 10 long-term, loyal clients, by the end of the first year.
You should be making at least $27,000 per month at the end of the three years.
Bringing innovation into the firm wherever possible.
Owner of a business
This mobile app development firm will be led by Rob Hancock. Rob is a software engineer who has spent the past five years directing a major software solutions company's mobile app development team. He is eager, as well as well-educated, and experienced in this field.
Why is a Mobile App Development Company being established?
Looking at app business plan examples, it's clear that having a compelling reason for starting a company that isn't just financial is critical. Rob founded this firm because he is interested in developing mobile applications. It's something he's been doing for a long time.
Aside from that, Rob has a large network of contacts in the industry. He is certain that by assembling the appropriate combination of developers and clients, he would be able to build a very profitable company.
Let's have a look at the remaining sections of this app startup business plan.
How will the Mobile Application Development Company get started?
The first stage is to establish a strategy.
One of the most important parts of any sample business plan for a mobile app is the planning phase. This is the stage at which the business owner must do research on the field's demand and supply in order to evaluate if the venture is even viable.
Various surveying devices will be used to make sure there is enough area in the field for a new entrant to enter and profit.
Step 2: Establish a brand
Because the field of mobile app development is so crowded, the organization has to build a trustworthy brand. Only then will they be able to attract a sufficient number of customers.
Step 3: Create a workspace
People are wary to put their faith in a company that does not have a physical address. Rob Developers will have a headquarters in Manhattan's downtown core, from where it will do business.
Step 4: Establish a web presence
Without a question, every technology-related company should have an internet presence. Rob Developers will design a website that serves as both a consumer interface and a marketing tool.
Step 5: Promote and Market
A comprehensive marketing plan will be developed to make the firm and its brand is known to the target audience.
Services
Now that we've learned how to create a mobile app development company, the next portion of our mobile app business plan template must describe the services that this company will provide to its clients. We will give all software development services in a broader sense.
This app development business plan's services, like those of a business plan online store, may be divided into four groups.
App development for mobile devices
This will be the company's principal service, as the name implies. We will cater to the needs of everybody who need a mobile app for whatever purpose. The bulk of the company's resources and workers will go to this service.
Web development and design
This service will be provided as a standalone service as well as a complement to the apps. We will provide both mobile and desktop consumers with a broad variety of web development services.
Cybersecurity
Consumers that utilize mobile apps are concerned about cybersecurity. This service will be provided so that guests may have all of their requirements satisfied in one place.
Cloud-based development
The software business is moving faster than we know to the cloud. We must include cloud-native development services on our menu if we want to earn large business and long-term clients.
Mobile Application Development Business Marketing Analysis
A solid grasp of the market is required while developing a business model mobile app. In this section, we'll look at the marketing research for this new mobile app. We're talking about a $170 billion company here. This means that if you build a successful firm in this market, you may make a lot of money.
Before you learn how to develop a business plan for an app, there's something else you need to know. The mobile app development business will have expanded to a size of $470 billion by the end of 2026, a degree of growth that no other industry has seen in recent history. This makes this business plan proposal appealing to any potential investor.
Market Developments
Now it's time to look at the market trends for the app business strategy. In recent years, this sector, like starting a virtual assistant business, has seen a lot of growth. The most crucial thing to keep in mind is that newcomers to this industry have had a tough time breaking in.
Like any other business plan for a video game company, we must ensure that we bring something unique to the table. Only companies that focus on innovation and distinctiveness have been successful in this field.
Segmentation of the Market
The mobile application development industry is projected to service the following market segments:
Clients in the Business
These are the clients that will offer us a steady stream of income in the long run. There will be a limited number of them, but they will be highly compensated.
Institutions of Higher Learning
This will also be a consistent source of income. These clients will seek our help in building campus management systems.
Clients who are unique
These are the clients that want mobile apps developed for their businesses. These will not be well-paid positions, but there will be enough of them.
Businesses of All Sizes
Our company's target market will be small enterprises who want a mobile app for their products.
Business Objective
To be the country's leading provider of mobile app development services.
After three years, to start generating a monthly profit of more than $27,000.
To have long-term corporate clients who will conduct business with us in the future.
To be the first to accept new ideas and developments in the area of mobile app development.
Pricing of Products
Our products and services will be somewhat more expensive than the average of the competitors. This is because we will be enlisting the services of the best experts in the field, which will come at a premium.
Marketing Techniques
After that, the mobile app marketing strategy template is essential to complete this mobile app business plan, since it would be incomplete without it. The marketing strategy for this organization will be based on two factors: innovation and experience.
Analysis of Competitors
After doing a comprehensive competitor analysis, we have determined that we will be the region's leading provider of cloud-native development services.
Our second competitive advantage is Mr. Rob Hancock, the CEO of Rob Development. He is a well-educated and seasoned professional who will be an asset to the company.
Innovation will be a third competitive advantage for Rob's development. We wanted to be the first company in the United States to adopt every new technology that was released.
Strategy for Selling
We will advertise the firm using print, electronic, and social media to improve sales.
We'll do all we can to obtain positions with well-known firms that pay well.
Our products and services will be priced competitively in the industry.
Personnel strategy
The manpower necessary to start and run the mobile app development company should also be included in the business plan. If you need to know how to develop a business plan for an app, here's a simple overview of the staff the company would need.
Employees of the company
Rob Hancock will be the company's CEO.
Operations, sales, and external relations are overseen by three managers.
There are a total of five app developers.
There are three web developers working on this project.
2 cloud-native developers
two cyber-security experts
There is just one employee in the office.
Plan your finances
The mobile application's finance approach is the next phase. Here's a rough estimate of how much money you'll need to get your business off the ground.
The cost of setting up an office.
During the first six months, wages were paid to employees.
The amount of money needed for the company's marketing.
The money needed to recruit people and conduct interviews.
The amount of money needed to launch the company's website.